Welcome to the charming city of Salisbury, known for its stunning views, rich history and picturesque countryside. Whether you're planning a romantic getaway or a family vacation, there's nothing quite like spending time in one of the top cottages in Salisbury. With so many options available, it can be overwhelming to choose the perfect cottage that fits your needs. To help make your decision easier, we've compiled a list of our top 10 favourite cottages in Salisbury that offer everything from luxury amenities to breathtaking landscapes. So sit back and relax as we take you on a virtual tour of some of the best cottages that are sure to make your stay unforgettable!
Best Cottages in Salisbury – Top 10
1. Stonehenge Cottages 
Website: www.stonehengecottages.com
Looking for a luxurious countryside getaway? Look no further than Stonehenge Cottages, where you can enjoy the perfect combination of rustic charm and modern amenities. Located in a picturesque village just a 10-minute drive from both Stonehenge and Salisbury Cathedral, these newly refurbished AA 5-star cottages offer everything you need for a comfortable stay.
Guests at Stonehenge Cottages can choose between two stunning options: The Executive Suite or The Stables. The former boasts two bedrooms (one king and one twin), two bathrooms/showers, and an expansive farmhouse-style lounge complete with a traditional log burner, rustic dining table, massive 65-inch cinema-style TV and fully equipped kitchen.
But that's not all – guests also receive a complimentary luxury continental breakfast hamper to start their day off right. And with free parking, superfast Wi-Fi throughout the property, and fast electric car charging (at extra cost), there's no need to worry about any additional costs during your stay.
The icing on top of this delightful cake is the lovely 17th-century rustic country pub/restaurant located directly across the road from Stonehenge Cottages. There's nothing quite like enjoying a delicious meal after exploring all that Salisbury has to offer. So why wait? Book your stay at Stonehenge Cottages today!
Map:
2. The Old Stables
Website: www.old-stables.co.uk
The Old Stables self-catering is a charming holiday home located in Salisbury, Wiltshire. It boasts free WiFi and a range of amenities to make your stay comfortable and enjoyable.
The property features a lovely terrace that provides great garden views. The seating area comes with a flat-screen TV, perfect for relaxing after an exciting day exploring the surrounding areas. Guests can prepare their meals using the fully equipped kitchen which includes a fridge, oven, dishwasher and microwave.
Hiking enthusiasts will enjoy nearby hiking trails while those who prefer more relaxed activities can take advantage of the BBQ facilities or unwind in the garden. Free private parking is available on-site ensuring guests have peace of mind while staying at this beautiful cottage.
Salisbury Cathedral is just 3.5 km away from The Old Stables self-catering making it easily accessible for sightseeing trips. Additionally, Salisbury Train Station is only 4 km away making transportation arrangements convenient for guests.
The Old Stables self-catering offers everything you need to make your trip to Salisbury one to remember!
Map:
3. 1 Peacock Cottage 
1 Peacock Cottage is a charming holiday home situated in the heart of Salisbury. This cosy cottage features two lovely bedrooms, a fully equipped kitchen, and one well-appointed bathroom with all the amenities you'll need for an enjoyable stay. With free WiFi and private parking available on-site, you can rest assured that your connectivity needs are taken care of.
For those who love outdoor activities, 1 Peacock Cottage offers plenty of options nearby. Golfing enthusiasts can enjoy golf courses located just minutes away from the property while cycling aficionados can explore the surrounding countryside on two wheels.
If relaxation is more your style, then take advantage of the garden at 1 Peacock Cottage where you can soak up some sun or simply unwind amidst beautiful greenery.
Located just a short drive away from Stonehenge and other popular tourist spots like Salisbury Cathedral and Old Sarum, this delightful holiday home makes for an ideal base to explore Wiltshire's attractions.
With easy access to Southampton Airport only 45 km away, your trip to 1 Peacock Cottage will be hassle-free from start to finish.
Map:
4. Cow Drove Cottage 
Cow Drove Cottage is a charming holiday home situated just a short distance away from Longleat Safari Park and Longleat House. This cosy cottage offers free WiFi, private parking, and a beautiful garden for guests to enjoy during their stay.
The cottage features 1 bedroom, making it the perfect getaway for couples or solo travellers looking for some peace and quiet in the countryside. Inside, you'll find a fully equipped kitchen with all the amenities you need to whip up delicious meals during your stay.
Guests can also engage in various activities such as golfing, fishing, and cycling near Cow Drove Cottage. And after an exciting day out exploring Wiltshire's stunning countryside attractions like Stonehenge are within easy reach of this lovely property.
If you're looking for a peaceful retreat in the heart of England's picturesque countryside then Cow Drove Cottage is definitely worth considering!
Map:
5. Barn Owl Cottage
Escape to the idyllic and peaceful Barn Owl Cottage, situated just a short drive away from Longleat Safari Park and House. This charming holiday home boasts an array of fantastic amenities for guests to enjoy, including free WiFi and private parking.
With beautiful countryside surroundings, this cottage is perfect for those who love outdoor activities such as golfing, fishing or cycling. The comfortable interior features one bedroom with a TV, a fully equipped kitchen complete with a fridge and oven, a washing machine and a bathroom with shower facilities.
Stonehenge is also within easy reach just 30km away from the cottage. For those travelling by air, Bournemouth Airport is conveniently located only 53km away.
Relax in the gorgeous garden after a day exploring all that Wiltshire has to offer. Book your stay at Barn Owl Cottage today!
Map:
6. Nadder Barn 
Nadder Barn is a charming 5-star holiday home located in Salisbury, Wiltshire. This beautiful property features all the amenities that one needs for a comfortable stay. The two-bedroom barn conversion comes with a fully equipped kitchen and an elegant seating area where guests can unwind after a long day of exploring.
One of the highlights of Nadder Barn is its location which offers easy access to nearby attractions such as Salisbury Cathedral and Old Sarum. Guests can also indulge in outdoor activities such as fishing or simply relax in the lush green garden.
The interior decor of Nadder Barn is stylishly designed with warm colours and modern furnishings which create an inviting ambience for guests. The large windows provide ample natural light throughout the living space and offer stunning views of the surrounding countryside.
For those who enjoy cooking, the kitchen at Nadder Barn has everything you need to whip up your favourite meals – from basic utensils to high-end appliances like fridge/freezer, oven, dishwasher etc.
Nadder Barn provides visitors with an excellent opportunity to experience luxury living amidst nature's beauty.
7. The DunnitManor Farm 
Website: www.sykescottages.co.uk
The DunnitManor Farm is a stunning holiday home located in Salisbury, perfect for those seeking a tranquil and relaxing getaway. This beautiful property boasts three spacious bedrooms that can accommodate up to six guests comfortably.
The interior of the house features a modern decor with all the necessary amenities for a comfortable stay, including a fully equipped kitchen with an oven, fridge and washing machine. There are also three bathrooms available in this holiday home, each fitted with a shower.
Guests can enjoy the outdoor space that includes well-maintained gardens and barbecue facilities perfect for hosting summer parties or enjoying al-fresco dining. The free WiFi allows guests to stay connected throughout their stay.
Located just 17 km from Salisbury Cathedral and 19 km from Old Sarum, The DunnitManor Farm is conveniently situated close to many popular attractions. Guests who love cycling will appreciate being in an area where they can enjoy bike rides through picturesque countryside lanes.
The DunnitManor Farm offers everything you need for an unforgettable holiday experience in Salisbury. With free private parking on-site and Southampton Airport just 28 km away, it's easy to see why this property is such a popular choice among travellers visiting Wiltshire!
Map:
8. Salisbury Residence by Charles Hope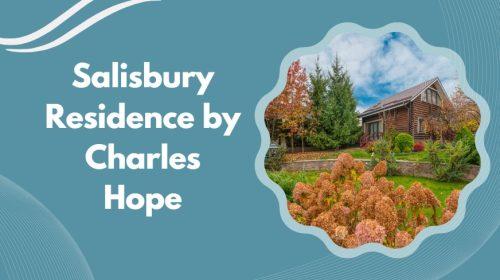 Website: www.charleshope.co.uk
If you're looking for a luxurious and spacious villa in Salisbury, then the Salisbury Residence by Charles Hope is an excellent choice. This beautiful villa boasts a lovely garden where you can relax and enjoy the peaceful surroundings. The free WiFi and flat-screen TV will keep you connected to the world, while the fully equipped kitchen makes it easy to prepare your own meals.
With three bedrooms, this villa is perfect for families or groups of friends who want to explore all that Salisbury has to offer. The location is also great as it's only 3 km from Old Sarum and 6.8 km from Salisbury Racecourse.
The nearby Salisbury Train Station makes it easy to get around town, while popular attractions like Salisbury Cathedral are just a short distance away. You'll also appreciate being close to Southampton Airport which is only 39 km away.
If you want a comfortable stay in one of the best villas in Salisbury with stunning garden views and modern amenities such as free Wi-Fi connectivity at your fingertips – then look no further than the elegant Salisbury Residence by Charles Hope!
Map:
9. Bridge Farmhouse 
Website: www.bridgefarm.co.uk
Bridge Farmhouse is a stunning villa that provides guests with the perfect combination of comfort and luxury. With its 8 spacious bedrooms, this farmhouse can accommodate up to 16 people comfortably. The villa comes fully equipped with a kitchen that has a fridge and an oven, allowing guests to prepare their own meals if they prefer.
After exploring the nearby Salisbury Cathedral or Salisbury Train Station, guests can unwind in the cosy seating area while watching their favourite shows on the flat-screen TV. Bridge Farmhouse also offers free WiFi throughout the property so guests can stay connected during their stay.
One of the highlights of this villa is its outdoor space which includes barbecue facilities for those who love to cook outdoors. After a day of hiking or cycling, guests can relax in the garden or share stories with others in one of two shared lounge areas.
Towels and bed linens are provided for every guest ensuring maximum comfort during their stay at Bridge Farmhouse. For those interested in visiting other attractions nearby, Stonehenge is only 19 km away while The Mayflower Theatre is just 38 km away.
Bridge Farmhouse offers an unforgettable experience for its visitors looking for a comfortable and luxurious place to stay while exploring everything Salisbury has to offer.
Map:
10. Meadow Cottage 
Meadow Cottage is a charming 4-star holiday home located in Salisbury, just a short distance away from the city's top attractions. This lovely cottage offers free private parking and features three cosy bedrooms, making it an ideal choice for families or groups of friends travelling together.
Inside Meadow Cottage, guests will find all the amenities they need for a comfortable stay including free WiFi, satellite TV, and a fully equipped kitchen with a dishwasher and washing machine. The cottage is tastefully decorated with warm colours and traditional furnishings that create an inviting atmosphere.
One of the best things about staying at Meadow Cottage is its convenient location. Guests are just 1.6 km from Salisbury Train Station and within easy reach of local landmarks such as Old Sarum (6.9 km) and Salisbury Cathedral (2 km). Stonehenge is also nearby just 18 km away.
For those looking to explore beyond Salisbury, The Mayflower Theatre is only 38 km from Meadow Cottage while Southampton Airport can be reached in around 40 minutes by car.
Meadow Cottage provides everything you need for a comfortable stay in Salisbury whether you're visiting for business or pleasure. Book your stay today!
Map:
Conclusion
Salisbury is a beautiful location to visit and stay, with its charming countryside views and rich history. If you are planning on visiting the area soon, then consider staying at one of these top-notch cottages in Salisbury.
From luxurious 5-star cottages like Stonehenge Cottages and Nadder Barn to self-catering options such as The Old Stables self-catering and Cow Drove Cottage, there's something for everyone looking for a relaxing holiday getaway. Each cottage comes with unique features that will make your stay memorable, including free Wi-Fi, fully equipped kitchens, private gardens or terraces, BBQ facilities, and electric car charging stations (at an extra cost), among others.
Whether you're travelling solo or with family/friends/pets, these top ten best cottages in Salisbury have got you covered. So what are you waiting for? Book your dream holiday vacation today!
Related Articles:
Best Places to Visit in Salisbury