If you itching to escape the hustle and bustle of London for a day? Well, you're in luck! We've compiled a list of the 15 best day trips from London that are sure to satisfy your wanderlust. From historic cities with stunning cathedrals to picturesque seaside towns and mystical prehistoric monuments, there's something for everyone on this exciting journey. So grab your map, hop on a train or jump in the car, and get ready to embark on an unforgettable adventure just outside the city limits. Whether you're craving culture, nature, or simply some relaxation by the sea, these day trips have got it all covered. Let's dive into our top picks and start planning your next great escape!
15 Best Day Trips from London
1. Brighton 
Nestled along the picturesque coastline, Brighton beckons with its vibrant energy and seaside charm. Just a short train ride away from London, this lively resort city offers a perfect escape from the urban buzz. As you step onto the pebble beaches, feel the cool breeze in your hair and relish in the laid-back atmosphere that defines Brighton's character.
One of Brighton's most iconic landmarks is the Royal Pavilion, a former royal residence boasting an extravagant blend of Indian and Chinese architectural styles. Marvel at its grandeur as you stroll through its opulent halls and elaborately decorated rooms.
For some classic seaside fun, head to Brighton Pier. Take a spin on thrilling rides, indulge in traditional fish and chips, or simply soak up the sun while enjoying panoramic views of the coast. And don't forget to explore The Lanes – a charming maze of narrow streets adorned with unique shops, cosy cafes, and the best restaurants offering delectable treats for every palate.
If you're craving art and culture, make sure to visit the Brighton Museum & Art Gallery. Discover captivating exhibitions showcasing everything from contemporary artwork to historical artefacts that tell stories of this vibrant city's past.
Brighton truly has it all – sandy shores may be scarce but those pebble beaches are full of character! So pack your sunscreen and get ready for a day filled with beachside bliss, cultural delights, and good old-fashioned seaside fun in this delightful getaway just outside London's doorstep.
Map:
2. Canterbury
Step back in time and immerse yourself in the rich history of Canterbury, a city steeped in medieval charm. Just a short train ride from London, this historic gem is waiting to be explored.
At the heart of Canterbury lies its most famous landmark – the awe-inspiring Canterbury Cathedral. This UNESCO World Heritage Site boasts breathtaking architecture that will leave you speechless. Marvel at intricate stained glass windows and wander through centuries-old chapels as you soak up the spiritual atmosphere.
For literature lovers, a visit to the Canterbury Tales Museum is a must. Follow in the footsteps of Chaucer's pilgrims as you stroll along the Pilgrims' Trail and learn about their fascinating tales. The museum brings these stories to life with interactive displays and engaging exhibits.
But it's not just about history here; Canterbury has much more to offer. Take a stroll through narrow cobbled streets lined with charming Tudor buildings, or explore one of England's oldest universities – Canterbury Christ Church University.
Don't miss out on experiencing life as it was centuries ago by visiting Westgate, one of England's largest surviving medieval gatehouses. Its towering presence is a reminder of times gone by.
Whether you're captivated by ancient Roman artefacts or immersed in literary legends, Canterbury promises an unforgettable journey into history that will leave you inspired and longing for more exploration.
Map:
3. Oxford 
Located just a short train ride away from the bustling city of London, Oxford is a captivating university town that boasts an enchanting historic centre. With its world-renowned university and prestigious colleges, it's no wonder why Oxford has become synonymous with intellectualism and academic excellence.
One can't help but feel a sense of awe when strolling through the iconic Bodleian Library, one of the oldest libraries in Europe. The library's stunning architecture and vast collection of books make it a must-visit for book lovers and history enthusiasts alike.
As you wander through the cobbled streets, you'll come across numerous breathtaking sights. The Christ Church Cathedral, with its grandeur and beauty, stands as a testament to Oxford's rich religious heritage. And don't forget to snap some photos of the Radcliffe Camera, an architectural gem that houses Oxford University's science library.
For those interested in delving into England's medieval past, a visit to the striking Oxford Castle is highly recommended. Explore its ancient walls and uncover stories of kings, prisoners, and battles fought long ago.
Oxford offers more than just academia and history; it also hosts various cultural events throughout the year. From literary festivals to music concerts held in picturesque college courtyards – there is always something happening in this vibrant city.
So if you're seeking knowledge or simply looking to immerse yourself in timeless beauty on your day trip from London, be sure to include Oxford on your itinerary. You won't be disappointed by this charming city with its fascinating landmarks and rich cultural heritage.
Map:
4. Windsor 
Windsor, a charming town just a stone's throw away from London, is steeped in history and regal grandeur. Its most iconic landmark is undoubtedly Windsor Castle, the official residence of the British royal family. As you approach the town by train, you can catch glimpses of this majestic fortress perched atop a hill.
But Windsor has more to offer than just its castle. Eton College, one of the world's most prestigious schools, sits nearby and adds an air of academic excellence to the town. Strolling through its streets, you'll discover a perfect blend of tradition and modernity.
For nature enthusiasts, Windsor Great Park provides an idyllic setting for leisurely walks or picnics amidst lush greenery. The park spans over 4,800 acres and offers stunning views of the best castle from afar.
If you're visiting with children (or even if you're young at heart), don't miss out on Legoland Windsor Resort. This theme park promises endless fun with its thrilling rides and impressive Lego creations.
And for those who appreciate fine fashion and bespoke tailoring, Savile Row is worth exploring. This legendary street boasts a rich heritage in men's clothing and has been home to renowned tailors for centuries.
Map: 
5. Bath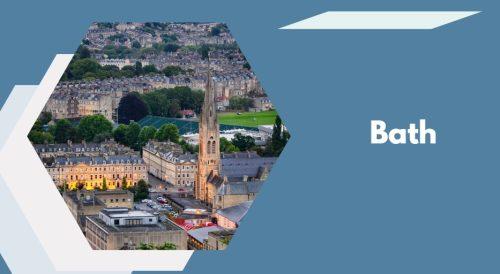 Bath, a city steeped in history and charm, is a must-visit destination for those looking to immerse themselves in the rich heritage of England. Located just 90 miles from London, Bath is easily accessible by train, making it an ideal day trip option.
One of the main draws of Bath is its Roman Baths, which are incredibly well-preserved and offer visitors a glimpse into ancient Roman life. As you wander around this fascinating site, you can almost imagine yourself back in time, soaking in the warm waters just as the Romans did centuries ago.
But Bath isn't just about its famous baths; it's also known for its stunning Georgian architecture. Walking through the streets feels like stepping into a Jane Austen novel, with rows of beautiful townhouses lining the cobbled streets.
Another architectural gem that shouldn't be missed is the Pulteney Bridge. This iconic bridge spans across River Avon and is lined with shops on both sides—a perfect spot for some retail therapy or simply enjoying a leisurely stroll while taking in breathtaking views.
For history buffs and literature enthusiasts alike, there are plenty more attractions to explore in Bath. The magnificent Bath Abbey stands tall amidst picturesque surroundings and offers guided tours to delve deeper into its fascinating past.
And no visit to Bath would be complete without paying homage to one of England's most beloved authors at the Jane Austen Centre. Learn about Austen's life and work while immersing yourself in Regency-era culture.
With so much history and beauty packed into one city, it's no wonder that Bath continues to captivate visitors from near and far. So why not take a break from bustling London and treat yourself to an unforgettable day trip?
Map:
6. Stonehenge
Stonehenge, the enigmatic prehistoric monument located just 90 miles from London, is a must-visit destination for history enthusiasts and curious travellers. With its iconic standing stones that are believed to have been erected between 3000 and 2000 BC, Stonehenge continues to captivate visitors with its mysterious allure.
The journey to Stonehenge takes approximately two hours by car from London, offering a scenic drive through the English countryside. As you approach this ancient site, anticipation builds as you catch glimpses of the imposing stones rising against the horizon.
Once you arrive at Stonehenge, take your time exploring this remarkable UNESCO World Heritage Site. Marvel at the massive stone circles and contemplate their purpose and significance in ancient times. The visitor centre provides informative exhibits that shed light on the theories surrounding Stonehenge's construction and use throughout history.
After immersing yourself in the wonders of Stonehenge, consider extending your day trip to visit other nearby attractions. The Salisbury Cathedral is just a short distance away and boasts stunning medieval architecture and an impressive spire. For more mystical megalithic marvels, head to Avebury Stone Circle where you can freely wander among another Neolithic site.
If wildlife encounters pique your interest, make a stop at Longleat Safari Park. This expansive park offers an opportunity to observe exotic animals up close while driving through designated safari areas or exploring various animal enclosures on foot.
A day trip from London wouldn't be complete without experiencing these awe-inspiring destinations near Stonehenge. So pack your bags, embark on an adventure back in time at one of humanity's most enduring mysteries – Stonehenge – along with its fascinating neighboring attractions!
Map:
7. The Cotswolds 
Nestled in the heart of England, the Cotswolds is a picturesque rural area that seems to have been plucked straight from a storybook. With its rolling hills and postcard-perfect villages, this destination offers an idyllic escape from the hustle and bustle of city life.
Just a couple of hours' drive from London, you'll find yourself immersed in stunning natural beauty. The Cotswolds are renowned for their captivating scenery, where patchwork fields meet lush meadows and charming streams wind through the landscape.
But it's not just the countryside that attracts visitors to this enchanting region. The traditional villages dotted throughout the Cotswolds are like something out of a fairytale. With their honey-coloured stone buildings and cosy cottages with thatched roofs, each village has its own unique charm waiting to be discovered.
Amongst these gems are Bibury, known for its quaint Arlington Row cottages; Burford, home to medieval architecture and antique shops; and Castle Combe, often referred to as one of England's prettiest villages.
Whether you choose to explore by foot or by car, there's no shortage of things to see in the Cotswolds. Take leisurely walks along country lanes lined with wildflowers or stop off at local pubs serving up hearty meals made with locally sourced ingredients.
In this enchanting part of England, time slows down as you immerse yourself in nature's embrace. So why not venture beyond London's borders and discover the timeless beauty that awaits in the Cotswolds?
Map:
8. York
York is a city steeped in history and charm. Its most iconic landmark, the Minster, dominates the skyline with its impressive Gothic architecture. As you wander through the narrow streets of York, you can't help but be transported back in time. The city walls that surround it are not only a reminder of its rich past but also offer stunning views of the surrounding countryside.
One must-visit attraction in York is the Shambles, a medieval street lined with timber-framed buildings that now house quaint shops and cafes. It's like stepping into another era as you explore this picturesque location.
For those interested in Viking history, the Jorvik Viking Centre is a must-see. Here, you can immerse yourself in the sights and sounds of 10th-century York, complete with reconstructed Viking houses and interactive exhibits.
If trains are more your thing, then head to the National Railway Museum. This museum houses an extensive collection of locomotives from different eras and offers fascinating insights into Britain's railway heritage.
For those who enjoy a bit of spookiness, don't miss out on visiting the York Dungeon. Prepare to be scared as you journey through dark chambers filled with actors portraying infamous characters from York's gruesome past.
With so much to see and do in York, it's no wonder that it has become one of England's top tourist attractions. Whether you're fascinated by history or simply want to soak up the atmosphere of this enchanting city, a day trip to York will leave you wanting more.
Map:
9. Cambridge
Cambridge, oh Cambridge! This university city exudes an air of intellectual charm and picturesque beauty. Nestled along the serene River Cam, it's no wonder that Cambridge has captured the hearts of many visitors.
Home to one of the world's most renowned universities, Cambridge is a haven for scholars and academics. The prestigious colleges that make up this educational powerhouse are not only a sight to behold but also steeped in centuries of history and tradition.
A visit to Cambridge wouldn't be complete without marvelling at the iconic King's College Chapel. Its stunning Gothic architecture and intricate stained glass windows are simply breathtaking. Step inside and feel transported to another era as you soak in the ethereal beauty that surrounds you.
For art enthusiasts, a trip to the Fitzwilliam Museum is a must. Housing an extensive collection spanning from ancient civilizations to modern masterpieces, this museum offers a journey through time and culture. Prepare yourself for artistic wonders that will leave you inspired.
Nature lovers will find solace in the enchanting Cambridge University Botanic Garden. With its lush greenery, vibrant flower beds, and tranquil pathways, it provides an oasis within the bustling city. Take a leisurely stroll or simply find a quiet spot to immerse yourself in nature's embrace.
Cambridge truly embodies academic excellence intertwined with natural splendour. Whether you're seeking intellectual stimulation or seeking solace amidst scenic landscapes, this charming city offers something for everyone.
Map:
10. Margate 
Margate, a vibrant seaside resort town located just 70 miles (110 km) from London, offers the perfect escape from the hustle and bustle of the city. With its best beaches, thrilling amusement park rides, and world-class art gallery, Margate has something for everyone.
The sandy shores of Margate are a haven for beach lovers. Whether you're looking to soak up some sun, take a refreshing dip in the sea or build sandcastles with your family, Margate's beaches provide an idyllic setting for a day of relaxation and fun.
For thrill-seekers and adrenaline junkies, Dreamland amusement park is an absolute must-visit. This retro-inspired attraction boasts a range of exhilarating rides that will leave your heart pounding and your spirits soaring. From classic wooden roller coasters to modern-day thrill machines, there's no shortage of excitement at Dreamland.
Art enthusiasts should not miss out on visiting Turner Contemporary Art Gallery. Named after the famous British landscape painter J.
M.W. Turner who was inspired by this very location, the gallery showcases thought-provoking contemporary art exhibitions that will captivate your imagination.
In addition to these popular attractions, Margate also offers charming cafes serving delicious food and drinks where you can refuel after a day of exploration. Stroll along the promenade lined with quaint shops selling unique souvenirs or enjoy panoramic views from one of the many seaside viewpoints dotted around town.
With its irresistible blend of natural beauty, thrilling entertainment options, and artistic flair, Margate truly deserves its reputation as one of London's best day trip destinations.
Map:
11. Wimbledon 
Wimbledon, the quintessential English event that brings together tennis enthusiasts from around the world. Whether you're a fan of the sport or simply appreciate its rich history and traditions, a trip to Wimbledon is always worth it.
Getting to Wimbledon is easy and convenient. Just hop on the London Underground's District Line and make your way to Wimbledon station. It's just a short 30-minute ride from central London, making it an ideal day trip destination.
Once you arrive, there are two main attractions that shouldn't be missed. If you happen to visit during the tournament season, attending the Wimbledon Tennis Championships is an absolute must. Immerse yourself in the electric atmosphere as you watch some of the world's best players battle it out on grass courts steeped in history.
But even if you visit outside of tournament season, fear not! The Wimbledon Lawn Tennis Museum offers a fascinating insight into the sport's heritage. Explore interactive exhibits, admire iconic memorabilia, and get up close with championship trophies that have been hoisted by legends.
So whether you're a die-hard tennis fan or simply curious about this prestigious event, make sure to include Wimbledon in your list of day trips from London. You won't be disappointed by its charm and allure!
Map:
12. Dover 
Dover, a coastal town located about 70 miles from London, is a perfect destination for a day trip. Getting there is easy – just hop on a train from London St Pancras station and in approximately 1.5-2 hours, you'll arrive at Dover Priory.
Once you're in Dover, there are plenty of fascinating sights to explore. One must-see attraction is the iconic White Cliffs of Dover, which have become synonymous with Britain's rich history and natural beauty. These stunning chalk cliffs provide breathtaking views of the English Channel and offer an incredible backdrop for memorable photos.
Another highlight is Dover Castle, one of England's most famous medieval castles. Step back in time as you wander through its grand halls and impressive towers. Be sure to visit the underground secret wartime tunnels that played a crucial role during World War II. It's an opportunity to delve into history and learn about the strategic importance of this fortress.
Dover offers much more than its dramatic cliffs and historic castle; it's also home to charming streets lined with traditional pubs, quaint shops, and delightful cafes where you can grab a bite to eat or enjoy some afternoon tea.
With its rich heritage and picturesque landscapes, Dover promises an unforgettable day trip experience that will leave you wanting more. Don't miss out on exploring this gem along Britain's coastline!
Map:
13. Greenwich 
One of the best day trips from London is to Greenwich, a charming neighbourhood just a short distance from central London. To get there, you can take either the Docklands Light Railway (DLR) or a Thames Riverboat, both offering scenic and enjoyable rides that take around 20-30 minutes.
Once you arrive in Greenwich, there are several must-see attractions waiting for you. First on your list should be the famous Royal Observatory, where you can learn about astronomy and stand on the Prime Meridian line, which marks the division between Eastern and Western hemispheres. It's an incredible feeling to have one foot in each hemisphere!
Next up is the Cutty Sark, a magnificent old tea clipper ship that has been beautifully restored and turned into a museum. Step aboard this iconic vessel to learn about its fascinating history and explore its many decks.
In addition to these main attractions, Greenwich also offers charming streets lined with shops, cafes, and restaurants. Take some time to wander through this historic neighbourhood and soak up its unique atmosphere.
Greenwich truly offers something for everyone – whether you're interested in maritime history or simply want to enjoy a leisurely stroll along the riverbank. So why not plan a day trip to Greenwich during your next visit to London? You won't be disappointed!
Map:
14. Hampton Court Palace 
Hampton Court Palace is a must-visit destination for history enthusiasts and garden lovers alike. Located just a short train ride away from London, this historic Tudor palace offers a fascinating glimpse into the past.
To get to Hampton Court Palace, hop on a train from London Waterloo Station and enjoy a scenic journey of approximately 35-40 minutes. The palace is located around 13 miles (21 km) from central London, making it easily accessible for a day trip.
Once you arrive at Hampton Court Palace, prepare to be amazed by its grandeur and beauty. Take a tour of the magnificent Tudor palace and immerse yourself in its rich history. Marvel at the stunning architecture and intricate details that have been carefully preserved over centuries.
Don't forget to explore the palace's breathtaking gardens as well. From manicured lawns to vibrant flower beds, there's something for every nature lover here. And if you're up for an adventure, don't miss the famous Hampton Court Maze – try your best to find your way out!
With its historical significance and picturesque surroundings, Hampton Court Palace is truly worth adding to your list of day trips from London. So pack your bags, hop on that train, and embark on an unforgettable journey through time!
Map:
15. Kew Gardens 
Visiting Kew Gardens is like stepping into a botanical wonderland. Located just 8 miles from central London, this lush oasis offers a peaceful escape from the bustling city. To get there, simply hop on the London Underground's District Line and take a short 30-minute journey to Kew Gardens station.
Once you arrive, prepare to be amazed by the Royal Botanic Gardens' stunning array of flora and fauna. One of the highlights is the Temperate House, the largest Victorian glasshouse in existence. Step inside and feel transported to exotic lands as you marvel at plants from all corners of the globe.
Another must-see attraction is the Palm House, an architectural masterpiece filled with towering palm trees and tropical blooms. Wander through its humid interior and imagine yourself exploring distant rainforests.
For those seeking adventure, don't miss out on the Treetop Walkway. Suspended high above ground level, this elevated pathway offers breathtaking views of Kew Gardens' tree canopy below. It's a unique vantage point that allows you to appreciate nature from a whole new perspective.
Whether you're a botany enthusiast or simply looking for some tranquility amidst nature, Kew Gardens has something for everyone. So pack your camera and prepare to immerse yourself in one of London's most enchanting destinations.
Map:
Conclusion
In this article, we have explored 15 amazing day trips from London that offer a variety of experiences for everyone. Whether you're looking to relax on the beach in Brighton, immerse yourself in history in Canterbury or Oxford, or marvel at ancient wonders like Stonehenge, there is something for everyone just a short distance away from the bustling city.
From picturesque villages in the Cotswolds to vibrant seaside towns like Margate and cultural gems like York and Cambridge, each destination has its own unique charm and attractions. And with convenient transportation options such as trains and car rentals available, these day trips are easily accessible for anyone wanting to escape the city for a while.
So next time you find yourself craving adventure or simply wanting a change of scenery from London's hustle and bustle, consider embarking on one of these fantastic day trips. You'll be rewarded with new experiences, breathtaking sights, and memories that will last a lifetime.
Remember to plan ahead by checking train schedules or booking tickets online before your trip. And don't forget to pack your camera – because you're bound to capture some incredible moments along the way.
Happy exploring!