Welcome to the charming and historic town of Barnstaple, located in the heart of North Devon. Whether you're visiting for business or pleasure, finding a comfortable and convenient place to stay is essential for making your trip truly memorable. From elegant Georgian hotels to modern no-frills accommodations, Barnstaple has it all! In this blog post, we've compiled a list of the top 8 best hotels in Barnstaple that will cater to your every need and ensure that you have an unforgettable stay. So without further ado, let's dive into our hand-picked selection!
Best Hotels in Barnstaple – Top 8
1. The Royal and Fortescue Hotel 
Website: www.royalfortescue.co.uk
Looking for a luxurious stay in the heart of Barnstaple's bustling high street? Look no further than The Royal and Fortescue Hotel. This elegant Georgian hotel boasts stunning rooms that are sure to impress even the most discerning traveller.
From free Wi-Fi and flat-screen TVs to designer toiletries and tea/coffee-making facilities, every detail has been carefully considered to ensure your utmost comfort. And if you're travelling with family, their spacious family rooms will provide ample space for everyone.
But what really sets this hotel apart is its dining options. Whether you're looking for a fine-dining experience or something more casual, they've got you covered. Indulge in carvery lunches at their restaurant, grab a coffee at the café or enjoy cocktails at the chic bistro.
And when it comes to amenities, The Royal and Fortescue Hotel doesn't disappoint – guests can take advantage of free parking as well as access to fitness facilities including indoor and outdoor pools and a gym at their nearby sister hotel.
The Royal and Fortescue Hotel offers an exceptional experience that combines luxury with convenience right in the heart of Barnstaple's vibrant city center.
Map:
2. The Barnstaple Hotel
Website: www.barnstaplehotel.co.uk
The Barnstaple Hotel is a family-owned and operated hotel that exudes sophistication and modernity. The hotel's location is perfect for those who want to explore the town as it's just an 8-minute walk from the River Taw, where you can enjoy long walks and take in beautiful views. It's also close to Barnstaple Castle Centre event space, which is ideal for attending events or conferences.
The rooms at The Barnstaple Hotel are designed with comfort in mind, offering free Wi-Fi, TVs, and tea/coffee-making equipment plus some have garden or pool views. Room service is available if you prefer to dine in your room.
One of the highlights of this hotel is its bright and airy restaurant that serves scrumptious seafood dishes along with Sunday carvery meals. If you're looking for light bites, there's also a bar that offers cocktails and other refreshments. Don't miss out on their afternoon tea – it's a must-try!
If relaxation is what you need after exploring Barnstaple all day long then head over to their leisure club where they have a spa, and fitness centre along with indoor and outdoor pools – perfect for unwinding! However, if you're feeling more competitive than lazy then why not try out the game room which has both a pool table and a Wii games console?
All these amenities coupled with free parking make The Barnstaple Hotel an excellent choice when visiting North Devon.
Map:
3. Cedars Inn
Website: www.greeneking-pubs.co.uk
Cedars Inn is a charming country house hotel that provides comfortable accommodations in Barnstaple. The casual rooms are equipped with free Wi-Fi, flat-screen TVs, and coffee/tea-making facilities to ensure guests' convenience. Guests can enjoy a complimentary full English breakfast and parking during their stay.
The hotel's restaurant/bar offers traditional fare as well as Sunday carvery. Guests can also take advantage of the beautifully landscaped gardens with seating for relaxation or social gatherings. Additionally, Cedars Inn has meeting spaces available for business events or special occasions.
Located just over a mile away from Barnstaple railway station and within close proximity to Portmore Golf Park, Cedars Inn is an ideal destination for both leisure and business travellers alike. With its cozy ambiance and impeccable service, it promises to make every guest's stay memorable.
Map:
4. The Imperial Hotel 
Website: www.brend-imperial.co.uk
The Imperial Hotel boasts a stunning location overlooking the River Taw, making it an excellent choice for visitors who want to enjoy scenic views. The hotel features country-house-style rooms that are fitted with all modern amenities like flat-screen TVs, free Wi-Fi, and tea/coffee-making facilities. Some of the rooms offer breathtaking river views too.
For food lovers, the elegant fine-dining restaurant serves breakfast, lunch and dinner in style. Guests can also relax at the warmly decorated terrace lounge or choose to unwind at the casual bistro and bar.
In addition to its beautiful surroundings and luxurious amenities, The Imperial Hotel has conveniently located just a 9-minute walk from Barnstaple train station and only 2 miles from Portmore Golf Park. Room service is available for guests who prefer dining in their own quarters.
The Imperial Hotel is an ideal destination for those seeking luxury accommodation with easy access to local attractions while enjoying picturesque surroundings.
Map:
5. Premier Inn 
Website: www.premierinn.com
If you're looking for a budget-friendly option without sacrificing comfort, Premier Inn in Barnstaple is worth considering. Premier Inn is one of the best hotels in the South West region and located just a short drive from both the golf park and train station, this contemporary hotel offers rooms ranging from singles to family rooms with two sofabeds, perfect for families travelling together.
Inside each room, guests can enjoy free Wi-Fi, pillow-top mattresses and en suite bathrooms with showers. Tea and coffee-making facilities are provided along with TVs and desks which make it possible to work or relax while you stay.
The on-site Table Table restaurant serves delicious meals throughout the day at an additional cost that includes all-you-can-eat options as well as lighter choices. Kids aged 15 and under eat and stay for free when accompanied by paying adults.
There's also ample parking available free of charge making it convenient if you have your own transportation. With its no-frills approach combined with comfort amenities like pillow-top beds; Premier Inn is an excellent choice for those looking to save money while still enjoying their stay in Barnstaple.
Map:
6. The Park Hotel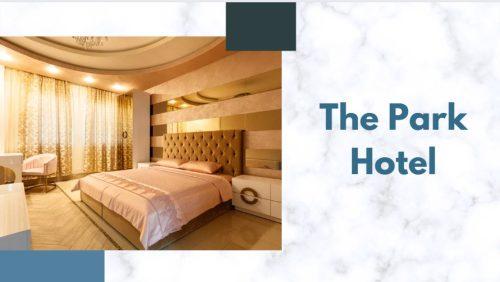 Website: www.parkhotel.co.uk
The Park Hotel is a modern hotel that offers its guests beautiful views of Rock Park and River Taw. Its convenient location, just a short walk from Barnstaple Pannier Market and train station, makes it an ideal choice for travellers looking for comfort and accessibility.
The rooms are simple but comfortable with complimentary Wi-Fi, flat-screen TVs, designer toiletries and luxurious bedding. Some of them offer stunning park views along with desks and sitting areas to ensure maximum comfort during your stay.
Families travelling with children under 12 can enjoy free accommodation in these straightforward yet cozy rooms when accompanied by a parent.
Guests can savour delicious meals at the relaxed restaurant or indulge in carvery dishes while enjoying scenic park views. The lounge bar provides the perfect spot to unwind over drinks on its outdoor terrace.
Aside from offering babysitting services, event space facilities are also available should you need them. Complimentary access to a local fitness center is another perk that comes along with your stay.
The Park Hotel has everything you need for an enjoyable and comfortable stay in Barnstaple.
Map:
7. Yeo Dale Hotel
Website: www.yeodalehotel.co.uk
If you're looking for a unique and elegant place to stay in Barnstaple, the Yeo Dale Hotel is definitely worth considering. This hotel is housed in an 1807 Georgian townhouse that overlooks the River Yeo and Pilton Park, providing stunning views from many of its rooms.
The country-chic rooms are bright and comfortable, most with en suite bathrooms, free Wi-Fi, flat-screen TVs with DVD players, and tea and coffee-making facilities – some even have iPod docks. Upgraded rooms offer more space and designer wallpapers so you can enjoy your stay in style.
In addition to the lovely rooms, this hotel offers a variety of free perks such as parking and access to its extensive DVD library. Breakfast is served in an elegant dining room complete with picture windows, high ceilings and a period fireplace – perfect for starting your day off right. And if you'd like to indulge further during your stay at Yeo Dale Hotel then dinner is also available by advance arrangement.
The Yeo Dale Hotel provides an exceptional experience that combines comfort with elegance all while offering breathtaking views of Barnstaple's natural beauty.
Map:
8. Broomhill Estate
Website: www.broomhill-estate.com
Broomhill Estate is a unique and elegant hotel located just 4 miles away from Barnstaple train station. The property dates back to 1918 and boasts a stunning sculpture garden that surrounds the entire estate.
The refined rooms at Broomhill Estate are individually decorated with movie-inspired themes, giving each room its own distinct personality. All rooms come with en suite bathrooms, flat-screen TVs, tea and coffee-making facilities, as well as Wi-Fi access. What's more, most of the rooms overlook the beautiful sculpture garden.
Guests can enjoy dining in the polished restaurant/bar which features a terrace and serves locally sourced produce for breakfast or any meal throughout their stay. They can also take advantage of parking facilities provided by Broomhill Estate during their visit.
For those looking to explore the local area during their stay at Broomhill Estate, Arlington Court and National Trust Carriage Museum are only seven miles away. This makes it an ideal location for travellers who want to experience both nature and culture while enjoying luxurious accommodations.
Map:
Conclusion
Barnstaple offers a variety of hotels that cater to every traveller's needs. From luxury hotels with elegant rooms and fine dining options to budget-friendly options with modern amenities, there is something for everyone in this charming town. Whether you're exploring the local shops and restaurants or venturing out to the nearby beaches and golf courses, these top 8 hotels are sure to provide a comfortable home away from home during your stay in Barnstaple. Book your stay at one of these top-rated hotels today and experience all that this quaint town has to offer!
Related Articles: