Welcome to the vibrant seaside town of Poole, where good times and great drinks are always on tap! If you're looking for a memorable night out with friends or a cosy spot to relax with family, we've got you covered. In this blog post, we'll take you on a journey through the top 10 pubs in Poole that offer everything from character-filled settings to mouthwatering food and refreshing beverages. So grab your pint glass and let's dive into the best pubs this charming town has to offer!
Best Pubs in Poole – Top 10
1. Foundry Arms 
Step into the warm and inviting atmosphere of Foundry Arms, where friendships are forged and good times are guaranteed. This pub prides itself on being a fantastic meeting place for friends to come together and create lasting memories. With its bustling social calendar, there's always something exciting happening at Foundry Arms.
Whether you're in the mood for live music, themed quiz nights, or even karaoke showdowns, this pub has it all. The packed events schedule ensures that there's never a dull moment when you walk through their doors. So gather your pals and make your way to Foundry Arms – you won't be disappointed!
But it's not just about the lively social scene here; the friendly staff and welcoming ambience add an extra layer of charm to this beloved establishment. You'll feel right at home as soon as you step inside.
So why wait? Don't miss out on all the fun waiting for you at Foundry Arms! Grab your friends, head over to this vibrant pub, and experience first-hand why it's one of Poole's top spots for gatherings with loved ones.
Map:
2. The Blue Boar Poole 
The Blue Boar Poole is not your average pub. With its three distinctive bars spread across three floors, this place exudes character, quirk, and charm. But what sets it apart is the amazing array of military and diving artefacts that adorn its walls. From old uniforms to vintage equipment, every corner tells a story.
Step inside The Blue Boar and you'll be transported to a different era. It's like stepping into a time capsule where history comes alive. Whether you're a history buff or just appreciate unique surroundings, this pub is sure to captivate your imagination.
But it's not just about the ambience at The Blue Boar; they also deliver food and drinks. Their menu offers something for everyone in the family, making it an ideal spot for dinner out with loved ones. And let's not forget their well-stocked bar that boasts an impressive selection of beverages.
So if you're looking for more than just a typical night out at the pub, head over to The Blue Boar Poole. Immerse yourself in its fascinating atmosphere while enjoying delicious food and drinks in this truly one-of-a-kind setting.
Map:
3. The Grasshopper Pub Poole 
The Grasshopper Pub Poole is a hidden gem nestled in the heart of Poole. As soon as you step inside, you'll be enveloped by the warm and inviting atmosphere that this casually contemporary pub exudes. Whether you're looking for a quick coffee and brunch or a leisurely Sunday lunch, The Grasshopper has it all.
One of the highlights of The Grasshopper is their unique fireplace made from vintage copper brewing kettles. It adds a touch of charm and character to the pub, making it the perfect spot to cosy up with friends or loved ones.
The bar area is another great feature of The Grasshopper. Grab drinks with your pals and enjoy lively conversations while savouring some delicious pub food. And if you're planning an event or meeting, they even have a function room tucked away upstairs, providing an ideal space for private gatherings.
When it comes to dining options, The Grasshopper doesn't disappoint. Their menu offers something for everyone – from classic pub dishes to mouthwatering Sunday roasts that will leave your taste buds satisfied.
So whether you're searching for pubs in Poole or places to eat and drink near Bournemouth, look no further than The Grasshopper Pub Poole. With its charming ambience and delectable offerings, it's guaranteed to become your go-to spot for good times and great food.
Map:
4. King Charles Poole
King Charles Poole is a pub steeped in history, located just off Poole Quay in Thames St. Formerly known as The New Inn, it has been serving the local community since around 1770. The building itself dates back even further to approximately 1550, giving it an undeniable charm and character.
Once inside King Charles, you'll feel like you've travelled back in time. Many of its original features have been preserved, including wooden wall panelling, old roof beams, and a stunning fireplace. These elements add to the pub's unique ambience and transport visitors to another era.
But King Charles isn't just about its historical appeal; it also offers excellent food options daily. Their Sunday Carvery is particularly popular, offering a mouthwatering selection of meats for diners to enjoy. Additionally, upstairs at King Charles is an entertainment venue that perfectly complements the pub's nostalgic atmosphere. With large timbers and stone accents creating a charming setting for events or private functions.
However, there might be more than meets the eye at King Charles Pub. It has gained fame for being listed in various Haunted Places books due to some strange happenings over the years. Legend tells of a tragic love story involving a landlady who believed her sailor lover had perished at sea. Distraught by this news, she hanged herself from the old beams upstairs only to be discovered by her lover upon his return – leading him to take his own life as well.
Whether you visit King Charles Pub for its historical allure or simply want to indulge in delicious food and drinks while enjoying great entertainment upstairs – remember that there may be more spirits present besides those behind the bar!
Map:
5. Jolly Sailor
At the Jolly Sailor, we take pride in serving up a menu full of traditional British pub food made from top-notch ingredients. Whether you're craving some classic Fish and chips, hearty Pies, juicy Burgers, or timeless Classics, we've got something to satisfy every taste bud.
Our Fish & Chips are a crowd favourite – crispy battered fish accompanied by golden fries and mushy peas. It's the perfect dish to enjoy with a pint of your favourite ale. If you're in the mood for something comforting and filling, their Pies won't disappoint. From steak and ale to chicken and leek, each pie is baked to perfection with flaky pastry on top.
For those looking for an all-time favourite meal, their Burgers hit the spot. Juicy beef patties topped with cheese, bacon, lettuce, tomato – whatever your heart desires! And let's not forget about their Classics section where you can find dishes like Bangers and Mash or Shepherd's Pie that bring back nostalgic memories of home-cooked meals.
No matter what you choose from their menu at Jolly Sailor Pub in Poole, rest assured that we only use quality ingredients sourced locally whenever possible. So come on down and join us for some good old-fashioned British pub food that will leave you feeling satisfied and ready for more!
Map:
6. Rope & Anchor
Rope & Anchor is more than just a pub – it's a place where passion for food and community come together. their vision is simple: to serve home-cooked food made with love, using locally sourced ingredients whenever possible.
Every dish we prepare at Rope & Anchor is crafted in their own kitchen. From the tangy piccalilli that accompanies their mouthwatering home-glazed ham, egg & chips, to the fragrant focaccia served alongside their delectable soup and mushroom pate, every bite speaks of dedication and attention to detail.
Step inside this cozy establishment and you'll instantly feel at home. The warm ambience creates an inviting atmosphere perfect for enjoying a pint of cask ale or lager. If beer isn't your thing, fear not – we have an excellent selection of wines, gins, and spirits too.
But Rope & Anchor isn't just about great food and drinks; it's also a hub for live music lovers. We regularly host talented local artists who fill the air with captivating melodies while you savour your meal or chat with friends over drinks. Keep an eye on their events page for upcoming performances!
When the weather allows, take advantage of their outdoor courtyard and front seating area. Picture yourself basking in the sunshine on warm afternoons or relaxing under the stars on balmy evenings – pure bliss.
At Rope & Anchor, we strive to create an experience that goes beyond serving delicious meals; we aim to bring people together through good food, great company, and memorable moments. So why not join us soon? Discover what makes Rope & Anchor one of Poole's hidden gems!
Map:
7. The Angel
Step into The Angel, a bar and kitchen that is sure to excite your taste buds and delight your senses. Indulge in an impressive selection of wines, spirits, cask ales, and lagers that will satisfy even the most discerning palate. But it doesn't stop there – their pizza menu takes centre stage with its freshly handmade dough and secret recipe sauce. Topped with only the finest ingredients, their pizzas are renowned for being the best in Poole.
At The Angel, we pride ourselves on offering more than just great food and drinks. We create a friendly and welcoming atmosphere where everyone feels at home. their dedicated staff provide exceptional service that goes above and beyond to ensure you have a memorable experience every time you visit.
Whether you're looking for a place to catch up with friends or enjoy a cosy dinner with loved ones, The Angel offers the perfect setting. With its inviting ambience, delicious food options, and excellent service, it's no wonder why people keep coming back for more.
So step through their doors and discover why The Angel is one of Poole's most exciting bars and kitchens. It's not just about what we serve; it's about creating an unforgettable experience that keeps you coming back for more.
Map:
8. Yachtsman Pub & Restaurant
Nestled near Rockley Park, the Yachtsman Pub & Restaurant in Poole is a hidden gem that deserves to be talked about. Step inside and indulge in hearty pub classics, from mouthwatering Sunday Roasts to their very own Dorset-brewed Badger Beers.
The rustic charm of the Yachtsman invites you to cosy up by the wood burner under the oak beams, creating a warm and inviting atmosphere. But if you prefer some sunshine, head out to their large terrace and find your perfect spot.
Families are more than welcome at this family-friendly pub, where kids can burn off energy in the children's play area while parents relax and enjoy great food and drinks. Whether it's lunch after a long walk or a wonderful family dinner, you'll always receive a warm and friendly welcome from the attentive team.
What sets the Yachtsman apart is not only its delicious offerings but also its dog-friendly policy. You don't have to leave your furry friend behind when visiting this establishment. From coffee dates with cake to indulgent dinners, bring your best friend along for some quality time together.
Experience all that Yachtsman Pub & Restaurant has to offer – exceptional food, a welcoming ambience, and an opportunity for memorable moments with loved ones – every visit will surely be worth talking about.
Map:
9. Antelope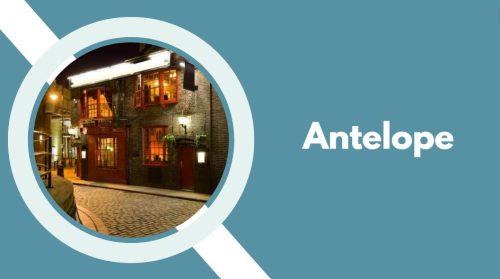 The Antelope, reputedly the oldest hotel in Poole, is a true gem nestled in the heart of this coastal town. With its traditional charm and cosy atmosphere, it offers 23 comfortable bedrooms that guarantee a restful night's sleep after a busy day exploring all that Poole has to offer.
Situated on the main high street, The Antelope has been a popular meeting place for centuries. Its rich history as an old coaching house adds to its allure and makes it a favourite among locals and visitors alike.
Conveniently located within walking distance of the main quay, The Antelope provides the perfect escape from the hustle and bustle of this lively fishing town. Whether you're looking to unwind with a drink at their cosy bar or indulge in delicious dishes at their hidden Smuggler's restaurant, there's something for everyone here.
Don't miss out on experiencing the unique charm of this historic inn during your stay in Poole. Just remember that check-in ends at 10 pm, so be sure to plan accordingly.
Map:
10. The Quay – JD Wetherspoon
Located in the heart of Poole, The Quay – JD Wetherspoon is a popular pub that offers a vibrant and lively atmosphere. With its spacious interior and welcoming staff, it's the perfect place to unwind and enjoy a drink or two.
The pub boasts an extensive menu with a variety of options to suit every taste. From classic pub fare like fish and chips to more adventurous choices like gourmet burgers, there's something for everyone here. And let's not forget about their impressive selection of drinks, including a wide range of beers on tap.
One thing that sets The Quay apart is its stunning waterfront location. Situated right by Poole Harbour, you can enjoy beautiful views while sipping on your favourite beverage. Whether you're catching up with friends or simply taking some time for yourself, this pub provides the ideal setting to relax and soak in the surroundings.
The Quay also hosts regular events and live music nights, ensuring there's always something exciting happening. So if you're looking for a fun night out or just want to grab a quick bite to eat during the day, make sure to check out The Quay – JD Wetherspoon.
Map:
Conclusion
In conclusion, Poole is home to a variety of fantastic pubs that offer a unique and enjoyable experience for locals and visitors alike. Whether you're looking for a cosy traditional pub or a lively waterfront venue, Poole has something to suit every taste. The best pubs in Poole offer a warm and welcoming atmosphere, and delicious drinks, and often feature live music or entertainment. From classic British pubs serving ales and spirits to trendy bars crafting creative cocktails, the pub scene in Poole is thriving. Some top recommendations for the best pubs in Poole include The Quay, The Antelope, The Lord Nelson, The Poole Arms, and The King Charles. So, whether you're looking for a relaxing pint or a lively night out, be sure to visit the best pubs in Poole and enjoy the vibrant atmosphere and friendly hospitality this charming coastal town has to offer.
Related Articles:
Best Pubs in Weston-super-Mare