Welcome to our guide on the best pubs in Teignmouth! Whether you're a local looking for your new favourite spot or a visitor exploring this charming seaside town, we've got you covered with our top 11 picks. From traditional taverns with historic charm to modern bars serving up craft beers and cocktails, there's something for everyone on our list. So sit back, grab a pint (or a cocktail!), and let us take you on a tour of Teignmouth's finest watering holes.
Best Pubs in Teignmouth – Top 11
1. The Jolie Brise – JD Wetherspoon
Website: www.jdwetherspoon.com
The Jolie Brise is a unique Wetherspoon pub located in Teignmouth that has a rich history dating back to the early 1900s. Before it became a supermarket, the site was Sidney Croydon's Printing and Publishing Works, where Henrietta Paddon worked in the steam laundry.
In 1925, her husband joined forces with Commander EG Martin and won the first 600-mile Fastnet Race aboard the gaff-rigged pilot cutter Jolie Brise. This vessel holds an impressive record as being the only one to win this race three times.
Today, visitors can enjoy an extensive range of real ales, ciders and craft beers at The Jolie Brise alongside other drinks throughout both day and evening. The building underwent complete refurbishment before opening as a Wetherspoon pub including rebuilding its rear structure.
For those seeking fresh air while they drink or dine out, there's also a pleasant outdoor seating area on the first floor of The Jolie Brise that provides beautiful views over Teignmouth's charming surroundings.
Map:
2. Ship Inn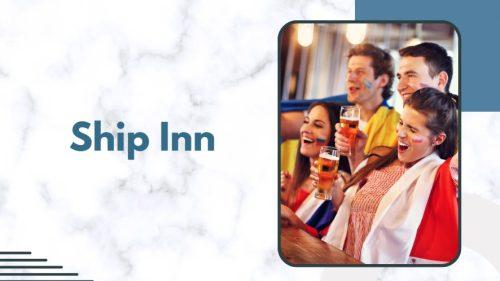 Website: www.theshipinnteignmouth.co.uk
The Ship Inn is one of the must-visit pubs in Teignmouth. Located on the popular Back Beach, this pub offers breathtaking views of the Teign Estuary that you can enjoy while sipping your pint or having a sumptuous meal.
The menu at The Ship Inn has something for everyone with locally sourced seafood being their specialty. You'll also find a great selection of wine, real ales, and ciders to choose from.
This inn is famous for its live music throughout the year which makes it an ideal spot to unwind after a long day exploring Teignmouth's beautiful attractions. But what sets it apart is its two beach music festivals right outside the pub! These events are not just popular among locals but attract visitors from miles around too.
While The Ship Inn doesn't have its own car park, there's no need to worry as public parking options are readily available nearby. So head over to The Ship Inn where you're sure to have a memorable experience filled with great food, drinks, and entertainment!
Map:
3. Ye Olde Jolly Sailor
Website:  www.yeoldejollysailor.com
Ye Olde Jolly Sailor is a traditional pub with a rich history located in the beautiful seaside town of Teignmouth, Devon. This gem of a pub is full of character and charm, making it the perfect spot to soak up some local history while enjoying a refreshing pint or tasty meal.
Believed to be the oldest pub in Teignmouth, Ye Olde Jolly Sailor has been serving patrons for centuries. Set back from the road, this quaint establishment offers visitors an authentic experience that captures the essence of what makes British pubs so special.
If you're looking for an escape from city life or just want to enjoy some good food and drink in a cosy setting, make sure to add Ye Olde Jolly Sailor to your list. The location provides easy access by foot from nearby Dawlish and is only a short drive away from Newton Abbot and Torquay.
So why not take some time out of your day-to-day routine to visit this historic establishment? With its old-world charm and friendly staff, Ye Olde Jolly Sailor will transport you back in time while offering all the modern amenities you need for an enjoyable evening out.
Map:
4. The Blue Anchor 
The Blue Anchor is a Grade II listed building steeped in history and charm. It is located in the heart of the Teign Street Conservation area, just opposite the entrance to the docks. This pub has been voted South Devon CAMRA Town Pub of the Year, making it one of the premier Real Ale Pubs in town.
If you're looking for an excellent selection of beers, then The Blue Anchor is your go-to place! With eight hand pumps dedicated to constantly varying beers and two pumps serving traditional ciders from Ashbridge, Sandford Orchards and Westons, there's something here for every taste bud.
Apart from its great beer selection, another reason why The Blue Anchor draws people towards it is its outdoor drinking area at the side and rear of the premises. You can enjoy your drink while soaking up some sun or enjoying a pleasant evening breeze.
Despite having a jukebox and pool table, this pub still manages to maintain its quiet ambience – perfect if you're looking for some peace after a long day. Whether you're alone or with friends/family/co-workers/loved ones; whether you're there during daytime or nighttime – The Blue Anchor will welcome you with open arms!
Map:
5. Molloys 
Molloys – a pub located in the town centre of Teignmouth, has undergone various changes over the years. Previously owned by Bass, it used to be known as 'The Kangaroo', which is still evident from its old pub sign in the backyard. However, since then, it has been renamed Molloys and now serves Bays beers.
The bar area is divided into separate sections with old barrels used as tables and woody feels giving patrons a rustic vibe that adds character to their drinking experience. Additionally, there are three TVs and a projector for sports lovers who want to catch up on live events while enjoying their drinks.
One of the perks of this pub is its excellent outside drinking area in a pedestrian way preservation area that offers guests ample space under beautiful skies. There's no better place than here to feel relaxed or have quality time with friends and family.
Apart from all this, they offer an exciting loyalty scheme where customers can avail themselves 10% discount using £2 card-based payments. If you're looking for more than just good beer but also fantastic deals in Teignmouth pubs- Molloys should definitely be one of your top picks!
Map:
6. The Brass 
The Brass, a pub that has been recently refurbished and renamed in 2021, is situated at the halfway point between the railway station and bus bays. It serves as an excellent retreat for travellers who want to unwind before continuing their journey or locals looking for some downtime away from the bustling town centre.
The interior of The Brass is warm and welcoming with comfortable seating arrangements perfect for relaxing. The bar offers a wide range of drinks including beer on tap, wine, spirits, and soft drinks. There's something for everyone here!
If you're feeling peckish while enjoying your drink or just need a little pick-me-up snack then look no further than their menu featuring delicious homemade dishes such as burgers and sandwiches made with locally sourced ingredients.
One unique feature of this pub is its collection of board games available to play with friends or family over a pint. You can also catch up on live sports events shown on TV screens throughout the pub.
The Brass provides a much-needed respite from busy travel schedules or daily life in general. Its convenient location combined with cosy interiors makes it an ideal spot for unwinding after work or catching up with friends over drinks and games.
Map:
7. Kings Arms
Website: www.kingsarmsteignmouth.com
Looking for a great place to visit and enjoy some refreshing drinks and tasty snacks? Look no further than Kings Arms! This pub serves up a fantastic range of real ales, ciders, and ice-cold lagers that are sure to quench your thirst on even the hottest days.
If you're looking for some shade on those sunny afternoons, head out back to the beer garden. It's the perfect spot to relax with friends while enjoying your favourite brews. Or if you prefer, grab a seat outside by the front door and watch the world go by.
Prefer an indoor setting? You won't be disappointed here either. The interior is uniquely decorated and provides a great atmosphere in which to enjoy good music and conversation over delicious drinks.
But don't forget about those homemade bar snacks! They're available all day long, so whether you've worked up an appetite or just need something small to tide you over until dinner time, Kings Arms has got you covered.
Map:
8. The Teign Brewery
The Teign Brewery Inn has a rich history that dates back to the 18th century when it was originally built as a house. Today, the building is grade II listed and features a late 19th-century shop front. It later became a pub and although called the 'Teign Brewery Inn' no brewery exists on the premises.
Inside, you'll find two bars that serve up an extensive range of beverages for your enjoyment. The atmosphere is warm and welcoming, making it an ideal spot to relax with friends or family after work or on weekends.
If you're looking for some fresh air while enjoying your drink, head out to the beer garden at the back of the pub. It's a great place to soak up some sunshine during warmer months.
It's worth noting that this establishment may close early if business is quiet. However, don't let this deter you from visiting – it's still worth stopping by for its charming ambience and selection of drinks alone!
Map:
9. Dicey Reilly's
Dicey Reilly's is a lively and bustling pub located in the heart of Teignmouth. With its split-level layout, wooden flooring, and comfortable settees, it offers a warm and welcoming atmosphere to visitors. The pub has seven TVs which ensure that sports fans can catch all their favourite games while enjoying drinks with friends.
Apart from the sports coverage, Dicey Reilly's hosts various events throughout the week that cater to different interests. Thursday poker nights are popular among card enthusiasts while live music Fridays bring talented local musicians who entertain customers with their performances. Saturdays have DJs playing tunes to get people up on their feet and dancing! And if you're feeling brave enough or just want some fun entertainment on Sundays, karaoke is sure to deliver!
For those looking for something more low-key, free pool tables are available every Sunday and Monday at Dicey Reilly's. To add an extra element of excitement for patrons there are quiz machines where they can test their knowledge against fellow drinkers.
Dicey Reilly's delivers great value for money without compromising quality in any area – food or drink-wise – making it a must-visit spot when exploring pubs in Teignmouth!
Map:
10. King William IV 
King William IV is a vibrant sports and music bar that caters to the younger crowd. With its tasteful conversion from a hotel, it now boasts Two Beaches Brewery as its owner. The possibility of transferring the brewing process to the back of the pub is currently being considered.
The establishment has become famous for its established bands playing once a month, giving guests something to look forward to on their night out. The rear garden is also undergoing an upgrade with plans to hold quizzes every Thursday, providing another fun activity for patrons.
If you're looking for great deals on drinks and spirits, King William IV offers happy hour from 4:30 pm until 7:30 pm along with a wide variety of gins available.
King William IV is definitely worth checking out if you want your night filled with good vibes and lively entertainment.
Map:
11. The Ferry Boat Inn
Website: www.theferryboatinn.co.uk
The Ferry Boat Inn, fondly known as the FBI to the locals, is a charming and dog-friendly historic pub nestled next to the picturesque beach in the enchanting fishing village of Shaldon, Devon. Situated at the mouth of the River Teign, this pub is owned and operated by a local couple, Matt and Michelle, who took over in November 2018. With Matt's previous experience as a golf club manager and Michelle's extensive background in bar and restaurant management, they bring a wealth of expertise to the hospitality trade, ensuring a delightful experience for all patrons.
Map:
Conclusion
And there you have it – the top 11 best pubs in Teignmouth. Whether you're a local or just visiting, be sure to check out these fantastic establishments for some great drinks, delicious food and lively entertainment. From the historic Ye Olde Jolly Sailor to the dog-friendly FBI, there truly is something for everyone in this charming seaside town. Cheers!
Related Articles: