Welcome to the Mendip Hills, an idyllic slice of English countryside that's perfect for those seeking a break from busy city life. Nestled in Somerset County, this picturesque region offers visitors a wealth of natural beauty and unique experiences to enjoy. From exploring magnificent caves and climbing towering cliffs to cycling along scenic paths and immersing yourself in lavender fields – there's something here for everyone! In this blog post, we've put together our top 10 picks for the best things to do in Mendip Hills, so let's dive right in!
Best Things to Do in Mendip Hills – Top 10
1. Cheddar Gorge
Cheddar Gorge is a true wonder of nature and one of the most impressive sights in Mendip Hills. As Britain's largest gorge, it offers visitors an unforgettable experience with towering cliffs, stunning views, and fascinating history.
The gorge is home to several walking trails that provide access to some of its most scenic viewpoints. One popular route is the Cliff-top Walk which takes visitors along the edge of the gorge for breathtaking panoramic views over the surrounding countryside.
For those who are feeling adventurous, there are plenty of opportunities for rock climbing in Cheddar Gorge. With its many limestone cliffs and challenging routes for climbers of all levels, this location has become a mecca for rock-climbing enthusiasts from around the world.
Visitors can also explore historic sites within Cheddar Gorge like Gough's Cave – one of Britain's oldest inhabited caves dating back 40,000 years! Here you'll find unique stalactite formations and learn about prehistoric life through interactive displays.
Whether you're seeking adventure or simply want to take in some awe-inspiring natural beauty, Cheddar Gorge should be at the top of your list when visiting Mendip Hills.
2. Wookey Hole Caves
The Wookey Hole Caves are a must-visit attraction when exploring the Mendip Hills. This extensive network of limestone caves is located near the village of Wookey and is filled with impressive rock formations, underground rivers, and even an underground lake.
Once you enter the cave system, you'll be amazed by the sheer size and beauty of these natural wonders. The stalactites and stalagmites create incredible shapes that have been formed over thousands of years through erosion and mineral deposits.
As you make your way deeper into the cave system, you'll come across an underground river that flows through some parts of the caves. You can take a boat ride on this river to experience its tranquillity firsthand.
One highlight of visiting Wookey Hole Caves is seeing its most famous resident – the Witch of Wookey! Legend has it that a witch used to live in these caves centuries ago, making potions with her cauldron. Today, visitors can see her statue inside one part of the cave system.
Exploring the Wookey Hole Caves is an unforgettable experience for nature lovers and history buffs alike. Don't miss out on this unique opportunity to witness some truly awe-inspiring geological features deep beneath the earth's surface.
3. Glastonbury Tor
Glastonbury Tor is one of the most iconic landmarks in Mendip Hills. With its mysterious history and stunning views, it's a must-visit destination for any traveller.
The hike to the top can be quite steep, but well worth it once you reach the summit. You'll be rewarded with panoramic views of the surrounding countryside, including Glastonbury Abbey and beyond.
But Glastonbury Tor isn't just a beautiful viewpoint – it also has significant historical and mythological significance. Legend says that King Arthur himself visited this site, making it an important part of British folklore.
As you climb up towards the top, take notice of some interesting features along the way such as medieval terracing or St Michael's Tower which sits at its peak. Many visitors have reported feeling a sense of mystery and magic as they make their ascent to Glastonbury Tor.
Climbing up to Glastonbury Tor is an experience like no other. Whether you're interested in history or simply want to enjoy some breathtaking views, this hill should definitely be on your list when visiting Mendip Hills!
4. Visit Wells
Wells, a small city in Somerset, is often referred to as the "smallest city in England." Despite its size, this charming city has plenty of things to offer for tourists and locals alike. The most notable attractions are Wells Cathedral and the Bishop's Palace with its beautiful gardens.
Wells Cathedral is an impressive piece of Gothic architecture that dates back to the 12th century. Its intricate carvings, stained glass windows, and soaring ceilings make it one of the most magnificent cathedrals in England. Don't miss out on visiting The Chapter House while you're there; it houses one of the oldest surviving copies of the Magna Carta.
The Bishop's Palace is another must-see attraction in Wells. This medieval palace was once home to the bishops of Bath and Wells and boasts stunning gardens filled with rare plants, swans swimming along its moat, and even resident peacocks wandering around.
While exploring Wells' historic streets lined with quaint shops and cafes, be sure also to check out Vicars' Close – considered by many as one of Europe's oldest continuously inhabited residential streets!
A visit to Wells wouldn't be complete without touring these two iconic landmarks—the cathedral which stands tall over Somerset's capital city & Bishop's Palace – both filled with history not easily forgotten.
5. Mendip Hills AONB
Nestled in the southwest of England, the Mendip Hills Area of Outstanding Natural Beauty is a paradise for nature lovers. The rolling hills, expansive views, and diverse wildlife make this area a must-visit destination for those seeking tranquillity and escape from city life.
The Mendip Hills AONB boasts an incredible variety of flora and fauna that can be explored by foot or bike. From wildflowers to rare butterflies and birds, there's something unique around every corner.
For hikers looking for adventure with stunning scenery as a backdrop, the Mendip Hills offer numerous trails ranging in difficulty level. Some popular routes include Cheddar Gorge Walk, Burrington Combe Circular Walk and Blagdon Lake Circular Walk.
If cycling is more your thing, then grab your bike and hit some of Somerset's most beautiful cycle paths including Strawberry Line Cycle Path which stretches across 30 miles with panoramic views over the region.
A visit to the Mendip Hills AONB would not be complete without stopping at one of its quaint villages such as Priddy or Chew Magna where you can enjoy traditional food at local pubs while taking in breathtaking countryside views.
Exploring this natural wonderland will leave you feeling refreshed both mentally and physically while creating unforgettable memories that last a lifetime.
6. Longleat Safari Park
Longleat Safari Park is a must-visit attraction for animal lovers. This park offers an immersive wildlife experience with over 500 animals, including lions, tigers, giraffes, and monkeys. Longleat's famous safari drive-through takes visitors on a journey through different habitats where you can see these beautiful creatures up close.
The best part of the safari adventure is that you get to explore the park in your own vehicle or by taking one of their guided tours. You will feel like you are truly in the wild as you watch lions lazing around under trees or spot rhinos grazing nearby.
Apart from the safari drive-through experience, Longleat has many other attractions such as Penguin Island, Monkey Temple and Jungle Kingdom where visitors can interact with exotic birds and primates. Additionally, there are plenty of fun activities for kids such as the Adventure Castle play area and Little Explorer's Garden.
Longleat Safari Park provides an unforgettable day out full of excitement and wonderment among some of nature's most magnificent creatures.
7. Somerset Lavender Farm
The Somerset Lavender Farm is a must-visit destination for those who love the beauty and scent of lavender. As you arrive at the farm, you'll be greeted by a sea of purple as far as the eye can see.
Walking through rows upon rows of fragrant lavender fields, you'll feel like you've been transported to another world. The vibrant colours and sweet aroma are truly magical.
In addition to admiring the beautiful scenery, there are plenty of activities to enjoy at the farm. You can take part in guided tours where experts will explain everything about growing and harvesting lavender.
There's also a gift shop on-site where visitors can purchase handmade products such as soaps, lotions, and oils made from pure lavender essential oil that have therapeutic benefits for relaxation or remedies for minor ailments.
If you're lucky enough to visit during peak season when the flowers are in full bloom (June-July), make sure to bring your camera! The photo opportunities here are endless – don't forget to snap some selfies among the stunning backdrop!
Visiting Somerset Lavender Farm is an unforgettable experience that will delight all your senses – it's definitely worth adding this hidden gem to your list of things to do if ever find yourself exploring Mendip Hills Area of Outstanding Natural Beauty!
8. Rock Climbing
The Mendip Hills offer excellent opportunities for rock climbing and bouldering, attracting enthusiasts from all over the world. The area is known for its limestone cliffs that provide a challenging climb to both beginners and experienced climbers alike.
One of the most popular locations for rock climbing in the Mendip Hills is Cheddar Gorge, which features towering cliffs that rise up to 450 feet above sea level. Climbers can choose from a range of routes with varying degrees of difficulty, providing an enjoyable challenge for everyone.
For those who prefer bouldering, there are numerous locations scattered throughout the hills where you can test your skills on smaller rocks without ropes or harnesses. These spots offer a more relaxed approach to climbing but still require technical skill and strength.
It's important to note that before going out on any climbs, it's vital to make sure you have all the necessary equipment as well as proper training if you're new to climbing. Safety should always be taken seriously when attempting any outdoor activity.
Rock climbing in the Mendip Hills provides an exciting challenge in one of the most beautiful natural settings in England. Whether you're looking for adventure or just want to enjoy some time outdoors surrounded by stunning views, this activity is definitely worth checking out!
9. Cheddar Reservoir
Cheddar Reservoir is a man-made lake situated in the picturesque countryside of Mendip Hills. It's an ideal spot for water activities like sailing, windsurfing, and kayaking. The reservoir is so large that you can easily spend hours exploring its crystal clear waters.
If you're into sailing or windsurfing, then Cheddar Reservoir won't disappoint you. The strong breeze makes it perfect for these activities, allowing visitors to glide smoothly across the water while enjoying the surrounding scenery.
For those who prefer something more adventurous, kayaking is a great option at Cheddar Reservoir. Paddle your way through the calm waters while taking in stunning views of nature all around you.
What's more exciting about visiting Cheddar Reservoir is that it offers serene surroundings with no distractions from modern life. This peaceful environment allows visitors to relax and recharge their batteries while engaging in outdoor activities they love.
In addition to its natural beauty and excellent facilities for water sports lovers alike, there are plenty of other things to do nearby if you feel like venturing out further than just the reservoir itself – making this destination a must-visit when travelling to Mendip Hills!
10. Strawberry Line Cycle Path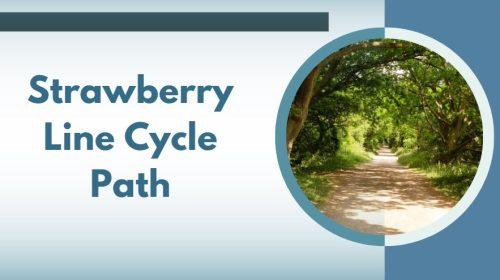 The Strawberry Line Cycle Path is a must-visit attraction for any nature lover or cycling enthusiast. This picturesque path stretches through the stunning Mendip Hills and offers breathtaking views of the surrounding countryside.
Once a railway line, this converted path now provides an ideal route for cyclists and walkers alike who want to explore the beauty of the area without having to navigate busy roads.
The Strawberry Line takes you on a scenic journey through charming villages, tranquil woodland, and open fields. Along the way, you can stop at various points of interest such as historic buildings or local cafes where you can take a break and refuel with delicious food and drinks.
This family-friendly trail is perfect for all ages and abilities as it's relatively flat with only gentle inclines in some places. So whether you're looking for a leisurely cycle or an energising walk, this path won't disappoint.
In addition to being surrounded by natural beauty, there are plenty of opportunities along the Strawberry Line to learn about local history too. Informational boards placed at intervals provide fascinating insights into past industries that once thrived in the area.
If you're planning on visiting Mendip Hills soon, be sure not to miss out on exploring the picturesque Strawberry Line Cycle Path.
Conclusion
The Mendip Hills offer a wide range of activities and attractions for visitors to enjoy. From exploring the stunning Cheddar Gorge to experiencing the beauty of lavender fields at Somerset Lavender Farm, there is something for everyone in this Area of Outstanding Natural Beauty.
Whether you're an adrenaline junkie looking for a challenge or simply seeking a relaxing getaway surrounded by nature, the Mendip Hills won't disappoint. So pack your bags, grab your hiking boots or bike, and get ready to experience some of the best things this area has to offer!
 FAQs on Things to Do in Mendip Hills
1. What is Mendip famous for?
Mendip is famous for its picturesque limestone hills and caves. The region is renowned for its extensive cave systems, including the popular Cheddar Gorge and Wookey Hole. These attractions attract many visitors interested in exploring the underground wonders of the area.
2. What is the highest point in Mendip Hills?
The highest point in the Mendip Hills is called Black Down, which stands at an elevation of 325 meters (1,066 feet) above sea level. It offers stunning panoramic views of the surrounding countryside.
3. Where do the Mendip Hills start?
The Mendip Hills start near the town of Frome in Somerset, England. The hills then extend in a roughly east-west direction, covering a significant portion of Somerset County.
Related Articles:
Best Things to Do in Gloucestershire
Best Things to Do in Cheltenham