Welcome to the vibrant and captivating city of Southampton! Nestled on the stunning south coast of England, this bustling hub is brimming with exciting things to see and do. Whether you're a shopaholic, a foodie in search of delectable culinary delights, an art enthusiast seeking inspiration or an outdoor adventurer craving some natural beauty, Southampton has it all. So tighten your seatbelts as we take you on a whirlwind tour of the top attractions and activities that make Southampton truly unforgettable. Get ready to immerse yourself in a world of shopping sprees, mouthwatering dining experiences, pulsating nightlife scenes, fascinating arts and culture exhibits, and thrilling outdoor adventures. Let's dive right into the heart of Southampton's endless possibilities!
Best Things to Do in Southampton
Things to Do in Southampton for Couples
1. Romantic Stroll Along the Waterfront
Immerse yourself in the romantic ambience of Southampton by taking a leisurely stroll along its picturesque waterfront. As you walk hand in hand with your partner, you'll be treated to breathtaking views of the harbour, dotted with elegant sailboats and bustling with activity. The gentle waves lapping against the shore create a soothing soundtrack for your journey.
Allow yourselves to get lost in each other's company as you meander along the promenade. Take a moment to pause and admire the stunning sunsets that paint vibrant hues across the sky, casting a magical glow over the water. There's something undeniably special about witnessing nature's beauty unfold together.
Don't forget to explore some of Southampton's charming cafes and ice cream parlours along the way. Treat yourselves to a sweet indulgence or cosy up at an outdoor table while sipping on refreshing beverages. These little moments of shared delight will only enhance your romantic experience.
2. Visit the Tudor House and Garden
Step back in time and immerse yourself in the rich history of Southampton by visiting the Tudor House and Garden. This hidden gem is a historic house museum that transports you to a bygone era. As you step through its doors, you are instantly captivated by the charm and character of this Tudor-era building.
The inside of the house is filled with fascinating artefacts, furniture, and artwork from different periods throughout history. You can wander through each room, marvelling at the intricate details and imagining what life was like for those who lived here centuries ago.
But it's not just the house itself that makes this attraction special – it's also the beautiful gardens that accompany it. The meticulously maintained gardens provide a tranquil escape from bustling city life. Take a leisurely stroll among vibrant flowers, manicured hedges, and peaceful water features as you soak in the serenity of nature.
3. Dine at Ocean Village
Ocean Village in Southampton is the perfect destination for couples looking for a romantic dining experience. With its stunning waterfront views and a plethora of restaurants to choose from, it offers a delightful setting for an intimate dinner.
As you stroll along the promenade, you'll be spoilt for choice with the wide range of cuisine options available at Ocean Village. Whether you're in the mood for fresh seafood, indulgent Italian dishes, or exotic Asian flavours, there's something to satisfy every palate.
Picture this: sitting hand in hand with your loved one as you overlook the sparkling harbour waters while enjoying a mouthwatering meal. The ambience at Ocean Village is enchanting and sets the stage for an unforgettable evening.
The restaurants at Ocean Village not only offer delectable food but also impeccable service and attention to detail. From cosy candlelit tables to alfresco seating under twinkling lights, each venue creates an atmosphere that exudes romance.
4. Go Wine Tasting
Indulge in the rich and sensual experience of wine tasting with your partner in Southampton. The city is home to a variety of local wineries and wine bars, offering an exquisite selection of wines for couples to savour.
Immerse yourselves in the delightful aromas and flavours as you take a tour of a local winery. Learn about the intricate process of winemaking and discover the unique characteristics that make each wine special. From crisp whites to full-bodied reds, there is something to suit every palate.
Alternatively, you can opt for a more intimate setting by visiting one of Southampton's cosy wine bars. Sit back, relax, and let the knowledgeable staff guide you through a carefully curated tasting flight. Sample different varieties from around the world or focus on locally produced wines that showcase the region's distinct terroir.
5. Cruise the Solent
Cruise the Solent: Embark on a romantic cruise in the Solent, where you can enjoy a day trip or sunset cruise, taking in the coastal beauty of the area.
The Solent is renowned for its breathtaking coastal scenery and what better way to experience it than by cruising along its sparkling waters with your loved one? Whether you choose to embark on a leisurely day trip or a romantic sunset cruise, this activity promises to create lasting memories.
As you set sail, feel the gentle breeze caress your face and watch as the sun casts enchanting hues over the water. The panoramic views of rolling hills, charming villages, and iconic landmarks will leave you awe-inspired. Don't forget to bring your camera – there will be countless opportunities for stunning photographs!
During your cruise, keep an eye out for playful dolphins dancing alongside your boat. Their graceful movements and joyful presence are sure to add an extra touch of magic to your journey. And if you're lucky enough to spot them, seize the moment with a heartfelt embrace as nature's beauty unfolds before you.
Things to Do in Southampton for Young Adults
1. Nightlife in Bedford Place
Welcome to Bedford Place, the beating heart of Southampton's nightlife scene! If you're a young adult looking for a vibrant and energetic atmosphere, this is the place to be. With its array of bars, clubs, and live music venues, Bedford Place offers something for everyone.
Step into one of the trendy bars and sip on expertly crafted cocktails while chatting with friends. The eclectic mix of cocktail lounges ensures that there's always a spot suited to your taste. From classic favourites to innovative concoctions, these establishments have got you covered.
For those who love to dance the night away, Bedford Place boasts some top-notch clubs where you can let loose and show off your moves. Get lost in the rhythm as talented DJs spin an irresistible mix of beats that will keep you on your feet until dawn.
If live music is more your style, make sure to check out the local venues hosting talented musicians from various genres. Whether it's indie rock or soulful jazz that tickles your fancy, there's bound to be a gig that will leave you wanting more.
2. Escape Room Adventures
Escape rooms have taken the world by storm, and Southampton is no exception. These thrilling attractions are perfect for young adults looking to put their problem-solving skills to the test. Gather a group of friends and head to one of Southampton's escape room experiences for an unforgettable adventure.
Step into a world of mystery and intrigue as you enter the escape room. The clock starts ticking, and it's up to your team to work together, solve puzzles, uncover clues, and ultimately find your way out before time runs out. It's an exhilarating race against the clock that will keep you on your toes from start to finish.
The beauty of escape rooms is that they cater to all interests and preferences. Whether you're a fan of horror movies or prefer a more lighthearted theme, there's bound to be an escape room experience that suits your taste. From haunted houses to bank heists or even space adventures, you'll have plenty of options in Southampton.
Escape rooms are not only challenging but also incredibly fun. They require teamwork, communication, critical thinking, and creativity – making them ideal for bonding with friends or even getting closer to colleagues during team-building activities.
3. Shopping at Westquay
When it comes to shopping in Southampton, Westquay Shopping Centre is the place to be for young adults seeking a day of retail therapy. This vibrant and bustling mall features a wide array of shops, ranging from high-street favourites to luxury brands. Whether you're on the hunt for trendy clothing, accessories, or even tech gadgets, you're sure to find something that suits your taste.
But Westquay isn't just about shopping – it's also a hub of entertainment and dining options. Take a break from browsing and refuel at one of the many restaurants scattered throughout the centre. From casual eateries serving up quick bites to upscale dining establishments offering gourmet cuisine, there's something for every palate.
After filling your belly, why not catch a movie at one of Westquay's state-of-the-art cinema screens? Sit back and relax as you enjoy the latest blockbuster releases with friends or loved ones. If movies aren't your thing, there are plenty of other entertainment options available too! You can try your hand at bowling or challenge yourself in an escape room experience.
Westquay truly offers more than just shopping – it's an all-in-one destination where young adults can indulge in retail therapy while enjoying delicious food and exciting entertainment options.
4. Water Sports at Calshot Beach
Are you ready to dive into some exhilarating water sports? Look no further than Calshot Beach in Southampton! This stunning coastal location offers the perfect setting for young adults seeking adventure on the water.
At Calshot Beach, you can try your hand at a range of thrilling water sports. Whether you're a beginner or an experienced enthusiast, there's something for everyone. Feel the rush as you ride the waves while windsurfing, harnessing the power of both wind and sea. Or perhaps kitesurfing is more your style – soar through the air with a kite propelling you across the sparkling waters.
If you prefer something a little more relaxed, why not give paddleboarding a go? Glide along peacefully and take in panoramic views of the coastline as you paddle at your own pace. It's not just about getting active though; these activities also provide an excellent opportunity to connect with nature and enjoy some much-needed downtime.
With its picturesque surroundings and vibrant atmosphere, Calshot Beach is undoubtedly one of Southampton's hidden gems for young adults seeking excitement on their doorstep.
5. Southampton Common Events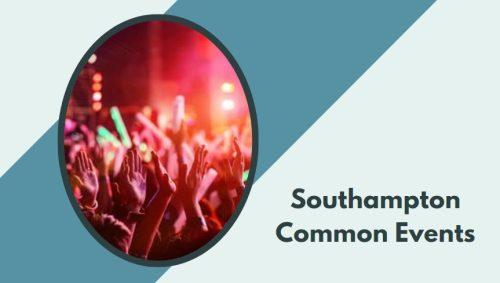 Southampton Common is not just a beautiful green space, but it also plays host to an array of exciting events and festivals throughout the year. Whether you're a music lover, a foodie, or simply looking for some outdoor fun, Southampton Common has something to offer.
One of the highlights of Southampton Common's event calendar is the outdoor concerts. Picture yourself lounging on the grass under the summer sun, listening to your favourite bands performing live music. From local talent to internationally renowned artists, these concerts cater to all musical tastes.
But it's not just about the music – food lovers will be delighted by the variety of food festivals hosted at Southampton Common. Indulge in delicious street food from around the world or sample mouthwatering treats from local vendors. It's a culinary adventure that will leave your taste buds dancing with joy!
In addition to concerts and food festivals, Southampton Common also hosts various other events such as art exhibits and cultural celebrations. Discover talented artists showcasing their work or immerse yourself in diverse cultures through vibrant performances and displays.
With its picturesque surroundings and lively atmosphere, attending an event at Southampton Common is a fantastic way for young adults to socialize and have fun outdoors.
Things to Do in Southampton for Free
1. Southampton City Art Gallery
Nestled in the heart of Southampton, the Southampton City Art Gallery is a haven for art enthusiasts. As you step inside, you'll be greeted by an impressive collection that spans centuries and showcases various artistic styles. From classic oil paintings to contemporary sculptures, there's something here to captivate every visitor.
Wander through the gallery's halls and marvel at renowned works by artists like J.M.W. Turner and Auguste Rodin. The diverse range of pieces on display offers a glimpse into different periods of art history.
What makes this experience even more enticing is that admission to the Southampton City Art Gallery is absolutely free! So whether you're a seasoned art connoisseur or simply appreciate beautiful creations, this gallery should definitely be on your list of must-visit places in Southampton.
Take your time to soak up the ambience as you admire each masterpiece. Engage with fellow visitors or find a quiet spot to contemplate the intricate details of each painting or sculpture. A visit to the Southampton City Art Gallery promises not just visual delight but also an opportunity for contemplation and inspiration – all without spending a penny!
2. Explore Southampton Common
Looking for a peaceful retreat amidst the bustling city? Look no further than Southampton Common! This expansive green space offers a welcome escape from the urban jungle, inviting you to immerse yourself in nature's embrace. Whether you're longing for a leisurely stroll or a fun-filled picnic with friends and family, Southampton Common has got you covered.
With its vast open fields and tranquil ponds, it's easy to spend an entire day here. Bring along your favorite book or simply bask in the sunshine as you unwind on the grassy meadows. If you're feeling more active, grab a frisbee and challenge your companions to some friendly competition.
As you wander through this idyllic landscape, keep an eye out for the vibrant wildlife that calls this place home. From graceful swans gliding across the water to squirrels playfully darting between trees, there's always something fascinating to observe.
And if all that fresh air leaves you feeling peckish, fear not! The Common is conveniently located near various cafes and eateries where you can refuel after your outdoor adventures.
3. Bargate Monument
As you roam the streets of Southampton, one sight that cannot be missed is the majestic Bargate Monument. This iconic medieval gatehouse stands tall and proud, serving as a symbol of the city's rich history and heritage.
The Bargate Monument dates back to Norman times and was once part of Southampton's defensive walls. Its towering presence instantly takes you back in time, allowing you to imagine what life might have been like centuries ago. As you approach the monument from the outside, its intricate architecture and imposing structure are sure to leave you awestruck.
While entrance to the interior may require an admission fee, there is no charge for admiring this grand structure from afar. Take a leisurely stroll around it or find a cosy spot nearby to sit back and take in its beauty. The Bargate Monument serves as a reminder of Southampton's past while standing strong amidst the bustling modern city.
4. Old Town Walls
The Old Town Walls of Southampton stand as a testament to the city's rich history. As you take a leisurely stroll along these ancient fortifications, you can't help but feel connected to the past. The walls encircle the city centre, offering glimpses into bygone eras and providing a unique perspective on Southampton's fascinating past.
Imagine walking in the footsteps of medieval inhabitants, tracing their path along these historic ramparts. Each stone tells a story, whispering secrets from centuries gone by. You can almost envision knights patrolling the walls or merchants bustling through the gates.
As you walk along the Old Town Walls, take your time to soak up the atmosphere and admire the picturesque views of Southampton. From certain vantage points, you'll catch glimpses of charming streets lined with quaint shops and cafes. It's like stepping back in time while still enjoying modern amenities.
In addition to their historical significance, the Old Town Walls also serve as a pleasant pathway for pedestrians. It's an ideal route for those seeking some exercise or simply looking for a peaceful escape from city life. The walls offer tranquil corners where you can pause and reflect on this vibrant city's storied past.
5. St. Michael's Square
Nestled in the heart of Southampton, St. Michael's Square is a vibrant hub of activity that promises to captivate your senses. As you step into this lively square, you'll be greeted by an energetic atmosphere buzzing with excitement. The best part? It won't cost you a penny to soak up all the entertainment on offer!
Stroll through St. Michael's Square on any given day and you're bound to stumble upon street performers showcasing their talents. From musicians strumming catchy tunes to mesmerizing magicians who will leave you questioning reality, there's always something happening here.
The square also plays host to various events throughout the year, making it an ideal spot for free entertainment. Whether it's a cultural festival celebrating diversity or a local market brimming with delicious food stalls, there's never a dull moment at St. Michael's Square.
Take a break from exploring the city and find yourself a seat on one of the benches scattered around the square. Sit back, relax, and let yourself be immersed in the vibrant energy that fills the air.
Things to Do in Southampton for Families
1. SeaCity Museum
Step back in time and embark on a fascinating journey through Southampton's maritime history at the SeaCity Museum. This captivating museum offers a truly immersive experience, perfect for families eager to discover the city's rich connection to one of history's most famous ships – the Titanic.
As you wander through the exhibits, you'll learn about Southampton's role as the departure point for this ill-fated voyage. Delve into personal stories of passengers who boarded the ship here, gaining a deeper understanding of their hopes and dreams as they set sail on that fateful night.
But it's not just about the Titanic; SeaCity Museum also showcases Southampton's broader maritime heritage. Explore interactive displays that detail its thriving port industry throughout different eras, giving you insights into how trade and travel shaped this bustling city over time.
With engaging activities for children, including hands-on exhibits and educational workshops, SeaCity Museum ensures that little ones will be entertained while learning about history in an exciting way. From dressing up as sailors to exploring replica cabins, there are plenty of opportunities for kids to immerse themselves in Southampton's seafaring past.
2. New Forest Wildlife Park
Nestled just a short drive away from Southampton is the magnificent New Forest Wildlife Park. This hidden gem offers families an opportunity to get up close and personal with a variety of native and exotic animals in their natural habitat.
As you step through the gates of the park, you'll be transported into a world teeming with life and wonder. From majestic red deer to mischievous otters, every corner holds something new and exciting to discover. The park's spacious enclosures provide ample space for these incredible creatures to roam freely, allowing visitors to witness them in their element.
One of the highlights of visiting this wildlife haven is encountering some rare species that are not commonly seen elsewhere. Keep your eyes peeled for European bison, Scottish wildcats, and even lynx! These elusive creatures offer a glimpse into the wild beauty that can be found right on our doorstep.
But it's not just about observing from afar at New Forest Wildlife Park. There are interactive experiences available too! Get involved in feeding sessions or attend informative talks by knowledgeable staff who will teach you all about these fascinating animals and their conservation efforts.
For those seeking adventure within nature's embrace, make sure to explore the park's woodland trails as well. Immerse yourself in the tranquil surroundings while keeping an eye out for local wildlife such as squirrels darting through trees or birds singing melodies overhead.
3. Paultons Park
Are you ready for a day of fun and excitement? Look no further than Paultons Park, the ultimate destination for families in Southampton. This fantastic park has something for everyone, from thrilling rides to adorable attractions. But what makes it truly special is its famous resident – Peppa Pig!
Peppa Pig World is every child's dream come true. Step into this whimsical land and join Peppa and her friends on exciting adventures. From riding in Daddy Pig's car to exploring George's dinosaur-themed play zone, there are endless opportunities for laughter and joy.
But that's not all Paultons Park has to offer. For thrill-seekers, there are adrenaline-pumping rides like The Cobra rollercoaster or Flight of the Pterosaur. If you prefer something more laid-back, take a leisurely stroll through beautiful gardens or enjoy a picnic by one of the many picturesque lakes.
For animal lovers, there are amazing animal exhibits where you can get up close with furry friends like meerkats or majestic birds of prey. And don't forget to catch one of the daily shows featuring talented performers who will entertain both young and old alike.
No matter how old your kids are – or even if you're just a big kid at heart – Paultons Park promises an unforgettable day out full of laughter, adventure, and cherished memories.
4. Itchen Valley Country Park
Located just a short distance from Southampton, Itchen Valley Country Park is the perfect destination for families looking to enjoy outdoor adventures. With its vast walking trails, expansive play area, and picturesque spots for picnicking, there's something for everyone to enjoy.
The park offers a variety of walking trails that cater to different abilities and interests. Whether you're up for a leisurely stroll or a more challenging hike, you'll find it here. As you wander along the paths, take in the stunning natural beauty of the park – from woodlands and meadows to serene lakeside views.
For those with young children, the play area at Itchen Valley Country Park is sure to be a hit. Let your little ones climb on the playground equipment or have fun exploring the sandpit. There are also plenty of open spaces for them to run around and burn off some energy.
One of the highlights of visiting this park is having an opportunity to picnic amidst nature's tranquillity. Find a cosy spot under one of the trees or by one of the lakes and savour your packed lunch while enjoying beautiful surroundings.
5. Mini Golf at Riverside Park
Looking for a fun and family-friendly activity in Southampton? Look no further than mini golf at Riverside Park! Located near the picturesque River Itchen, this is the perfect spot to spend some quality time with your loved ones while enjoying stunning scenic views.
Mini golf is a classic game that appeals to people of all ages. Whether you're an experienced golfer or just trying it out for the first time, Riverside Park offers a well-maintained course suitable for everyone. As you make your way through the winding paths and tricky obstacles, laughter and friendly competition are guaranteed!
What sets mini golf at Riverside Park apart is its beautiful location. Imagine playing amidst lush greenery with the calming sound of water in the background. It's not just about hitting tiny balls into holes; it's also about immersing yourself in nature and creating lasting memories together as a family.
The park itself offers plenty of amenities to enhance your experience. After a round of mini golf, you can take a leisurely stroll along the riverbank or find a cosy spot for a picnic. There's even a play area where children can burn off their energy while parents relax nearby.
Things to Do in Southampton at Night
1. The Mayflower Theatre
Step into a world of enchantment and awe at The Mayflower Theatre, Southampton's premier venue for live performances and shows. This historic theatre has been entertaining audiences since 1928, showcasing a diverse range of entertainment that will leave you spellbound.
From dazzling musicals to captivating plays and everything in between, The Mayflower Theatre offers something for every taste. Sit back and immerse yourself in the mesmerizing melodies of a Broadway-style production or be transported to another era through a gripping period drama.
What sets The Mayflower Theatre apart is its commitment to bringing top-quality acts from around the world. You can catch renowned West End shows on tour or witness the talent of emerging artists as they take centre stage. With state-of-the-art facilities and superb acoustics, every performance at The Mayflower Theatre is an unforgettable experience.
2. Dine at Oxford Street
When it comes to finding a vibrant and lively dining scene in Southampton, look no further than Oxford Street. This bustling street is known for its wide range of the best restaurants, bars, and exciting atmosphere that comes alive in the evening.
As you stroll along Oxford Street, you'll be spoilt for choice with the variety of cuisines on offer. From cosy cafes serving up delicious brunch options to elegant fine dining establishments offering gourmet delights, there is something to suit every palate. Whether you're craving Italian pasta, Indian curries, or juicy burgers, Oxford Street has got you covered.
Not only does Oxford Street boast an impressive array of eateries but it also offers a vibrant nightlife. After enjoying a delectable meal at one of the many restaurants, why not head to one of the nearby bars for some drinks and live music? The energy and buzz on Oxford Street will make your night out truly unforgettable.
3. Comedy Clubs
Looking for a good laugh in Southampton? Look no further than the city's vibrant comedy club scene! With several venues offering stand-up comedy acts, you and your friends are guaranteed to have a hilarious night out.
One of the popular spots is The Stage Door, located just off West Quay Road. This intimate venue hosts regular comedy nights featuring both local talent and well-known comedians from around the country. Grab a pint, settle into one of their cosy booths, and get ready to be entertained by some side-splitting jokes.
If you're up for something different, head over to The Frog and Frigate Pub on Canute Road. Alongside its lively atmosphere and a great selection of drinks, this pub also plays host to regular comedy nights. Enjoy a few pints while listening to talented comics deliver their punchlines – it's an experience that will leave you in stitches.
Another option is The Alex Comedy Cellar on Bellevue Road. This underground venue offers an intimate setting where you can get up close with the performers. From established names in the industry to up-and-coming talents trying out new material, there's always something fresh happening at The Alex Comedy Cellar.
4. Late-Night Shopping
Late-night shopping is the perfect way to unwind after a long day and indulge in some retail therapy. In Southampton, you'll find that some shops in Westquay and other areas stay open late, giving you the opportunity to explore at your own leisurely pace.
Picture this: strolling through beautifully lit streets, window-shopping as you go. The hustle and bustle of the daytime has faded away, leaving behind a relaxed atmosphere where you can truly enjoy browsing for that perfect item or treating yourself to something special.
Westquay is known for its wide range of stores, from high-street favourites to luxury brands. Whether you're hunting for fashion finds, homeware treasures, or unique gifts, there's something for everyone here. And with extended opening hours into the evening, you have more time to peruse without feeling rushed.
But it's not just about the shopping experience; late-night outings can also be a social affair. Meet up with friends or family and make an evening out of it. Grab dinner at one of the many restaurants in Westquay before hitting the stores or treat yourself to a post-shopping cocktail at a trendy bar nearby.
The best part? You won't have to worry about fighting crowds or rushing through your shopping list during normal operating hours. Late-night shopping allows for a more relaxed pace – take your time trying on clothes or comparing prices without feeling like someone is waiting impatiently behind you.
5. Nighttime Harbor Cruise
Experience the magic of Southampton's harbour at night by embarking on a nighttime harbour cruise. As the sun sets and darkness falls, the twinkling lights illuminating the harbour create a mesmerizing sight that is sure to leave you in awe. Step aboard one of the many cruises available and set sail for an evening filled with enchantment.
During your cruise, you'll have the opportunity to indulge in delicious cuisine as many cruises offer dinner options onboard. Imagine savouring delectable dishes while enjoying panoramic views of the harbour under a starry sky – it truly is an unforgettable experience for food lovers and romantics alike.
To enhance your evening further, some harbour cruises also provide live music entertainment. Picture yourself swaying to soothing melodies or even dancing away to upbeat tunes as you soak up the ambience around you. The combination of good food, great company, and live music creates an atmosphere that will make your night even more memorable.
Conclusion
In conclusion, Southampton offers a plethora of must-visit landmarks and attractions that are sure to captivate and inspire visitors. From its rich maritime history to its vibrant food and drink scene, the city has something for everyone. Whether you're exploring the iconic landmarks, indulging in the local cuisine, or immersing yourself in the natural beauty of its parks and outdoor spaces, Southampton offers an array of unforgettable experiences. By uncovering the hidden gems and local favourites, you can truly make the most of your time in this charming city. So, pack your bags and get ready to embark on a journey filled with incredible sights, delicious cuisine, and cherished memories in Southampton.
Related Articles:
Best Things to Do in Sheffield