Looking for fun and affordable activities to keep the kids entertained in London? Look no further! We've rounded up the top 10 free things to do in the city with your little ones. From cooling off in fountains to immersing yourself in Harry Potter magic, there's something for every family. So grab your minis and get ready for a budget-friendly adventure through the iconic streets of London town. Let's dive into our list of exciting and wallet-friendly activities that will leave you smiling from ear to ear – without breaking the bank!
Top 10 Free Things to Do in London With Kids
1. Granary Square 
On a scorching hot day in London, there's no better way to beat the heat than by heading to Granary Square near Kings Cross. This vibrant and newly developed area is home to an amazing water feature that will keep your little ones entertained for hours. It's the perfect spot for kids to cool off and have some splash-tastic fun!
If you were prepared, you would have packed their swimmers and towels, but even if you didn't, don't worry! Let them run around in their pants – it's all part of the carefree summer spirit! Watching their laughter and excitement as they frolic through the fountains is pure joy.
But Granary Square isn't just about the water play. This bustling hub also offers a fantastic selection of bars and restaurants where parents can relax while keeping an eye on their energetic explorers. So whether you're looking for a refreshing drink or a delicious meal, this family-friendly destination has got you covered.
2. Harry Potter Platform 9 ¾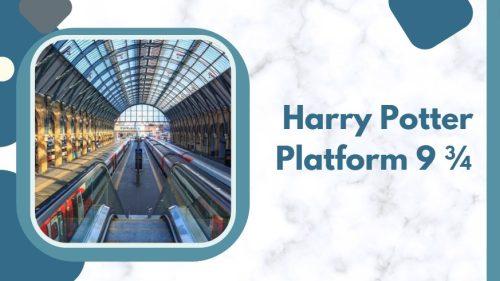 If you're a Harry Potter fan visiting London, then a visit to the iconic Harry Potter Platform 9 3/4 at Kings Cross Station is an absolute must. It's an experience that should be on every family's London bucket list. Join the queue outside of the Harry Potter shop and have your photo taken with your chosen Hogwarts house scarf, pushing a trolley through the wall.
While there is a cost if you choose to buy a professional photo, you are also allowed to take your own photos for free. So make sure to capture this magical moment with your little ones.
For die-hard fans who want even more Harry Potter magic, consider checking out the Harry Potter studio tour on a day trip from London. It's one of the best experiences for any Harry Potter enthusiast in the UK. Just remember that there is a cost involved and it's recommended to book in advance due to its popularity.
If you're planning on visiting the studios but would prefer to stay nearby, we have a list of family-friendly hotels near the Harry Potter Studios that will ensure convenience and comfort during your stay.
Don't forget about exploring other attractions at Platform 9 3/4 as well! The Harry Potter shop offers fantastic merchandise and gifts that no fan should miss out on. And if you're interested in learning more about the world of Harry Potter, there are free walking tours available or you can opt for one of these Magical Harry Potter Guided Walking Tours for an immersive experience.
Although not free, another exciting activity for kids is wand-making at Wands & Wizards followed by afternoon tea where they get to use their interactive wands. It's guaranteed fun!
So unleash your inner wizarding world fanatic and embrace all things magical at Platform 9 3/4 – it's an enchanting adventure that won't disappoint!
3. Young V&A 
In 2023, the Museum of Childhood in Bethnal Green underwent a significant refurbishment and emerged as the Young V&A. This beloved attraction is definitely worth a visit when exploring London with kids. With its reopening, Time Out highlighted some fantastic exhibits that are sure to captivate young minds.
One of the standout features is an interactive Minecraft gallery, where children can immerse themselves in the virtual world they love so much. It's an exciting opportunity for them to engage with their favourite game on a whole new level.
Additionally, visitors will find a fascinating collection of pop culture objects at the Young V&A. From Keith Haring's vibrant artworks to micro scooters and even an Olympian's skateboard, there's something here to spark curiosity in everyone.
The Young V&A perfectly combines education and entertainment, making it an ideal destination for families seeking enriching experiences. Whether your little ones are art enthusiasts or gaming aficionados, this revamped museum has something special in store for all ages.
Plan a trip to the Young V&A during your next visit to London and let your imagination run wild amidst these captivating exhibits.
4. Hackney City Farm 
Hackney City Farm has become a trendy hotspot for weekend marketgoers in search of a unique and charming experience. One of the main attractions is the Italian café deli, Frizzante, which serves up delicious seasonal Mediterranean cuisine and mouthwatering farm breakfasts. The café's reputation as a culinary gem draws hungry Hackney locals and visitors from far and wide.
But there's more to this farm than just great food. It boasts a thriving community with happy animals, a pottery studio, and a beautiful garden. The animals roam freely, creating an atmosphere of joy and wonder for all who visit.
Beyond its role as an attraction, Hackney City Farm plays an important part in the local community. They have implemented initiatives like their vegetable box collection scheme for residents to enjoy fresh produce from the farm itself. Additionally, they offer courses on low-impact living and beekeeping—educating people about sustainable practices that benefit both individuals and the environment.
Open Tuesday to Sunday from noon to 3 p.m., Hackney City Farm welcomes visitors with open arms. Whether you come for the delectable food at Frizzante or want to immerse yourself in nature while supporting local initiatives, this farm promises an unforgettable experience that goes beyond your average day out.
5. Join free workshops at Tate Modern
Looking for a fun and creative activity to do with your kids in London? Look no further than the free workshops at Tate Modern! This world-renowned art gallery offers a variety of engaging workshops designed specifically for children.
One option is to get messy with clay. Let your little ones unleash their inner artist as they mould and shape the clay into whatever their imagination desires. It's a hands-on experience that allows them to explore different textures and forms, all while having fun.
If clay isn't their thing, they can also engage in a drawing session. Led by experienced artists, these sessions provide children with the opportunity to learn new techniques and express themselves through art. From still-life drawings to abstract creations, there's something for every budding artist.
The best part? These workshops are completely free! So you can enjoy a day of creativity without breaking the bank. Plus, it's not just about creating artwork – it's also about fostering an appreciation for art and encouraging self-expression.
Whether your child is a natural-born artist or simply enjoys getting crafty, the free workshops at Tate Modern are sure to be a hit. So why not plan a visit and let your little ones unleash their creativity? They'll have a blast exploring different artistic mediums and creating masterpieces of their own.
6. Get into the Christmas Spirit
London is a magical place to be during the holiday season. The city comes alive with twinkling lights and festive decorations, creating a truly enchanting atmosphere. One of the best ways to get into the Christmas spirit in London is by witnessing the spectacular light switch-on events that take place throughout the city.
These events are not only visually stunning but also offer free entertainment for families to enjoy. You can watch as some of London's top sights, such as Oxford Street, Regent Street, and Covent Garden, are illuminated with dazzling displays of lights. It's like stepping into a winter wonderland!
The big light switch-on events are usually accompanied by live performances from local choirs or bands, adding to the festive ambience. Children can marvel at colourful street performers and even meet Santa Claus himself! There may also be free activities for kids, such as face painting or craft workshops.
Attending these events is a great way to spend quality time with your family while immersing yourself in the joyous atmosphere of Christmas in London. So bundle up in your warmest coats and scarves, grab a hot chocolate from one of the nearby cafes, and prepare to be dazzled by London's sparkling Christmas lights.
Remember to check event schedules beforehand so you don't miss out on any of these magical moments. Enjoy this wonderful festive experience that will create lasting memories for both you and your children!
7. Kentish Town City Farm 
If you've ever taken a ride on the Overground and happened to glance out the window near Gospel Oak station, you may have caught a tantalizing glimpse of Kentish Town City Farm. Nestled amidst the hustle and bustle of the railway, this hidden gem is teeming with wildlife just waiting to be discovered.
As you explore the farm, you'll encounter an enchanting array of animals. Goats frolic under charming brick arches, their playful antics bringing smiles to both young and old alike. Sheep can be heard bleating over the gentle whirring of passing trains, creating a unique symphony that blends nature's melody with urban life. And if you listen closely, you might even catch the chorus of frogs croaking in harmony from a lively pond.
But it's not just about observing animals at Kentish Town City Farm; children are truly at its heart. With an array of weekend workshops tailored for kids, they can engage in hands-on activities that foster creativity and learning. And for our littlest visitors, there's even an under-fives activity room where imaginations run wild.
What makes this farm even more special is its dedicated team of local young volunteers who work tirelessly to ensure its success. Their passion for nurturing a connection between city dwellers and nature shines through in every interaction.
8. Battersea Park
Battersea Park is a true gem in London's park scene. With its rich history dating back to 1858 when it was opened by Queen Victoria, this park has evolved into an action-packed destination for both kids and grown-ups alike.
One of the highlights of Battersea Park is its incredible adventure playground. This playground is not your average swing-and-slide affair – it's bursting with original and imaginatively built features that will capture the imagination of children of all ages.
From towering climbing structures to thrilling slides, there are plenty of unusual challenges for children aged five and over. The high climbing nets provide a unique experience that will test their agility and bravery. And don't worry, there's also a separate area specifically designed for younger kids, ensuring everyone can have fun in a safe environment.
Whether you're swinging from ropes or navigating through tunnels, the adventure playground at Battersea Park offers endless opportunities for exploration and excitement. It's no wonder why families flock to this park year after year.
So if you're looking for a place where kids can let their imaginations run wild while having loads of fun, make sure to add Battersea Park to your list of free things to do in London with kids.
9. Brockwell Park 
Brockwell Park is a true gem for families looking for free things to do in London with kids. And one of the highlights of this park is its amazing playground! With its aerial slide, massive sandpit, and sections designed for different age groups, there's something here to keep children of all ages entertained.
The playground offers a range of exciting features that will captivate your little ones. From climbing structures that challenge their coordination and balance to slides that provide endless thrills, there's no shortage of fun activities to explore. And let's not forget about the massive sandpit where kids can unleash their creativity and build magnificent sandcastles.
But Brockwell Park has even more to offer beyond just the playground. Nearby, you'll find picturesque duck ponds where you can feed the ducks or simply enjoy watching them glide along the water. There's also a paddling pool where kids can splash around on warm summer days.
For those seeking some active adventures, Brockwell Park boasts a BMX track and basketball court. Whether your child is an aspiring cyclist or a basketball player, they'll love having the opportunity to practice their skills in such a vibrant outdoor setting.
10. Watch the Changing of the Guard 
If you want a taste of royal pageantry during your visit to London, watching the Changing of the Guard ceremony outside Buckingham Palace is an experience not to be missed. This iconic ceremony takes place every day (weather permitting) at 10.45 am, with the handover happening promptly at 11 am.
As you watch the guards in their distinctive red uniforms and bearskin hats, it may seem like they all look alike. However, if you pay close attention, you'll notice subtle differences in their uniform that distinguish each regiment within the Queen's Guard.
The whole ceremony lasts about 45 minutes and offers an up-close view of this centuries-old tradition. The precision drills and synchronized movements are truly impressive to witness as these highly trained soldiers carry out their duties with utmost professionalism.
So grab a spot along the fence outside Buckingham Palace and prepare to be enthralled by this free spectacle that showcases British pomp and pageantry at its finest. Don't forget your camera – capturing this grand display will surely make for some memorable photos of your time in London!
Conclusion
In a city as vibrant and bustling as London, there are endless possibilities for family fun. And the best part? Many of these exciting activities won't cost you a penny! From splashing around in the fountains at Granary Square to immersing yourself in the magical world of Harry Potter at Platform 9 3/4, there is something for everyone.
If your little ones have a love for art, head over to Tate Modern where they can participate in free workshops and unleash their creativity. And during the festive season, be sure to take them on a tour of London's dazzling light displays – it's guaranteed to get you all into the Christmas spirit.
For animal lovers, Hackney City Farm and Kentish Town City Farm offer an opportunity to get up close with adorable farm animals right in the heart of the city. These farms also provide educational programs that teach children about sustainable living and beekeeping.
Battersea Park and Brockwell Park are perfect destinations for outdoor adventures with playgrounds that will keep kids entertained for hours. With thrilling slides, sandpits, and even BMX tracks, these parks are bound to become your family's favourite hangout spots.
And no visit to London would be complete without witnessing the iconic Changing of the Guard ceremony outside Buckingham Palace. Watch as regiments flawlessly perform this centuries-old tradition while trying to spot subtle differences in their uniforms.
So whether you're exploring cultural exhibits at Young V&A or enjoying Mediterranean delicacies at Hackney City Farm's café Deli Frizzante, London offers plenty of free experiences that will create lasting memories for both kids and parents alike. Pack your bags (and maybe some swimsuits) because adventure awaits!
Related Articles:
Things to Do in London at Night