Calling all steak lovers in South West London! Are you ready to sink your teeth into mouthwatering, perfectly cooked steaks that will have you coming back for more? Look no further because we've got the ultimate guide to the best steak restaurants in South West London. From modern eateries with a meat-centric menu to cosy spots serving up traditional cuts, we've scoured the streets of South West London to bring you the top eight places where you can indulge in a carnivorous feast. So grab your appetite and join us on this culinary journey as they explore the juiciest and most succulent steaks that this vibrant part of London has to offer. Get ready for a sizzling adventure!
Best Steak Restaurants South West London
1. Knife
Website: www.kniferestaurant.co.uk
Nestled in the heart of South West London, Knife is a modern eatery that will satisfy your carnivorous cravings like no other. This trendy restaurant boasts a meat-centric menu that will make any steak lover's mouth water. From perfectly seared ribeyes to tender sirloins, they have it all.
But Knife isn't just about the steaks; they also offer an impressive selection of craft cocktails that are expertly crafted by their talented mixologists. Sip on a refreshing gin and tonic or indulge in a speciality whiskey cocktail while you savour every bite of your juicy steak.
One thing that sets Knife apart from other steak restaurants is their Sunday roasts. Picture this: succulent slices of slow-roasted beef served alongside crispy Yorkshire puddings, roasted vegetables, and rich gravy – it's the ultimate comfort food experience.
Map:
2. Roxie Steak
Website: www.roxiesteak.co.uk
Roxie Steak is a haven for steak lovers in South West London. From the classics like ribeye, sirloin, rump, and of course the mouthwatering fillet, Roxie has it all. And let me tell you, their fillet is not only delicious but also offers incredible value for money!
But that's not all they have to offer. Roxie has also introduced Butcher's Cuts to their menu, which have quickly become as popular as the classics. You absolutely have to try their Picanha seasoned with a secret homemade sweet and smoky spice – it's truly irresistible! Or perhaps indulge in the cheeky Hanger steak or opt for the crowd-pleasing Flat Iron.
What sets Roxie apart is their commitment to sourcing high-quality ingredients. While primarily sourcing steaks from the Pampas Regions of Uruguay – known for producing exceptional beef – they prioritize finding the best quality and value combination regardless of its origin. Plus, all their steaks are hand-cut at their central butchery and delivered fresh daily.
One more thing that makes Roxie stand out is that all their steaks are aged for a minimum of 21 days. This ageing process enhances both flavour and tenderness, ensuring an unforgettable dining experience.
Map:
3. Steak and Company
Website: www.steakandcompany.co.uk
At Steak and Company, they have a deep passion for quality. It's not just something they strive for, it runs through their veins. They take immense pride in everything they do, from the careful selection of their farm-to-fork ingredients to serving the highest-quality cuts of steak sourced directly from the countryside.
When you dine with us, you can expect an exceptional experience. their focus on provenance means that every bite is filled with flavour and satisfaction. their steaks are meticulously chosen for their tenderness and taste, ensuring that each cut is a culinary delight.
But it's not just about the meat at Steak and Company; they also pay great attention to their wine selection. They source vino directly from vineyards to complement your meal perfectly. Whether you prefer a bold red or a crisp white, their sommeliers will guide you towards the perfect pairing.
Map:
4. Steakout Norbury
Website: www.steakoutuk.com
Steakout Norbury burst onto the London dining scene in 2008, challenging the status quo and redefining what it means to enjoy a mouthwatering steak. With their innovative approach, they took the traditional beef steak and transformed it into something extraordinary.
Using its secret marinades and unique flavour combinations, Steakout Norbury has elevated steak dining to new heights. Each cut of meat is tenderized to perfection, ensuring a melt-in-your-mouth experience with every bite. And let's not forget about their sizzling Steakout style – a presentation that adds an extra element of excitement to your meal.
It didn't take long for word to spread about this culinary gem. Soon enough, Steakout Norbury became one of the most recognized casual steak dining restaurants in the entire UK. Diners flocked to experience their unforgettable steaks and indulge in the bold flavours that set them apart from the rest.
At Steakout Norbury, they prioritize providing an exceptional dining experience from start to finish. From attentive service to stylish surroundings, every detail is thoughtfully considered to ensure that each visit exceeds expectations.
Map:
5. Hawksmoor Knightsbridge
Website: www.thehawksmoor.com
At Hawksmoor Knightsbridge, their commitment to quality goes beyond just serving exceptional steaks. They believe in working closely with their farmers to ensure the highest standards of animal welfare and sustainability. In fact, they even have a 30-page specification document dedicated to ensuring ethical beef!
But it doesn't stop there. They understand that their role extends beyond their restaurant doors and into the wider food system. That's why they became a carbon-neutral restaurant group, making them one of the first in the world to achieve this feat.
While offsetting is not the ultimate solution, it is a step towards reducing their environmental footprint. By becoming carbon neutral, they have both an environmental and financial incentive to further minimize their impact on the planet.
And it's not just them who are committed to change – all of their UK beef farms are also on their own journey towards net zero emissions by 2040. They're currently assessing their footprint and exploring changes in manure management, feed practices, and land management techniques.
Map:
6. STK Steakhouse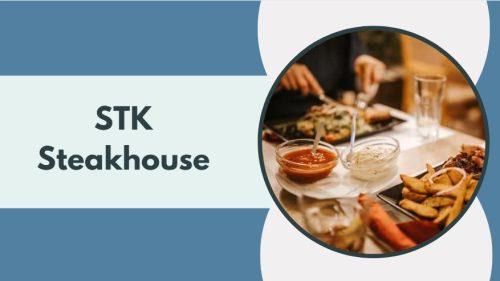 Website: www.stksteakhouse.com
STK Steakhouse is where culinary creativity meets contemporary cool. This unique restaurant seamlessly combines the ambience of a chic lounge with the sophistication of a modern steakhouse, resulting in an extraordinary dining experience. From the moment you step through the door, you'll be captivated by the sleek and stylish decor that sets the stage for an unforgettable evening.
But it's not just about aesthetics at STK; their commitment to delivering superior quality is evident in every dish they serve. The menu features a tantalizing selection of prime cuts, expertly prepared and cooked to perfection. Whether you prefer your steak rare or well-done, rest assured that each bite will be bursting with flavour and tenderness.
It's not just about the steaks either – STK offers a range of delectable dishes to satisfy all palates. From fresh seafood options to mouthwatering sides and desserts, there's something for everyone here.
And let's not forget about their impressive cocktail list. STK takes mixology to new heights with innovative creations that perfectly complement its culinary offerings. Sip on handcrafted cocktails as you soak up the vibrant atmosphere and enjoy good company.
Map:
7. Zelman Meats
Website: www.zelmanmeats.com
Zelman Meats is the place to be if you're looking for a comfortable and stylish dining experience that specializes in all things meat. With a menu that changes based on market availability, you can expect fresh and delicious options every time you visit. And here's the best part – they offer delectable halal choices too, ensuring that everyone can enjoy their mouthwatering offerings.
Not only does Zelman Meats provide exceptional food, but they also offer a variety of service options to suit your needs. Whether you prefer delivery, takeaway, or dining in their cosy atmosphere, the choice is yours. Plus, their wheelchair-accessible entrance and seating make it easy for everyone to enjoy a fantastic meal.
But it doesn't stop there – Zelman Meats goes above and beyond by offering an impressive selection of beverages. From alcohol to beer and spirits to coffee, they have something for every palate. And if you're craving some late-night munchies, fear not – Zelman Meats has got you covered.
What sets this place apart is its commitment to creating an inviting environment. The casual yet cosy atmosphere makes it the perfect spot for lunch with friends or a romantic dinner date. Their free Wi-Fi ensures that you can stay connected while enjoying your meal.
And let's not forget about the on-site bar! It adds an extra touch of sophistication and makes Zelman Meats an ideal destination for groups or those seeking an elevated dining experience.
Map:
8. Stage Door Steakhouse & Bar
Website: www.stagedoorsteakhouse.com
Stage Door Steakhouse & Bar is a true gem in the heart of Wimbledon Broadway. With a history dating back to 1984, this family-run establishment has stood the test of time, becoming a beloved fixture for locals and visitors alike.
The restaurant owes its longevity to Pediandros (Andreas) Pilalis, who took over the premises after successfully running the Las Vegas Steakhouse just a few doors down. Building on his experience and passion for quality cuisine, Andreas created an eatery that combines the best of both worlds – top-notch steaks and traditional Greek dishes.
When you step into Stage Door Steakhouse & Bar, you are greeted by a warm and inviting atmosphere that instantly makes you feel at home. The friendly staff will make sure your dining experience is nothing short of exceptional.
But it's not just about the ambience; it's about the food too. Stage Door Steakhouse prides itself on serving only the highest quality steaks cooked to perfection. Whether you prefer ribeye, sirloin, or fillet, each cut is prepared with care and precision.
What sets this restaurant apart is its commitment to offering more than just steak. Their menu features a selection of wholesome Greek dishes that showcase traditional flavours and ingredients.
Map:
Conclusion
In conclusion, South West London is home to an impressive selection of top-notch steak restaurants that cater to steak lovers with their exceptional cuts of meat and memorable dining experiences. Whether you're looking for a traditional steakhouse or a modern grill, this region offers a diverse range of options to satisfy your cravings for perfectly cooked steaks.
No matter which steak restaurant you choose in South West London, you can expect impeccable service, a wide range of prime cuts, and a delightful array of sides and sauces to enhance your steak experience. So, whether you're a local or a visitor, exploring the best steak restaurants in South West London promises a mouth-watering journey into the world of exceptional steak cuisine.
Related Articles:
Halal Restaurants in South West London
Lebanese Restaurant in South West London
Fish Restaurant in  South West London
French Restaurants in South West London