Escape the winter chill and embark on an unforgettable adventure to a hot and sunny destination in December. Whether you are looking for colourful cultural experiences, tropical beaches, or unique wildlife, our list of the best warm countries to visit in December has you covered. From Uganda's breathtaking landscapes to Colombia's diversity, from the idyllic shores of St. Lucia to the hidden gems of Uruguay, there's something for everyone. So pack your swimsuit and sunscreen as we take you on a journey to some of the hottest destinations this holiday season!
Hot Countries in December
1. Uganda
In southwestern Uganda, the seasonal short rains have ended, allowing the lush landscapes to dry out and beckoning travellers to explore its natural wonders. One of the greatest temptations here is embarking on guided treks through the Bwindi Impenetrable Forest, where you can get up close and personal with troops of majestic mountain gorillas. It's important to note that while traversing this forest paradise, it may still be slippery underfoot. To ensure a seamless experience, secure permits and accommodation well in advance.
As temperatures rise and animals seek water sources for relief from the heat, Queen Elizabeth National Park becomes an elephant haven. Embark on a safari drive through this vast expanse or head over to Ishasha Plains, known for its remarkable tree-climbing lions – an infrequent sight! The memories made during these exhilarating safaris will surely last a lifetime.
As you prepare for adventure and fully experience everything Uganda has to offer, remember that the incredible moments you spent up close and personal with mountain gorillas will always remain etched in your memory. Uganda truly offers an enchanting blend of breathtaking landscapes and unforgettable wildlife encounters.
Map:
2. Colombia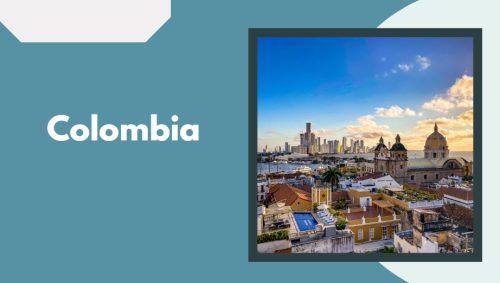 Colombia is one of those rare South American gems that has something to offer everyone, from breathtaking white-sand beaches to majestic Andean peaks, from the lush, wildlife-rich Amazon jungle to the charming coffee plantations that yield some of the best coffee in the world.
The grasslands of Los Llanos, sometimes referred to as the "Serengeti of South America," are home to an abundance of wildlife and breathtaking vistas. However, Colombia is not just about natural beauty. It also boasts incredible architectural wonders, like the Lost City, which rivals Machu Picchu's photogenic appeal.
The cities in Colombia are equally captivating. Cartagena, with its colonial-era charm, beckons visitors with its vibrant culture and historic sites. Bogota, the creative capital, boasts a towering peak called Monserrate that becomes illuminated by Christmas lights during December.
December marks the beginning of Colombia's dry season, when temperatures are mostly warm and pleasant. However, if you ever need respite from balmy weather, head to Zipaquirá Cathedral—an extraordinary place of worship inside a salt mine.
Map:
3. St Lucia
St Lucia's average temperature of 27C in December is a true paradise for beach lovers. The best beaches with the most golden sand are found around Rodney Bay in the northwest, and an array of all-inclusive resorts offering opulent lodging and first-rate amenities can be found along this coastline.
If you are looking for a more private experience, head southwest of St Lucia to the quaint French colonial town of Soufrière. Here, tucked away, are soulful boutiques offering excellent food and spas. This area also has a protected marine park that attracts divers and snorkelers worldwide. While the shores may be smaller and darker-hued compared to other parts of the island, they allow exploring diverse marine life in crystal-clear waters.
One cannot miss seeing the iconic Pitons while in St Lucia. These two cone-shaped peaks covered in lush rainforest create a breathtaking backdrop against the shoreline. Inland from these majestic mountains lie hot springs and mud pools perfect for rejuvenation and bathing.
December marks the end of hurricane season in St Lucia, but occasional humidity and rainfall can still occur. However, visitors will be pleased to find welcome winds that keep them cool as they indulge in outdoor activities or relax on one of St Lucia's stunning beaches.
Map:
4. Uruguay
Uruguay may not be on the radar for many UK travellers, but it's a hidden gem attracting Argentineans and Brazilians hordes. And once you set foot on its splendid coast, it's easy to see why. Stretching as far as the eye can see, Uruguay boasts an array of white-sand beaches that seem to go on forever. These picturesque shores are often lined with charming wooden-shack restaurants and bars, adding to the laid-back beach vibe.
Some of the most famous beaches in Uruguay can be found in Montevideo, the capital city. You'll discover yacht-lined Punta del Este here, known for its luxurious resorts and vibrant nightlife. For surf enthusiasts, Punta del Diablo offers thrilling waves and a bohemian atmosphere.
If you're looking for a more family-friendly destination, Piriapolis is your best bet. This quaint town has beautiful beaches and plenty of activities to entertain everyone. And let's not forget about Jose Ignacio – once a humble fishing village but now a trendy hotspot frequented by hipsters.
December marks peak season in Uruguay when Buenos Aires residents flock across the River Plate for Christmas and New Year celebrations.
The weather during this time is perfect – refreshing ocean breezes complemented by constant blue skies make it ideal beach weather.
Map:
5. Curaçao
Curaçao, one of the Caribbean's hidden gems, offers warm temperatures and a vibrant atmosphere in December. This affordable island is part of the lesser-visited ABC islands, along with Aruba and Bonaire, located in the southerly Lesser Antilles.
Curaçao has incredible diving and snorkelling opportunities. With seas that hover around 26°C all year, you can explore breathtaking underwater landscapes and discover hidden treasures like the Tugboat shipwreck, which lies just five meters below the surface.
But Curaçao isn't just about water activities; it also boasts over 40 stunning beaches to relax on. Whether you prefer secluded coves or bustling shores lined with the best restaurants and bars, there's something for everyone here.
For those seeking adventure on land, Curaçao also has much to offer. Explore show caves where enslaved people once sought refuge or venture to the wildly beautiful eastern coast dotted with majestic cacti.
Map:
6. Puerto Rico
America meets the Caribbean? That's precisely what you'll find in Puerto Rico. This lively island offers a singular combination of natural beauty characteristic of the area, including flawless beaches, breathtaking waterfalls, and coral reefs brimming with colourful marine life. But what separates Puerto Rico is its fusion with US elements, as it is an official territory of the United States.
From mid-December onwards, Puerto Rico becomes a hub for holiday crowds seeking sun-soaked getaways. However, visiting before then can experience a more authentic and affordable side of the island. Imagine warm sunny days with little rain and decreasing humidity – paradise.
Keep an eye on Puerto Rico's bustling events calendar during your visit. The La Festival del Petite celebrates a particular palm tree indigenous to the island. Exploring beyond the beaches will reveal hidden gems like pre-colonial ruins, enchanting mangrove forests, lively salsa beats that fill the air, lechoneras (restaurants specializing in slow-roasted suckling pig), and coffee plantations that offer a taste of Puerto Rican culture.
Discover why Puerto Rico stands out among Caribbean destinations by immersing yourself in its captivating atmosphere, where American influence blends seamlessly with Caribbean charm.
Map:
7. Mauritius
With its warm temperatures and stunning beaches, it's no wonder that Mauritius is a popular destination for tourists in December. Prices for flights and accommodations are at their highest during the Christmas season due to the flood of tourist attractions to enjoy the beach holidays but do not let that stop you from taking advantage of everything this stunning island has to offer.
While enjoying your Christmas vacation in Mauritius, be prepared for heavy showers during this time of year. However, these tropical storms are usually short-lived and unlikely to disrupt your holiday too much. They can help reduce the humidity and make way for sunshine throughout the day.
One of the highlights of visiting Mauritius in December is the warm sea temperature. At around 26ºC, it's perfect for swimming, snorkelling, and diving. Speaking of diving, December is a prime time for exploring underwater due to higher visibility and high water temperatures. At Whale Rock and Pointe aux Piments, you may get up close and personal with a variety of tropical marine species, such as hammerhead sharks.
Map:

8. Seychelles
This idyllic archipelago is located north of Madagascar and offers a paradise. One cannot help but be captivated by the dramatic rock formations along Anse Source d'Argent on La Digue Island. These impressive structures compete for attention with the towering Morne Seychellois peak on Mahé Island, which reaches an astonishing height of nearly 3,000 feet.
Nature lovers will also find solace in the dense tropical forests found on Praslin Island. It is one of the best countries to visit in December. Give it a try!
Map:
Conclusion
Whether you're seeking adventure in Uganda's lush landscapes or indulging in the diversity of Colombia, there's something for everyone. Stroll along the golden beaches of St Lucia or explore Uruguay's breathtaking coastlines. Dive into the crystal-clear waters of Curaçao or immerse yourself in Puerto Rico's vibrant blend of Caribbean charm and American influence.
If you are dreaming of a tropical paradise, Seychelles calls with its breathtaking natural beauty and opulent resorts. Alternatively, Mauritius offers pleasant weather and perfect beaches where you can soak up the sun.+
Whatever your travel plans, December offers unique experiences and a respite from the cold of winter. So pack your bags, leave behind your heavy coats, and embark on an incredible journey to one of these hot countries this holiday season.
Related Articles: