Welcome to the picturesque county of Gloucestershire, where scenic countryside landscapes meet charming historic towns and villages. If you're planning a visit to this beautiful part of England, you'll need a comfortable and luxurious place to stay. Luckily, we've done the hard work for you and handpicked the top 10 hotels in Gloucestershire that offer exceptional hospitality, stunning surroundings, and an unforgettable experience. From elegant manor houses to cosy B&Bs tucked away in quaint hamlets, this list has something for everyone. So sit back, relax and let us guide you through our selection of the best places to stay in Gloucestershire!
Top 10 Hotels in Gloucestershire
1. Thyme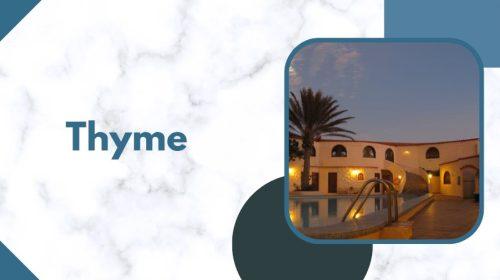 Website: www.thyme.co.uk
Thyme is not just a hotel, it's an experience. Nestled in the heart of the Cotswolds countryside, this country estate offers everything you need for a luxurious and relaxing stay. From breakfasts and suppers in the Tithe Barn to lunches and dinners at The Swan restaurant, Thyme has got your dining needs covered.
The rooms at Thyme are housed in separate historic buildings, each with unique character and charm. You'll find a coffee machine, biscuits and even a nightcap waiting for you in your room. And when it comes to relaxation, there's no shortage of options – from wandering around the beautifully landscaped gardens to clay pigeon shooting or hiring a bike to explore further.
For those looking for something more indulgent, why not indulge yourself with one of Aurelia's probiotic skincare treatments? Or perhaps take part in one of Thyme's private cookery classes before enjoying dinner in the stunning Tithe Barn.
As well as being surrounded by natural beauty, guests can also learn about where their food comes from with tours of the kitchen garden and farm available on request. And if all that wasn't enough – there's even a spa opening soon!
Located just 42 km from Cheltenham and 28 km from Stow-on-the-Wold means that there's plenty to see beyond Thyme too – so why wait? Book your stay today!
Map:
2. Wild Thyme & Honey 
Website: www.wildthymeandhoney.co.uk
Wild Thyme & Honey is a charming hotel set in the heart of Cirencester, just 12 km from Cotswold Water Park. The picturesque location offers stunning views of the river and is surrounded by natural beauty.
The hotel features a lovely terrace where guests can enjoy their meals or drinks while taking in the serene surroundings. The bar area also provides a cosy atmosphere to unwind after a long day exploring Gloucestershire.
The rooms are tastefully decorated and offer private bathrooms for maximum comfort. Some rooms have patios that offer scenic garden views, providing an extra touch of tranquillity during your stay.
Guests can start their day with an à la carte, continental or Full English/Irish breakfast at the property's restaurant serving British cuisine. On request, vegetarian, vegan, and dairy-free choices are also available.
For those interested in local history, the Steam Museum of the Great Western Railways is just 28 km away from Wild Thyme & Honey. Gloucester Cathedral, another popular attraction, is located 34 km away.
Wild Thyme & Honey is an excellent choice for travellers looking for peaceful accommodations amidst beautiful scenery in Gloucestershire.
Map:
3. The Old Stocks Inn 
Website: www.oldstocksinn.com
The Old Stocks Inn is a charming 16th-century Cotswold stone inn located in Stow-on-the-Wold's historic market square. The inn overlooks the old penal stocks, adding to its rich historical significance. This straightforward B&B offers unassuming rooms equipped with all essential amenities such as en suite bathrooms, WiFi, TVs and tea and coffee-making facilities.
The rooms at the Old Stocks Inn are comfortable and cosy, featuring sitting areas for guests to relax after a long day of exploring the surrounding area. Family rooms are also available for those travelling with children or larger groups.
One of the highlights of staying at this B&B is the delicious free full English breakfast offered every morning. It's an excellent way to start your day off on the right foot before heading out to explore nearby attractions like Cotswold Cricket Museum or Cotswold Farm Park.
Guests can dine at the historic pub that features exposed stone walls, oak beams, and a log fireplace that adds to its rustic charm. Classic dishes made from locally sourced ingredients are served here along with drinks that you can enjoy while sitting in their lovely patio garden.
The Old Stocks Inn provides an authentic experience of staying in a traditional English inn.
Map:
4. No38 The Park 
Website: www.no38thepark.com
No38 The Park is a beautiful hotel that offers an elegant and luxurious experience to its guests. Located in the heart of Cheltenham, this traditional Regency villa overlooks Pittville Park and provides easy access to various attractions such as Cheltenham Racecourse and Montpellier Gardens.
The guestrooms are individually decorated with period-inspired designs that offer a unique experience for each guest. The rooms come equipped with modern amenities such as WiFi, TVs, and minibars and room service is also available.
One of the standout features of No38 The Park is its restaurant which offers locally sourced dishes. Guests can enjoy a delicious meal while enjoying views of the courtyard garden which has a Koi pond.
For those looking for additional amenities, there's also a library with a log fireplace where you can cosy up with your favourite book or just relax after exploring all that Cheltenham has to offer.
Business travellers will appreciate the meeting space available on-site as well as convenient parking options. No38 The Park truly offers something for everyone making it one of Gloucestershire's top hotels.
Map:
5. DoubleTree 
Website: www.hilton.com
DoubleTree by Hilton Cheltenham is a luxurious Georgian manor house offering guests a wide range of amenities. Complimentary Wi-Fi and free parking are just the beginning. The landscaped gardens overlooking Lilley Brook's 18-hole golf course provide an idyllic setting for relaxation, while the onsite spa, beauty salon and fitness centre offer ample opportunities for pampering.
Guests can enjoy drinks at the bar or indulge in delicious meals at one of two eateries on site- Lakeside Restaurant offers cooked & continental breakfast as well as an a la carte dinner menu with stunning views of the garden and lake, while Lilley Brook Bar & Lounge specializes in speciality teas and coffees, afternoon tea, lunch, bar snacks and light evening meals.
The hotel boasts two types of rooms: Deluxe Rooms which offer additional extras such as chocolates and bathrobes along with garden views; Suites featuring separate living/dressing rooms complete with sofa bed & large TV.
The leisure centre features a 15 m pool along with a sauna, steam room hot tubs alongside gym facilities that include fitness classes available to guests.
Business travellers will appreciate meeting rooms equipped with audiovisual equipment for hire plus printing and photocopying services readily available on request.
Cheltenham Racecourse is just over six kilometres away from DoubleTree by Hilton Cheltenham property making it ideal lodging option during race season. Meanwhile, GCHQ lies eight kilometres distant whilst Cotswolds may be reached via car within twenty-two minutes drive.
Map:
6. The Seagrave Arms 
Website: www.theseagravearms.co.uk
The Seagrave Arms is a charming hotel located in Weston Subedge, Gloucestershire. The property offers express check-in and check-out for the convenience of its guests. Additionally, they provide allergy-free rooms to ensure all guests have a comfortable stay.
One of the highlights of this hotel is its beautiful garden where visitors can relax and enjoy the serene surroundings. The free WiFi throughout the property also ensures that guests can stay connected during their stay.
Each room at The Seagrave Arms features a wardrobe, flat-screen TV, and private bathroom with bed linen and towels provided. Certain units come with stunning garden views while each room has a kettle for tea or coffee making.
Guests can start their day right with an à la carte breakfast served daily which includes continental and Full English/Irish options. A restaurant serving British cuisine is also available on site along with vegetarian, vegan and dairy-free options upon request.
For those interested in exploring local attractions, Royal Shakespeare Theatre is just 18 km away while Kingsholm Stadium sits 46 km from the hotel. Meanwhile, Birmingham Airport stands at 60 km from this elegant hotel which makes it easy to reach by car or public transport.
Map:
7. The Ebrington Arms 
Website: www.theebringtonarms.co.uk
The Ebrington Arms is a charming 4-star hotel situated in the lovely town of Chipping Campden, just a short drive away from Walton Hall. With its beautiful garden, terrace and restaurant, this property offers guests an idyllic countryside retreat. The rooms are tastefully decorated with modern amenities such as flat-screen TVs and private bathrooms complete with free toiletries and hair dryers.
Guests can start their day off right with either an à la carte or Full English/Irish breakfast served at the hotel's restaurant. For those looking for a drink to unwind after a long day exploring the nearby attractions such as Royal Shakespeare Theatre or Coughton Court, there is also a bar available on-site.
The hotel provides free private parking so guests can easily explore all that Gloucestershire has to offer without worrying about where to park their cars. Moreover, the non-smoking policy ensures that everyone can enjoy clean air during their stay.
All in all, The Ebrington Arms is an excellent choice for travellers seeking comfortable accommodation coupled with warm hospitality in Gloucestershire.
Map:
8. Ingleside House 
Website: www.inglesidehouse.co.uk
Located in the picturesque town of Cirencester, Ingleside House offers its guests a peaceful and comfortable stay. With well-equipped rooms that include a fridge, minibar, coffee machine and free toiletries, you'll feel right at home.
One of the standout features of this hotel is its beautiful garden which provides a serene setting for guests to relax and unwind. The shared lounge area and terrace are also great places to socialize with other travellers or simply enjoy some quiet time.
The hotel's restaurant serves an impressive à la carte menu as well as Full English/Irish or vegetarian breakfasts to start your day off on the right foot. And with free WiFi available throughout the property and a 24-hour front desk, you can rest assured that all your needs will be taken care of.
For those who want to explore the surrounding areas, Cotswold Water Park is just 7.5 km away while Lydiard Park and Kingsholm Stadium are both within driving distance. Bristol Airport is also conveniently located just 73 km from Ingleside House.
If you're looking for a cosy retreat in Gloucestershire with top-notch amenities and friendly service, look no further than Ingleside House.
Map:
9. Barnsley House 
Website: www.barnsleyhouse.com
Barnsley House is a charming hotel that offers guests airy and elegant rooms with stunning garden views. The flat-screen TVs, tea, and coffee-making facilities are just some of the amenities available in the rooms. If you're looking for something extra special, consider booking one of their ornate suites which come with living rooms, fireplaces, 4-poster beds or private gardens.
For those who prefer more luxurious accommodations, bi-level rooms featuring separate sitting areas and whirlpool baths are also available.
Guests can enjoy a delicious Full English Breakfast each morning before exploring all the hotel has to offer including its refined restaurant serving up delectable cuisine.
If relaxation is what you desire then look no further than Barnsley House's spa which boasts a heated outdoor pool and sauna. For those feeling active, there is even a tennis court on-site!
End your evening by catching a film at their intimate cinema. With kids aged 15 and older welcome at this hotel it's perfect for families or couples looking for an escape from everyday life without having to worry about young children running around!
Map:
10. Lords Of The Manor 
Website: www.lordsofthemanor.com
Lords Of The Manor is a luxurious hotel that offers guests an unforgettable experience in the heart of Gloucestershire. This beautiful property is situated on eight acres of stunning landscaped gardens and boasts elegant country-house-style rooms and suites, some with picturesque garden views.
The en suite bathrooms are fitted with designer toiletries, iPod docks, flat-screen TVs, DVD players and even decanters of cordial – perfect for winding down after a long day exploring the Cotswolds. For those who want to indulge themselves further, in-room beauty treatments are also available.
Guests can enjoy a complimentary full English breakfast before heading out to explore nearby attractions such as Bourton-on-the-Water or Chastleton House. The acclaimed restaurant serves upscale French-inspired cuisine and delightful afternoon teas – a perfect way to end your day.
For business travellers, Lords Of The Manor has multiple conference/function rooms available for events or meetings. Whether you're visiting for work or play, this upmarket hotel will leave you feeling pampered and relaxed throughout your stay.
Map:
Conclusion
Gloucestershire offers a diverse range of hotels to suit every traveller's needs, from luxurious manor houses to charming countryside inns. Whether you're looking for a relaxing spa retreat or an adventurous outdoor getaway, Gloucestershire has something for everyone.
Thyme and Barnsley House offer idyllic country escapes with tranquil gardens and upscale amenities. DoubleTree by Hilton Cheltenham is perfect for those seeking modern comforts and leisure activities. Meanwhile, The Old Stocks Inn provides a cosy stay in a historic market town.
For foodies, Wild Thyme & Honey and The Seagrave Arms offer delicious locally sourced cuisine. Those looking for cultural experiences will appreciate the Regency charm of No38 The Park and the traditional atmosphere at Lords Of The Manor.
Whether it's exploring the Cotswolds or indulging in some pampering at the spa, these top 10 hotels in Gloucestershire provide unforgettable stays that showcase all this beautiful county has to offer.
Related Articles: