Welcome to the breathtaking county of Dorset, located in the southwest of England. This region boasts stunning coastlines, picturesque countryside views, and a rich cultural heritage that makes it an ideal destination for travellers seeking an unforgettable experience. Whether you're looking for a romantic getaway or a family vacation, there's no shortage of hotels in Dorset that cater to every taste and budget. In this blog post, we've compiled a list of the top 10 hotels in Dorset that offer exceptional amenities and services to make your stay truly memorable. So pack your bags and get ready for an adventure as we take you on a tour of some of the best accommodation options available in this idyllic part of England!
Top 10 Hotels in Dorset
1. Derby Manor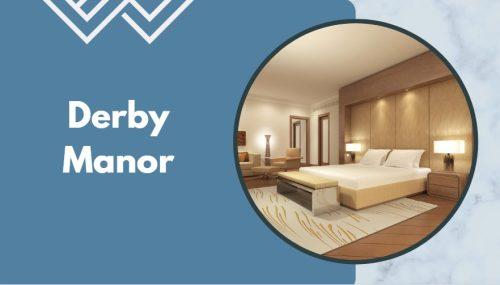 Nestled in the quaint town of Boscombe, just a kilometre away from Bournemouth Beach lies Derby Manor – an exquisite hotel that offers guests a luxurious stay experience.
Upon arrival, you'll be greeted with free secure private parking, ensuring peace of mind throughout your stay. Every room comes equipped with top-of-the-line amenities including a 40-inch flat-screen TV with satellite channels and comfortable seating areas for your convenience.
For those craving some refreshments, complimentary biscuits, chocolates, tea, coffee and even hot chocolate can be found in each guest room's kettle. The rooms also come with pristine private bathrooms complete with bath or shower facilities.
Before heading out to explore Dorset's many attractions and activities nearby, indulge in Derby Manor's full English and continental breakfast served daily from 8:00 AM until 10:00 AM – the perfect way to start any day!
Bournemouth International Centre is only 1.8 km away from the property while the nearest airport is Bournemouth Airport located just six kilometres away making it easy for travellers to access this stunning region of England. With its prime location and exceptional services on offer; Derby Manor truly stands out as one of the best hotels in Dorset!
Map:
2. The Bear of Burton
Website: www.thebearofburton.co.uk
The Bear of Burton is a charming hotel located just five minutes drive from Christchurch. It offers unique, individually designed bedrooms that are sure to impress guests with their stylish decor. Each room features en suite shower rooms and picturesque views of the surrounding countryside.
In addition to its beautiful accommodations, The Bear of Burton boasts a popular local restaurant that serves up delicious meals made from fresh, locally sourced ingredients. Guests can also enjoy free Wi-Fi access throughout the hotel and in-room amenities such as TVs, tea and coffee facilities, and hairdryers.
One standout feature at The Bear of Burton is its breakfast offering. A cooked breakfast of your choice comes included with every rate; options include their famous 'just right' porridge alongside a buffet selection. This ensures you start your day off on the right foot.
If you're arriving by train or plane, don't worry – Christchurch Railway Station is only five minutes away by car while Bournemouth International Airport can be reached within 15 minutes drive. With all these fantastic features combined with an excellent location, The Bear of Burton is definitely worth considering for your next stay in Dorset!
Map:
3. The Dolphin Hotel
Website: www.hopback.co.uk
The Dolphin Hotel Public House Weymouth is a fantastic place to stay for those looking for a comfortable and convenient accommodation option. Located just 1.5 km away from Weymouth Central Beach, this hotel boasts non-smoking rooms with free WiFi and city views.
The Dolphin Hotel's accommodations each come with a seating area, a flat-screen TV with satellite channels, and a private bathroom with complimentary toiletries and a shower. Every room has towels and bed linens as well.
Guests can enjoy playing darts or taking part in popular outdoor activities like golfing and cycling during their stay at the hotel. Portland Castle is only 8.2km away while Portland Museum lies approximately 11km from the property.
The Dolphin Hotel Public House Weymouth is an excellent choice for visitors to Dorset who want to experience all that this beautiful region has to offer without sacrificing comfort or convenience.
Map:
4. The King's Arms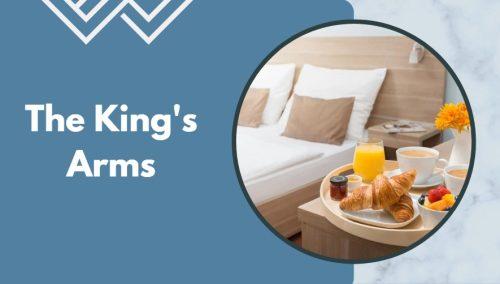 Website: www.thekingsarmsdorchester.com
The King's Arms in Dorchester offers a comfortable and convenient stay for travellers. With its 24-hour front desk, guests can check in at any time of the day or night. The hotel also boasts an on-site restaurant and bar, making it easy to enjoy a relaxing meal or drink without having to leave the property.
The rooms at The King's Arms are well-appointed with all the necessary amenities for a pleasant stay. A desk, flat-screen TV, closet and private bathroom are all included in each room. Guests can choose between à la carte or Full English/Irish breakfast options every morning during their stay.
Private parking is available onsite at no extra charge, providing added convenience for those travelling by car. Bournemouth is just 33 km away from The King's Arms while Weymouth is 17 km away. For those arriving by plane, Bournemouth Airport is the nearest airport located just 36 km from the hotel.
The King's Arms offers comfortable accommodations in a convenient location with great amenities that cater to both business and leisure travellers alike.
Map:
5. The Bear Hotel 
Website: www.thebearwareham.co.uk
If you're looking for a cosy and comfortable hotel in Wareham, The Bear Hotel is definitely worth considering. This charming hotel offers express check-in and check-out, free WiFi, non-smoking rooms, and family rooms to cater to different needs.
The rooms are equipped with all the necessary amenities such as a wardrobe, flat-screen TV, and private bathroom with bed linen and towels. Guests can choose from an à la carte or Full English/Irish breakfast every morning at the property's restaurant which serves delicious British cuisine. If you have any dietary restrictions like vegetarian or vegan options, they can also be requested.
The location of The Bear Hotel is perfect for exploring nearby attractions such as Corfe Castle reachable within 6.9 km or Monkey World around 8.9 km away if you want to get up close with primates! Poole Harbour (17km) and Bournemouth International Centre (23 km) are other popular tourist spots in the area.
Those who prefer travelling by train to car will find Swanage Railway only 16 km from this accommodation while The Italian Villa is located just slightly further afield about 21 km away.
Visitors will love staying at The Bear Hotel due to its warm ambience where guests feel right at home even when travelling far from it!
Map:
6. The Cross Keys
Website:
The Cross Keys Sherborne is a hotel that provides its guests with an unforgettable journey. This stunning property features non-smoking rooms, free Wi-Fi throughout the premises, and a bar where guests can savour delicious drinks. The location of the hotel is also convenient since it's situated in Sherborne, making Longleat Safari Park reachable within 44 km.
The hotel's rooms are thoughtfully designed to cater to every guest's needs. All rooms come equipped with modern amenities like flat-screen TVs, fridges for storing food and beverages, and wardrobes for keeping clothes neat and tidy during your stay. Plus private bathrooms with bed linen and towels are provided.
Guests will love indulging in any of The Cross Keys' breakfast options: à la carte, Full English/Irish or vegetarian breakfast – all served at their restaurant featuring British & local cuisine options. Vegans and those who are lactose intolerant can request dairy-free meals too!
Experience luxury living at its finest when you visit The Cross Keys Sherborne!
Map:
7. The Priory Hotel
Website:
The Priory Hotel is a charming and picturesque hotel situated in the heart of Dorset, surrounded by scenic countryside views. The hotel boasts an impressive four-acre English cottage garden that sits beside the tranquil River Frome, providing guests with a peaceful and serene atmosphere.
Each guest room offers modern amenities such as en-suite bathrooms, flat-screen TVs with DVD players, and tea/coffee-making facilities to make your stay comfortable. The on-site restaurant serves delicious meals throughout the day from full English breakfasts to lunch in the Garden Room or al fresco dining on the terrace during warmer months.
One of the major highlights of this hotel is its wine cellar which houses 200 vintages for guests to enjoy while admiring stunning views. Guests can also visit nearby attractions such as Lulworth Cove and Studland Beach within just a 20-minute drive away or explore ancient market towns like Wareham that boast Saxon town walls dating back to the 9th century.
For those interested in history, Corfe Castle ruins and village are only five minutes away by car. With all these wonderful features combined, it's no wonder why The Priory Hotel is one of Dorset's top-rated hotels.
Map:
8. Royal Hotel
Website:
If you're looking for a hotel that's right on the beachfront, The Royal Hotel in Weymouth is a great option and it is one of the best hotels in the South West region. This 3-star accommodation features stunning views of the ocean and offers guests plenty of amenities to make their stay comfortable.
Each guest room at The Royal Hotel comes with its own private bathroom, TV, wardrobe, bed linen and towels. Guests can also enjoy free WiFi throughout the property. For breakfast, there are two options available: à la carte or Full English/Irish breakfast.
The hotel also has its own restaurant and bar for those who want to grab a bite to eat or have a drink without leaving the property. Additionally, room service is available 24 hours per day for guests who prefer dining in their rooms.
Monkey World is just 24 km away from The Royal Hotel while Corfe Castle is around 38 km away. Bournemouth Airport is the nearest airport located about 59 km from this beautiful beachfront hotel.
If you're looking for an affordable yet luxurious place to stay near Weymouth Central Beach, look no further than The Royal Hotel!
Map:
9. The Frampton Arms
Website:
The Frampton Arms is an ideal hotel for those who love to explore the great outdoors. Located just 7.7 km from Monkey World, it provides guests with a comfortable stay and easy access to various outdoor activities in Dorchester.
The hotel has a beautiful garden and terrace which provide the perfect setting for relaxation after a day of exploring or hiking around the area. The rooms are equipped with all necessary amenities such as flat-screen TV, private bathroom, bed linen, towels, and desk.
Guests can indulge in a delicious buffet breakfast that includes continental options as well as a Full English/Irish breakfast. The hotel also offers a children's playground where families can have a fun-filled time together.
With its close proximity to Bournemouth International Centre and Golden Cap, this hotel is perfect for both leisure and business travellers who want to experience all that Dorset has to offer. Guests looking for adventure can take advantage of nearby hiking trails or cycling routes available in the surrounding areas.
The Frampton Arms is an excellent choice if you're planning on visiting Dorchester anytime soon. With its convenient location near popular attractions such as Monkey World and Corfe Castle combined with comfortable amenities and plenty of outdoor activities available nearby; you won't regret staying here!
Map:
10. The Grove Arms
Website:
The Grove Arms in Ludwell, Shaftesbury offers comfortable and modern accommodation with a garden, free private parking, shared lounge and terrace. The hotel is conveniently located 28 km from Salisbury Train Station, providing easy access to the city's attractions such as the Salisbury Racecourse, Cathedral and Old Sarum.
Guests can enjoy delicious meals at the hotel's restaurant or have a drink at the bar while taking advantage of free WiFi. The rooms are furnished with a desk and flat-screen TV for entertainment purposes. Each room also comes with a private bathroom equipped with free toiletries and a hairdryer for added convenience.
Start your day off right by indulging in breakfast available daily featuring buffet options or à la carte items along with continental choices. After that, explore nearby hiking trails or take part in an invigorating cycling adventure around town before relaxing back at the hotel.
For those looking to engage in some friendly competition during their stay, The Grove Arms offers dart games which guarantee hours of fun! Alternatively, take time out to visit Longleat Safari Park just 32 km away or Longleat House situated about 33 km from this charming property.
Map:
Conclusion
Dorset is a beautiful county that offers visitors a wide range of attractions, from stunning coastal landscapes to historic towns and villages. With so much to see and do, it's no surprise that Dorset is one of the most popular tourist destinations in the UK.
To make your stay even more comfortable, we've compiled a list of the top 10 hotels in Dorset. Whether you're looking for luxury accommodation or something more affordable, there's sure to be something on this list that suits your needs.
From Derby Manor with its satellite channels and private parking to The Grove Arms with its free WiFi and shared lounge, each hotel offers unique features that cater to different tastes. Many hotels offer delicious breakfast options too – whether you prefer à la carte or Full English/Irish breakfasts.
We hope this guide has helped you plan your next trip to Dorset. Remember, booking early can often save money while ensuring availability at your chosen hotel. So why wait? Book now and experience all the beauty and charm that Dorset has to offer!
Related Articles: