Nestled in the heart of southwest England lies Wiltshire, a county steeped in history and brimming with natural beauty. From ancient stone circles to bustling market towns, there is so much to see and do here that you'll be spoilt for choice! So whether you're after a relaxing countryside retreat or an action-packed adventure, join us on our journey as we take you through the top places to visit in Wiltshire. Get ready for some stunning scenery, fascinating tales from the past, and plenty of hidden gems along the way!
Best Places to Visit in Wiltshire
1. Salisbury
Salisbury is a city located in southern England and is known for its stunning medieval cathedral, which dates back to 1220. The Salisbury Cathedral boasts the tallest spire in Britain, standing 404 feet tall, making it an impressive sight to see.
Apart from the cathedral, Salisbury has numerous other attractions that are worth visiting. One of these is the Old Sarum site, which features the ruins of a former Iron Age fortification and Roman settlement. Visitors can explore this archaeological site while learning about its rich history through informative exhibits.
For those who enjoy museums, Salisbury has several options, including the Salisbury Museum and Mompesson House. The museum houses various collections ranging from archaeology to costume displays while Mompesson House showcases elegant Georgian architecture and beautiful gardens.
If you're looking for outdoor activities, then visit Harnham Water Meadows or take a walk along River Avon where you'll see wildlife such as otters and kingfishers.
Salisbury offers visitors a chance to experience history and culture combined with natural beauty making it one of the best places to visit in Wiltshire!
Map:
2. Trowbridge
Trowbridge, the county town of Wiltshire, is an excellent place to visit and explore. The town boasts a rich history dating back to the Saxon era and offers visitors plenty of opportunities for sightseeing.
One of Trowbridge's most notable landmarks is the Grade I listed St James' Church. It features stunning stained-glass windows created by William Morris & Co. Visitors can also enjoy wandering around the town's many independent shops, cafes, and restaurants.
Another must-see attraction in Trowbridge is The Courtroom Experience – the best museum that tells the fascinating story of crime and punishment through interactive exhibits. For nature lovers, there's always Southwick Country Park where you can walk among beautiful gardens or relax beside one of its many lakes.
If you're interested in learning more about local history, Trowbridge Museum should be on your list too. Here you'll find exhibitions showcasing everything from medieval wool trade to modern-day manufacturing processes.
Trowbridge has something for everyone with its mix of culture, history and natural beauty making it well worth a visit!
Map:
3. Swindon
Swindon is a vibrant and bustling town located in the heart of Wiltshire. It boasts of a rich industrial heritage that dates back to the 19th century. Today, Swindon has evolved into a modern and cosmopolitan town that offers something for everyone.
One of the most popular attractions in Swindon is the STEAM Museum – an award-winning museum dedicated to showcasing the history of British railways and locomotives. Visitors can explore interactive exhibits, ride on vintage trains, and learn about how trains have shaped our world.
For art enthusiasts, there's no better place than The Museum Of Computing which houses one of the largest collections of computing artifacts in Britain. Here you'll find everything from early computers to modern-day machines that have revolutionized our lives.
If shopping is more your thing, then look no further than Swindon Designer Outlet – one of Europe's largest outdoor designer outlets with over 100 stores selling top brands at discounted prices.
Nature lovers can take a stroll through Lydiard Park – a beautiful estate that spans over 260 acres filled with stunning gardens, lakeside walks and woodlands.
Swindon truly has something for everyone making it an ideal destination for visitors seeking diverse experiences within easy reach!
Map:
4. Chippenham
Chippenham is a historic market town located in the north of Wiltshire, known for its beautiful architecture and rich cultural heritage. The town centre is dominated by the medieval parish church of St. Andrew, which dates back to the 12th century.
One of the main attractions in Chippenham is the Grade I listed building called Sheldon Manor, which was built during Tudor times and boasts stunning gardens that are open to visitors during certain times of the year.
Another must-see attraction in Chippenham is Lackham House and Gardens, which offers a variety of activities including golfing, fishing, and animal encounters at their farm park.
For those interested in history and culture, don't miss out on visiting Bowood House & Gardens where you can explore an impressive Georgian country house set within picturesque grounds with waterfalls and woodland walks.
If you're looking for something different to do while visiting Chippenham then head over to Castle Combe Circuit just outside Chippenham; it's perfect for car enthusiasts as well as adrenaline junkies!
There's no shortage of things to see or do when exploring this charming town!
Map:
5. Marlborough
Marlborough is a charming market town located in the heart of Wiltshire. The town is known for its picturesque high street lined with Georgian buildings, independent shops and cafes.
One of the highlights of Marlborough is the magnificent St Mary's Church which dominates the skyline. Visitors can climb to the top of the tower for stunning views over the town and surrounding countryside.
For history enthusiasts, Marlborough has plenty to offer. The town is home to one of England's most famous public schools, Marlborough College where Sir John Betjeman was educated. Furthermore, just a short distance from Marlborough lies Avebury Stone Circle – one of Europe's largest prehistoric stone circles dating back over 4,000 years.
Visitors can also enjoy a stroll around Marlborough Common – a beautiful area of open green space perfect for picnics or relaxing walks. And if you're feeling adventurous why not hire bikes and explore some nearby cycle routes?
Marlborough offers visitors an idyllic English experience with plenty to see and do making it well worth adding it to your list when visiting Wiltshire!
Map:
6. Amesbury
Amesbury is a charming town located in Wiltshire, England. It has a rich history dating back to the prehistoric times when Stonehenge, one of the world's most famous landmarks, can be found nearby. The town itself boasts of several attractions that make it worth visiting.
One such attraction is the Amesbury Abbey which dates back to the 10th century and offers visitors a glimpse into the medieval era through its stunning architecture and gardens. Another must-visit attraction in Amesbury is the Marden Henge which is an ancient site believed to have been used for rituals during the Neolithic period.
For those interested in military history, Amesbury also has ties with World War I as it was once home to military training camps during that time. Visitors can learn more about this at The Boscombe Down Aviation Collection museum which houses aircraft from both World Wars.
Aside from its historical significance, Amesbury also has picturesque countryside views perfect for leisurely walks or bike rides along River Avon or around Vespasian's Camp Hill Fort.
Amesbury may be a small town but it holds plenty of treasures waiting to be explored by curious travellers seeking unique experiences and insights into English history and culture.
Map:
7. Lacock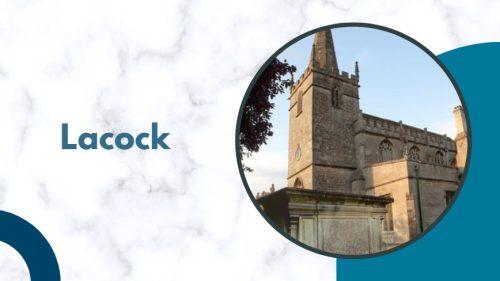 Lacock is a charming village located in the heart of Wiltshire. It is well-known for its picturesque streets and beautiful architecture that has remained untouched for centuries. As you walk through the village, you'll feel like you've stepped back in time.
One of the most famous landmarks in Lacock is Lacock Abbey, which was founded in the 13th century as a nunnery. Today, it's a popular tourist attraction and filming location for movies and TV shows such as Harry Potter and Downton Abbey.
Aside from the abbey, there are also many other historic buildings to see in Lacock such as St Cyriac's Church and The Tithe Barn. Exploring these old structures will give visitors an insight into what life was like during medieval times.
For nature lovers, there are plenty of parks and gardens to visit around Lacock including Bowood House & Gardens which has over 100 acres of stunning parkland with magnificent views over Wiltshire countryside.
Visiting Lacock is a must-do when exploring Wiltshire; it offers a unique experience that blends history, culture, architecture, and natural beauty all together!
Map:
8. Castle Combe
Castle Combe is a picturesque village located in the northwestern part of Wiltshire. This charming village boasts stunning medieval architecture and quaint streets that make it one of the most beautiful places to visit in Wiltshire.
One of the main attractions in Castle Combe is its iconic 14th-century Market Cross, which serves as a reminder of its rich history. Visitors can also explore St Andrew's Church, which features intricate stained glass windows and an impressive bell tower.
Aside from historical landmarks, Castle Combe offers scenic walks through lush countryside landscapes. The Cotswold Way National Trail passes through this idyllic village, offering visitors breathtaking views of rolling hills and meandering streams.
In addition to outdoor activities, Castle Combe has plenty to offer foodies as well. Its numerous tea rooms and cafes serve up delicious local cuisine like cream teas and pastries made with locally sourced ingredients.
Visiting Castle Combe is like stepping back in time while still enjoying modern comforts – making it a must-visit destination for anyone exploring Wiltshire!
Map:
9. Bradford on Avon
Bradford on Avon is a charming and picturesque town in Wiltshire, England. It boasts stunning architecture dating back to the 17th century with beautiful buildings made from honey-coloured stone.
The town's centrepiece is the River Avon which runs through it, offering scenic views and serene walks by its banks. The town also has several historic sites, including St Laurence's Church and the Bradford on Avon Tithe Barn.
Visitors can explore the Kennet & Avon Canal that passes through Bradford on Avon, take a boat ride or hire a bicycle for an enjoyable day out. Foodies will love trying local delicacies at the best restaurants such as Timbrell's Yard, Bunch of Grapes or The Weaving Shed.
For those interested in art and culture, there are numerous galleries showcasing works from local artists as well as exhibitions by international artists. Don't forget to visit Barton Farm Country Park where you can see farm animals up close while enjoying breathtaking countryside views.
Bradford on Avon offers visitors an idyllic escape from city life with its tranquil setting combined with rich history and modern conveniences making it one of the best places to visit in Wiltshire.
Map:
Conclusion
Wiltshire is a county that offers a wide range of attractions and activities for everyone, from ancient historic sites to picturesque countryside landscapes. The top places to visit in Wiltshire listed above are just some of the many great destinations this county has to offer.
Whether you're interested in history, culture or nature, there's something for everyone here. From the stunning Salisbury Cathedral to the charming streets of Lacock and Castle Combe, exploring these top 9 places will surely leave you with unforgettable memories.
So if you're planning your next trip around England, make sure to include Wiltshire on your list. This beautiful county won't disappoint!
FAQs on Best Places to Visit in Wiltshire
1. What is the poshest town in Wiltshire?
The town often considered the poshest in Wiltshire is Marlborough. It is known for its affluent residents, Georgian architecture, and upscale shops.
2. Which of these tourist attractions is located in Wiltshire UK?
One of the popular tourist attractions located in Wiltshire, UK is Stonehenge. This ancient prehistoric monument, consisting of standing stones, is a UNESCO World Heritage Site and attracts visitors from all over the world.
3. What mysterious landmarks are in Wiltshire?
Wiltshire is home to several mysterious landmarks. The most famous among them is Stonehenge, as mentioned earlier. Additionally, Avebury Stone Circle is another mysterious site in Wiltshire. It is the largest stone circle in Europe and is also a UNESCO World Heritage Site. The county is also known for its white horses carved into the hillsides, such as the Uffington White Horse, which is located on the border between Wiltshire and Oxfordshire.
4. Is Chippenham worth a visit?
Chippenham, a market town in Wiltshire, has its own unique charm and historical significance. It is home to medieval streets, a historic market square, and notable landmarks like Chippenham Museum and Chippenham Park. Whether Chippenham is worth a visit depends on your interests and preferences. If you enjoy exploring historical towns and immersing yourself in the local culture, Chippenham can be a worthwhile destination to explore.