Looking to escape the chilly winter and soak up some sun this December? Look no further! We've compiled a list of the hottest destinations for UK holiday-goers, where you can bask in warm temperatures while everyone else is bundled up at home. From exotic beaches to vibrant cities, these locations offer the perfect combination of relaxation and adventure. So grab your sunglasses and get ready to discover the warmest spots to visit this December. Let's dive in!
Where is Hot in December to Go on Holidays? – Top 10 Best Warm Destination
1. Cancun, Mexico 
Cancun, Mexico is much more than just a spring break hotspot. With its delightful December weather boasting average temperatures of 25°C and six hours of sunshine per day, it's the perfect destination for winter sun-seekers from the UK. Imagine lounging on miles of white sandy beaches, with crystal-clear emerald waters stretching before you. The vibrant local culture adds an extra layer of excitement to your holiday experience.
While Cancun offers plenty of nightlife options in its famed Hotel Zone, there's also abundant natural beauty to explore along the Riviera Maya. From picturesque Playa del Carmen to stunning Playa Delfines, these beaches offer breathtaking views and tranquil surroundings. For adventure enthusiasts, scuba diving spots on the Mesoamerican Barrier Reef provide unforgettable underwater experiences, including swimming with majestic whale sharks.
History buffs won't be disappointed either; a visit to nearby attractions like the Mayan Museum and Mayan ruins such as El Rey and San Miguelito will transport you back in time to ancient civilizations. If you're up for some day trips, Merida awaits with its fascinating blend of Spanish and Mayan influences while Chichen Itza showcases awe-inspiring ancient ruins that are renowned worldwide. And don't miss Tulum – this enchanting destination combines captivating archaeological sites with beautiful coastal areas and unique natural wonders like limestone sinkholes known as cenotes.
Cancun truly has something for everyone: beach lovers can unwind under the warm sun; adventurers can dive into thrilling underwater worlds; history aficionados can immerse themselves in ancient cultures; all while enjoying pleasant temperatures that make December feel like a summer paradise. So pack your swimsuit and get ready for an unforgettable holiday experience in Cancun!
Map: 
2. Brisbane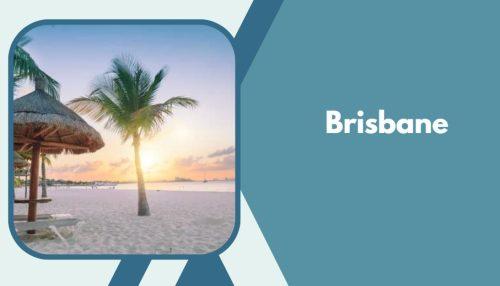 Brisbane, Australia's third-largest city, is a perfect destination for UK travelers seeking warm weather in December. With average temperatures of 28.2°C, this vibrant city offers plenty of sunshine and outdoor activities to enjoy.
Situated on the east coast of Australia, Brisbane boasts beautiful beaches and a relaxed atmosphere. Take a dip in the crystal-clear waters of Moreton Bay or soak up the sun at South Bank Parklands, a stunning riverside park with lush gardens and swimming lagoons.
For nature enthusiasts, there are several national parks nearby where you can explore verdant rainforests and spot native wildlife. Don't miss the chance to visit Lone Pine Koala Sanctuary, the world's first and largest koala sanctuary.
Food lovers will be delighted by Brisbane's culinary scene. From trendy cafes serving artisanal coffee to fine dining restaurants showcasing fresh local produce, there's something to satisfy every palate.
In addition to its natural beauty and delicious food, Brisbane also offers cultural experiences such as visiting art galleries and museums or attending live music events at iconic venues like The Tivoli.
With its warm climate and diverse attractions, Brisbane is an ideal destination for UK travelers looking for a sunny getaway in December. So pack your bags and get ready to experience all that this lively city has to offer!
Map:
3. Marrakech, Morocco
When winter arrives, Marrakech beckons with its exotic allure. Despite the hustle and bustle of this vibrant city, there are serene escapes to be found amidst the chaos. A wave of design hotels has swept in, transforming traditional riads into stunning havens of tranquillity. Picture yourself surrounded by red-brick walls adorned with intricate patterns, immersing yourself in a world that feels like stepping back in time.
For a taste of pure luxury, indulge in a stay at La Mamounia. This iconic palace boasts landscaped gardens, mesmerizing fountains, and lavish interiors filled with opulent tiles and velvets. It's no wonder it ranks among the best hotels in the world on our Gold List. Alternatively, Royal Mansour offers an exquisite retreat from the medina madness without compromising on luxury.
With so many options for accommodations, deciding where to stay can be overwhelming. But fear not! If you're seeking an authentic experience, Riad Goloboy is a feast for both your eyes and Instagram feed. Its kaleidoscopic walls and impressive art collection make it truly unique.
In Marrakech, there is always something new to discover around every corner – from wandering through bustling souks to sipping mint tea at rooftop cafes overlooking ancient mosques. Let your senses come alive as you explore this captivating city that seamlessly blends tradition with modernity.
So why wait? Escape to Marrakech this December and immerse yourself in its enchanting atmosphere – where history meets contemporary elegance and adventure awaits at every turn.
Map:
4. Lanzarote, Spain
Lanzarote, Spain is a hidden gem in Europe for those seeking warm weather during the winter months. With average temperatures of 18°C and up to 6 hours of sunshine per day, it offers a welcome escape from the cold. This picturesque island is known for its unique landscapes, boasting over 300 volcanic cones and lunar-like black rock formations.
The main settlement on Lanzarote is Arrecife, a lively yet comparatively small city that remains untouched by mass tourism. Its sandy beaches, palm trees, and long promenade provide the perfect backdrop for leisurely strolls. The city also boasts a charming network of pedestrianized streets and plazas where you can explore local shops and the best restaurants. For those looking for nightlife, head to the marina area where some of the best options can be found.
If you're craving natural beauty, Timanfaya National Park should be at the top of your list. Here you'll find rugged terrain and stunning volcanic landscapes with plenty of walking routes to explore. The volcanic cliffs of Los Hervideros offer breathtaking views that are worth capturing on camera.
For an even more unique experience, visit Jameos del Agua—a natural space that doubles as a center for arts and culture. Built around a series of caves and a volcanic tunnel, this oasis-like landscape will leave you in awe.
Whether you choose to relax on golden coastal areas or embark on adventurous walks through volcanic scenery, Lanzarote has something for everyone seeking warmth in December.
Map:
5. Barbados
Barbados, with its year-round warm climate and stunning beaches, is a tropical paradise that beckons travelers seeking the ultimate December getaway. With average temperatures of 29.5 °C, this Caribbean island offers a haven of sunshine and relaxation for UK holidaymakers looking to escape the winter chill.
One of the highlights of Barbados is its pristine white sandy beaches, such as Crane Beach and Miami Beach, where visitors can soak up the sun or take a dip in crystal-clear turquoise waters. The island also boasts excellent opportunities for snorkeling and scuba diving, allowing you to explore vibrant coral reefs teeming with marine life.
Beyond its idyllic coastline, Barbados offers a rich cultural experience. Bridgetown, the capital city, is home to historical sites like St. Michael's Cathedral and Parliament Buildings that showcase the island's colonial past. Don't miss out on visiting Harrison's Cave—a natural wonder filled with stalactites and underground streams—providing an unforgettable adventure.
For those seeking a taste of local cuisine, Barbados has plenty to offer. Indulge in delicious Bajan dishes like flying fish sandwiches or fresh seafood platters while sipping on rum punch—an iconic Caribbean cocktail.
With its warm temperatures and abundance of natural beauty and culture,
Barbados truly stands out as one of the hottest destinations in December for UK travelers seeking an unforgettable holiday experience.
Map:
6. Bali, Indonesia 
Tucked away in Southeast Asia, Bali is a haven for those seeking sun-soaked paradise. With its lush rainforests and pristine white-sand beaches, it's no wonder that this tropical destination is a favorite among winter-sun seekers.
The once scrappy beach town of Canggu has transformed into a hotspot for Indonesia's thriving digital-nomad community and surf enthusiasts looking to catch the perfect wave. On the other hand, Ubud, known as the artists' village, offers a more spiritual escape with its tranquil surroundings.
When it comes to accommodations in Bali, there are options to suit every taste. Perched on a cliff overlooking the Indian Ocean, Six Senses Uluwatu is a wellness retreat that provides panoramic views and relaxation at its finest. For those staying in Canggu, The Slow offers an intimate 12-room boutique hotel filled with art and music vibes. And if you're looking for an adventurous experience amidst nature, Capella Ubud will transport you back in time with its African tented camp ambiance.
Traveling with a group? Bali boasts incredible villas and Airbnbs like Laputa Villa – known as "The Bamboo Castle in the Sky" – which can accommodate up to four people comfortably.
For more recommendations on where to stay during your Bali getaway or details on the best hotels available on this enchanting island.
Map:
7. Muscat, Oman 
Nestled between the Gulf of Oman and the majestic Hajar Mountains, Muscat, the capital city of Oman, is a stunning coastal destination that offers a blend of modernity and traditional Omani charm. With an average temperature of 23C in December and nine hours of sunshine per day, it provides the perfect winter escape for UK travelers seeking warmth.
The city's skyline is adorned with white-washed buildings punctuated by vibrant dashes of color, creating a picturesque backdrop to its bustling streets. Muscat serves as an excellent base for exploring nearby attractions such as Sur, Nizwa, and the enchanting oasis wadis.
Muscat boasts several distinct neighborhoods. Al Qurum is home to the best beach where visitors can relax and soak up the sun. Meanwhile, Old Muscat retains its historic allure with its charming small-town feel. One must not miss Muttrah—this area offers delights like the two-mile long Corniche promenade along with Muttrah Souq: one of the oldest markets in the Arab world. Lose yourself amidst maze-like alleyways filled with vendors selling everything from frankincense to intricate jewelry.
Architectural wonders abound in Muscat. The imposing Grand Mosque showcases magnificent Islamic architecture while Al Alam Palace exudes retro charm against a backdrop overlooking stunning waterfront views. Opposite this palace lies the National Museum—the perfect place to delve into Omani history dating back to prehistoric times.
Muscat truly captures the essence of Oman's rich heritage while offering visitors a modern coastal experience they won't soon forget.
Map:
8. Cape Verde
Cape Verde, with its stunning coastline and warm weather, is the perfect destination for those seeking a sunny beach break in December. Comprised of 10 islands, this African country offers plenty of opportunities to relax by the sea and indulge in delicious fresh seafood like lobster and shrimp.
One of the great advantages of Cape Verde's location is its proximity to the sea, which means abundant coastal delights. The local cuisine reflects this bounty, with seafood being a staple in Cape Verdean dishes. Imagine feasting on succulent lobster or juicy shrimp while soaking up the sun on pristine beaches – it doesn't get much better than that!
Another perk of visiting Cape Verde in December is the pleasant weather. With an average temperature of 25°C and around 11 hours of sunshine per day, you can enjoy outdoor activities to your heart's content. The flat geography creates ideal conditions for water sports such as kitesurfing thanks to consistent winds that keep humidity at bay.
So if you're dreaming about escaping winter blues and embracing sunny shores, look no further than Cape Verde. With breathtaking coastlines, delectable seafood delicacies, and fantastic weather for outdoor adventures, this African paradise has it all. Book your trip now and make unforgettable memories in beautiful Cape Verde!
Map:
9. Sydney, Australia
Sydney, Australia is a city that needs no introduction. It's the epitome of Australian culture and boasts some of the most iconic landmarks in the country. The Sydney Opera House and Harbour Bridge are instantly recognizable symbols of 'Down Under'. But there's more to this vibrant city than just its famous sights.
For those seeking a taste of the laid-back Aussie lifestyle, Bondi Beach is a must-visit destination. With its golden sands and glistening waves, it's the perfect spot to soak up some sun or catch a wave. And don't forget about Manly, Bronte, and Balmoral beaches – each offering their own unique charm.
But Sydney isn't just about beaches and harbors. Take a stroll through neighborhoods like Surry Hills, Newtown, or Woolloomooloo to experience the city's diverse culture firsthand. Explore art galleries such as White Rabbit or the Art Gallery of NSW for an immersive cultural experience.
Nature lovers will appreciate Sydney's Royal Botanic Garden, where you can wander through lush greenery and admire stunning floral displays. And history buffs won't want to miss out on visiting the Australian Museum with its fascinating exhibits chronicling Australia's rich heritage.
With an average temperature of 21C in December and 8 hours of sunshine per day, Sydney offers plenty of opportunities for outdoor exploration all year round. So why not plan your next holiday and discover everything this incredible city has to offer?
Map:
10. Lanzarote, Canary Islands 
When it comes to the Canary Islands, Lanzarote is often overlooked as a winter destination. But let me tell you, this "surprisingly cool" island has so much more to offer than just pleasant weather. Located off Africa's west coast, Lanzarote boasts average temperatures of 21°C in December, making it perfect for a dip in the ocean or exploring its stunning beaches.
If you're looking to escape the crowded tourist areas, head down to Papagayo Beach on the southern tip of the island. With its fine white sands and turquoise waters, it's an idyllic spot to soak up some sun away from the hustle and bustle. For those seeking adventure, try your hand at world-class surfing in north-west Famara.
But that's not all – Lanzarote has even more surprises waiting for you if you venture beyond the usual tourist hotspots. Explore Jardín de Cactus in Guatiza, a surreal amphitheatre filled with unique succulent plants. Or immerse yourself in the stark beauty of Timanfaya National Park, a volcanic wilderness that starred in the iconic film One Million Years BC.
For a truly unforgettable experience, visit Finca Malvasia – a seductive ranch-like retreat owned by London-based designers who fell in love with island life. This central wine region offers breathtaking views and an opportunity to indulge in local flavors.
As for accommodation options? Look no further than La Cabaña – a slick and earthy villa boasting an eye-catching quote-mark-shaped swimming pool and stunning views down to Puerto Calero.
Intrigued? Check out our list of best villas on Lanzarote for more amazing places to stay during your winter getaway.
Lanzarote may be surprising at first glance but trust me when I say that after experiencing everything this enchanting island has to offer during winter months; joining those who have made it their home might not seem like such a far-fetched idea.
Map:
Where is Hot in December Europe?
Madeira, Portugal: Madeira is an island in the Atlantic Ocean that has a subtropical climate. The average temperature in December is 19°C (66°F), and there is an average of 6 hours of sunshine per day. Madeira is a great place to go for hiking, swimming, and whale watching.
Canary Islands, Spain: The Canary Islands are a group of islands off the coast of Africa that have a subtropical climate. The average temperature in December is 20°C (68°F), and there is an average of 7 hours of sunshine per day. The Canary Islands are a great place for swimming, sunbathing, and surfing.
Malaga, Spain: Malaga is a city on the southern coast of Spain that has a Mediterranean climate. The average temperature in December is 16°C (61°F), and there is an average of 6 hours of sunshine per day. Malaga is a great place for sightseeing, shopping, and tapas hopping.
Sicily, Italy: Sicily is an island in the Mediterranean Sea that has a Mediterranean climate. The average temperature in December is 15°C (59°F), and there is an average of 5 hours of sunshine per day. Sicily is a great place for exploring ancient ruins, eating delicious food, and visiting Mount Etna.
Crete, Greece: Crete is an island in the Mediterranean Sea that has a Mediterranean climate. The average temperature in December is 16°C (61°F), and there is an average of 5 hours of sunshine per day. Crete is a great place for hiking, swimming, and visiting ancient ruins.
Where is Hot and Cheap in December?
Philippines: The Philippines is a country in Southeast Asia that has a tropical climate. The average temperature in December is 28°C (82°F), and there is an average of 8 hours of sunshine per day. The Philippines is a great place for beach vacations, exploring islands, and eating delicious food.
Sri Lanka: Sri Lanka is an island country off the coast of India that has a tropical climate. The average temperature in December is 27°C (81°F), and there is an average of 8 hours of sunshine per day. Sri Lanka is a great place for beach vacations, exploring ancient ruins, and eating delicious food.
Indonesia: Indonesia is a country in Southeast Asia that has a tropical climate. The average temperature in December is 27°C (81°F), and there is an average of 8 hours of sunshine per day.
Vietnam: Vietnam is a country in Southeast Asia that has a tropical climate. The average temperature in December is 25°C (77°F), and there is an average of 7 hours of sunshine per day.
Thailand: The average temperature in December is 28°C (82°F), and there is an average of 8 hours of sunshine per day. Thailand is a great place for beach vacations, exploring temples, and eating delicious food.
Conclusion
To wrap up, December is the perfect time for UK people to escape the cold and find some much-needed warmth and sunshine. Whether you're looking for sandy beaches, vibrant cultures, or natural wonders, there are plenty of destinations that offer just that.
Cancun in Mexico promises beautiful white sands, crystal-clear waters, and a rich local culture to explore. Marrakech in Morocco provides a blend of traditional riads and modern design hotels amidst bustling markets and vibrant streets. Lanzarote in Spain offers volcanic landscapes, golden beaches, and charming coastal towns.
For those seeking tropical paradise, Bali in Indonesia delivers lush rainforests, stunning beaches, and spiritual retreats. Muscat in Oman presents a unique blend of old-world charm with modern living set against breathtaking mountain and ocean backdrops. And Cape Verde provides sunny beach breaks with fresh seafood delights.
Last but not least is Sydney in Australia – home to iconic landmarks like the Opera House and Harbour Bridge along with picturesque beaches like Bondi. Each destination has its own allure and attractions that will make your December holiday unforgettable.
So pack your bags, leave behind the winter blues, and embark on an adventure to one of these warmest destinations this December!
Related Articles: