Welcome to the mesmerizing world of the United Kingdom, a country that seamlessly blends rich history with breathtaking natural landscapes. Whether you're an avid explorer or simply looking for a new adventure, we've got you covered.  So grab your travel diary and let's dive into our guide to the best place to visit in UK throughout the year! Get ready for enchanting castles, stunning gardens, captivating festivals, and so much more. Let's embark on this incredible journey together!
Best Place to Visit in UK
Best Place to Visit in UK in January
January in the UK offers a perfect opportunity to kick-start your year with awe-inspiring destinations. First on our list is the incredible Giant's Causeway in Northern Ireland(Not in the UK, But worth the visit). Prepare to be amazed as you witness nature's artistic masterpiece – hexagonal basalt columns that stretch along the dramatic coastline, creating a surreal landscape like no other.
If you're looking for a blend of art and tranquillity, St. Ives in Cornwall should be your next stop. Immerse yourself in its vibrant art scene, where galleries showcase works by talented local artists. But it's not just about art; St. Ives boasts picturesque beaches that are perfect for serene winter walks. Feel the crisp sea breeze against your face as you explore this charming coastal town.
For those seeking warmth amidst the winter chill, head over to The Eden Project also located in Cornwall. Step into a tropical paradise within its iconic biomes and discover an extraordinary collection of plant life from all corners of the world. Escape from reality as you wander through lush gardens and immerse yourself in this eco-attraction's commitment to sustainability and education.
In January, these three remarkable destinations offer unique experiences that will leave you spellbound and inspired for the rest of your journey across the UK.
Best Place to Visit in UK in February
In February, the United Kingdom offers a range of captivating destinations to explore. One such place is Chatsworth House in Derbyshire. Known as "The Palace of the Peaks," this romantic estate boasts grand architecture and stunning gardens that are sure to enchant visitors. Take a leisurely stroll through the meticulously maintained grounds and admire the beauty that surrounds you.
For those seeking adventure and mystery, Loch Ness in Scotland beckons. Despite the winter chill, brave souls have a chance to spot the elusive Loch Ness Monster amidst the misty Scottish Highlands. Whether or not you catch a glimpse of Nessie, you'll be treated to breathtaking views and an unforgettable experience.
If whimsy is more your style, head to Portmeirion in Wales. This Italian-inspired village will transport you to another world with its colourful buildings and lush gardens. Every corner reveals charming surprises, from hidden pathways adorned with vibrant flowers to unique architectural details that ignite your imagination.
February may be cold in the UK, but it certainly doesn't lack fascinating places to visit. Whether you prefer romance at Chatsworth House, adventure at Loch Ness, or whimsy at Portmeirion, there's something for everyone during this time of year in these incredible locations throughout England, Scotland, and Wales.
Best Place to Visit in UK in March
March in the UK is a time of transition, as winter fades away and spring begins to bloom. And what better way to witness the awakening of nature than by visiting some of the country's most spectacular destinations? In March, three places stand out as must-visit locations: The Kew Gardens in London, The Roman Baths in Bath, and Snowdonia National Park in Wales.
First up is The Kew Gardens, a true oasis within the bustling city. As you wander through this UNESCO World Heritage site, you'll be greeted by vibrant colours and fragrant blooms as plants start to emerge from their winter slumber. From daffodils and cherry blossoms to magnolias and rhododendrons, there's no shortage of natural wonders to behold.
Next on our list is The Roman Baths in Bath – an ancient marvel that has stood for centuries. Imagine immersing yourself in warm thermal waters just like the Romans did thousands of years ago! As evening falls, the baths take on an ethereal glow with atmospheric lighting that enhances their beauty even further.
Last but certainly not least is Snowdonia National Park in Wales. This stunning landscape transforms before your eyes as spring arrives. Hike along picturesque trails surrounded by lush greenery while breathing in crisp mountain air. Capture breathtaking views from mountaintops or let yourself be mesmerized by cascading waterfalls – whatever you choose, one thing is for certain: Snowdonia offers unparalleled beauty during this time of year.
Best Place to Visit in UK in April 
April in the UK offers a plethora of enchanting destinations that are sure to captivate your senses. One such place is Windsor Castle, England's oldest and largest inhabited castle. As an official residence of the Queen, it exudes regal charm and historical significance. Explore its grandeur and immerse yourself in centuries of royal history.
If you're looking for a more natural experience, venture into the Bluebell Woods scattered across various locations in the UK. Here, you'll be greeted by an awe-inspiring sight – a carpet of bluebells blanketing the forest floor. Lose yourself amidst this breathtaking display of nature's beauty and let its delicate fragrance transport you to a world brimming with tranquillity.
For those seeking architectural marvels during the Easter season, Durham Cathedral should be at the top of your list. This UNESCO World Heritage site boasts stunning Gothic architecture that will leave you in awe. Marvel at its intricate details as sunlight streams through stained glass windows, creating an ethereal atmosphere within these sacred walls.
April presents an opportunity to witness both natural wonders and cultural heritage sites in all their glory. Whether you choose to explore opulent castles, wander through blooming woodlands or admire magnificent cathedrals, April promises unforgettable experiences throughout the United Kingdom.
Best Place to Visit in UK in May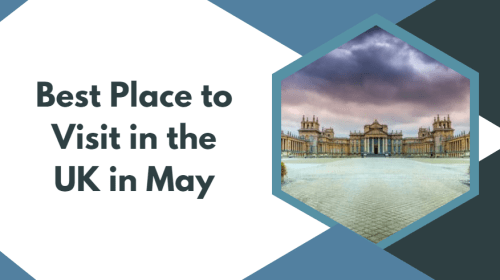 In the month of May, the UK offers a plethora of stunning destinations to explore. One such place is the Isle of Skye in Scotland, where you can immerse yourself in magical landscapes that will leave you breathless. The Fairy Pools, with their crystal-clear blue waters cascading down from the Cuillin Mountains, create a scene straight out of a fairytale. And don't forget about the Old Man of Storr, an iconic rock formation that stands tall amidst rolling hills.
If history and grandeur are more your style, then Blenheim Palace in Oxfordshire should be on your list. This magnificent palace is not only renowned for its architectural beauty but also holds significance as the birthplace of Winston Churchill. As you stroll through its impressive parkland and formal gardens, you can't help but feel transported back in time.
For lovers of literature and theatrical arts, Stratford-upon-Avon is a must-visit destination in May. This charming town celebrates the birth of William Shakespeare with lively theatrical events and showcases Tudor architecture at every turn. Explore his childhood home or catch a performance at one of the many theatres dedicated to his works.
May truly provides an opportunity to experience some of the best attractions that the UK has to offer – whether it's discovering enchanting landscapes on Skye or immersing yourself in history at Blenheim Palace and Stratford-upon-Avon. So pack your bags and get ready for an unforgettable adventure!
Best Place to Visit in UK in June
June in the UK offers a variety of unique and captivating destinations to explore. One such place is the Glyndebourne Opera House in East Sussex, where you can immerse yourself in world-class opera performances set amidst rolling hills and picturesque gardens. The combination of exceptional talent and breathtaking surroundings creates an unforgettable experience for all art enthusiasts.
If historical marvels intrigue you, venture to Giants' Dance in Avebury. This ancient stone circle stands as a mysterious cousin to Stonehenge but with fewer crowds. As you walk among these towering stones, it's easy to feel a sense of awe and wonder at their immense history and significance.
For outdoor enthusiasts, Hadrian's Wall in Northumberland provides the perfect opportunity to enjoy longer days while hiking along this ancient Roman fortification. Each step along the wall reveals centuries of history and stunning vistas across rugged landscapes.
Whether your interests lie in culture, mystery, or natural beauty, June presents an abundance of options for exploration throughout the UK. So pack your bags and embark on an adventure that will leave lasting memories!
Best Place to Visit in UK in July 
July is a fantastic time to visit the UK, with a range of exciting events and attractions to enjoy. One such event is The Wimbledon Championships in London, where tennis enthusiasts from around the world gather for this prestigious sporting event. Set in South West London, you can experience the thrill of watching some of the world's top players battle it out on the iconic grass courts.
If you're looking for something more cultural, head up to Scotland for The Royal Edinburgh Military Tattoo. Held against the magnificent backdrop of Edinburgh Castle, this spectacular performance showcases military bands and performers from across the globe. Be mesmerized by the precision and skill displayed in this unique blend of music, dance, and military pageantry.
For those seeking natural beauty and tranquillity, make your way down to Cornwall and explore The Lost Gardens of Heligan. These magical gardens have been rediscovered after years of neglect and are now bursting with vibrant colours during their full summer bloom. Take a leisurely stroll through lush greenery while marvelling at exotic plants and hidden sculptures.
Whether you're a sports lover or culture enthusiast, July offers plenty of options for an unforgettable visit to the UK. Soak up the excitement at the Wimbledon Championships or immerse yourself in captivating performances at The Royal Edinburgh Military Tattoo. And don't miss out on exploring nature's wonders at The Lost Gardens of Heligan – truly a summer paradise!
Best Place to Visit in UK in August 
August is a vibrant month in the UK, offering a variety of exciting destinations to explore. One such place is The Edinburgh Festival Fringe in Scotland, which is renowned as the world's largest arts festival. With thousands of performances taking place across the city, this event immerses visitors in a colourful tapestry of artistic expression.
For those seeking awe-inspiring sights, the Bristol International Balloon Fiesta in England is a must-see. As hot air balloons take to the skies, spectators are treated to an enchanting display of colours and shapes against the backdrop of Bristol's picturesque landscape.
If you're longing for tranquillity and natural beauty, look no further than The Isles of Scilly in Cornwall. This subtropical paradise boasts pristine white sandy and surfing beaches and crystal-clear blue waters. It's an idyllic destination where you can relax and unwind amidst breathtaking scenery.
Each of these places offers its own unique experience – from immersing yourself in art at The Edinburgh Festival Fringe to witnessing the whimsical sight of hot air balloons soaring through the sky at Bristol International Balloon Fiesta or discovering serenity on The Isles Of Scilly. August truly brings forth an array of unforgettable adventures throughout the UK!
Best Place to Visit in UK in September
September in the UK offers a variety of exciting destinations to explore. If you're a fan of the magical world of Harry Potter, then the Harry Potter Studio Tour in London is a must-visit. Step into the enchanting film sets and get up close with props from your favourite movies.
For nature lovers, head to Alnwick Garden in Northumberland. Marvel at the stunning Grand Cascade, where water flows gracefully down a series of terraces. Take a leisurely stroll through the Poison Garden, filled with intriguing and deadly plants.
If you're seeking adrenaline-pumping experiences, look no further than the Isle of Man. Experience the thrill of watching or even participating in the famous Isle of Man TT motorcycle races. Alternatively, immerse yourself in its natural beauty by exploring its rugged coastline and picturesque landscapes.
Whether you're an avid Harry Potter fan, appreciate beautiful gardens, or crave adventure-filled racing events, September has something for everyone in the UK. So pack your bags and embark on an unforgettable journey this autumn!
Best Place to Visit in UK in October 
October is a magical time to visit the UK, with vibrant autumn colours painting the landscapes. One of the best places to experience this natural beauty is Bodnant Garden in Wales. As you stroll through this enchanting garden, you'll be captivated by the fiery hues of red, orange, and gold that adorn the trees and flower beds. It's a truly picturesque sight that will leave you in awe.
If you're looking for something with a touch of spookiness, Warwick Castle in England is the place to be. Embrace the spooky season as you take part in haunted castle tours and Halloween events. Explore dark corridors, encounter eerie characters, and immerse yourself in thrilling tales from centuries past. It's an unforgettable experience that will send shivers down your spine.
For those travelling with family or animal lovers seeking a unique adventure, The Cotswold Wildlife Park in Oxfordshire is a must-visit destination. Against the backdrop of fall foliage, you can witness majestic animals roaming freely within their spacious enclosures. From playful lemurs to graceful giraffes, there's an abundance of wildlife waiting to capture your heart.
With so many incredible destinations to explore during October in the UK, it's no wonder travellers flock here year after year. Whether you're admiring autumn colours at Bodnant Garden or embracing spooky festivities at Warwick Castle or enjoying family-friendly animal encounters at The Cotswold Wildlife Park – there's something for everyone to enjoy during this beautiful time of year!
Best Place to Visit in UK in November
November in the UK offers a unique blend of history, culture, and natural beauty. One must-visit destination is Belfast's Titanic Quarter in Northern Ireland(Not in the UK, But worth the visit). Here, you can immerse yourself in the interactive Titanic Belfast museum and learn about the tragic story of the world-famous ship. Explore the historic shipyard where it was built and gain insights into its construction.
Another enticing option is York Minster in England, home to an atmospheric Christmas Market. Held against the backdrop of this majestic cathedral, the market exudes charm and festive spirit. Wander through stalls filled with gifts, crafts, and delicious food while enjoying live entertainment amidst twinkling lights.
For nature enthusiasts seeking rugged landscapes, Dartmoor National Park in England beckons with its autumnal allure. Take brisk walks through this mysterious terrain characterized by granite tors and ancient ruins. Breathe in fresh air as you explore Dartmoor's wild beauty and encounter ponies grazing freely on open moorland.
Whether your interests lie in history, shopping for unique gifts or immersing yourself in nature's wonders – November offers something for everyone across these three iconic destinations: Belfast's Titanic Quarter; York Minster; and Dartmoor National Park.
Best Place to Visit in UK in December  
December in the UK is a magical time, filled with festive cheer and holiday traditions. One of the best places to experience the Christmas spirit is at the Christmas Markets of Bath, England. This UNESCO-listed city transforms into a winter wonderland, with beautifully decorated chalets selling everything from handmade crafts to delicious treats. Stroll through the market, sipping on mulled wine and sampling local delicacies as you soak up the enchanting atmosphere.
For a different kind of winter activity, head to Brighton and enjoy ice skating at The Royal Pavilion Ice Rink. Set against the stunning backdrop of the Royal Pavilion Gardens, this outdoor ice rink offers an unforgettable experience for all ages. Glide across the ice under twinkling lights and immerse yourself in this enchanting setting.
If you're looking for some entertainment during your December visit, don't miss out on experiencing traditional British theatre with lively and humorous pantomime performances. These family-friendly shows are held in various locations throughout the UK and feature well-known stories brought to life with song, dance, and plenty of laughter.
Whether you choose to explore Bath's festive markets, try your hand at ice skating in Brighton or laugh along at a Christmas pantomime show, there's no shortage of delightful experiences waiting for you in December in these charming UK destinations.
Conclusion
As we come to the end of our journey exploring the best places to visit in the UK throughout the year, it's clear that this country is a treasure trove of diverse and captivating destinations. From natural wonders like the Giant's Causeway and Snowdonia National Park to cultural hotspots such as Bath and Stratford-upon-Avon, there truly is something for everyone.
Whether you're seeking adventure, history, art, or simply a peaceful escape from everyday life, the UK has it all. Each month brings its own unique experiences and opportunities to discover hidden gems across England, Scotland, Wales, and Northern Ireland.
So why not start planning your next trip? Whether you're visiting in January or December, there are countless adventures waiting to be had. Embrace each season's beauty and immerse yourself in the rich history and culture that permeates every corner of this incredible country.
No matter which month you choose to explore the UK in all its glory, you'll undoubtedly create memories that will last a lifetime. So pack your bags, grab your camera (or smartphone), and get ready for an unforgettable journey through some of the best places this beautiful nation has to offer!
Related Articles:
Best Place to Visit in Somerset
Best Place to Visit in Bristol