Welcome to Trowbridge, a charming town nestled in the heart of Wiltshire. Whether you're a local looking for a new watering hole or a visitor eager to explore the pub scene, we've got you covered. In this blog post, we'll be taking you on a journey through the top 10 pubs in Trowbridge. From cosy traditional taverns to trendy gastropubs, there's something here for everyone's taste buds and preferences. So grab your pint glass and let's dive into the vibrant world of Trowbridge's best pubs!
Best Pubs in Trowbridge – Top 10
1. The Kings Arms 
Step into The King Arms and prepare to have your taste buds tantalized. Our menu is a culinary journey that showcases the passion we have for creating delicious dishes. From hearty classics to innovative creations, every item on our menu is prepared with love and pride.
We take great care in crafting homemade meals that leave you craving more. And let's not forget about our real gravy – it's the perfect accompaniment to elevate your dining experience.
At The Kings Arms, we believe in catering to all dietary needs and preferences. Our knowledgeable staff are always ready to provide recommendations or assist with any special food requirements you may have.
Hungry for a sneak peek? Click the link below to browse and download our mouthwatering menus. We're confident that there's something for everyone!
Our dedication extends beyond food – we also curate an exceptional wine list. Each bottle undergoes rigorous testing, ensuring quality and variety across the board.
Beer enthusiasts will be delighted by our rotating guest ales, featuring popular choices like Doom Bar, Butcombe Original, Butcombe Rare Breed, and St Austell Tribute. Cheers!
And if cocktails are more your style, celebrate with us as we serve up a range of deliciously colourful concoctions. Need help to choose? Our tried-and-tested gin selection has got you covered.
So come on over to The Kings Arms and indulge in an unforgettable culinary adventure where flavour reigns supreme!
2. Rose & Crown 
Located just a stone's throw away from Trowbridge railway station, the Rose & Crown is a delightful pub that forms part of the Banwell House chain. As soon as you step inside, you'll be greeted by a single bar area that effortlessly caters to two distinct sections on either side of the main entrance. Both areas exude an inviting ambience, with their light and airy yet cosy feel.
If you're in need of some fresh air, head towards the back of the bar where you'll find a covered smoking area that transforms into a sun trap during those warm summer months. It's the perfect spot to relax and enjoy your drink while soaking up some rays.
Sports enthusiasts will rejoice at the Rose & Crown's commitment to showing Premier League football matches, along with other key football and rugby games on screens strategically placed throughout both bars. There's nothing quite like cheering for your team surrounded by fellow fans!
For those who love putting their knowledge to the test, make sure to mark your calendar for their monthly quiz night held on the second Thursday of each month. It's an opportunity not only to challenge yourself but also to connect with others in a fun and social setting.
The Rose & Crown offers everything you could want from a local pub – great atmosphere, convenient location, sports screenings, and even brain-teasing quizzes. So why not pay them a visit next time you're in Trowbridge? You won't be disappointed!
3. The Anchor & Hope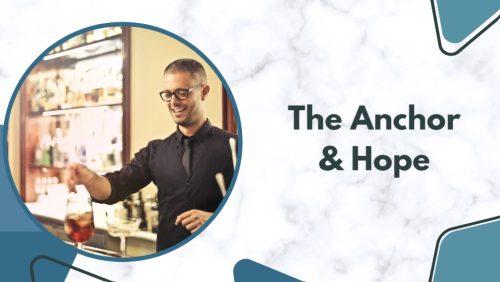 The Anchor & Hope is a charming pub nestled in the heart of Trowbridge. Step inside and you'll be greeted by a warm and inviting atmosphere, with friendly staff ready to serve you. The pub boasts a wide selection of drinks, from traditional ales to refreshing cocktails.
But it's not just the drinks that make The Anchor & Hope special. Their menu is filled with delicious dishes that will satisfy any craving. Whether you're in the mood for classic pub fare or something more adventurous, their chefs have got you covered.
What sets this pub apart is its commitment to quality and attention to detail. Every dish is prepared with love and care, ensuring that each bite is bursting with flavour. And if you have any special dietary requirements or preferences, just let them know – they're happy to accommodate.
The Anchor & Hope also offers a cosy outdoor seating area where you can enjoy your meal al fresco on sunny days. It's the perfect spot to relax with friends or unwind after a long day.
So next time you find yourself in Trowbridge, make sure to pay a visit to The Anchor & Hope. You won't be disappointed!
4. The Lamb
Located in the heart of Trowbridge, The Lamb is the perfect place to take a break from your day of shopping or enjoy a leisurely drink. Whether you're looking for a quick lunch or a relaxed evening out, we've got you covered.
Step inside and you'll find our sports bar where you can catch your team in action while enjoying your favorite beverage. And if you're up for some friendly competition, why not try your hand at pool, darts, or skittles? There's always something fun happening here.
If the weather permits, head over to our spacious beer garden with its sunny front patio. It's the ideal spot to kick back and relax with friends or family. You can soak up the sun while sipping on a refreshing drink – it doesn't get much better than that!
And if you don't feel like heading home after a long day out on the town, we even provide accommodation options. So there's no need to worry about finding somewhere else to stay when all you want is convenience and comfort.
We look forward to welcoming you soon at The Lamb – where good times are guaranteed!
5. The Courthouse
The Courthouse Inn in Trowbridge offers a fresh and clean atmosphere, perfect for those looking to unwind after a long day. With extensive seating at the front of the pub, as well as private nooks and crannies towards the rear, you can find your ideal spot to relax and enjoy your time.
While The Courthouse Inn provides a welcoming environment, it's important to note that it can get a bit noisy in the evenings. However, if you're someone who thrives on energy and enjoys a lively atmosphere, this may be just the place for you.
Open from noon until late most days of the week, The Courthouse Inn is convenient for both lunchtime visits or evening gatherings with friends. Whether you're stopping by for a quick drink or planning to spend some quality time catching up with loved ones, there's plenty of opportunity to make memories here.
So why not swing by The Courthouse Inn during its opening hours? Experience its modern ambience and discover why it has become such a popular spot among locals and visitors alike in Trowbridge.
6. Black Horse 
Nestled in the heart of Trowbridge, Black Horse Pub is more than just a place to grab a bite or enjoy a drink. It's the beating heart of the community, where distant friends reunite and families come together to catch up on life's adventures. Whether you're looking for a cosy spot for an intimate dinner or a lively atmosphere to celebrate with loved ones, Black Horse has got you covered.
Step inside and be greeted by warm smiles and friendly faces. The inviting ambience will make you feel right at home, while the aroma of delicious food wafts through the air. Take a seat and let someone else do the cooking for once – it's time to indulge in some well-deserved relaxation.
The menu at Black Horse offers something for everyone, from classic pub favourites like fish and chips to mouthwatering burgers that will leave your taste buds dancing with delight. And what better way to accompany your meal than with a refreshing pint or perhaps a glass of wine?
Not only does Black Horse provide delectable food and crisp drinks, but it also serves as an important gathering place for locals. It's where memories are created, laughter fills the air, and friendships are strengthened over shared experiences.
So next time you find yourself craving good company and great food without having to worry about cooking or washing up afterwards, head on down to Black Horse Pub – because sometimes all we need is a welcoming space where connections can flourish amidst good times had by all.
7. Dursley Arms
Situated in the heart of Trowbridge, the Dursley Arms is a hidden gem that offers a warm and inviting atmosphere for locals and visitors alike. Whether you're looking for a quiet pint after work or a lively night out with friends, this pub has something to suit everyone's taste.
Step inside and you'll be greeted by friendly staff who are always ready to serve up your favorite drink. The bar boasts an impressive selection of beers, wines, spirits, and cocktails, ensuring there's something for every palate. And if you're not sure what to choose, don't hesitate to ask the knowledgeable staff for recommendations – they're more than happy to help!
The Dursley Arms also caters to sports enthusiasts with multiple screens showing all the latest matches. So grab a seat at the bar or settle into one of their comfortable booths and enjoy cheering on your favourite team while sipping on your preferred beverage.
When it comes to food, the Dursley Arms doesn't disappoint either. Their menu features classic pub fare as well as some delicious surprises that will satisfy even the most discerning taste buds. From hearty burgers and crispy fish and chips to lighter options like salads and sandwiches, there's plenty on offer here.
If you're planning a special event or celebration, look no further than the private function room at Dursley Arms. With its own fully stocked bar and ample space for guests, it's perfect for birthdays, anniversaries, or any other occasion worth celebrating.
So whether you're stopping by for a quick drink or settling in for an evening of fun with friends, make sure to visit the Dursley Arms – because good times are guaranteed!
8. The Twelve Bells
The Twelve Bells is a large pub located on the outskirts of Trowbridge town centre. As soon as you step inside, you'll be greeted by its tidy decor and warm atmosphere. The spacious layout provides plenty of room for everyone to relax and enjoy themselves.
Sports enthusiasts will be thrilled to find at least two large screens dedicated to showing all the latest games. Whether it's football, rugby, or any other sport that gets your heart pumping, you won't miss a moment of the action here.
If you're in the mood for some friendly competition, head over to their pool table area. Gather your friends for a fun game while sipping on your favourite drink from their well-stocked bar.
For those who prefer outdoor spaces, The Twelve Bells has a charming garden where you can soak up some sunshine or have a leisurely chat with friends. And if you're up for traditional English Skittles, they even have a Skittle alley available.
With its inviting ambience and various entertainment options, The Twelve Bells is definitely worth checking out when in Trowbridge. So gather your buddies and head over for an enjoyable time filled with great company and exciting activities!
9. Wiltshire Yeoman
At the Wiltshire Yeoman, you can enjoy delicious food and refreshing drinks throughout the week. The kitchen is open from Monday to Saturday, serving mouthwatering dishes from 12:00 p.m. to 9:00 p.m. Whether you're craving a hearty lunch or a satisfying dinner, their menu has something for everyone.
On Sundays, they offer a Carvery from 12:00 PM to 4:00 PM. Indulge in succulent roast meats accompanied by all the traditional trimmings. It's the perfect way to end your weekend on a flavorful note.
The bar at Wiltshire Yeoman is open every day of the week until 11:00 PM. So even if you're looking for a late-night drink or a cozy evening out with friends, this pub has got you covered.
With its welcoming atmosphere and friendly staff, Wiltshire Yeoman is an ideal spot to relax and unwind after a long day. Whether you're visiting Trowbridge or are a local resident, make sure to drop by this charming establishment for some good food and great company.
10. Red Admiral 
At Red Admiral, we pride ourselves on offering the best pub food and refreshing drinks in town. Whether you're looking for a quick bite during your lunch break, treating the kids after school, or enjoying a delicious meal with your family in the evening, we have something to satisfy every appetite.
Our menu features a wide range of options that will leave you spoilt for choice. From our classic hand-battered Cod and chips to mouth-watering burgers like The Ultimate Spicy Beef Burger, there's something for everyone. We also offer lighter lunch options, delicious grills, and an array of tempting desserts to satisfy your sweet tooth.
And what's a great meal without the perfect drink to accompany it? At Red Admiral, we have you covered with a selection of traditional pints, lively glasses of wine, and cheeky cocktails. No matter what your preference is, we guarantee that our extensive drink menu will have just what you're looking for.
But it's not just about the food and drinks at Red Admiral; it's also about creating a warm and welcoming atmosphere. Our friendly staff are always ready to greet you with a heartfelt welcome as soon as you walk through the door.
So why wait? Head on down to Red Admiral today and indulge in satisfying food, refreshing drinks, and an unforgettable experience.
Conclusion
In this article, we have explored some of the best pubs in Trowbridge. Whether you're looking for a cosy spot to enjoy a pint with friends, a place to catch the big game, or somewhere to indulge in delicious food and drinks, Trowbridge has it all.
From The Kings Arms with its varied menu and rotating guest ales, to the Rose & Crown conveniently located near the railway station, each pub offers its own unique atmosphere and charm. The Anchor & Hope boasts a prime location alongside the river while The Lamb provides ample space for relaxation and even accommodation options.
If you prefer a more modern setting, The Courthouse Inn's fresh look and extensive seating may be just what you're looking for. For those seeking community spirit and great home-cooked meals, don't miss out on The Black Horse or Wiltshire Yeoman.
Sports enthusiasts will find their haven at places like Dursley Arms or The Twelve Bells with their large screens and pool tables. And let's not forget about Red Admiral where satisfying food options are paired perfectly with refreshing drinks.
If you're after affordable prices without compromising quality and variety then JD Wetherspoon's Albany Palace is worth considering.
No matter which pub you choose to visit in Trowbridge, one thing is certain – good times await! So gather your friends or make new ones as you explore these top-notch establishments. Cheers!
Related Articles:
Best Pubs in Weston-super-Mare