Nestled on the picturesque coast of Dorset, Lyme Regis is not only famous for its spectacular views and beaches but also for its culinary delights. With an array of seafood restaurants to choose from, it's hard to decide where to dine first. From family-run businesses serving locally sourced fish to stylish cafes with a beachside terrace and Spanish delicacies, we've rounded up the top 10 best restaurants in Lyme Regis that will tantalize your taste buds. So put on your bibs, loosen your belts and get ready for a gastronomic adventure like no other!
Top 10 Best Restaurant in Lyme Regis
1. Harbour Inn
Website: www.harbourinnlymeregis.co.uk
The Harbour Inn is a gem of a restaurant, tucked away in the heart of Lyme Regis. You can feel the family ambience as soon as you step inside; it's clear that Mark and Sue take great pride in this establishment. The menu boasts an impressive range of locally sourced fish and seafood caught off the Dorset coast, ensuring that every dish is fresh and delicious.
The food at The Harbour Inn is cooked to perfection with just the right seasoning to enhance its natural flavours. Whether you're after traditional British fish and chips or something more exotic like pan-fried scallops with black pudding, there's something for everyone here.
The decor has a nautical theme throughout which creates a warm atmosphere perfect for relaxing with friends or family. Even on busy days when tables are full, the service remains friendly and attentive without being intrusive.
If you're looking for quality food served by people who genuinely care about their customer's experience, then look no further than The Harbour Inn. A must-visit spot if you find yourself in Lyme Regis!
Map:
2. Lilac Restaurant and Wine Bar 
Website: ww.lilacwine.co.uk
Lilac Restaurant and Wine Bar is a charming eatery nestled in a 400-year-old cellar on Broad Street, Lyme Regis. The ambience of this restaurant is cosy and inviting, making it the perfect spot for a romantic date or an intimate gathering with friends.
The menu at Lilac offers shared plates that are perfect for those who enjoy trying different dishes. They also have an extensive wine list that will satisfy even the most discerning palate. Whether you want to indulge in some nibbles over drinks or stay for a long meal, Lilac has something for everyone.
What sets Lilac apart from other restaurants in Lyme Regis is its commitment to sourcing local ingredients. The chefs use only the freshest produce and seafood caught off the Dorset coast to create their delicious dishes.
In addition to its impressive culinary offerings, Lilac's customer service is top-notch. The staff here go above and beyond to ensure that every guest feels welcomed and taken care of throughout their dining experience.
If you're looking for a unique dining experience with great food, excellent wine selection, and impeccable service – Lilac Restaurant & Wine Bar should definitely be on your list of must-visit places while exploring Lyme Regis!
Map:
3. Millside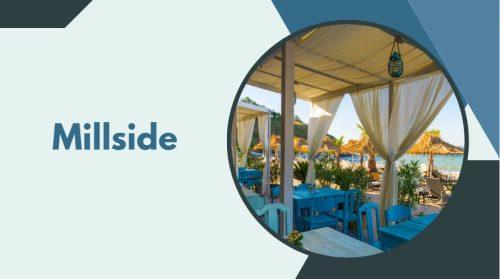 Website: www.themillside.co.uk
The Eddy by Millside is a seafood lover's paradise, located in the charming artisan quarter of Lyme Regis. With its mostly seafood menu using seasonal and locally sourced ingredients, this restaurant offers an authentic taste of the area's coastal cuisine.
The relaxed and friendly atmosphere at Millside makes it perfect for any occasion, from a casual meal with friends to a romantic dinner for two. The chic interior design also adds to the overall dining experience.
One of the best things about Millside is its location; just a three-minute walk from both the beach and shops through Broad Street Car Park and past Lyme Regis Brewery. This means visitors can easily spend time exploring everything Lyme Regis has to offer before or after their meal.
In addition, The Eddy by Millside serves up some mouth-watering dishes like pan-seared scallops with cauliflower puree or oven-roasted salmon fillet with ratatouille coulis that will leave your taste buds wanting more.
If you're looking for fresh seafood in a relaxing yet stylish environment, then look no further than The Eddy by Millside!
Map:
4. The Oyster & Fish House 
Website: www.theoysterandfishhouse.co.uk
The Oyster & Fish House is a must-try restaurant in Lyme Regis for seafood lovers. This restaurant has an impressive reputation, as it was formerly owned by Mark Hix and after changing hands, the high-quality standard of food and service remains.
The menu consists of fresh fish and seafood that are caught off the Dorset coast, with some ingredients sourced directly from Lyme Bay. The dishes are creatively prepared to bring out the best flavours of each ingredient while keeping their natural taste intact.
Apart from its mouth-watering meals, The Oyster & Fish House boasts a scenic coastal view that adds up to your dining experience. You can enjoy your meal while overlooking the stunning views of Lyme Bay.
This solo venture by Mark Hix continues to surpass expectations with its outstanding culinary skills and innovative presentation. If you're looking for a great place to indulge in seafood cuisine in Lyme Regis, don't hesitate to check out The Oyster & Fish House!
Map:
5. The Pilot Boat 
Website: www.thepilotboat.co.uk
Located in the heart of Lyme Regis, The Pilot Boat is a charming pub that offers delicious food and drinks. The restaurant has a cosy interior with an impressive bar area, complete with wooden furnishings and warm lighting. The Pilot Boat is one of the best restaurants in the South West region.
The menu at The Pilot Boat features classic British dishes made with locally-sourced ingredients. They have options for all dietary requirements, including vegan and gluten-free dishes. Their seafood platter is a must-try item on the menu as it includes fresh oysters, prawns, mussels, cockles and crab claws.
This gastropub also boasts an extensive selection of local beers and ciders, making it an ideal spot to unwind after a long day exploring Lyme Regis. On top of that, their friendly staff will make you feel right at home while you indulge in your meals or drinks.
Whether you're looking for a hearty meal or just a casual drink with friends or family members, The Pilot Boat makes for an excellent choice when dining out in Lyme Regis.
Map:
6. Strawberry Tree
Website: www.strawberry-tree.co.uk
Strawberry Tree is a Spanish restaurant located in Lyme Regis that offers an array of delectable dishes inspired by Mediterranean cuisine. The restaurant features a warm and inviting atmosphere with rustic decor, giving diners an authentic Spanish experience.
The menu at Strawberry Tree is centred around tapas, small plates of appetizers and entrees meant for sharing. Some must-try dishes include the patatas bravas, croquettes, and their signature paella dish. The restaurant also has an extensive drink list featuring Spanish wines, beers, and cocktails.
In addition to its delicious food offerings, Strawberry Tree prides itself on using only fresh ingredients sourced from local suppliers whenever possible. This ensures that every meal served at the restaurant is both flavorful and sustainable.
Whether you're looking for a romantic date spot or simply a fun night out with friends, Strawberry Tree's cosy ambience and scrumptious food make it one of the best restaurants in Lyme Regis that should be on your dining bucket list!
Map:
7. The Whole Hog Lyme Bay
Website: www.thewholehog.co.uk
The Whole Hog Lyme Bay is a street food vendor that offers delicious and mouth-watering treats to visitors and locals alike. Their speciality is hog roast, which they cook for hours until it's tender and succulent. They use locally sourced meat from nearby farms, ensuring the highest quality of their dishes.
Aside from their famous hog roast, The Whole Hog also serves other equally delectable items on their menu. You can choose from their pulled pork sandwiches, beef burgers, and grilled chicken wraps – all made with fresh ingredients and served with homemade sauces.
What sets them apart is not just the quality of their food but also the experience they provide. You can watch as they prepare your meal right in front of you while chatting with friendly staff members. It's like having your very own personal chef at a fraction of the cost!
The Whole Hog Lyme Bay has become a staple in local events such as festivals and markets where people gather to enjoy good food and company. So next time you're in Lyme Regis looking for something tasty to try or need catering services for an event or party, make sure to give The Whole Hog Lyme Bay a visit!
Map:
8. Swim 
Website: www.weswim.co.uk
The Swim is a stylish and charming cafe located in Lyme Regis, offering a diverse range of delicious meals. This woodsy cafe boasts an impressive menu that includes breakfast, burgers, crab sandwiches and much more. The food at Swim is not only mouth-watering but also affordable.
The atmosphere at Swim is warm and welcoming with a beachside terrace where you can enjoy the stunning view while sipping on your favourite beverage or enjoying your meal. The interior decor of this cafe gives off a cosy vibe that makes it perfect for relaxing after hours of exploring Lyme Regis.
Swim's staff are friendly and attentive to their customers' needs ensuring they have an enjoyable dining experience. Whether you're looking for somewhere to grab coffee before hitting the beach, meeting up with friends or just catching up on some work over lunch, Swim ticks all the boxes.
If you want to taste delicious food in one of the most charming cafes Lyme Regis has to offer then head down to Swim!
Map:
9. Bell Cliff 
Website:
Located on the seafront, Bell Cliff is a cosy English restaurant that offers a warm and welcoming atmosphere. The interior design of the place is simple yet elegant, with wooden accents and soft lighting creating a comfortable ambience.
Their menu features classic British dishes like fish & chips, roast beef, and shepherd's pie. All dishes are prepared using fresh local produce sourced from nearby farms to ensure quality and authenticity. They also have an extensive wine list featuring both local and international wines.
The service at Bell Cliff is exceptional – staff are friendly, attentive, and always willing to offer suggestions or recommendations if needed. The location of this restaurant provides stunning views across Lyme Bay from its elevated position allowing diners to enjoy their meal while taking in the breathtaking scenery.
If you're looking for a traditional English dining experience with excellent food and top-notch service in Lyme Regis – then look no further than Bell Cliff Restaurant!
Map:
10. LBK
Website: www.lbkgourmetburgerbar.co.uk
LBK Gourmet Burger Bar is a British restaurant that has made a name for itself by offering homemade, gourmet burgers. The restaurant's reputation for quality food has earned it national media praise. Their speciality includes beef, chicken, and vegetarian burgers cooked to perfection.
LBK also offers a full Sunday Roast Dinner menu, which is perfect for those looking to indulge in traditional English cuisine with their loved ones. Additionally, the restaurant provides a home delivery service so customers can enjoy their delicious meals from the comfort of their own homes.
The chefs at LBK use only high-quality ingredients sourced locally wherever possible to ensure that every meal they serve tastes fresh and delicious. Every burger patty is handcrafted using top-grade meat cuts and seasoned perfectly to make each bite an explosion of flavours.
Whether you're craving some juicy burgers or want to delve into some classic English dishes like Sunday Roasts, LBK Gourmet Burger Bar has got you covered with its exceptional dining experience.
Map:
Conclusion
Lyme Regis has some of the best restaurants that offer an array of delicious cuisines. From seafood to Spanish cuisine, there is something for everyone. Whether you're a local or just visiting the town, make sure to check out these top 10 restaurants in Lyme Regis and experience a delightful culinary adventure. The next time you are around this stunning coastal town on the Jurassic Coastline, don't forget to stop by one of these fantastic dining places and treat yourself to some scrumptious meals!
Related Articles:
Best Dog-Friendly Beaches in Lyme Regis