Nestled in the heart of Wiltshire, Swindon is a vibrant and bustling town that offers visitors a wealth of exciting things to see and do. Whether you're an avid history buff, an outdoor enthusiast, or a fashionista on the hunt for designer deals, there's something for everyone in this charming English town. In this blog post, we'll take you on a tour of the best things to do in Swindon – from exploring historic landmarks and museums to soaking up nature's beauty at scenic parks and gardens. Get ready for an adventure-packed journey filled with fun-filled activities that will make your visit unforgettable!
Things to Do in Swindon for Couples

Enjoy a romantic dinner at the best restaurant, such as Rios Brazil Churrascaria or Spice Lounge.
Take a relaxing walk along the canal and enjoy the peaceful atmosphere.
Catch a movie at the Cineworld Swindon or enjoy a live performance at the Wyvern Theatre.
Go for a wine-tasting session at nearby a wine bar like The Wine Connection.
Things to Do in Swindon for Adults
Test your problem-solving skills at Escape Hunt Swindon, which offers exciting escape room experiences.
Enjoy a night of bowling and drinks at Tenpin Swindon.
Take a tour and taste the beers at the nearby Arkell's Brewery.
Visit Swindon Designer Outlet for some shopping therapy.
Things to Do in Swindon for Families
Explore the interactive exhibits at the Museum of Computing.
Enjoy a fun-filled day of indoor activities at Laserquest Swindon.
Take a family-friendly hike at Barbury Castle Country Park, which offers beautiful views of the surrounding countryside.
Watch a movie or grab a bite to eat at the Regent Circus Entertainment Centre.
Things to Do in Swindon for Toddlers
Visit the soft play area and sensory room at The Link Centre.
Visit the Swindon & Cricklade Railway and take a ride on a steam train.
Enjoy a play session at Giggles Indoor Play and Party Centre.
Visit the Jungle Parc Swindon and enjoy a range of outdoor activities, such as zip-lining and climbing.
Things to Do in Swindon at Night
Catch a live performance or comedy show at the Wyvern Theatre.
Enjoy a night of cocktails and music at the nearby Smoke & Mirrors.
Take in a movie or enjoy some late-night shopping at the Swindon Designer Outlet.
Test your skills at the Virtual Reality gaming arcade at Meetspace VR.
Enjoy a night of dancing and drinks at The Furnace Nightclub.
The Best Things to Do in Swindon
1. Visit the STEAM Museum of the Great Western Railway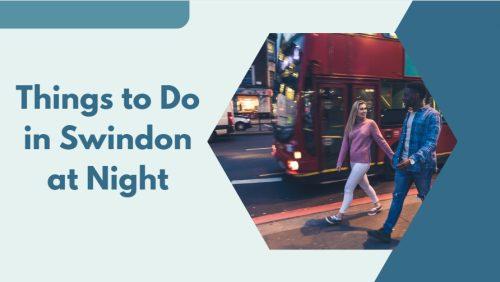 Get ready to step back in time and experience the rich history of Swindon's railway industry at the STEAM Museum of the Great Western Railway. This museum is a treasure trove for train enthusiasts, showcasing an impressive collection of restored locomotives, interactive displays, and railway artefacts that offer a glimpse into what life was like during the golden age of steam.
As you wander through this magnificent museum, you will learn about the impact that the Great Western Railway had on Swindon's growth and development as an industrial town. You'll see how it transformed from a small market town to a bustling hub for trade and commerce with its extensive rail network.
One highlight of your visit will undoubtedly be taking a walk inside some of these beautifully preserved trains. Imagine yourself standing on board one of these iconic steam engines as they rumbled across hillsides or chugged their way towards London.
The museum also features fascinating exhibits that transport visitors back in time to explore what day-to-day life was like working on board these mighty machines. From interactive displays showcasing coal shovelling competitions between workers to fully operational signal boxes – there's something for everyone here!
Visiting the STEAM Museum is an educational and entertaining experience that offers insight into one of England's most significant engineering feats – The Great Western Railway!
2. Enjoy a Day Out at Coate Water Country Park
Coate Water Country Park is a must-visit destination for nature enthusiasts and outdoor lovers. This expansive park offers everything from tranquil lakeside walks to adrenaline-pumping activities like boating and fishing.
The centrepiece of the park is undoubtedly Coate Water, a stunning lake surrounded by rolling hills and dense woodland. Visitors can take leisurely strolls around the lake's perimeter, stopping to admire the local wildlife or simply soak up the peaceful surroundings.
For those looking for more active pursuits, Coate Water offers plenty of options. Boating is a popular activity here, with rowing boats available for hire during peak season. Fishing is also allowed in designated areas of the lake – just make sure you have a valid permit before casting your line!
If you're planning on spending an entire day at Coate Water, why not bring along a picnic? The park has several designated picnic areas where you can spread out on the grass and enjoy lunch with friends or family.
Don't forget about all the other activities available at Coate Water! From playgrounds to mini-golf courses to bird-watching hideouts, there's something for everyone at this beautiful country park.
3. Go Shopping at the Swindon Designer Outlet
Are you a fan of high-end fashion and designer brands? Then the Swindon Designer Outlet is the perfect place for you to shop! With over 100 stores, this large shopping centre features many well-known names like Burberry, Michael Kors, Ted Baker and more.
Visitors can expect to find an extensive range of luxury clothing, accessories and home goods – all at discounted prices that won't break the bank. The outlet offers impressive discounts year-round making it difficult not to indulge in some retail therapy.
The shopping mall has a distinct outdoor feel as it is designed like a village with covered walkways connecting each store. This open-air layout makes shopping here enjoyable no matter what time of year you visit – rain or shine!
What's more exciting about this outlet is its location which was once part of Great Western Railways' works complex. The remnants from the past have been fused creatively into modern architecture adding historical charm to your experience.
With so much variety on offer, make sure to allocate enough time during your visit because there will be plenty for you to explore at Swindon Designer Outlet!
4. Explore Lydiard Park
Lydiard Park is a stunning historic park located in Swindon. This beautiful park offers visitors the chance to explore its many walking trails, a Georgian mansion and gardens. There are also guided tours of the mansion available for those who want a more in-depth look at this fascinating piece of history.
The Lydiard House dates back to the 18th century and has been beautifully restored, allowing visitors to step back in time and experience what life was like for those who lived there centuries ago. The house features impressive architecture, period furnishings and artwork that will leave you spellbound.
The gardens surrounding the mansion are equally impressive with their ornate flower beds, water features, lawns and ancient trees. Visitors can enjoy leisurely strolls through these peaceful grounds while taking in views of the surrounding countryside.
In addition to exploring the house and garden, visitors can participate in several outdoor events hosted here throughout the year including concerts, festivals or fairs which showcase local culture. These events provide an immersive experience to learn about Swindon's rich cultural heritage whilst having fun with friends or family members.
Lydiard Park is an excellent destination for anyone interested in history or nature as it provides both experiences simultaneously. So don't miss out on visiting this historic gem nestled away under Swindon's skyline!
5. Take a Trip to the Cotswolds
Have you ever heard of the Cotswolds? If not, prepare to be amazed. The Cotswolds are a range of hills located in south-central England that offer some of the most stunning scenery and picturesque villages in the country. Lucky for those visiting Swindon, it's just a short trip away.
One of the best ways to explore this beautiful area is by taking a day trip from Swindon. You can rent a car or take public transportation to one of the many charming towns situated within the Cotswolds.
Each town has its own unique character and attractions. For example, Bourton-on-the-Water is famous for its quaint bridges that cross over small streams running through the village centre.
Stow-on-the-Wold offers visitors an opportunity to experience traditional English life with historic homes, cosy pubs, and boutique shops lining its streets.
But it's not just about exploring these charming towns – there are also plenty of opportunities for outdoor activities like hiking or cycling through rolling countryside fields dotted with sheep and cows.
So if you're looking for an escape from city life or simply want to soak up some breathtaking natural beauty, consider taking a day trip from Swindon to explore all that the Cotswolds have to offer!
6. Visit the Museum of Computing
Are you a tech geek or just fascinated by the evolution of technology? Then you should definitely visit the Museum of Computing in Swindon. This unique museum showcases the history of computing and takes visitors on a journey back in time to explore vintage computers, video games, and other digital artefacts.
The museum features over 2,000 exhibits that detail the history of computing from its early days to today's modern era. Visitors can learn about how computers have evolved over time and discover how they have impacted different aspects of our lives.
From early punch-card machines to cutting-edge smartphones, this museum has it all. You'll get to see some rare pieces like Sinclair ZX81 – an affordable home computer launched in 1981 that became very popular among hobbyists.
If you're interested in gaming, there are plenty of exhibits dedicated to classic video games like Pac-Man and Space Invaders. You can even try your hand at playing these retro games on original consoles!
Visiting the Museum of Computing is a fun and educational experience for people of all ages who want to learn more about technology's fascinating past!
7. Take in a Show at the Wyvern Theatre
The Wyvern Theatre is a modern and impressive theatre that showcases a variety of live performances, including plays, musicals, and comedy shows. The theatre offers visitors an opportunity to enjoy world-class entertainment in Swindon's cultural hub.
With its comfortable seating arrangements and state-of-the-art sound system, the Wyvern Theatre provides an unparalleled viewing experience for all guests. Whether you are watching a classic Shakespearean play or enjoying some contemporary stand-up comedy, you are sure to be entertained at this exceptional venue.
Aside from its fantastic performances, the Wyvern Theatre also boasts an outstanding restaurant and bar that serves delicious food and drinks before or after the show. This makes it the perfect spot for dinner dates or pre-theatre drinks with friends.
The restaurant has a relaxed atmosphere with beautiful decor creating the perfect ambience to unwind after your show. Visitors can indulge in scrumptious meals prepared by expert chefs as they savour their favourite wines or cocktails.
Taking in a show at the Wyvern Theatre is one of Swindon's most memorable experiences. With its excellent performance lineup and superb dining options, it's no wonder why so many people flock to this premier venue every year!
Conclusion
Swindon is a vibrant town with plenty to offer visitors. Whether you're interested in history, nature, shopping, or entertainment, there's something for everyone in this bustling community.
From the fascinating exhibits at the STEAM Museum of the Great Western Railway to the stunning scenery of the Cotswolds, Swindon has a wealth of attractions that are sure to delight tourists and locals alike. And with so many options for outdoor activities, cultural experiences, and family-friendly fun, it's easy to see why Swindon continues to be one of the most popular destinations in England.
So if you're planning a trip to Swindon or simply looking for new things to do in your own backyard, be sure to check out these top attractions and experience all that this exciting town has to offer!
FAQs on things to do in Swindon
1. Is Swindon worth visiting?
Yes, Swindon is definitely worth visiting. It has a range of attractions and activities to offer visitors, including museums, parks, shopping centres, and beautiful countryside. Additionally, it is conveniently located near the Cotswolds, which is a must-visit tourist destination.
2. What's Swindon famous for?
Swindon is famous for its railway heritage, as it was the headquarters of the Great Western Railway. The town played a significant role in the industrial revolution, and today, visitors can explore the railway's history and impact at the STEAM Museum of the Great Western Railway.
3. Is Swindon a nice place to live?
Swindon is generally considered to be a nice place to live. It has a range of amenities and facilities, including good schools, affordable housing, and plenty of green spaces. The town is also well-connected to nearby cities like Bristol and London, making it a convenient location for commuting.
4. What did Swindon used to be called?
Swindon was originally known as Suindune, which means "pig hill" in Old English. Over time, the name evolved to Swyndon and then to its current spelling of Swindon.
Related Articles:
Best Things to Do in Cheltenham