Welcome to Devizes, a charming market town located in the heart of Wiltshire. Whether you're visiting for business or pleasure, finding a comfortable and convenient place to stay is essential. Luckily, Devizes boasts a variety of fantastic hotels that cater to all budgets and preferences. From historic coaching inns to modern boutique properties, we've rounded up the top six hotels in Devizes just for you! So sit back, relax, and let us guide you through some of the best accommodation options this picturesque town has to offer. Plus, with our handy map included, planning your trip has never been easier!
Best Hotels in Devizes – Top 6
1. The Castle Hotel
Website: www.castlehoteldevizes.co.uk
Located in a beautifully restored 18th-century coaching inn, The Castle Hotel is the epitome of classic British charm and is also one of the best hotels in the South West region. This elegant hotel offers guests a warm and welcoming atmosphere just moments away from Devizes town centre and Wiltshire Museum.
The rooms at The Castle Hotel are spacious and well-appointed with all of the modern amenities you would expect from a boutique hotel. From Wi-Fi to tea and coffee-making facilities, every detail has been considered to ensure your stay is as comfortable as possible.
One of the highlights of The Castle Hotel is undoubtedly its restaurant, which serves up delicious locally sourced dishes made with fresh ingredients. And if you're looking for a unique drinking experience, look no further than the hotel's bar where beer is delivered by horse-drawn cart straight from the local brewery!
With room service available around the clock and breakfast served daily, there's no better place to base yourself during your visit to Devizes than The Castle Hotel.
Map:
2. The Bear Hotel 
Website: www.thebearhoteldevizes.co.uk
Get ready to step back in time with a stay at The Bear Hotel, housed in a charming 16th-century building. With period features such as exposed beams and sloping floors, the warm rooms offer a unique atmosphere that transports you to another era altogether.
The hotel's en suite bathrooms, flat-screen TVs, free Wi-Fi access and tea/coffee-making facilities add modern comforts to your stay. Some rooms even come with four-poster beds for an extra touch of luxury.
What's more? You can indulge in a full English breakfast each morning without any additional costs! The restaurant and wood-panelled bistro serve mouth-watering meals that are worth every penny.
The two bars serving local beer delivered by horse-drawn carts add another level of charm to this historic establishment. Plus, courtyard dining is also available if you prefer al fresco dining on warmer days.
The Bear Hotel offers an unforgettable experience filled with character and charm while providing all the amenities necessary for guests' comfort.
Map:
3. The Peppermill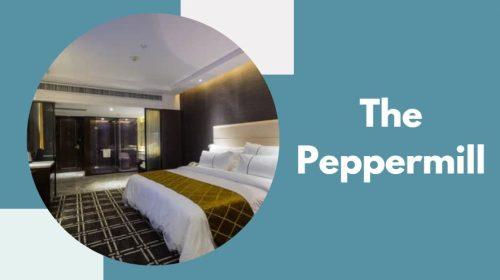 Website: www.peppermilldevizes.co.uk
Step into The Peppermill and be transported to a world of understated elegance. This informal restaurant with rooms is situated in the heart of Devizes, just a stone's throw away from the Wiltshire Museum and other local attractions.
With its six airy rooms that offer complimentary Wi-Fi, smart TVs with Netflix, iPod docks, tea and coffee-making equipment as well as en suite bathrooms – you are sure to find your stay here comfortable.
However, if you're looking to splurge on luxury during your vacation then opt for their suite which comes equipped with a 4-poster bed, sitting area and free-standing bath.
The restaurant at The Peppermill promises an unforgettable dining experience revolving around locally sourced ingredients. But if wine is more your thing then head over to the warm wine bar where you can indulge in some fine wines while soaking up the ambience.
And let's not forget breakfast! A hearty meal awaits you each morning before setting out on another day of adventure exploring Devizes and its surroundings.
Map:
4. The Black Swan Inn 
Website: www.blackswandevizes.co.uk
The Black Swan Inn offers a unique and cosy stay for those visiting Devizes. Set in a 17th-century coaching inn, the hotel has 12 rooms with en suite bathrooms, Wi-Fi, and TVs. For those looking for something different, two classic wooden caravans are also available.
When it comes to dining options, guests can indulge in pub meals and local ales which are delivered by horse-drawn cart – adding to the historical charm of this establishment. They also provide breakfast at an additional cost.
Located just an 11-minute walk from Devizes town centre and within driving distance of Lacock Abbey and Bradford on Avon, The Black Swan Inn provides the perfect base for exploring Wiltshire's picturesque countryside.
The Black Swan Inn is steeped in history and character that will leave guests feeling like they've taken a step back in time while still enjoying modern amenities.
Map:
5. Prince Hill House 
Website: www.princehillhouse.co.uk
Nestled in the heart of Devizes, Prince Hill House is a luxurious 5-star bed and breakfast that offers an enchanting experience. With its beautiful garden views and serene surroundings, this place is perfect for a peaceful retreat away from the hustle and bustle of busy city life.
The accommodation boasts well-furnished units with flat-screen TVs, private bathrooms, wardrobes, bed linen and towels. The rooms are equipped with kettles while some even feature fully-equipped kitchens complete with dishwashers, ovens and microwaves.
Guests at Prince Hill House can opt to cook their meals on the barbecue grill or enjoy continental or vegetarian breakfast options served every morning. For those who want to keep fit during their stay here, there's tennis available on-site as well as cycling in the area.
With daily maid service provided throughout your stay here along with private check-in/out services offered by staff members who truly care about your comfort – you'll never want to leave!
Map:
6. The Pelican Inn 
Website: www.pelicaninndevizes.co.uk
The Pelican Inn is a charming hotel located in Devizes, just 25 km away from Bath. Boasting a restaurant, bar, shared lounge and sun terrace, guests can relax and unwind while enjoying the beautiful surroundings.
The rooms at The Pelican Inn are comfortable and feature all the necessary amenities for a pleasant stay. Each room comes with a desk, flat-screen TV, wardrobe, kettle and a private bathroom with shower. For your convenience, they also provide bed linen and towels.
Free toiletries and hairdryers are available to make your stay even more comfortable. Guests can also take advantage of luggage storage space during their visit.
Bristol is just 43 km away from The Pelican Inn while Salisbury is only 34 km away. Couples particularly like this location as it has been rated highly by previous guests with a score of 9.7 for a two-person trip.
With its welcoming atmosphere and excellent facilities, The Pelican Inn provides an ideal base for exploring the surrounding area or simply relaxing during your time in Devizes.
Map:
Conclusion
Devizes is a picturesque town that has plenty of accommodation options for visitors. From quaint coaching inns to modern bed and breakfasts, there is something for everyone. Whether you are looking to explore the local free museums or take a stroll along the canal, these top six hotels provide the perfect base from which to do so. So why not book your stay today and experience all that Devizes has to offer?
Related Articles: