Welcome to Bath, a historic city in southwest England famous for its stunning Georgian architecture, natural hot springs, and rich cultural heritage. If you're planning a visit to this beautiful city, you'll be spoiled for choice when it comes to things to do. From exploring ancient Roman baths and strolling along iconic landmarks such as the Royal Crescent to immersing yourself in the world of Jane Austen and indulging in some pampering at the Thermae Bath Spa, there's something for everyone in Bath. In this blog post, we'll take a closer look at some of the top things to do in Bath that will make your trip an unforgettable experience!
Things to Do in Bath – Experience the Charm and Elegance
1. Visit the Roman Baths
When in Bath, exploring the ancient Roman Baths is an absolute must. These fascinating baths were built over 2,000 years ago and are still incredibly well-preserved to this day. As you wander around the complex, you'll get a real sense of what life was like for the Romans who used these hot springs as a place to socialize, relax and bathe
The Great Bath is undoubtedly one of the highlights of any visit to the Roman Baths. This stunning pool is surrounded by beautiful columns and statues that give it an almost ethereal quality. It's hard not to feel awed by its grandeur and realize how advanced Roman engineering truly was.
While you're there, don't forget to check out some of the other features such as the Sacred Spring, which was believed by many to have healing properties or explore some of the interactive exhibits within The Pump Room museum where visitors can learn more about life during Roman times.
Visiting The Roman Baths should be a top priority on your list when in Bath- it's something that everyone should experience!
2. See Bath Abbey
Bath Abbey is one of the most iconic landmarks in Bath, known for its stunning Gothic architecture. The abbey has a rich history dating back to the 7th century when it was founded as a monastery.
The current building dates from the 12th century and features intricate stonework, beautiful stained glass windows, and soaring vaulted ceilings. It's easy to spend hours admiring the details of this magnificent structure.
In addition to being an architectural wonder, Bath Abbey also hosts regular services and concerts throughout the year. Attending a service or concert is a unique way to experience this historic site.
One particularly special event at Bath Abbey is their annual Christmas Carol Service. This candlelit service includes traditional carols sung by choir and congregation alike, creating a truly magical atmosphere.
Whether you're interested in history, architecture, or music, there's something for everyone at Bath Abbey. Be sure to add it to your list of things to do in Bath!
3. Walk Along the Royal Crescent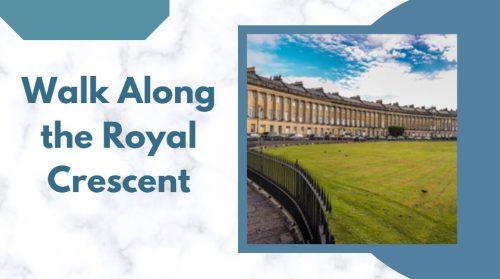 Walking along the Royal Crescent should be on every traveller's itinerary when visiting Bath. This landmark is a row of 30 terraced houses that were built between 1767 and 1774, and it has become one of the city's most iconic landmarks.
The crescent shape creates an impressive view, especially from a distance. The uniformity of the buildings gives them a sense of grandeur, while their unique architecture makes them look like something out of a fairy tale.
As you walk along this historic street lined with Georgian-style townhouses, take time to admire their beauty up close. The intricate carvings and ornate balconies will leave you in awe.
Moreover, walking along the Royal Crescent is not just about admiring its beauty but also about immersing yourself in history. These houses have witnessed many important events over the years and have been home to some notable people.
So put on your comfortable shoes and take a stroll through time as you explore one of Bath's most iconic landmarks – the Royal Crescent!
4. Discover the Jane Austen Centre
Are you a fan of Jane Austen's works? If so, visiting the Jane Austen Centre in Bath is an absolute must-do. The museum allows visitors to learn about the life and times of one of England's most famous authors.
As soon as you step into the centre, it feels like you've stepped back in time to Regency-era Bath. You'll learn about Jane Austen's life in Bath from 1801 to 1806 and how this period inspired her literary works.
The knowledgeable staff dressed in period costumes will take you through different rooms that showcase various aspects of life during the Regency era. For instance, there's a replica Georgian townhouse where guests can see what a typical home would look like during that time
Aside from learning about Jane Austen and her connection to Bath, visitors can also participate in activities such as dressing up in Regency clothing or trying their hand at writing with quill pens.
Visiting the Jane Austen Centre is an excellent way to immerse yourself not only in her world but also in one of England's most vibrant periods.
5. Explore the Fashion Museum
The Fashion Museum in Bath is a must-visit destination for anyone interested in fashion and history. The museum boasts an extensive collection of fashionable garments, accessories, and textiles from the 16th century to the present day.
The exhibits are curated carefully to showcase how fashion has evolved over time, highlighting significant moments and trends that have shaped the industry. Visitors can see everything from Georgian silk gowns to Victorian corsets and flapper dresses from the roaring '20s.
One of the most impressive features of the museum is its comprehensive collection of historical dress accessories such as hats, gloves, shoes, fans, parasols, and jewellery. These pieces help visitors understand how fashion was used not just for aesthetics but also as a tool for social status indication throughout history
The exhibits at The Fashion Museum are regularly updated so there is always something new to discover on each visit. It's fascinating to see how styles change over time while still being inspired by previous eras.
If you're looking for a unique experience in Bath that combines art with history then be sure not miss out on visiting The Fashion Museum!
6. Visit the Victoria Art Gallery
If you're a lover of art, then visiting the Victoria Art Gallery is an absolute must when in Bath. The gallery displays an impressive collection of paintings, sculptures and decorative arts from the 15th century to the present day
The Victorian building itself is beautiful with its ornate architecture and high ceilings. It's easy to get lost in time while perusing through the many rooms filled with artwork that range from classical masterpieces to contemporary pieces.
One highlight of the gallery is its permanent collection which includes works by Thomas Gainsborough, Walter Sickert, and John Nash among others. However, they also host temporary exhibitions featuring lesser-known artists or themed exhibits that provide a fresh perspective on familiar work
Another unique feature of this gallery is its dedication to promoting local artists. They frequently host competitions for artists who live within 20 miles of Bath where winners can have their works displayed alongside other notable artworks.
Visiting the Victoria Art Gallery offers visitors a glimpse into centuries worth of artistic expression and culture.
7. Take a Boat Tour on the River Avon
Taking a boat tour on the River Avon is a unique way to explore Bath and see the city from a different perspective. You can relax and enjoy stunning views of the city while learning about its history from the knowledgeable guides
The river flows through the heart of Bath, offering scenic views of grand Georgian buildings, picturesque bridges, and lush greenery along its banks. As you cruise down the river, you'll also pass by some lesser-known spots that are only accessible by boat.
One highlight of the boat tour is Pulteney Bridge, an iconic landmark in Bath that spans across the River Avon. The bridge was built in 1774 and has shops on both sides, making it one of few such bridges still standing in Europe
Another interesting spot along the river is Widcombe Basin, which used to be an important hub for transporting goods during Bath's industrial era. Now it's home to charming houseboats and pretty gardens.
Taking a boat tour on the River Avon is a relaxing and enjoyable experience that offers plenty of insights into Bath's fascinating history while enjoying beautiful scenery at your own pace.
8. Walk Through the Botanical Gardens
The Botanical Gardens in Bath is a must-visit for nature lovers. As you walk through the gardens, you will be surrounded by a stunning collection of plants from all corners of the world. From towering trees to exotic flowers, there is something for everyone.
One of the highlights of the Botanical Gardens is its glasshouses. These structures house some of the most delicate and rare plants that cannot thrive in Bath's climate without artificial help. Walking through these glasshouses feels like entering another world altogether; it's warm, humid and filled with colours and fragrances.
The gardens are well-maintained, making them an ideal place for relaxation or even a picnic among nature. The paths wind gently through different sections highlighting various plant species neatly labelled so visitors can learn about each one as they go along.
If you're interested in learning more about gardening or simply want to appreciate natural beauty at its best, then walking through Bath's Botanical Gardens should definitely be on your list!
9. Visit the American Museum in Britain
The American Museum in Britain is a must-visit destination for anyone interested in American history and culture. The museum boasts an extensive collection of decorative arts, ranging from furniture and silver to textiles and ceramics.
What sets this museum apart is the way it tells the story of America through its decorative arts. Visitors can see how different styles evolved over time, from colonial times to modern day. Each object has its own unique story to tell, giving visitors a glimpse into American life throughout the centuries
One of the highlights of the museum is its collection of quilts, which showcase both traditional techniques and innovative designs. The quilts are not only beautiful but also serve as important historical artefacts that provide insight into everyday life in early America
The museum also offers interactive exhibits that allow visitors to experience aspects of American culture firsthand. For example, there's a replica soda fountain where visitors can enjoy an old-fashioned ice cream sundae just like Americans did in the past.
Visiting the American Museum in Britain provides a fascinating look at American history and culture through its rich decorative arts collection.
10. Take a Dip in the Thermae Bath Spa
If you're looking for relaxation and stunning views of the city, then taking a dip in the Thermae Bath Spa should be on your list of things to do in Bath.
Located in the heart of the city, this award-winning spa offers natural thermal waters that have been enjoyed by visitors for centuries. The rooftop pool provides breathtaking panoramic views over Bath's skyline while you soak up some sun or stargaze at night.
The main attraction is undoubtedly the rooftop pool, which boasts an inviting temperature and is open air all year round. It allows you to unwind and relax after a long day exploring the city sights. The mineral-rich waters are known for their therapeutic properties, making it a perfect place to ease any tension from tired muscles.
Aside from swimming pools, there are steam rooms with aromatherapy infusions that help release stress and promote overall well-being. There's also a range of treatments available such as facials and massages that will leave you feeling rejuvenated.
Visiting Thermae Bath Spa provides an escape from modern-day stresses while offering a unique experience unlike any other spa facility in Europe or anywhere else across the world!
11. Walk along the Kennet and Avon Canal
One of the most relaxing things to do in Bath is to take a walk along the Kennet and Avon Canal. The canal runs through the heart of the city, offering stunning views of both urban and rural landscapes.
As you stroll along the towpath, you'll see a variety of wildlife, including ducks, swans, and even kingfishers. You'll also pass by narrowboats, which are still used today for transportation and leisure purposes.
The countryside surrounding Bath is incredibly picturesque, with rolling hills and lush greenery as far as the eye can see. Walking alongside the canal provides an excellent opportunity to escape from the hustle and bustle of city life and immerse yourself in nature.
There are several places where you can stop for a picnic or a cup of tea while enjoying your walk. Many locals also choose to cycle or jog along this route for exercise.
Taking a peaceful walk along Kennet and Avon Canal is an ideal way to relax while exploring all that Bath has to offer.
12. Visit the Prior Park Landscape Garden
If you're looking for a peaceful escape from the bustling city, look no further than Prior Park Landscape Garden. This stunning 18th-century garden is situated on a hill overlooking Bath and offers breathtaking views of the city below.
As you walk through the carefully manicured gardens, you'll be transported back in time to an era when landscapes were seen as works of art. The garden was designed by the famous architect Capability Brown, who used his expertise to create a harmonious balance between nature and architecture.
One of the highlights of Prior Park Landscape Garden is its iconic Palladian bridge. This beautiful structure spans across a tranquil lake and provides visitors with picture-perfect views that are sure to take your breath away.
If you're feeling adventurous, take one of the many walking trails that wind their way through the garden's rolling hills. You'll discover hidden grottos, secret pathways, and charming follies along the way.
Whether you're an avid gardener or simply someone who enjoys being surrounded by natural beauty, Prior Park Landscape Garden is not to be missed during your visit to Bath.
13. Take a Ghost Tour
If you're feeling brave, taking a ghost tour is an exciting way to learn about the spooky history of Bath's historic streets. As one of England's oldest cities, it's no surprise that Bath has its fair share of ghost stories and haunted locations
During the tour, your guide will take you on a journey through time as they recount tales of murder, mystery and mayhem that have taken place in the city over the centuries. You'll hear about infamous criminals who roamed the streets, tragic accidents that occurred in public places, and even sightings of ghosts and other supernatural occurrences.
As you walk through dimly lit alleys and cobbled streets, keep your eyes peeled for any signs of paranormal activity! Some tours even include visits to reportedly haunted buildings where guests can try their luck at communicating with spirits using specialized equipment.
Whether or not you believe in ghosts, a ghost tour is sure to provide an entertaining evening full of eerie tales and spine-tingling moments. It's also a unique way to see some lesser-known parts of Bath while learning more about its fascinating history.
14. See a Show at the Theatre Royal
The Theatre Royal in Bath is a stunning and historic venue that has been entertaining audiences for over two centuries. As the oldest working theatre in Britain, it boasts an impressive history of performances and events.
Visitors to Bath should definitely make time to see a show at this beautiful theatre. With its ornate features and grand architecture, the Theatre Royal provides an unforgettable atmosphere for any performance.
Whether you're looking for drama, comedy, musicals or dance, there's always something on offer at the Theatre Royal. From classic productions to modern adaptations, there's no shortage of variety when it comes to entertainment.
Audiences can sit back and relax in one of the beautifully decorated auditoriums while enjoying top-quality performances from some of the best actors and performers around. The Theatre Royal truly is a must-visit destination for anyone who loves live theatre.
So why not take a trip back in time with a visit to this iconic venue? Step into the world of theatrical history and experience some truly memorable performances at the Theatre Royal in Bath!
15. Visit the Holburne Museum
Bath is an incredible city with a rich history and culture, offering visitors a plethora of exciting things to do. From exploring the ancient Roman Baths to taking in the stunning Gothic architecture of Bath Abbey, there's something for everyone in this beautiful city
Whether you're interested in art, or literature, or just want to relax and enjoy the scenery, Bath has it all. With so many fascinating attractions and activities on offer, it's no wonder that millions of people visit this wonderful city every year.
So why not plan your next trip to Bath today? Don't miss out on the chance to explore one of England's most iconic cities and experience its unique charm and character. And don't forget to add a visit to the Holburne Museum to your itinerary – with its impressive collection of fine and decorative arts from some of history's greatest artists, it truly is a must-see attraction for any visitor to Bath!
Conclusion
Bath is a city that offers something for everyone. Whether you're interested in history, architecture, or art, or simply want to relax and enjoy the beautiful surroundings, there are plenty of things to do in Bath. From exploring the Roman Baths and walking along the Royal Crescent to visiting museums and taking ghost tours, you're sure to have an unforgettable experience in this charming city. So why not plan your visit today and discover all that Bath has to offer?
Related Articles: