Welcome to King's Cross, one of London's most vibrant and exciting neighbourhoods. Whether you're a local or just visiting the city, there are plenty of things to see and do in this bustling area. From shopping at high-end department stores to exploring historic museums, there is something for everyone in King's Cross. Join us as we take a look at the top 10 best things to do in this dynamic part of town. Get ready for an adventure that will leave you wanting more!
Top 10 Best Things to Do in Kings Cross
1. Visit Coal Drops Yard
Website: www.coaldropsyard.com
Coal Drops Yard is a fascinating destination in King's Cross that combines history with modernity. This former industrial complex has been masterfully transformed into a stylish shopping and dining hub, making it one of the trendiest spots in London.
The design of Coal Drops Yard is unique and eye-catching, with its striking roof structure and creative use of space. The shops here are equally impressive, featuring a mix of high-end designer brands and independent boutiques. Whether you're looking for the latest fashion trends or unique gifts to take home, you'll find plenty to browse through here.
Foodies won't be disappointed either – Coal Drops Yard offers an array of delicious dining options. From casual cafes to upscale best restaurants, there's something for every taste bud. You can enjoy anything from traditional British dishes to international cuisine while taking in the beautiful surroundings.
What makes this place even more special is its commitment to sustainability. Many of the stores here have made efforts towards being eco-friendly by using ethical materials or reducing waste production.
Visiting Coal Drops Yard is an experience not to be missed when exploring King's Cross. Its blend of history, architecture, shopping and dining make it a must-visit spot for tourists attraction and locals alike!
Map:
2. Visit the Wellcome Collection
Website: www.wellcomecollection.org
The Wellcome Collection museum is a unique and fascinating place that explores the history and future of health. This museum offers an impressive collection of artefacts, exhibits, and interactive displays that provide visitors with an in-depth understanding of human biology, medicine, and the science of life.
One of the most interesting aspects of this museum is its focus on medical innovation throughout history. From ancient healing practices to modern-day advancements in healthcare technology, visitors can learn about how we have come to understand the human body over time.
Additionally, the Wellcome Collection provides a platform for discussing important contemporary issues related to health and wellbeing. It hosts various events, talks, and exhibitions exploring topics such as mental health stigma or vaccine hesitancy.
Visiting this museum is a thought-provoking experience that will leave you pondering about different aspects related to your own personal well-being while also gaining insight into what makes us humans tick.
Map:
3. Go Shopping at Selfridges
Website: www.selfridges.com
Selfridges is not just a store, it's an experience. This iconic department store in Kings Cross is a haven for those who appreciate high-end fashion, beauty products and homewares. The moment you step inside, you are transported to a world of luxury and indulgence.
The beautifully designed interiors of Selfridges are enough to keep you captivated for hours on end. Every section of the store has been carefully curated to provide customers with the best shopping experience possible. From designer clothing brands to premium makeup products and home decor items that will make your living space come alive – there's something here for everyone.
One thing that sets Selfridges apart from other department stores is their commitment to sustainability. They have taken various initiatives like reducing plastic waste and offering eco-friendly alternatives in order to reduce their carbon footprint while still providing top-notch quality products.
So whether you're looking for the latest runway trends or classic pieces that never go out of style, Selfridges is definitely worth visiting when exploring Kings Cross. Indulge yourself in some retail therapy at this iconic destination and discover why it remains one of London's most popular shopping destinations!
Map:
4. Take a Walk Along Regent's Canal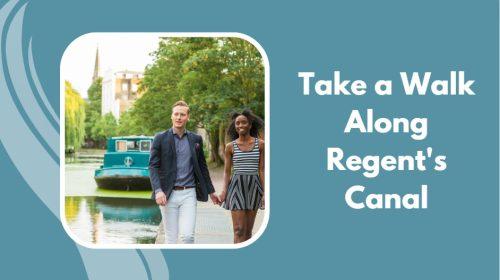 As you stroll along the Regent's Canal, you'll find yourself transported to a quieter and more peaceful London. Away from the hustle and bustle of the city's streets, this picturesque canal is lined with charming houseboats and tranquil towpaths.
Taking a walk along the canal offers a unique perspective on London that you won't find anywhere else. As you wander by foot or bike, take in the sights and sounds of life on the water – from ducks paddling in the shallows to boats chugging past.
If walking isn't your thing, why not rent a boat for an even closer experience? Float through Camden Lock or head out towards Victoria Park for some stunning views.
No matter how you choose to explore Regent's Canal, it's impossible not to fall in love with its serene beauty. So grab your camera (or just enjoy being present), take a deep breath of fresh air, and immerse yourself in one of London's most peaceful corners.
Map:
5. Explore Granary Square
Granary Square is one of those places in King's Cross that truly captures the vibe and energy of this bustling neighbourhood. As the heart of the new King's Cross development, this square has quickly become a popular spot for both locals and tourists alike.
With its stylish architecture, open spaces, and charming fountains, Granary Square offers visitors plenty to see and do. Whether you're looking to hang out with friends, catch some rays on a sunny day or just people-watch, there are few better spots in London.
One of the highlights of Granary Square is undoubtedly its outdoor fountains. These mesmerizing water features provide hours of entertainment for kids (and adults!) who love splashing around on hot summer days. The fountains also serve as an ideal backdrop for Instagram-worthy photoshoots.
Aside from the fountains, there are plenty more things to explore at Granary Square. You can take a stroll along the canal or relax on the steps overlooking the square while enjoying street performances by local artists.
If you're looking for a lively place to spend your afternoon in King's Cross then look no further than Granary Square – it won't disappoint!
Map:
6. Visit Platform 9¾ at King's Cross Station
Website: harrypottershop.co.uk
Platform 9¾ at King's Cross Station is a magical place, not just for Harry Potter fans but for anyone who loves imaginative storytelling. As you approach the platform, you can feel the excitement in the air as people eagerly wait to take photos and experience a little bit of Hogwarts magic.
The iconic photo opportunity involves posing with your trolley halfway through the wall, which gives the illusion that you're about to enter Platform 9¾ and embark on an incredible adventure. The staff are friendly and always willing to help visitors get their perfect shot, so don't be afraid to ask for assistance.
Even if you're not interested in taking a photo, it's still worth visiting Platform 9¾ just to soak up the atmosphere and appreciate how much joy J.
K. Rowling's books have brought into people's lives. It's also fascinating to see how this once-fictional location has become such an important landmark in London.
So whether you're a die-hard Harry Potter fan or simply curious about this cultural phenomenon, make sure you stop by Platform 9¾ during your visit to King's Cross Station. Who knows? You might even catch sight of some real-life wizards and witches rushing off to their classes!
Map:
7. See a Show at the Royal National Theatre
Website: www.nationaltheatre.org.uk
The Royal National Theatre is one of the world's most prestigious theatres and a must-visit destination for theatre lovers. Located just a short walk from King's Cross, this iconic venue offers visitors the chance to see a wide range of productions, from classic plays to new musicals and cutting-edge performances.
With three different theatres on-site, there is always something exciting happening at the Royal National Theatre. You might catch a performance of a timeless Shakespearean play in the Olivier Theatre or enjoy an intimate production in the Dorfman Theatre.
If you're not sure what to see, check out their website for current listings and reviews. The theatre also offers backstage tours if you want to go behind the scenes and learn more about how these incredible shows come together.
Whether you're a seasoned theatre-goer or just looking for something fun to do during your visit to King's Cross, seeing a show at the Royal National Theatre is an experience not to be missed!
Map: 
8. Visit the British Library

Website: www.bl.uk
The British Library is a treasure trove of knowledge and history that should be on every visitor's list. Housing more than 170 million items, including books, manuscripts, maps, and photographs, the library is an intellectual feast for all ages.
Whether you're interested in literature or history, science or art, there's something here to capture your imagination. You can take a guided tour led by expert librarians who will show you around the reading rooms and special collections.
You can also visit one of the many fascinating exhibitions held throughout the year that showcase some of the most important treasures from their collection. In addition to these temporary exhibits, there are also permanent displays like Sir John Ritblat Gallery which houses highlights such as Magna Carta and Shakespeare's First Folio.
If you prefer to browse at your own pace then head over to one of several quiet reading rooms where you'll find tables filled with historical documents waiting for discovery. Perhaps delve into rare medieval manuscripts featuring early versions of Chaucer's Canterbury Tales or view Leonardo da Vinci's notes on mechanics – it's all here!
No matter what your interest may be – whether it's in politics or poetry- The British Library has an incredible wealth of resources just waiting for you!
Map:
9. Have a Meal at Dishoom
Website: www.dishoom.com
If you're looking for a taste of India in the heart of London, look no further than Dishoom. This popular Indian restaurant is known for its delicious Bombay-style cuisine and vibrant atmosphere.
As soon as you step inside Dishoom, you'll be transported to another world. The decor is inspired by the old Irani cafes that were once found throughout Bombay, with vintage posters on the walls and cosy booths to relax in.
But let's get down to what really matters: the food. Whether you're a fan of spicy curries or mild tandoori dishes, there's something for everyone at Dishoom. Some must-try items include their famous bacon naan rolls (yes, you read that right), chicken tikka and black dal.
One thing to keep in mind when visiting Dishoom is that it can get pretty busy. In fact, the queues can often stretch out onto the street! But don't let this put you off – trust us when we say it's worth the wait.
And if all else fails? You can always grab a drink from their bar while you wait. We highly recommend trying one of their signature cocktails like the Bollybellini or Chaijito.
So next time you find yourself in King's Cross craving some authentic Indian cuisine, make sure to pay a visit to Dishoom!
Map:
10. Explore the Surrounding Neighbourhoods
King's Cross is a gateway to some of London's most fascinating neighbourhoods, each with its own unique vibe and attractions. Just a short stroll away from King's Cross, you'll find the charming neighbourhood of Bloomsbury, home to world-renowned institutions like The British Museum and University College London.
Just south of King's Cross lies Camden Town, famous for its vibrant street markets where you can buy everything from vintage clothing to quirky souvenirs. Take in the lively atmosphere while exploring the narrow alleyways and colourful storefronts.
If you're looking for trendy bars and restaurants, head east towards Islington. This hip neighbourhood boasts an impressive array of eateries serving up cuisine from all over the world. You'll also find plenty of boutique shops selling unique gifts and one-of-a-kind fashion finds.
No matter which direction you choose to explore from King's Cross, there are endless opportunities to discover something new and exciting in these dynamic neighbourhoods. So take your time wandering around and see what treasures await!
Conclusion
King's Cross offers a diverse range of activities that will keep anyone entertained for days. From exploring surrounding neighbourhoods to visiting world-class museums and theatres, there is something for everyone in this vibrant area. Whether you're a Harry Potter fan or just looking for some great food and shopping, King's Cross has it all. So why not plan your next adventure in this exciting part of London?
Related Articles: