Are you tired of the hustle and bustle of living in London's busy streets? Do you need long for a peaceful retreat, away from the crowds and noise? Look no further than these charming villages scattered throughout the city. From picturesque Hampstead to vibrant Portobello Road, each village offers its own unique blend of history, culture, and natural beauty. So take a break from the chaos of city life and explore these top 10 beautiful villages in London. Trust us your senses will thank you.
Villages in London
1. Columbia Road
Columbia Road is an East London village that blooms with beauty and colour every Sunday. This vibrant hub of floral enthusiasts and visitors alike boasts a bustling flower market that transforms the street into a kaleidoscope of colours and fragrances.
As you stroll through Columbia Road, the enchanting mix of floral scents fills the air, making it hard to resist taking home one or two stunning bouquets for yourself or a loved one. But there's more to this charming village than just flowers.
Columbia Road also offers ample opportunities for retail therapy at its independent shops selling handmade crafts and bespoke jewellery. Art lovers can indulge in their passion by visiting art galleries showcasing unique works from up-and-coming artists.
Quaint cafes dotting the street offer respite after browsing through stalls and shops. It's an excellent spot to sit back, relax, and sip on coffee or tea while watching people go about their business.
In short, Columbia Road offers something for everyone – whether you're looking for unique shopping experiences or simply want to soak in the charms of this colourful hamlet.
Map:
2. Dulwich Village
Dulwich Village is a hidden gem located in the south of London. This charming village boasts captivating Georgian and Victorian architecture that transports visitors back in time. Walking along Dulwich Village High Street, lined with independent boutiques, cosy pubs, and inviting eateries gives you a sense of community that's hard to find elsewhere.
The highlight of this picturesque village is undoubtedly Dulwich Park; an expansive green space offering ample opportunities for outdoor activities like picnics or leisurely walks. The manicured lawns are perfect for soaking up some sunshine while admiring the picturesque ponds teeming with wildlife.
For those seeking relaxation, there's no better spot than the charming café inside Dulwich Park. You can enjoy delicious refreshments while basking in the tranquil ambience of this idyllic setting.
Whether you're a history buff, nature enthusiast or simply looking to escape from the hustle and bustle of city life, Dulwich Village has something for everyone. With its timeless beauty and welcoming atmosphere, it's easy to see why so many people fall in love with this charming enclave every year!
Map:
3. Broadway Market
As you stroll down Broadway Market on a Saturday, your senses are immediately awakened by the bustling energy and creativity that surrounds you. The vibrant market boasts an impressive array of artisanal food stalls, each tempting you with their mouth-watering offerings.
From freshly baked bread to gourmet cheeses, there's no shortage of culinary delights to sample. As you wander through the maze of independent boutiques and vintage clothing shops, it's impossible not to get caught up in the eclectic mix of styles and fashion.
The lively atmosphere is further enhanced by the presence of street performers who entertain crowds throughout the day. Whether it's a talented musician or a mesmerizing magician – there's always something unique and enjoyable happening at Broadway Market.
But what really sets this village apart is its sense of community spirit. Locals gather here every week to catch up with friends over coffee or indulge in a leisurely brunch. It's easy to see why Broadway Market has become such an integral part of East London's vibrant culture.
So come along, join the locals as they explore all that this unique village has to offer – from delicious food options to quirky shopping experiences – Broadway Market will not disappoint!
Map:
4. Camden Passage
As you stroll through Camden Passage, it's hard not to feel like you've stepped back in time. The charming cobbled streets are lined with antique shops and vintage boutiques that transport you to a bygone era. Each shop is a treasure trove of unique finds, from delicate china teacups to ornate furniture pieces.
For antique lovers, Camden Passage is a paradise. You can browse for hours on end, discovering hidden gems and one-of-a-kind treasures that have stood the test of time. But even if antiques aren't your thing, there's still something special about this quaint village.
Take some time to savour a cup of tea or coffee in one of the cosy cafes dotted throughout the passage. These little havens offer respite from the bustling city outside and provide an inviting atmosphere where you can relax and unwind.
It's easy to see why Camden Passage has become such a beloved spot for locals and tourists alike. In a world where everything feels fast-paced and modern, this hidden gem offers a glimpse into London's past while providing an escape from the present day.
Map:
5. Barnes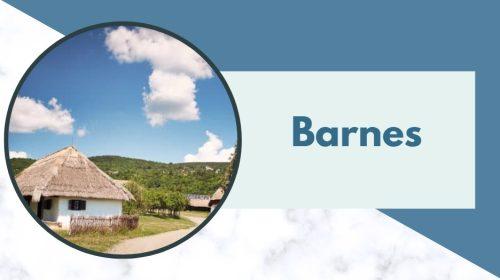 Barnes is a hidden gem in London that offers visitors a peaceful retreat from the hustle and bustle of city life. Nestled along the banks of the River Thames, Barnes exudes natural beauty and charm. Its idyllic riverside setting, historic buildings, and best pubs create an atmosphere that welcomes all who come to visit.
One of the highlights of this village is Barnes Common, a sprawling green space where nature lovers can relax amidst lush greenery. The common also serves as a community hub for events such as fairs and picnics.
In addition to its natural beauty, Barnes has a strong sense of community spirit. It's easy to feel at home here with friendly locals always ready to welcome newcomers with open arms. This welcoming atmosphere makes it an ideal destination for those seeking peace and tranquillity.
Visitors can take leisurely walks along the riverbank or explore charming antique shops dotted around town before stopping at one of its many cosy pubs for refreshments. With so much on offer in this picturesque village, it's no wonder why people keep coming back for more.
Whether you're looking for a quiet escape or simply want to experience authentic British charm, Barnes should definitely be on your list when visiting London.
Map:
6. Little Venice
Little Venice is a hidden gem in the heart of London that offers a peaceful retreat from the bustling city streets. The village boasts beautiful waterways and charming canals, which give it its name. Take a leisurely stroll along Regent's Canal, and immerse yourself in the tranquil beauty of narrowboats floating on serene waters.
As you walk through Little Venice, you'll be mesmerized by the elegant mansions lining its streets. Each one seems to have been plucked straight out of a fairy tale with their ornate architecture and colorful facades.
The village also has several quaint waterside cafes where you can relax and enjoy stunning views while sipping on some coffee or tea. It's an ideal spot for unwinding after exploring London's many attractions.
Little Venice provides an excellent opportunity for visitors to escape from the hustle and bustle of city life into a quiet oasis filled with natural beauty. Whether you're looking for solitude or simply want to take some time out from your busy schedule, this picturesque village is sure to delight your senses with its peace-filled ambience.
Come visit Little Venice; let it enchant you with its idyllic setting!
Map:
7. Hampstead
Hampstead is a stunning village that will have you feeling like you've stumbled into a fairytale. Its Georgian architecture and winding streets are both elegant and charming, creating an atmosphere of refined tranquillity.
One must-visit spot in Hampstead is its High Street, where boutique shops, cosy cafes, and inviting pubs await your exploration. You'll be sure to find unique treasures as you wander the quaint streets.
For those seeking nature's serenity, Hampstead Heath is a must-see destination. This vast park offers rolling hills, picturesque ponds, and lush woodlands perfect for escaping the city's hustle and bustle.
Take in the breathtaking views from Parliament Hill or go for a swim in one of the park's swimming ponds on warmer days. No matter how you choose to spend your time at Hampstead Heath, it promises to offer an enchanting retreat from London's chaotic energy.
With its peaceful ambience and natural beauty combined with sophisticated elegance on High Street – there's truly something for everyone in this captivating village nestled amidst greenery!
Map:
8. Primrose Hill
Primrose Hill is a charming village that attracts artists, celebrities, and trendsetters. This fashionable district boasts quaint boutiques, stylish cafes, and trendy gastropubs that reflect the area's chic and sophisticated vibe. The eponymous park of Primrose Hill is the crown jewel of this village.
The best park offers breathtaking panoramas of London with stunning views of the city skyline. It provides a refreshing escape from the hustle and bustle of city life amidst lush greenery where visitors can unwind in its tranquil setting.
Many people come to Primrose Hill for its artistic inspiration as it has been home to many famous writers, poets, musicians throughout history. The picturesque surroundings have been captured in various art forms over time.
With its distinct character and vibrant atmosphere, Primrose Hill continues to be a popular destination among visitors who seek an exclusive experience away from typical tourist visit. So why not visit this fashionable village on your next trip to London?
Map:
9. Clarendon Cross
Clarendon Cross is a must-visit destination in London. This charming village square located in the heart of Notting Hill exudes an air of elegance and sophistication that will leave you enchanted. The curated selection of upscale boutiques, artisanal shops, and exclusive designer stores offers visitors a world of luxury and refinement.
Fashion enthusiasts will be spoilt for choice with the stylish clothing options available at Clarendon Cross' high-end boutiques. Whether it's classic tailoring or contemporary designs, this village has something to suit every taste.
For those looking to decorate their homes with exquisite pieces, the artisanal shops offer unique home decor items that are sure to impress. From handcrafted ceramics to bespoke furniture designs, this hidden gem caters to even the most discerning tastes.
The exclusive designer stores at Clarendon Cross showcase some of the finest luxury brands in fashion and lifestyle. You can indulge yourself with premium beauty products or invest in timeless jewelry pieces from renowned designers.
Clarendon Cross is a perfect destination for anyone who appreciates refined elegance and sophisticated style. With its stunning architecture and carefully curated shopping experience, it's no wonder why this village has become one of London's top attractions for luxury lovers!
Map:
10. Portobello Road
Portobello Road is a feast for the senses. The vibrant colours of the buildings, mixed with the sounds and smells of street vendors selling everything from antiques to fresh produce, create a unique atmosphere that draws visitors in from all over the world.
The market stalls are filled with treasures waiting to be discovered. Whether you're looking for vintage clothing or one-of-a-kind souvenirs, there's something here for everyone. And when hunger strikes, you won't be disappointed by the variety of international cuisine on offer – from Mexican tacos to Middle Eastern falafel.
But Portobello Road isn't just about shopping and eating. Take a stroll down this iconic street and soak up its history and charm. From the colorful facades of Notting Hill's famous houses to hidden mews tucked away behind iron gates, there's always something new to discover.
And if you happen to visit on a Saturday, don't miss out on the opportunity to experience Portobello Road at its liveliest. With live music performances and street performers adding an extra layer of entertainment to an already bustling scene, it's no wonder that this village has become such an iconic part of London culture.
In short, whether you're a seasoned traveler or simply looking for a fun day out in London, Portobello Road is not to be missed.
Map:
Conclusion
London is a city of contrasts and surprises. While it's known for its fast-paced lifestyle and modern architecture, there are also many hidden gems that offer an escape from the hustle and bustle of the city. These charming villages in London provide visitors with a glimpse into the past while offering delightful experiences filled with quaint shops, cosy cafes, picturesque parks, and vibrant markets.
Each village has its unique character, but they all share a common thread: their ability to transport visitors to another time and place. Whether you're looking for tranquility or excitement, there's something for everyone in these beautiful villages in London. So why not take some time out of your busy schedule to explore these hidden treasures? You never know what wonders await you.