Are you planning a trip to Weymouth but unsure of what to do in this beautiful seaside town? Look no further! We've compiled a list of the top attractions and must-visit places for you to explore. , From sandy beaches filled with water sports activities, historic castles and forts that tell the story of the town's past, picturesque harbours filled with restaurants and shops, stunning coastal walks along World Heritage Sites, to outdoor adventures on nearby islands – there are something for everyone in Weymouth. Keep reading to discover all the exciting things this charming town has in store for you!
Things to do in Weymouth
1. Visit Weymouth Beach
Weymouth Beach is a must-visit attraction for anyone visiting this charming town. With three miles of sandy coastline stretching along the coast, it's no surprise that this beach is one of the town's main attractions.
Not only does Weymouth Beach offer stunning views of the sea and surrounding cliffs, but it also provides visitors with an array of water sports activities to choose from. Whether you're interested in swimming in crystal clear waters, windsurfing along the waves or kayaking through calm coves – there's something for everyone at Weymouth Beach.
Aside from water sports activities, visitors can also take leisurely walks along the beach either solo or with family and friends while taking in all that nature has to offer. You might even get lucky enough to spot some wildlife on your walk, such as dolphins playing within sight!
Weymouth Beach offers a perfect getaway for anyone who loves spending time outdoors and wants to experience everything that this lovely seaside town has to offer.
2. Explore Nothe Fort
Nothe Fort is a historical site that should not be missed when visiting Weymouth. Built during the Victorian era, it served as a coastal defence against potential invaders. Today, visitors can explore the tunnels and gun emplacements that were once used for military purposes.
As you walk through the fort's corridors, you'll find yourself transported back in time to an era of war and conflict. Exhibitions throughout the fort narrate its history and provide insight into what life may have been like for those who served there.
The fort also offers stunning views of Weymouth Bay from its position atop Nothe Hill. You can take a leisurely stroll around the ramparts while taking in the panoramic view of this picturesque town.
Visiting Nothe Fort is an excellent way to learn more about Weymouth's rich history while enjoying breathtaking scenery at the same time. It's perfect for all ages, whether you're travelling solo or with family/friends.
3. Walk along the Jurassic Coast
The Jurassic Coast is a stunning World Heritage Site that has been attracting visitors from all over the world for its natural beauty and geological significance. The coast stretches for 96 miles along the Dorset and East Devon coastline, offering breathtaking views of cliffs, rock formations, and sea stacks.
One of the best ways to explore this natural wonder is by taking a walk along the South West Coast Path. The path follows the entire length of the Jurassic Coast, providing plenty of opportunities to take in panoramic views of the sea and surrounding landscape.
Along the way, you'll come across several landmarks that tell tales of Britain's rich history. You can visit ancient forts, lighthouses, smugglers' coves, and other fascinating sites that offer glimpses into life on this historic coast.
The Jurassic Coast also provides a unique opportunity to learn about geology as it boasts some rare fossils dating back millions of years. You can spot ammonites encased in rocks or even find your own fossil at one of several accessible beaches.
Whether you're an avid hiker or just looking for a leisurely stroll with stunning scenery at every turn, walking along the Jurassic Coast will be an unforgettable experience that will leave you awestruck by nature's wonder.
4. Discover the Sea Life Centre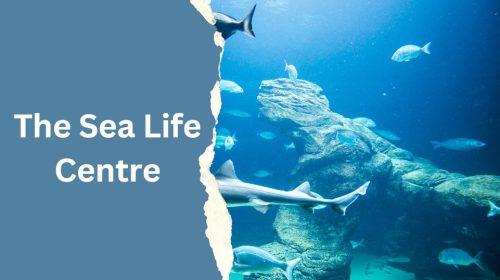 The Sea Life Centre in Weymouth is an excellent attraction for people of all ages who love marine life. Inside the centre, you can see over 1,000 creatures from various species that are kept in their natural habitats.
One of the fascinating things about visiting the Sea Life Centre is attending talks and feeding sessions. During these sessions, you'll have a chance to learn more about different types of marine animals, including sea turtles, sharks and rays.
The feeding sessions are especially exciting because they allow visitors to witness how these creatures eat in their natural environment. You may even get to see some animals being hand-fed by trained staff members!
There's also plenty of information available throughout the centre on topics like conservation efforts and animal welfare. These exhibits showcase how important it is for us humans to protect our oceans and its inhabitants.
If you're interested in learning more about marine life or just want a fun day out with family or friends, then a visit to the Sea Life Centre should be on your list while exploring Weymouth!
5. Visit the Weymouth Harbour
Weymouth Harbour is a charming and lively place to visit, with something for everyone. The harbour area is filled with a wide range of restaurants, bars, and shops that offer everything from fresh seafood to local crafts.
You can also take a boat trip from the harbour to explore the stunning coastline around Weymouth. Whether you want to go on a sightseeing tour or try your hand at fishing, there are plenty of options available.
One popular option is taking a trip out to see the resident dolphins that live in the waters off Weymouth. These playful creatures are always happy to put on a show for visitors!
If you're looking for more adventure, you could try one of the many water sports on offer in Weymouth Bay. From windsurfing and kitesurfing to kayaking and paddleboarding, there's something for all levels of experience.
For those who prefer dry land activities, there are plenty of places around the harbour where you can rent bicycles or take guided walking tours of the town.
Visiting Weymouth Harbour is an enjoyable experience that offers plenty of fun things to do. With its beautiful setting and bustling atmosphere, it's no wonder this attraction has become one of Weymouth's most popular destinations!
6. See the Sandsfoot Castle
If you're a history buff or just love exploring ancient ruins, then Sandsfoot Castle is a must-visit attraction in Weymouth. Built-in the 16th century to protect against French invasion, this castle has stood the test of time and still remains standing today.
As you walk through the ruins of Sandsfoot Castle, you'll be transported back to a time when castles were built for protection and defence. The walls are thick and sturdy, giving an insight into how well-built these fortresses were.
But it's not just the historical significance that makes Sandsfoot Castle worth visiting. It also offers breathtaking views of the coast from its location atop a hill. You can take your time exploring every nook and cranny of this impressive structure while enjoying stunning views of Weymouth Bay.
Sandsfoot Castle is especially beautiful during sunset hours when everything takes on golden hues, making it perfect for some stunning photographs. So whether you're a history enthusiast or just looking for amazing views, make sure to add Sandsfoot Castle to your list of things to do in Weymouth!
7. Visit the Tudor House
The Tudor House in Weymouth is an impressive 16th-century building that has been restored and turned into a museum. The exterior of the house features stunning architecture, while the interior is home to a range of artefacts and exhibits.
Inside, visitors can learn about the history of Weymouth and the surrounding area. From its early days as a fishing village to its role in World War II, there is plenty to discover within these walls.
The displays are well-presented and informative, with interactive exhibits for children as well as adults. You can see objects such as Victorian costumes, old photographs, furniture from different periods or even weapons used during battles.
One highlight of the Tudor House Museum is the opportunity to experience what life was like for people living in Weymouth hundreds of years ago. You can take a tour through reconstructed rooms which give you insight into everyday life at that time.
Visiting this historic Tudor House Museum is an excellent way to learn more about local history while enjoying beautiful surroundings. It's definitely worth adding it to your list when visiting Weymouth!
8. Take a Stroll Along the Esplanade
Weymouth's Esplanade is a must-visit attraction for anyone who wants to enjoy the sea breeze and stunning views of the coast. This lovely walkway stretches along the beachfront, offering visitors plenty of opportunities to take in their surroundings.
As you stroll along the esplanade, you'll come across a variety of interesting statues and monuments. From King George III on horseback to Sir Henry Edwards, an influential figure in Weymouth's history, these sculptures are sure to catch your attention.
In addition to its many landmarks, the Esplanade also offers a range of cafes and restaurants where visitors can stop for a bite to eat or something refreshing to drink. Whether you're craving fish and chips or fancy trying some locally brewed beer, there are plenty of options available here.
One particular highlight is The Lookout Cafe Bar & Restaurant, which boasts spectacular panoramic sea views from its cliff-top position. It serves breakfasts all day long, including veggie ones; lunchtime menus featuring main meals such as locally-sourced burgers with fries; afternoon tea served on vintage crockery plates with classic sandwiches and homemade cakes, plus freshly baked scones with jam & clotted cream!
Taking a stroll along Weymouth's esplanade is an enjoyable experience that combines natural beauty with rich cultural heritage.
9. Explore the Isle of Portland
The Isle of Portland is a hidden gem just waiting to be explored. Just a short drive from Weymouth, this island offers visitors a range of interesting attractions and outdoor activities.
One must-visit attraction on the island is the Portland Bill Lighthouse. Built in 1906, this lighthouse has become an iconic landmark on the island. Visitors can climb to the top for stunning views of the surrounding coastline.
For history buffs, there's also Portland Castle which dates back to Tudor times. The castle played an important role in defending England against invaders and features exhibits that tell its story.
If you're looking for outdoor adventures, then rock climbing and sailing are popular activities on the island. You can even take part in guided tours or lessons if you're new to these sports.
Don't forget to explore the South West Coast Path while you're here. This scenic walking trail stretches along the coast and offers breathtaking views of cliffs, beaches, and sea stacks that will leave you amazed at Mother Nature's beauty.
Visiting the Isle of Portland should definitely be on your list if you're planning a trip to Weymouth!
10. Visit the Chesil Beach
The Chesil Beach is a natural wonder that stretches for 18 miles along the coast. The beach consists of shingle pebbles, making it an unusual sight compared to other beaches in the area.
Visitors can take a leisurely stroll along the beach and enjoy stunning views of the sea. The sound of waves crashing against the shore creates a peaceful atmosphere, ideal for relaxation.
If you visit Chesil Beach during sunset, you'll be treated to one of nature's most beautiful displays. Watching as the sun dips below the horizon while standing on this vast stretch of coastline is truly unforgettable.
The Chesil Beach is also famous among anglers who come here to fish. In fact, it has been called one of Britain's most famous fishing beaches due to its abundance of fish species, such as bass and mackerel.
Aside from fishing and walking, visitors can also go swimming or simply lay down a towel and soak up some rays under sunny skies.
Visiting Chesil Beach is an excellent way to spend your time in Weymouth. Whether you're looking for adventure or relaxation amidst breathtaking scenery- there's something here for everyone!
11. See the Weymouth Pavilion
The Weymouth Pavilion is a historic theatre that has been a staple of the town's entertainment scene for over 100 years. Recently renovated, this beautiful venue offers visitors the chance to catch a show, concert or pantomime performance in an elegant and comfortable setting.
The Pavilion hosts a variety of events throughout the year, from comedy shows and live music performances to plays and dance productions. Whatever your tastes in entertainment may be, there is sure to be something on offer at the Pavilion that will appeal to you.
One of the highlights of visiting the Weymouth Pavilion is getting to experience its stunning architecture firsthand. With its ornate ceiling and grand stage area, this theatre truly feels like stepping back in time.
If you're looking for a fun evening out with friends or family while exploring all that Weymouth has to offer, be sure to check out what's on at The Weymouth Pavilion during your stay. Whether you're into classic dramas or modern comedies, there's bound to be something here that will leave you entertained and inspired!
12. Visit the Sculpture Park
The Sculpture Park in Weymouth is a hidden gem for art enthusiasts. This free attraction boasts an impressive collection of sculptures and artworks created by local artists, giving visitors a glimpse into the vibrant local art scene.
As you walk through the park, you'll be amazed by the diverse range of sculptures on display. From abstract pieces to realistic depictions of animals and people, there's something for everyone to appreciate.
One of the best things about visiting The Sculpture Park is being able to see these works of art in their natural environment. The park's lush greenery provides a stunning backdrop that complements each sculpture perfectly.
In addition to admiring the artwork, visitors can learn more about each piece through informative plaques placed throughout the park. These plaques provide insight into each artist's inspiration and creative process.
The Sculpture Park is also a great place to enjoy some fresh air and take in some beautiful scenery while strolling around. It's an ideal spot for those looking for a peaceful break from city life or seeking inspiration for their own artistic endeavours.
The Sculpture Park offers a unique experience that should not be missed when visiting Weymouth. With its impressive collection of sculptures and idyllic setting, it's sure to leave a lasting impression on any visitor who appreciates art and nature alike.
Conclusion
Weymouth is a beautiful town that offers visitors a range of attractions and activities to enjoy. From the sandy beaches to the historic fort, there's something for everyone here. Whether you're interested in history or nature or just want to relax and have fun, Weymouth has it all. So if you're planning a trip to Dorset, be sure to add this charming town to your itinerary!