Welcome to the foodie haven of Dorset, where the stunning coastline meets rolling countryside and a thriving culinary scene. Whether you're looking for fine dining or casual seaside eats, this county has something for every palate. In this blog post, we've rounded up the top 10 restaurants in Dorset serving up delicious cuisine using locally sourced ingredients. Get ready to indulge your taste buds as we take you on a gastronomical journey through some of the best eateries in town!
The Best Restaurant in Dorset – Top 10 Places to Eat
1. The Jetty Restaurant 
The Jetty Restaurant is a fine-dining establishment located in the idyllic town of Christchurch. The restaurant boasts a light-filled dining area with stunning views overlooking the harbour, making it an ideal venue for special occasions or romantic dinners.
The menu at The Jetty Restaurant is inspired by seasonal and locally sourced ingredients, ensuring that every dish is fresh and bursting with flavour. From succulent seafood to juicy meat dishes, there's something for everyone on their extensive menu
If you're looking to indulge in several courses, then you're in luck as The Jetty offers tasting menus showcasing some of its best dishes. This allows diners to experience a range of flavours and textures while enjoying the beautiful setting
The decor at The Jetty Restaurant exudes elegance and sophistication without being too stuffy. With its contemporary design featuring natural materials such as wood and stone coupled with subtle nautical touches, guests can relax in an atmosphere that feels both luxurious and welcoming
If you're looking for a memorable culinary experience in Dorset with exquisite food served in stunning surroundings, then look no further than The Jetty Restaurant.
Map:
2. The Pig 
Nestled in a stunning country house overlooking Studland Bay, The Pig-on the Beach is more than just a restaurant. It's an experience that combines rustic charm and seaside elegance
As you enter this unique establishment, you'll be greeted by its stylish decor, featuring vintage furniture and quirky accessories that create an inviting atmosphere. It's the perfect place to relax with friends or celebrate a special occasion.
The menu features fresh and locally sourced ingredients from their kitchen garden, as well as nearby farms and fishermen. Their signature dishes include roasted scallops with black pudding and apple sauce or wood-fired fish of the day served whole on the bone.
But it's not just about the food at The Pig – on the beach; they also offer luxurious overnight accommodation in their cosy rooms or cottages surrounded by lush gardens.
If you're looking for a culinary experience unlike any other while enjoying breathtaking views of Dorset's coastlines, then The Pig – on the Beach is definitely worth checking out!
Map:
3. Restaurant Roots
If you're looking for a relaxed yet sophisticated dining experience, then Restaurant Roots is the perfect spot. The brick-lined locale sets the tone for a cosy and intimate atmosphere that's ideal for date nights or special occasions.
The restaurant features tasting menus of seasonal, artful dishes that are sure to tantalize your taste buds. Their commitment to using locally sourced ingredients means that each dish bursts with flavour and freshness.
One of the standout features of Restaurant Roots is its attention to detail. From plating to presentation, every element has been carefully considered to create an overall sensory experience. It's not just about taste – it's also about sight, smell, and texture.
And despite its sophistication, there's nothing stuffy about Restaurant Roots. The staff are friendly and welcoming, making everyone feel at ease as they enjoy their meal. You can relax in this charming space while indulging in some truly delicious food.
If you're looking for a memorable dining experience that goes beyond just good food but also includes ambience and hospitality too – then make sure you visit Restaurant Roots!
Map:
4. Shell Bay 
Shell Bay is a popular casual dining venue located near the beach in Dorset. It's a fantastic spot to enjoy fresh seafood while taking in stunning views of the sea. The laid-back atmosphere makes it perfect for those who want to relax and unwind.
The restaurant features an extensive menu filled with delicious seafood dishes, including classic fish and chips, grilled lobster, and more. You can also choose from other options like burgers, salads, and vegetarian dishes.
One of the best things about Shell Bay is its outdoor seating area that allows diners to soak up the sun while enjoying their meal. With panoramic sea views surrounding you, it's easy to forget your worries for a little while and just take in the beauty of nature.
Shell Bay provides excellent food alongside breathtaking views – It's definitely worth visiting if you're looking for a relaxed coastal dining experience on your trip to Dorset!
Map:
5. Brassica Restaurant 
Nestled in the picturesque town of Beaminster, Brassica Restaurant is a charming spot that boasts an impressive menu and a warm ambience. The restaurant prides itself on using locally sourced produce and ingredients to create dishes that are both innovative and delicious.
Brassica's menu features contemporary British cuisine with a Mediterranean twist. The restaurant's chefs have created an exciting selection of starters, main courses, and desserts that will tantalize your taste buds. From succulent lamb rump to pan-fried hake fillet, there is something for everyone at Brassica
The interior of the restaurant is chic yet cosy, with exposed brick walls and wooden furnishings creating a relaxed atmosphere. Whether you're celebrating a special occasion or looking for a romantic night out, Brassica has got you covered.
And it's not just about the food – Brassica also offers an extensive wine list featuring carefully selected bottles from around the world. Friendly staff members are on hand to help you choose the perfect pairing for your meal.
If you're looking for a fine dining experience with high-quality cuisine in Dorset, look no further than Brassica Restaurant in Beaminster!
Map:
6. The Clockspire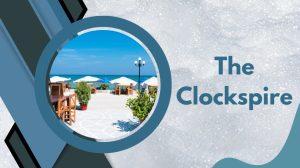 If you're looking for a restaurant that puts its focus on locally sourced, seasonal ingredients, look no further than The Clockspire. This exceptional restaurant and bar are nestled in a stunning setting that will take your breath away.
The approach to food at The Clockspire is ingredient-led, which means the menu changes regularly based on what's in season. You can expect to find dishes that feature fresh produce grown right here in Dorset, as well as sustainably sourced meat and seafood.
One of the things people love about dining at The Clockspire is the attention to detail put into every dish. From artistic plating to complex flavour profiles, each bite is a culinary adventure.
But it's not just about the food – this establishment also boasts an impressive selection of wines and cocktails. Whether you're looking for something classic or want to try something new and adventurous, their expert bartenders have got you covered.
If you're looking for an unforgettable dining experience where both the food and ambience are equally impressive, be sure to check out The Clockspire.
Map:
7. Guildhall Tavern
Nestled in the heart of Poole's Old Town, the Guildhall Tavern is a charming seafood restaurant that offers classic French cuisine with signature dishes. With its simple nautical-themed dining room, this restaurant has become a popular spot for locals and visitors alike who are looking to indulge in some excellent food.
The menu at Guildhall Tavern features an array of fresh seafood dishes, such as their signature Solent Crab Risotto and Seared Scallops garnished with pea puree. The chefs here take pride in using only the freshest locally sourced ingredients when preparing each dish on their menu.
With its cosy atmosphere and welcoming staff, patrons can enjoy a delicious meal while soaking up the ambience of this historic building which dates back to 1771. Whether you are looking for a romantic dinner or just an evening out with friends, Guildhall Tavern is sure to delight even the most discerning palate.
In addition to its delectable food offerings, Guildhall Tavern also boasts an extensive wine list featuring both local and international wines that pair perfectly with any dish on the menu. If you're seeking out great French cuisine paired with exceptional service amidst maritime-inspired décor then look no further than Guildhall Tavern!
Map:
8. The Noisy Lobster
The Noisy Lobster is a restaurant that offers an exceptional dining experience with its fresh and locally sourced seafood ingredients. What makes this place stand out is its modern setting, complete with a terrace that overlooks the bay. The view alone can take your breath away.
The menu features seasonal dishes that showcase the best of what Dorset has to offer. From succulent scallops to juicy lobster, you'll find something for every seafood lover here. They also serve signature cocktails that perfectly complement the meal.
Aside from great food and drinks, the service at The Noisy Lobster is top-notch as well. You'll be greeted by friendly staff who are always ready to make recommendations or answer any questions you may have.
Whether you're looking for a romantic dinner or a night out with friends, The Noisy Lobster is definitely worth checking out. With its stunning views and delicious food options, it's one of the best restaurants in Dorset that should not be missed!
Map:
9. The Wimborne Pig
The Wimborne Pig is a hidden gem located in the charming town of Wimborne. This restaurant is dedicated to using local produce and creating innovative dishes that leave a lasting impression on diners
One of the unique features of The Wimborne Pig is their commitment to breeding their own pork. This not only ensures quality control but also allows them to create signature dishes that cannot be found anywhere else. From succulent pulled pork burgers to crispy pork belly, each dish showcases the care and attention put into raising these animals.
In addition to serving delicious food, The Wimborne Pig also hosts courses and workshops for those looking to learn more about cooking with local ingredients. These classes cover everything from butchery techniques to creating charcuterie boards at home.
The atmosphere at The Wimborne Pig is warm and welcoming, making it the perfect spot for a romantic dinner or casual meal with friends. Whether you're looking for classic comfort food or something more adventurous, this restaurant has something for everyone.
Map:
10. Olive Tree
If you're a fan of Mediterranean cuisine, then the Olive Tree in Bridport should definitely be on your list of must-visit restaurants in Dorset. This charming eatery focuses on dishes that are inspired by the region's culinary traditions and culture.
One thing that sets Olive Tree apart from other restaurants is its commitment to sourcing only the freshest regional ingredients for its menu items. Their seafood dishes, in particular, are not to be missed – they are known for highlighting local catches such as crab and mackerel.
The ambience at Olive Tree is warm and inviting, with rustic decor elements like exposed brick walls adding character to the space. It's easy to see why this restaurant has become a favourite among locals and visitors alike!
Whether you're looking for a light lunch or an indulgent dinner experience, there's something on offer at the Olive Tree that will surely satisfy your cravings. From classic Mediterranean staples like hummus and tzatziki dips to more adventurous fare like grilled octopus or squid ink risotto, there is no shortage of options here.
If you appreciate fresh flavours and locally sourced ingredients prepared with care by talented chefs who genuinely love what they do – then make sure you add Olive Tree to your dining itinerary when visiting Dorset!
Map:
Conclusion
Dorset has some of the best restaurants in the UK! From fine dining to casual beachside eateries, there is something for everyone. The Jetty Restaurant offers a luxurious atmosphere with stunning views and locally sourced ingredients while The Pig on the Beach provides rustic-chic charm in a country house setting. For those seeking an innovative culinary experience, head to Restaurant Roots or Brassica Restaurant.
Seafood lovers will enjoy Shell Bay and The Noisy Lobster while classic French cuisine can be found at Guildhall Tavern. The Wimborne Pig showcases local produce through its innovative dishes and workshops while Olive Tree offers Mediterranean-inspired seafood dishes based on regional ingredients.
No matter what your taste buds desire, you are sure to find it among these top 10 places to eat in Dorset. So why not book a table and indulge yourself today?