Are you planning a trip to Tiverton and looking for some fun activities to do? Look no further! From exploring historic castles to cruising along scenic canals, Tiverton has something for everyone. In this blog post, we've compiled the top 10 things to do in Tiverton that are sure to make your visit unforgettable. So grab your walking shoes and let's dive into the best things to do in Tiverton!
Best Things to do in Tiverton – Top 10
1. Visit Tiverton Castle
Website: http://www.tivertoncastle.com/
Dating back to the 11th century, Tiverton Castle is a must-visit attraction for history buffs and architecture enthusiasts alike. As you step inside the castle walls, you'll feel like you're transported back in time. The guided tour offers a fascinating insight into the castle's rich history and its various owners throughout the centuries.
One of the highlights of visiting Tiverton Castle is exploring its impressive architecture. From medieval features such as crenellated battlements to more recent additions like Gothic Revival windows, there are plenty of details to admire. You can also climb up to the top of the tower for panoramic views over Tiverton.
As well as learning about its historical significance and admiring its architectural features, visitors can also enjoy wandering around the beautiful landscaped gardens surrounding Tiverton Castle. There are stunning flowers, plants and shrubs that will take your breath away.
Visiting this historic site provides an opportunity to experience first-hand what life was like for those who lived within these castle walls over 900 years ago. Don't forget your camera!
Map:
2. Discover the Grand Western Canal
If you're looking for a peaceful and relaxing activity in Tiverton, then taking a leisurely walk or bike ride along the Grand Western Canal is definitely worth adding to your list of things to do.
The canal stretches for 11 miles through some of Devon's most beautiful countryside, offering stunning views and an abundance of wildlife along the way. You might spot kingfishers darting across the water, dragonflies hovering above the reeds, or even otters playing in the shallows.
Alongside the towpath that runs alongside the canal, there are plenty of benches where you can stop and take in your surroundings. Bring a picnic and enjoy it by one of the locks while watching boats pass through.
If cycling is more your thing, then why not hire a bike from one of several local providers? It's an excellent way to cover more ground and see as much as possible during your visit.
Whether you're walking or biking, make sure to take your time so that you don't miss any hidden gems along this tranquil waterway. The Grand Western Canal is truly one of Tiverton's hidden treasures!
Map:
3. Explore Knightshayes Court
Knightshayes Court is a stunning Victorian country house located in Tiverton that's definitely worth a visit. Built in the 19th century, it boasts impressive architecture and beautiful parkland that are sure to delight visitors.
The interior of Knightshayes Court is just as impressive as its exterior, with grand rooms filled with Victorian furnishings and decorations. You'll feel like you've stepped back in time as you explore this historic property, which has been well-preserved over the years.
But it's not just the house itself that's worth seeing – take some time to wander through its gorgeous gardens too! The colorful flower beds and perfectly-manicured lawns are truly breathtaking, and there are plenty of hidden nooks and crannies to discover along the way.
If you're interested in history or architecture, Knightshayes Court should definitely be on your list of things to do in Tiverton. And even if those aren't your typical interests, there's still plenty here to admire and enjoy!
Map:
4. Take a trip to Tiverton Museum of Mid Devon Life
The Tiverton Museum of Mid Devon Life is a must-visit destination for history buffs and anyone interested in the local heritage of Tiverton. The museum offers a fascinating glimpse into the town's past, including its industrial heritage.
Visitors can explore exhibits showcasing the various industries that shaped Tiverton, from woolen mills to lace making. There are also displays on agriculture, transport, and everyday life in the town throughout different periods.
One exhibit not to be missed is the recreation of an old-fashioned street scene complete with shops and homes from times gone by. This immersive experience really brings history to life!
In addition to learning about industry and daily life in Tiverton, visitors can also discover more about notable figures who have called this town home. These include John Heathcoat, inventor of a groundbreaking bobbinet machine used in lace making.
A trip to the Tiverton Museum of Mid Devon Life is both educational and enjoyable – perfect for families or individuals looking for an enriching day out!
Map:
5. Enjoy a stroll in Bickleigh Mill
If you're looking for a place to relax and unwind, Bickleigh Mill is the perfect spot. This picturesque mill is situated on the banks of the River Exe and offers plenty of activities for visitors.
Start by exploring its craft shops, which offer a range of unique and handmade items. From jewelry to pottery, there's something for everyone here. You can even watch some of the artisans at work, creating their masterpieces right before your eyes.
In addition to shopping, Bickleigh Mill also boasts several art galleries featuring works from local artists. Whether you're an art enthusiast or simply appreciate beautiful things, these galleries are sure to impress.
Of course, no trip to Bickleigh Mill would be complete without dining at its on-site best restaurant. The menu features a variety of delicious dishes made with fresh ingredients sourced from local farms and producers.
After your meal, take a stroll along the river bank and enjoy the peaceful surroundings. Whether you prefer walking or sitting quietly by the water's edge, this idyllic location is sure to calm your mind and soothe your soul.
Bickleigh Mill is a must-visit destination in Tiverton if you're looking for relaxation coupled with unique shopping experiences and great food!
Map:
6. Go horse riding at Halsdon Arabian Stud
For horse lovers, a visit to Halsdon Arabian Stud is an absolute must. The stud is home to some of the most magnificent Arabian horses in the country, and visitors can enjoy going for a ride through the beautiful countryside.
The staff at Halsdon are incredibly knowledgeable about their horses and always ensure that riders are matched with a suitable mount according to their experience level. This makes it an ideal activity for both beginners and experienced riders alike.
As you take your horse out into the Devonshire countryside, you'll be able to appreciate its beauty from a completely different perspective. The peace and tranquility of nature combined with the gentle rhythm of your horse's hooves will make this experience truly unforgettable.
It's not just about riding either – visitors are encouraged to interact with these majestic creatures on the ground too. You can spend time grooming them or simply enjoying their company in one of the paddocks.
Whether you're looking for an afternoon outing or something more adventurous, taking a trip to Halsdon Arabain Stud is definitely worth it if you want to add some magic into your Tiverton itinerary!
Map: 
7. Visit St. Peter's Church
St. Peter's Church is a must-visit attraction for history and architecture enthusiasts in Tiverton. This historic church boasts stunning Gothic Revival architecture with intricate details and impressive stained glass windows that are sure to leave you in awe.
As you step inside the church, take a moment to appreciate its peaceful atmosphere. The ambiance of this sacred place creates an ideal setting for quiet reflection and meditation, making it perfect for those seeking some solace from the hustle-bustle of everyday life.
The church has a long-standing history that dates back to the 12th century when it was originally built as a chapel dedicated to St. Peter. Since then, it underwent several renovations over time but still retains its original charm and character.
One notable feature of St. Peter's Church is its bell tower that offers breathtaking panoramic views of Tiverton town center from the top. It's worth taking the stairs up to get a glimpse of this picturesque view.
Visiting St. Peter's Church is more than just exploring local attractions; it's also about discovering Tiverton's rich cultural heritage through one of its oldest surviving buildings – which makes it an essential addition to your Tiverton itinerary!
Map:
8. Tiverton Pannier Market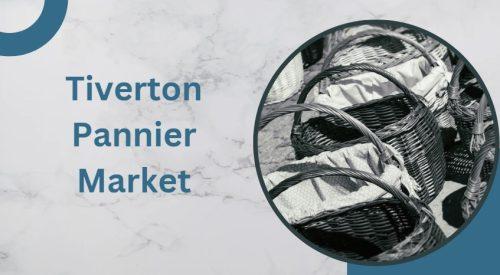 Tiverton Pannier Market is a must-visit for anyone looking to experience the local culture of Tiverton. Located in the heart of this charming market town, this vibrant and bustling market has been a part of Tiverton's history since medieval times.
Here you can find an amazing variety of stalls selling fresh produce from local farms, handmade crafts, antiques, vintage items and unique souvenirs that cannot be found anywhere else. It's easy to spend hours browsing through all the stalls and discovering hidden gems.
The friendly vendors are always willing to chat with visitors about their wares, giving insights into their products' origins or stories behind them. Whether you're looking for something specific or just want to window shop while enjoying the lively atmosphere around you, there is something here for everyone at Tiverton Pannier Market.
If you're feeling peckish after all your exploring, stop by one of the food stands offering delicious snacks like freshly baked pastries or traditional Devonshire cream teas. A visit to Tiverton Pannier Market is truly an authentic cultural experience that should not be missed!
Map: 
9. Tiverton Canal Co
If you're looking for a unique way to explore the Grand Western Canal, be sure to check out Tiverton Canal Co. This company offers boat trips that allow you to take in the beautiful scenery while learning about the canal's fascinating history and wildlife.
The boats used by Tiverton Canal Co are both comfortable and traditional, providing an authentic experience of cruising along this historic waterway. As you travel through tranquil waters surrounded by stunning countryside, your knowledgeable guide will share interesting facts about the canal's construction and its importance in transporting goods during the Industrial Revolution.
But it's not just history that makes these boat trips so special. The Grand Western Canal is also home to a variety of wildlife, including otters, kingfishers, and even rare bird species such as reed warblers. With luck on your side, you might spot some of these creatures as they go about their daily business.
A boat trip with Tiverton Canal Co is an unforgettable experience that combines education with relaxation. So why not pack a picnic lunch and spend an afternoon exploring one of Devon's most picturesque locations?
Map:
10. Tiverton Town Centre
Tiverton Town Centre is a bustling hub of activity in the heart of Tiverton. As you take a stroll through this charming market town, make sure to explore the local shops, cafes, and restaurants lining the streets. You'll find everything from artisanal bakeries to vintage boutiques.
If you're looking for a bite to eat, there are plenty of options available in Tiverton Town Centre. From traditional English pubs serving hearty meals to trendy cafes offering lighter fare, you're bound to find something that suits your tastes.
As you wander through the town centre, be sure to keep an eye out for some of its historic landmarks. The Old Blundell's School building is one such example – built in 1604, it's still standing today and has been converted into apartments.
Tiverton Town Centre offers visitors a chance to experience traditional English market town life at its best. With plenty of interesting sights and delicious food options on offer, it's definitely worth taking some time out of your day trip or weekend getaway itinerary to explore this vibrant area.
Map:
Conclusion
Tiverton is a charming town with plenty of activities and attractions to enjoy. From exploring historic castles and churches to taking peaceful walks along scenic canals, there's something for everyone in Tiverton.
Whether you're a history buff or nature lover, Tiverton has it all. The town offers a unique blend of natural beauty and cultural heritage that makes it an ideal destination for tourists looking for a relaxing getaway.
So pack your bags, head down to Tiverton, and explore all that this wonderful town has to offer. You won't be disappointed!
Related Articles: