Nestled in the heart of Somerset, Bridgwater is a charming town steeped in history and culture. From exploring ancient castles to experiencing bustling markets, there's something for everyone to enjoy. Whether you're a local looking for some new adventures or a visitor seeking to discover the best things to do in Bridgwater, we've got you covered. Join us on an exciting journey as we explore the top attractions and activities that this vibrant town has to offer!
Best Things to Do in Bridgwater – Top 10
1. Visit Blake Museum
Website: http://www.bridgwatermuseum.org.uk/
If you are a history buff, Blake Museum is the perfect place to start your Bridgwater adventure. Located in the high street of the town, it's easy to access and offers an intriguing glimpse into its rich past.
The museum houses a wide range of exhibits that showcase Bridgwater's heritage, including rare artifacts, documents, and memorabilia dating back centuries. From ancient coins to vintage photographs, there's something for everyone here.
Visitors can explore various galleries dedicated to different aspects of local life such as industry and commerce or domestic living. Each exhibit tells a story about how this charming town has evolved over time.
One particularly fascinating display is the reconstruction of an old Apothecary shop which takes visitors back in time when medicine was much simpler than today but equally effective in treating diseases like cholera or smallpox.
If you want to delve deeper into Bridgwater's fascinating history and discover how this town has stood through thick and thin over centuries- visiting Blake Museum should definitely be on your list!
Map:
2. Take a stroll in King's Square
King's Square is the perfect spot to unwind and enjoy the ambiance of Bridgwater. This historic public square located in the heart of town offers a charming atmosphere that attracts visitors from all over.
The square features beautiful greenery, benches for seating, and a central fountain that adds to its charm. Whether you're looking for some alone time or want to spend quality time with friends and family, King's Square can cater to your needs.
In addition to being a great place to relax, King's Square is also an ideal location for people-watching. You can observe locals going about their daily routines or catch glimpses of tourists exploring the area.
If you're lucky enough, you might even come across live performances by street performers or local musicians in the square. It adds another layer of entertainment that makes King's Square one of Bridgwater's must-visit attractions.
Taking a stroll in King's Square is an experience like no other. The serene setting combined with ample opportunities for entertainment make this spot worth adding to your itinerary while visiting Bridgwater.
3. Discover Bridgwater Castle
Bridgwater Castle is a fascinating piece of history that shouldn't be missed during your visit to Bridgwater. Although the best castle is mostly in ruins, it still offers visitors an insight into its past and architectural features.
The castle dates back to the 12th century and played a significant role in English history. It was originally built as a motte-and-bailey-style fortress by William Briwere, who was granted Bridgwater by King Henry II.
During the reign of King John, Bridgwater Castle became an important royal stronghold due to its strategic location near several major travel routes. The castle was heavily fortified with walls, towers and gates for protection.
Today, visitors can explore the remains of this once great fortress which include parts of the gatehouse and sections of wall. The architecture alone makes it worth visiting!
You can also learn about some interesting facts related to Bridgwater Castle while you're there. For example, did you know that Oliver Cromwell's forces captured and damaged the castle during the Civil War?
Make sure not to miss out on discovering this historical gem!
Map: 
4. Go for a walk along the River Parrett
Bridgwater is a town that boasts some beautiful natural scenery, and one of the best places to experience this is along the River Parrett. Take a leisurely stroll along its banks and soak up the tranquility of your surroundings.
As you walk, keep an eye out for local wildlife such as swans, ducks, and even otters if you're lucky! The river provides a habitat for many species of birds and animals, making it an ideal spot for nature lovers.
The surrounding countryside is also stunning, with rolling hills and verdant fields stretching into the distance. You can't help but feel relaxed as you wander alongside the gentle flow of water.
If you're feeling more adventurous, why not hire a canoe or kayak? Paddle your way downriver and explore parts of Bridgwater that are only accessible by boat.
Whatever pace you choose to set on your walk along the River Parrett, make sure to take in all its beauty. It's easy to see why this peaceful spot has become so popular with visitors over time.
Map:
5. Attend the Bridgwater Guy Fawkes Carnival
If you're visiting Bridgwater in November, there's one event that you absolutely cannot miss: the Guy Fawkes Carnival. This annual procession is known for its spectacular floats and dazzling fireworks display that light up the night sky.
The carnival has been a tradition in Bridgwater since the 1600s when local residents began celebrating the failed Gunpowder Plot of 1605. Today, it's one of the largest illuminated processions in the world, drawing crowds from all over to witness this incredible spectacle.
As you watch the parade of colorful floats and intricate costumes pass by, you'll be swept up in the excitement and energy of this lively event. The atmosphere is electric as music fills the air and people cheer on their favorite entries.
But perhaps most impressive are the fireworks that follow at nightfall. The sky explodes with vibrant colors as rockets soar into the air, creating an unforgettable display that will leave you breathless.
Attending Bridgwater Guy Fawkes Carnival is truly a once-in-a-lifetime experience that should not be missed if you have a chance to visit during November. So mark your calendars now and prepare for an evening full of wonder and amazement!
Map: 
6. Explore the Somerset Brick and Tile Museum
Website: https://swheritage.org.uk/our-sites/somerset-brick-and-tile-museum/
The Somerset Brick and Tile Museum is a must-visit for those interested in the history of Bridgwater's brick and tile industry. The museum offers visitors an opportunity to explore the traditional methods of brickmaking, as well as see various exhibits related to this important local industry.
One of the highlights of the museum is its collection of old tools and equipment used by craftsmen in their daily work. This includes everything from wooden molds and wire cutters to firing kilns and brick presses. Visitors can learn about how these tools were used to produce bricks, tiles, roof slates, pipes, pots, pans, and other pottery products.
In addition to its extensive collection of artifacts and exhibits, the museum also provides informative guided tours that offer insights into different aspects of Bridgwater's brick-making heritage. These tours are interactive experiences that allow visitors to engage with experts on site who will answer any questions they may have.
A visit to the Somerset Brick and Tile Museum is both educational and entertaining. It provides a unique glimpse into what life was like for those who worked in Bridgwater's once-thriving brick-making industry while showcasing some truly fascinating artifacts along with traditional methods still being practiced today.
Map: 
7. Visit St. Mary's Church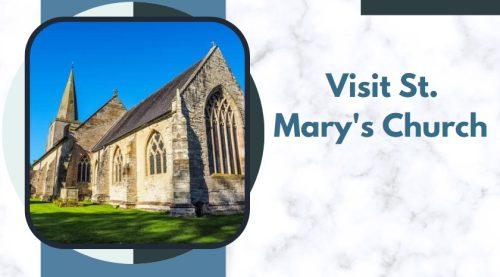 St. Mary's Church is a must-visit attraction for anyone interested in historic architecture or religious art. This beautiful Anglican church boasts stunning stained glass windows that are among the most impressive in the region, and visitors can enjoy a peaceful atmosphere while admiring them.
The church dates back to the 14th century and has been beautifully preserved over the years, making it a true gem of Bridgwater. The intricate stonework on both its exterior and interior is sure to impress even those who aren't particularly interested in history or architecture.
One of the highlights of St. Mary's Church is undoubtedly its collection of stained glass windows, which feature intricate designs depicting various scenes from biblical stories. These colorful works of art are truly breathtaking and add an extra layer of beauty to an already stunning building.
Visitors can take their time exploring St. Mary's Church, taking in all its unique features at their own pace. Whether you're looking to learn more about local history or simply appreciate some beautiful artwork, this historic church is not to be missed during your visit to Bridgwater.
Map: 
8. Enjoy a performance at The McMillan Theatre
Website: https://mcmillantheatre.com/
The McMillan Theatre is one of the best places to catch a show or a concert in Bridgwater. The contemporary venue hosts an array of performances, ranging from theater and music to dance and comedy. With state-of-the-art facilities, comfortable seating, and excellent acoustics, The McMillan Theatre promises an unforgettable experience for all.
Whether you're a fan of classical music or modern dance, you'll find something that suits your taste at The McMillan Theatre. The venue attracts local talent as well as renowned artists from around the world, making it a cultural hub in Bridgwater.
One of the highlights of The McMillan Theatre is its diverse programming that caters to all ages and interests. From family-friendly productions during school holidays to thought-provoking plays by emerging playwrights, there's always something new and exciting happening here.
If you're looking for entertainment options beyond cinema halls or pubs, then catching a performance at The McMillan Theatre should be on top of your list. You'll get to experience live art up close while supporting local arts organizations – truly making it one of the best things to do in Bridgwater!
Map:
9. Shop at Cornhill Market
Cornhill Market is a must-visit destination for all shopaholics and foodies visiting Bridgwater. This bustling best market offers a range of local produce, crafts, and other goods that are unique to the region. The market has been around since the 12th century and is steeped in history.
Here you can find everything from fresh fruits and vegetables to handmade jewelry, clothing items, pottery, and more. Whether you're looking for souvenirs or gifts for loved ones back home, Cornhill Market has got you covered.
One of the highlights of this market is undoubtedly its selection of regional delicacies. You can sample some delicious local cheeses, jams, chutneys, meats, breads – all made using traditional methods with locally sourced ingredients.
The atmosphere at Cornhill Market is lively and vibrant with friendly vendors who are happy to chat about their products. It's not just about shopping; it's an experience that shouldn't be missed when visiting Bridgwater.
So come along to Cornhill Market where you'll discover an eclectic mix of sights sounds smells tastes textures – all waiting for your senses to explore!
Map:
10. Take a day trip to the Quantock Hills
The Quantock Hills are a must-visit destination for nature lovers looking to escape the hustle and bustle of Bridgwater. Just outside town, this Area of Outstanding Natural Beauty boasts breathtaking views, scenic walks, and cycling routes that will leave you in awe.
Whether you're an experienced hiker or just seeking a leisurely stroll, the Quantocks offer trails suitable for all levels. Follow the Coleridge Way through ancient woodland and heathland or take on the challenge of climbing up Cothelstone Hill for panoramic views over Somerset.
For cyclists, there are plenty of routes worth exploring. The hills may pose a challenge but with stunning scenery as your reward at every turn it is definitely worth it!
If you want to make the most out of your day trip then pack a picnic lunch along with some snacks because once you get started exploring these natural gems which have been protected since 1951 by law – time flies!
With its rolling hills covered in heather and gorse, babbling brooks meandering through valleys carved out by glaciers from long ago – there's no better way to experience nature's beauty than spending time outdoors.
So if you're looking for something different during your stay in Bridgwater why not head out towards The Quantocks? You won't be disappointed!
Map:
Conclusion
Bridgwater has a rich history and offers plenty of activities for tourists to enjoy. From exploring the local heritage at the Blake Museum and St. Mary's Church to taking leisurely walks along the River Parrett, there is something for everyone in this charming town.
Don't miss out on attending the Bridgwater Guy Fawkes Carnival or catching a show at The McMillan Theatre. And if you have some extra time, take a day trip to the stunning Quantock Hills.
Whether you're interested in history, culture, or simply want to relax and soak in the atmosphere, Bridgwater won't disappoint. So pack your bags and head over to discover all that this wonderful town has to offer!
Related Article: