If you're a fan of Indian cuisine and in search of the best restaurants in South West London, then look no further! We've compiled a list of the top 9 places to satisfy your cravings for authentic flavours and spices. From family-run establishments to Michelin-starred chefs, these restaurants are sure to impress with their mouth-watering dishes and welcoming ambience. So get ready to tantalize your taste buds as we take you on a culinary journey through some of the finest Indian eateries in South West London.
Best Indian Restaurants in South West London – Top 9
1. Salloos 
Website: www.salloos.co.uk
Salloos have been a staple in Belgravia since 1976, offering some of the best Pakistani and Indian cuisines in London. This family-run restaurant prides itself on serving high-end authentic dishes that keep customers coming back for more.
Located just a stone's throw away from Hyde Park, Salloos boasts a peaceful location on a Knightsbridge side street. Though it may be easy to miss, don't let its unassuming exterior fool you – the food is nothing short of exceptional.
Their Tandoori Lamb Chops are cooked to perfection with tender meat falling off the bone and packing plenty of flavour. The Chicken Shish Kebab is another standout dish with succulent pieces of chicken skewered and grilled to perfection. And let's not forget their Chicken Karahi – rich, spicy and bursting with aromas that will tantalize your taste buds.
Salloos' menu offers an array of other mouth-watering options that cater to all dietary preferences including vegetarian and gluten-free choices. With friendly service and unbeatable flavours, Salloos is definitely worth checking out if you're seeking an unforgettable dining experience in South West London.
Map:
2. Pure Indian Cooking 
Website: www.pureindiancooking.com
PURE Indian Cooking is a hidden gem in the heart of Fulham. The husband and wife team behind the restaurant have brought their experience working with prestigious brands such as Taj Group and Michelin-starred restaurants to create an exceptional dining experience.
From the moment you step into PURE Indian Cooking, you are welcomed with warmth and hospitality that makes you feel right at home. The menu offers a range of authentic and refined dishes that showcase the best of Indian cuisine.
One standout dish is their signature tandoori lamb chops, cooked to perfection for a melt-in-your-mouth taste sensation. Another must-try is their chicken shish kebab, marinated overnight in aromatic spices and grilled over charcoal for an irresistible smoky flavour.
What sets PURE Indian Cooking apart from other Indian restaurants in South West London is its attention to detail and commitment to using only fresh ingredients in every dish. Whether you're looking for a romantic date night or a family dinner out, this local restaurant has something special for everyone.
So why not visit PURE Indian Cooking today? You won't regret indulging your taste buds with some of the finest food around!
Map:
3. Kutir 
Website: www.kutir.co.uk
Kutir is a restaurant that promises to transport you to a time of magnificent wildlife, abundant forestry and deep human connection. The chefs craft unique dishes on a daily basis, taking inspiration from the stories of India's wildlife and countryside. Kutir's owners Rohit Ghai and Abhishake Sangwan have led some of this country's most decorated establishments – earning them accolades such as Michelin stars.
Their first solo project, Kutir draws influence from their early careers working in luxury properties nestled away in India's forestry. It promises a place of escapism and discovery for everyone who visits.
The dining experience at Kutir is truly one-of-a-kind. From the moment you step into the restaurant, you are transported to an era where innovation with ingredients was paramount. The attention to detail in every aspect – from decor to food presentation – creates an immersive experience that truly transports guests back in time.
Kutir's menu features North Indian cuisine with modern twists, showcasing the chefs' creativity with ingredients while maintaining authenticity. The selection includes vegetarian options as well as meat-based dishes like lamb chops and venison kebabs.
Stepping into Kutir means leaving behind the hustle and bustle of everyday life for an evening filled with unique culinary experiences inspired by India's rich heritage and natural beauty.
Map:
4. Tangawizi 
Website: www.tangawizi.co.uk
Tangawizi, nestled in the charming area of East Twickenham near Richmond Bridge, has quickly become a favourite among discerning locals. It also becomes a popular attraction for tourists. With a chef who comes highly recommended by Vineet Bhatia himself, you know you're in for an exceptional dining experience.
Upon entering the restaurant, guests are greeted with an elegant atmosphere featuring saffron and blackberry lighting and beautiful sari fabric details on the tables. The menu offers an array of authentic North Indian dishes that strike the perfect balance between tradition and innovation.
Londoners will appreciate Tangawizi's commitment to using only fresh ingredients and minimal oil in their creations. Start your meal off right by sharing a mixed platter of appetizers showcasing the variety of flavours this establishment has to offer. You might then indulge in one of their signature dishes such as spicy marinated red snapper served with cheddar and Parmesan risotto – don't forget to order one of their delightful dahls as well.
At Tangawizi, attentive service from waitstaff dressed in traditional attire further enhances your dining experience, making it an all-around winning choice for Indian cuisine enthusiasts in South West London.
Map:
5. Indian Room Balham 
Website: www.indianroom.co.uk
Indian Room Balham is a hidden gem located in the heart of London's bustling Balham area. The restaurant boasts a modern, glass-fronted exterior and serene white interiors complete with candlelight that creates the perfect romantic ambience for couples.
What sets Indian Room apart from other Indian restaurants in South West London is their health-conscious approach to cooking. They use minimal oil, ensuring that every dish is light yet incredibly flavorful. But despite this healthy twist, they never compromise on taste!
The menu features several unique dishes that are exclusive to Indian Room and are well worth trying out if you're looking for something different. Among them is the delightful apricot chicken Kashmir which will leave your taste buds tingling with its sweet and savoury flavours.
For those who love traditional favourites, Indian Room's all-time favourites include chicken madras and super-hot chicken vindaloo – two must-try dishes! These classics are consistently ordered by regulars who appreciate their authentic flavours.
Indian Room offers an exceptional dining experience with outstanding service alongside delicious food. So why not come by today with your partner or loved one? You'll be sure to have a memorable time at this popular local restaurant.
Map:
6. Chai Thali Fulham (Your Local Indian Kitchen)
Website: www.chaithali.com
Chai Thali Fulham is an intimate Indian restaurant that offers a delightful culinary experience for anyone who loves authentic Indian street food. Nestled in a leafy corner close to the River Thames, it's situated perfectly for those on their way to or from Parsons Green and Fulham Broadway.
This quaint little restaurant has quickly become a favourite among locals and visitors alike due to its sumptuous menu offerings. Each dish is prepared with fresh ingredients and bursting with flavour, giving diners an unforgettable taste of India.
The ambience at Chai Thali Fulham is cosy and inviting, making it the perfect spot for date night or dinner with friends. The staff are friendly and accommodating, ensuring that every diner feels welcome as soon as they walk through the door.
Whether you're craving something spicy or sweet, there's something on the menu to suit everyone's tastes. From traditional dishes like samosas and biryanis to more contemporary fusion options like chicken tikka tacos, Chai Thali Fulham has it all.
If you're looking for an authentic Indian dining experience that won't break the bank, look no further than Chai Thali Fulham – your local Indian kitchen!
Map: 
7. Little India 
Website: www.littleindialondon.com
Located in the heart of South West London, Little India is a must-visit restaurant for anyone who loves freshly cooked Indian food. Their dishes are not only delicious but also authentic and full of flavour, impressing diners with every visit.
The chefs and the culinary team at Little India are highly experienced and have won numerous awards for their exceptional cuisine. You can be sure that each dish is prepared with care, using only the best quality ingredients.
From classic curries to mouth-watering tandoori dishes, there's something for everyone on the menu. And if you're vegetarian or vegan, they've got plenty of options too!
Not only does Little India offer amazing food, but they also provide a welcoming atmosphere and attentive service that will make your dining experience unforgettable. Whether you're celebrating a special occasion or just want to enjoy a night out with friends or family, this restaurant is definitely worth checking out.
So why not head over to Little India today and experience some of the best Indian food in London? We guarantee it'll be an experience you won't forget!
Map:
8. Holy Cow Restaurant & Bar
Website: www.holycowonline.com
At Holy Cow Restaurant & Bar, it's all about the taste. From style and quality to creativity and refinement, their emphasis on using only the finest quality ingredients is what sets them apart. The experienced chefs at Holy Cow expertly combine these fresh ingredients to create truly exquisite dishes that are fit for a Maharajah.
But what really makes this restaurant special is its unique blend of creativity and authenticity. While staying true to traditional Indian cuisine, they also infuse new ideas and innovative flavours into each dish. It's this combination of old and new that keeps diners coming back for more.
With an extensive menu featuring everything from classic curries to modern twists on old favourites, there's something for everyone at Holy Cow Restaurant & Bar. And with each dish beautifully presented and executed with precision, it's clear why this restaurant has become a top choice for those seeking high-quality Indian cuisine in South West London.
So if you're looking for a dining experience that combines tradition with innovation in every bite, look no further than Holy Cow Restaurant & Bar.
Map:
9. Haandi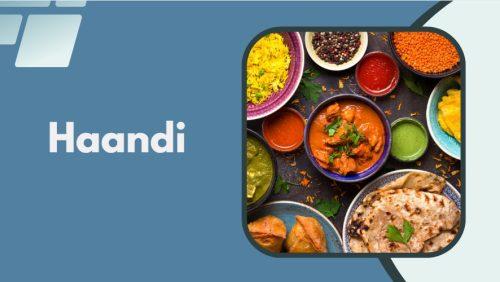 Website: www.haandirestaurants.com
Haandi is a restaurant that takes pride in its unique approach to Indian cooking. The London-based chefs are first trained in Nairobi by Mr Mullick himself, and each masala is freshly prepared every morning. This dedication to freshness and quality ensures that every dish served at Haandi bursts with flavour.
Specialising in North Indian Frontier cuisine, the spices and herbs used are selected not only for their subtlety of flavours but also for their health-giving properties. Whether you're looking for fish, shellfish, chicken, meat or an extensive vegetarian selection – Haandi has it all.
The team at Haandi understand that catering goes beyond simply providing delicious food; it's about creating a memorable experience. That's why they offer bespoke menus to cover every aspect of outside and event catering – from canapés to formal silver service banquets.
One of the standout features of Haandi is their portable Tandoor which allows them to re-create some of the world's greatest barbequed foods at your event. It adds an element of excitement and diversity to any gathering.
If you're looking for top-notch Indian cuisine with a unique twist, look no further than Haandi. Their commitment to quality ingredients, fresh preparation methods and exceptional service make them one of the best options in South West London.
Map:
Conclusion
There you have it, our top 9 Indian restaurants in South West London that offer a delectable array of authentic and contemporary Indian cuisine. Each restaurant has its unique style and ambience, but all share one common goal – to provide their guests with an unforgettable culinary experience.
Whether you're looking for a family-friendly atmosphere or a romantic setting, these restaurants are sure to satisfy your craving for delicious food. So why not try them out and discover the best Indian restaurants that South West London has to offer? Trust us; your taste buds will thank you!