Looking for some fun and exciting family days out in South West England? Look no further! From stunning botanical gardens to picturesque countryside walks, the South West has something to offer everyone. Whether you're looking to explore historical sites or get up close with exotic animals, we've got you covered. So pack up the car, grab the kids (and the dog!), and let's embark on a journey filled with adventure and memories that will last a lifetime.
Best Family Days Out South West England
1. Visit the Eden Project in Cornwall
The Eden Project in Cornwall is a must-visit for families looking to explore the beauty of nature. This botanical garden boasts two giant biomes that house an impressive collection of plants from all over the world, making it a perfect spot for learning about biodiversity.
Not only is it stroller-friendly, but there is also plenty of rest stops along the way where you can relax and take in the stunning surroundings. What's more, dogs are welcome on leads – so even your furry friends can enjoy this magnificent site!
If you're worried about your dog getting thirsty during your visit, don't be! The Eden Project provides a dog watering station to ensure they stay hydrated throughout their visit. So grab some snacks and drinks from one of the many eateries available on-site and spend quality time with your loved ones while enjoying nature at its finest.
2. Explore the Cotswolds
The Cotswolds is a breathtakingly beautiful area of southwest England that offers stunning scenery, picturesque villages, and plenty of outdoor activities. It's perfect for families looking to escape the hustle and bustle of city life and enjoy some quality time together.
The area is renowned for its walking trails, which range from gentle strolls through fields and meadows to more challenging hikes up hills and along ridges. There are routes suitable for all ages and abilities, so you're sure to find something that suits your family.
Along the way, you'll come across charming pubs with gardens where kids can play while adults relax with a pint or two. Many cafes also offer child-friendly menus and facilities like high chairs.
Grandparents will appreciate the quaint architecture of the villages in the Cotswolds as they take leisurely walks around town squares or browse local shops filled with artisanal goods. The honey-coloured stone buildings are simply enchanting.
If you have a dog, there are plenty of pet-friendly accommodations in the area, so Fido won't have to miss out on any fun, either! Whether it's exploring country lanes or settling down for lunch at one of many dog-friendly pubs scattered throughout this idyllic region – there is always something new waiting around every corner when visiting The Cotswolds!
3. Visit Bristol Zoo Gardens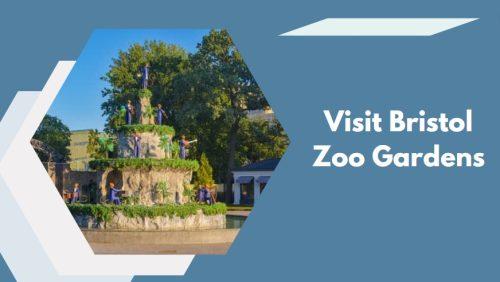 Bristol Zoo Gardens is a fantastic destination for animal lovers of all ages. With over 400 species, including lions, gorillas and penguins, there's something for everyone to enjoy. The zoo also has several hands-on exhibits where visitors can learn more about the animals and their habitats.
For families with young children, the playground area is a must-visit. It's an excellent opportunity for kids to burn off some energy while parents take a break or grab a snack at one of the cafes on-site.
Unfortunately, dogs aren't allowed inside the zoo itself. However, if you're travelling with your furry friend in tow, don't worry! There's a dog park adjacent to the zoo where they can play while you explore Bristol Zoo Gardens.
Bristol Zoo Gardens is well worth a visit when exploring South West England. Whether you're interested in learning more about exotic animals or just looking for an exciting day out with family and friends, this zoo will not disappoint.
4. Take a Trip to Longleat Safari Park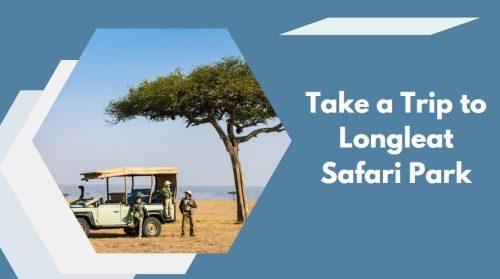 Longleat Safari Park is a must-visit attraction for animal lovers and families looking for an unforgettable day out in the South West. Located in Wiltshire, this safari park houses a diverse range of animals, including tigers, lions and giraffes.
One of the highlights of Longleat Safari Park is its unique drive-through experience, where you can get up close and personal with the animals as they roam free around your car. You'll see everything from monkeys climbing on your roof to majestic lions strolling alongside your vehicle.
In addition to the safari drive, visitors can also explore many other attractions within Longleat's sprawling grounds. The park boasts a beautifully designed maze that will keep children (and adults!) entertained for hours, as well as a playground packed with fun activities such as slides and swings.
For those wanting to cool off on hot days, there's even a lake where you can take boat rides while admiring stunning views of the surrounding countryside.
While dogs are not allowed inside the safari park itself due to safety reasons, they are welcome to join their owners in walking through the beautiful grounds outside. So why not pack up some snacks and drinks for both two-legged and four-legged family members and head down to Longleat Safari Park for an adventure-filled day out?
5. Visit the Roman Baths in Bath
The Roman Baths in Bath offer a glimpse into the rich history of England. The site is an excellent educational opportunity for children, but adults will also appreciate the fascinating exhibits.
The main attraction is, of course, the ancient Roman bathhouse that has been preserved and restored over time. Visitors can walk around the baths and admire their intricate architecture while learning about daily life during Roman times.
One highlight of visiting the Roman Baths is undoubtedly seeing the steaming water from Britain's only hot spring gush out at 46 degrees Celsius. This natural phenomenon has been occurring for thousands of years and continues to draw visitors from all over.
While dogs are not allowed inside the actual baths themselves, they can still accompany you on your visit to this historical attraction. You can take them for a stroll through nearby Victoria Park or Parade Gardens, where they are welcome on leads.
If you're looking for a unique family day out in South West England that combines history and education with beautiful surroundings, then be sure to pay a visit to The Roman Baths in Bath.
6. Visit the National Marine Aquarium in Plymouth
The National Marine Aquarium in Plymouth is a must-visit destination for families exploring the South West. The aquarium houses an incredible range of marine life, from majestic sharks to colourful jellyfish and friendly turtles. You can spend hours here watching these fascinating creatures swim around their tanks.
But that's not all! The interactive exhibits bring the ocean to life with engaging displays and activities for children of all ages. Younger kids will especially love the soft play area where they can climb, slide, and explore to their hearts' content.
While dogs are not allowed inside the aquarium itself, there are kennels available outside, so you don't have to leave your furry friend behind while you enjoy this exciting attraction.
Visiting the National Marine Aquarium in Plymouth makes for an educational and entertaining family day out that everyone will enjoy.
7. Explore the Tamar Valley
The Tamar Valley is a stunning area in the South West of England that is perfect for a family day out. It straddles the border between Cornwall and Devon, offering beautiful views and plenty of opportunities for outdoor activities.
If you love walking, cycling or horse riding, then this is definitely the place for you! There are many trails to explore in the valley, ranging from easy strolls to more challenging hikes. You can also rent bikes or horses if you prefer.
The best part about exploring the Tamar Valley as a family is that pets are welcome in many areas. So why not bring your furry friend along on your adventure? Just make sure to keep them on a leash and clean up after them.
As you walk or ride through the valley, take time to appreciate its natural beauty. The Tamar River flows through it, creating peaceful waterways and breathtaking scenery. Keep an eye out for wildlife, too – you might spot some rare birds or animals!
There are also plenty of historical landmarks to discover in the Tamar Valley, including ancient mines and heritage sites. This makes it an educational day out as well as an enjoyable one.
Exploring the Tamar Valley offers something for everyone – whether you're looking for exercise, nature appreciation or cultural enrichment!
8. Visit the Jurassic Coast
The Jurassic Coast is a must-visit destination for families looking for adventure and natural beauty. The coastline stretches over 95 miles, offering plenty of opportunities to explore the stunning beaches and rugged cliffs.
One of the highlights of visiting the Jurassic Coast is fossil hunting. The area has a rich geological history, with fossils dating back millions of years. Kids will love scouring the beach for ancient treasures, while adults can appreciate the unique landscape and learn about its scientific significance.
In addition to fossil hunting, there are many other activities to enjoy along the coast. Beachcombing is popular among visitors, as you never know what you might find washed up on shore. Walking and cycling are also fantastic ways to take in beautiful scenery at your own pace.
Many of the beaches in this area welcome dogs, making it an ideal destination for pet owners who want to include their furry friends on their family days out. However, it's always best to check beforehand which areas allow dogs so that everyone can have a safe and enjoyable experience.
If you're looking for an unforgettable family day out filled with adventure and stunning natural beauty, be sure to add a visit to Dorset's Jurassic Coast to your itinerary!
9. Go on a Steam Train Ride
If you're looking for a unique and memorable family day out in the South West of England, why not take a ride on one of the region's many steam trains? The South Devon Railway and West Somerset Railway are just two examples of lines that offer an enjoyable experience for all ages.
Step back in time as you board these historic trains, complete with vintage carriages and charming locomotives. The rhythmic chug of the engine is sure to delight train enthusiasts, young and old alike.
As well as enjoying the journey itself, there are often plenty of additional activities on offer at stations along the line. Take a wander around restored platforms or indulge in some traditional refreshments from one of the onboard cafes.
And don't forget your furry friend – many steam railways welcome dogs on board (although it's always best to double-check before you go). So grab your tickets, hop aboard, and enjoy a nostalgic day out with all members of your family!
10. Go to the Beach
Let's not forget about the stunning beaches – a perfect way to relax and unwind after a day full of adventure. So pack your bags, bring your furry friend along if possible and get ready for an unforgettable experience in one of the most beautiful regions of the UK! Just remember to check beforehand if dogs are allowed on certain areas of the beach so that you can fully enjoy your seaside holiday without any disappointment.
Conclusion
To sum up, the South West of England is a fantastic destination for families looking for fun and exciting days out. From exploring historical sites to visiting zoos and mesmerizing aquariums, there are plenty of activities that will keep everyone entertained. The beautiful countryside also provides ample opportunities for walks and outdoor adventures with pets. So pack your bags, grab your family and pets, and head off to explore all that the South West has to offer!