Welcome to the vibrant city of Glasgow, where culture, history, and charm converge. If you're looking for an unforgettable experience filled with unique activities and attractions, you've come to the right place! From exploring centuries-old cathedrals to strolling through lush gardens, Glasgow offers a plethora of things to do that will captivate your senses and leave lasting memories. So pack your bags and get ready for an adventure as we dive into the top must-see destinations in this Scottish gem. Whether you're a history buff, art aficionado, or just someone who appreciates good whisky (who doesn't?), there's something here for everyone. Let's take a closer look at what this fantastic city has in store for us!
Best Things to Do in Glasgow – Ways to Have Fun
Things to Do in Glasgow with Kids
1. Visit the Glasgow Science Centre
At the Glasgow Science Centre, an exciting world of discovery awaits young minds. Step inside and be amazed by the interactive exhibits that bring science to life in a fun and engaging way. From learning about human anatomy to exploring the wonders of outer space, there's something here for every curious child.
One highlight of the Glasgow Science Centre is the planetarium, where kids can embark on a journey through the cosmos. Sit back and gaze up at a stunning display of stars as captivating shows transport you to distant galaxies and teach you about our vast universe.
For those seeking a bit more adventure, don't miss out on visiting the Glasgow Tower. This iconic structure offers breathtaking panoramic views over the city skyline. Kids will love riding in one of its rotating pods as they ascend high above Glasgow, taking in awe-inspiring sights from all angles.
What sets this place apart is its ability to combine education with entertainment seamlessly. Children can learn about scientific concepts through hands-on experiments and demonstrations that are both informative and loads of fun! Whether it's conducting their own chemistry experiments or understanding how electricity works, little ones will leave with newfound knowledge that sparks their curiosity even further.
So, if you're looking for an educational yet entertaining experience for your kids in Glasgow, make sure to visit the Science Centre. It promises a day full of wonderment where imaginations soar and new discoveries await around every corner.
2. Discover the Riverside Museum
When it comes to immersing your kids in the rich history of Glasgow's transportation, look no further than the Riverside Museum. This captivating museum is an absolute must-visit for families seeking a fun and educational experience.
Step inside and be transported back in time as you explore the impressive collection of vintage cars, trams, and even a majestic tall ship. Your little ones will be wide-eyed with wonder as they wander through decades of transportation history.
From sleek automobiles that once graced the city's streets to iconic trams that carried passengers across town, there is something here to captivate every member of the family. And don't forget about the towering tall ship! Let your children's imaginations run wild as they envision themselves exploring uncharted waters in days gone by.
The Riverside Museum offers more than just static displays – it brings history to life through interactive exhibits that engage young minds. Kids can climb aboard some of these magnificent vehicles or try their hand at operating old-fashioned ticket machines – providing them with a hands-on experience like no other.
So why not plan a visit to the Riverside Museum? It promises hours of entertainment and education for all ages. Uncover Glasgow's fascinating transportation past while creating lasting memories with your loved ones along the way.
3. Explore Kelvingrove Park
Nestled in the heart of Glasgow, Kelvingrove Park offers a perfect escape for families seeking some outdoor fun. With its sprawling green spaces and picturesque surroundings, this park is an ideal spot to spend a sunny day with your kids.
Pack a delicious picnic lunch and spread out on the grassy fields as you soak up the sunshine and enjoy quality time together. Let your little ones run wild in one of the play areas, where they can climb, swing, and slide to their heart's content.
But it doesn't stop there – Kelvingrove Park has something extra special to offer! Just a stone's throw away lies the renowned Kelvingrove Art Gallery and Museum. Step inside this architectural gem that houses an impressive collection of art and artefacts from around the world.
The museum often hosts family-friendly exhibitions that are both educational and engaging for young minds. From ancient Egyptian mummies to stunning Scottish landscapes by famous artists like Charles Rennie Mackintosh, there is plenty here to captivate children's imaginations.
Whether it's exploring nature or delving into art history, Kelvingrove Park provides endless opportunities for adventure with your kids. So pack up those sandwiches, grab some sunscreen, and head over to this delightful oasis in Glasgow – you won't be disappointed!
4. Have Fun at the Glasgow Botanic Gardens
Nestled in the heart of Glasgow, the Botanic Gardens is an oasis of tranquillity and beauty. A visit here is a must for families looking to immerse themselves in nature and enjoy some quality time together. As you stroll through the gardens, you'll be greeted by vibrant flowers, lush greenery, and a sense of serenity that will instantly relax both kids and adults alike.
One highlight of the Botanic Gardens is the Children's Play Area. With its swings, slides, and climbing frames, it offers endless fun for little ones. Watch as their faces light up with joy as they explore this whimsical play area.
For those looking to add a touch of magic to their visit, make sure to venture into the Kibble Palace glasshouse. Step inside this spectacular Victorian glasshouse adorned with exotic plants from around the world. The stunning architecture combined with a kaleidoscope of colours makes it a truly enchanting experience.
Parents can take advantage of this idyllic setting by packing a picnic lunch and finding a cosy spot in one of the many grassy areas available. Enjoy your meal amidst nature's embrace while creating lasting memories with your loved ones.
Whether you're seeking adventure or simply want to unwind surrounded by natural beauty, Glasgow Botanic Gardens has something for everyone. It's an ideal destination for families looking to escape city life for a few hours while immersing themselves in all that Mother Nature has to offer.
5. Experience the Glasgow Science Centre Planetarium
The Glasgow Science Centre Planetarium is a must-visit attraction for families with kids in Glasgow. Step inside and prepare to be amazed as you embark on a journey through the cosmos! The planetarium shows are truly captivating, immersing you and your little ones in the wonders of space.
Sit back and relax as the dome-shaped screen envelops you, transporting you to distant galaxies, stars, and planets. Your children will be awestruck by the stunning visuals and informative narrations that bring outer space to life right before their eyes.
With each show, they'll learn about different celestial bodies, and constellations, and even get a glimpse into what it's like to be an astronaut. It's not just educational; it's also incredibly entertaining!
In addition to the planetarium shows, there are various astronomical displays where your kids can explore hands-on exhibits related to space exploration. They can touch meteorites, learn about telescopes, or even try their hand at operating a robotic arm.
Visiting the Glasgow Science Centre Planetarium is an experience that will ignite curiosity in young minds while fostering a love for science and astronomy. It's sure to leave both kids and adults in awe of our vast universe! So why wait? Take your family on this cosmic adventure today!
Things to Do in Glasgow for Couples
1. Romantic Stroll along the River Clyde
Immerse yourselves in the beauty of Glasgow by embarking on a romantic stroll along the picturesque River Clyde. As you wander hand in hand, let the tranquil waters and stunning views spark a sense of serenity within you. The riverbank offers an idyllic setting for couples to escape the hustle and bustle of city life.
Take your time as you meander along, pausing to admire iconic landmarks such as the Clyde Arc Bridge or the historic Tall Ship at Riverside Museum. These architectural marvels provide a captivating backdrop against which your love story unfolds.
When hunger strikes, fear not! Glasgow's riverside cafes beckon with their cosy ambience and delectable treats. Sit down together, basking in each other's company while savouring a cup of steaming hot coffee or indulging in some mouthwatering pastries. The gentle breeze from the river complements these intimate moments perfectly.
As daylight begins to wane, watch as hues of orange and pink paint the sky during sunset. This magical sight creates an enchanting atmosphere that will surely ignite feelings of romance between you and your partner.
2. Candlelit Dinner at a Michelin-starred Restaurant
Glasgow is not only known for its vibrant cultural scene but also for its culinary excellence. If you're looking to impress your significant other with a romantic dinner, Glasgow's Michelin-starred restaurants are the perfect choice.
These dining establishments have earned their prestigious accolades by delivering exceptional food and service. The elegant ambience and attentive staff create an intimate atmosphere that sets the stage for a truly special evening. From candlelit tables to soft music playing in the background, every detail is carefully curated to enhance your dining experience.
Whether you prefer French cuisine, modern Scottish dishes, or international flavours, Glasgow's Michelin-starred restaurants offer a diverse range of options. Indulge in exquisite tasting menus crafted by talented chefs who take pride in showcasing seasonal ingredients at their best.
Impeccably presented dishes bursting with flavour will delight your taste buds as you savour each bite together. Pair your meal with a fine wine from an extensive selection and let the sommelier guide you through the perfect pairing choices.
A candlelit dinner at one of Glasgow's Michelin-starred restaurants promises more than just great food; it offers an opportunity to connect on a deeper level while enjoying world-class cuisine.
3. Visit the Glasgow Botanic Gardens
The Glasgow Botanic Gardens is a hidden gem nestled in the heart of the city. As you step inside, you'll be greeted by lush greenery and vibrant blooms that create a picturesque setting for couples seeking a romantic escape.
Take a leisurely stroll hand-in-hand through the various gardens, each offering its own unique charm. From the tranquil rose garden to the exotic tropical plants in the Kibble Palace, there's something here to capture every couple's imagination.
For those looking to indulge in some quiet moments together, find a secluded spot surrounded by nature and enjoy a picnic amidst the serene backdrop. Spread out your blanket under the shade of towering trees or relax on one of the benches overlooking colourful flower beds – either way, it's an idyllic setting for creating lasting memories.
If you're lucky enough to visit during one of their special events or exhibitions, you can even add another layer of enchantment to your visit. Imagine strolling hand-in-hand through an illuminated garden or immersing yourselves in art installations – it truly adds an extra touch of romance.
4. Attend a Live Music Performance
Glasgow is known for its vibrant and thriving live music scene, making it the perfect destination for a memorable date night. Whether you're into rock, jazz, or indie tunes, this city has something to offer every couple looking to have a great time.
From intimate venues to large concert halls, Glasgow is home to an array of music venues that host both local and international artists. Catching a live performance here means immersing yourself in the energy of the crowd and being swept away by the talent on stage.
If you're a fan of jazz music, be sure to check out some of Glasgow's jazz clubs. These cosy establishments often feature talented musicians who create an intimate atmosphere that's perfect for couples looking to enjoy a night out together.
For those who prefer more mainstream genres like rock or pop, Glasgow offers plenty of options as well. Many bands and artists include this vibrant city on their tour schedules, so you'll have no trouble finding a show that suits your taste.
Attending a live music performance in Glasgow is not just about enjoying great music; it's also about creating lasting memories with your partner. The shared experience of seeing your favourite band perform or discovering new talent can bring you closer together as you dance and sing along with the crowd.
5. Explore the West End
The West End of Glasgow is a vibrant and eclectic neighbourhood that offers something for every couple looking to explore. As you wander through its charming streets, you'll be captivated by the trendy shops, cosy cafes, and unique vintage boutiques that line the sidewalks.
Start your adventure by strolling along Byres Road, the main thoroughfare of the West End. Here, you'll find an array of independent retailers selling everything from fashion-forward clothing to one-of-a-kind home decor items. Take your time browsing through these stores hand in hand with your partner, discovering hidden gems along the way.
When hunger strikes, there's no shortage of options for a romantic meal or a quick bite to eat. From quaint coffee shops serving artisanal brews to stylish bistros offering mouthwatering cuisine, you'll be spoiled for choice in the West End. Enjoy a leisurely lunch at one of the many alfresco dining spots or indulge in an intimate dinner at a candlelit restaurant.
For those who appreciate history and architecture, don't miss out on exploring some of Glasgow's iconic landmarks in the area. The University of Glasgow stands as a majestic centrepiece with its stunning Gothic revival buildings and sprawling grounds perfect for picnics or simply soaking up some sun together.
In addition to shopping and dining experiences, immerse yourselves in cultural activities such as visiting art galleries showcasing local talent or catching a performance at one of the neighbourhood's theatres. The vibrant arts scene adds another layer of charm to this already enchanting part of town.
Things to Do in Glasgow with Toddlers
1. Play at Kelvingrove Park Playgrounds
Kelvingrove Park is a haven for families with toddlers, offering an array of play areas that are specifically designed to cater to their needs. As soon as you step foot into the park, your little ones will be greeted by a burst of excitement and laughter. The playgrounds here are like wonderlands, filled with colourful slides, swings, climbing frames, and sandpits – perfect for letting your toddlers burn off some energy!
One of the highlights at Kelvingrove Park is the toddler-friendly play area located near the bandstand. This space is thoughtfully created to provide a safe and enjoyable environment for younger children. From small slides to gentle swings and interactive play equipment, this particular section ensures that even the smallest adventurers can have a blast.
If your tots love water-related fun, they'll be thrilled with the splash pad located within Kelvingrove Park. On sunny days, they can splash around in various fountains and sprays while keeping cool under supervision.
The best part about these playgrounds? They are conveniently situated amidst beautiful green surroundings where parents can relax on benches or picnic blankets while keeping an eye on their little ones.
2. Visit Heads of Ayr Farm Park
Located just a short drive outside of Glasgow, the Heads of Ayr Farm Park is a must-visit destination for families with toddlers. This farm park is the perfect place to immerse your little ones in a world of animal encounters, play areas, and indoor attractions.
As soon as you step foot inside the park, your toddler will be thrilled by the wide range of animals on display. From friendly goats and sheep to adorable rabbits and guinea pigs, there are plenty of furry friends waiting to be petted and fed. Your child can even take part in bottle-feeding sessions or pony rides for an extra memorable experience!
In addition to the animal encounters, Heads of Ayr Farm Park offers fantastic play areas that are specifically designed with younger children in mind. Let your toddler's imagination run wild at Adventure Cove, an outdoor pirate ship playground complete with slides and climbing frames. If it's raining or too cold outside, head indoors to The Big Play Barn where your little one can bounce on trampolines or navigate through soft play structures.
3. Explore The Tall Ship at Riverside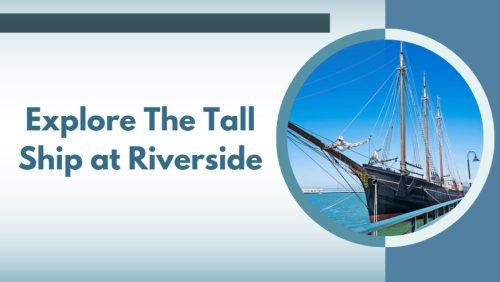 Nestled along the banks of the River Clyde, The Tall Ship at Riverside is a hidden gem that offers an unforgettable experience for toddlers and their families. Step aboard this magnificent historic ship and embark on an adventure like no other.
As you explore the different levels of the ship, your little ones will be captivated by all there is to see and do. With interactive exhibits designed specifically for young children, they can pretend to be sailors navigating through rough seas or become captains commanding their own vessels.
One of the highlights of visiting The Tall Ship at Riverside is the opportunity for hands-on learning. Toddlers can try their hand at tying knots or hoisting sails, all while discovering fascinating facts about maritime history. It's a wonderful way to inspire curiosity and imagination in young minds.
And don't forget to head up to the top deck! From here, you'll have stunning views of Glasgow's skyline and the river below. Your little adventurers will feel on top of the world as they peer out over this bustling city.
Whether it's raining or shining outside, The Tall Ship at Riverside provides endless entertainment for toddlers. Rainy day? No problem! Let them roam free inside this floating museum as they discover tales from Scotland's seafaring past.
4. Enjoy a Day at Gymboree Play & Music
Looking for a fun-filled day of play and music for your little one? Look no further than Gymboree Play & Music in Glasgow! This indoor play space is the perfect spot for young children to let their imaginations run wild. With classes and play sessions specifically designed for toddlers, it's an entertaining haven that will keep them engaged and active.
Step into Gymboree Play & Music and instantly be transported to a world of excitement. The brightly coloured walls, soft mats, and engaging toys create an inviting environment that toddlers will love. They can crawl, climb, jump, and explore to their heart's content.
But it's not just about free play at Gymboree Play & Music. They also offer structured classes led by experienced instructors who know how to make learning fun! From music classes where toddlers can sing along to catchy tunes to art sessions that encourage creativity, there's something for every interest.
The best part is that these classes are designed with age-appropriate activities in mind. Toddlers can socialize with other kids their age while developing essential skills like coordination, balance, communication, and problem-solving.
Gymboree Play & Music also understands the importance of sensory exploration in early childhood development. That's why they have dedicated areas where little ones can engage all their senses through hands-on activities like sand or water play.
5. Discover SEA LIFE Loch Lomond Aquarium
SEA LIFE Loch Lomond Aquarium is a must-visit spot for families with toddlers in Glasgow. This incredible aquarium offers a captivating experience where little ones can discover and learn about marine life in an interactive and engaging way.
As you step into the aquarium, your toddler will be amazed by the colourful fish swimming gracefully through the tanks. From clownfish to seahorses, there are plenty of fascinating creatures to observe and learn about.
One of the highlights for toddlers is undoubtedly the underwater tunnel. As they walk through this mesmerizing tunnel, they'll feel like they're immersed in an underwater world surrounded by sharks, rays, and other majestic sea creatures. It's an experience that will leave them wide-eyed with wonder!
The aquarium also offers educational talks and feeding demonstrations throughout the day, providing additional opportunities for learning and interaction. Your little one can even touch starfish or watch as divers feed some of the animals.
Things to Do in Glasgow with a Teenager
1. Visit the Glasgow Climbing Centre
If your teenager is an adrenaline junkie looking for some excitement, then a visit to the Glasgow Climbing Centre is a must! This indoor climbing facility offers a thrilling experience that combines physical challenge with mental strategy. With walls of various difficulties and heights, teens can push their limits and test their strength and agility.
Safety is always a top priority at the Glasgow Climbing Centre, so you can rest assured knowing that your teen will be in good hands. Trained instructors are available to guide them through the ropes (literally!) and ensure they have all the necessary equipment.
Indoor rock climbing not only provides an exhilarating workout but also fosters problem-solving skills as climbers strategize their way up the wall. It's a fantastic opportunity for teens to challenge themselves, build confidence, and improve coordination while having an absolute blast!
For those who prefer bouldering—a form of climbing without ropes—there are dedicated areas where they can tackle shorter walls or even attempt challenging overhangs. The sense of accomplishment when reaching new heights or conquering difficult routes is truly something special.
2. Explore Escape Rooms
Escape rooms have become a popular activity for people of all ages, and Glasgow offers a variety of exciting options to test your problem-solving skills and teamwork. These immersive experiences will transport you into different scenarios, where you must solve puzzles and find clues to escape within a set time limit.
One option is The Locked Door, located in the heart of Glasgow city centre. With multiple themed rooms to choose from, such as "The Lab" or "The Heist," each experience provides unique challenges that will keep you on your toes. You'll need to work together with your teenager to solve riddles, crack codes, and unravel mysteries.
Another great choice is Escape Reality Glasgow. This venue features an array of themed rooms inspired by movies like Jumanji and The Walking Dead. Step into these worlds with your teen and put your minds together to uncover hidden secrets and make it out before time runs out.
For those seeking more adrenaline-pumping adventures, try Tick Tock Unlock – Scotland's first live escape game company. Their intricate puzzles are designed to challenge even the most seasoned escapists! From solving murder mysteries to escaping a haunted mansion, there's something for every thrill-seeking teenager here.
Glasgow's escape rooms provide not only an entertaining experience but also an opportunity for families to bond while working towards a common goal.
3. Take a Street Art Tour
Glasgow's street art scene is a vibrant and ever-changing tapestry of creativity. From colourful murals to thought-provoking graffiti, there's something for every teenager with an appreciation for urban art.
One way to fully immerse yourself in Glasgow's street art is by taking a guided tour. These tours are led by local experts who will introduce you to the city's most iconic pieces and share fascinating stories behind them. You'll get insider knowledge about the artists, their techniques, and the messages they convey through their work.
If you prefer exploring at your own pace, Glasgow offers ample opportunities for independent mural hunting. Simply grab a map or do some online research beforehand, and set off on foot to discover hidden gems scattered across the city. Keep your eyes peeled as you wander through different neighbourhoods – you never know what masterpiece might be waiting around the next corner!
What makes Glasgow's street art particularly special is its diversity. From large-scale murals that cover entire buildings to smaller, intricate designs tucked away in alleyways, each piece tells a unique story and adds its own flavour to the cityscape.
4. Attend a Football Match
If your teenager is a sports enthusiast, then attending a football match in Glasgow is an absolute must! The city boasts two iconic stadiums – Celtic Park and Ibrox – where the atmosphere is electric and the passion for the game is palpable.
At Celtic Park, you can witness the legendary green and white hoops of Celtic Football Club. The stadium has a seating capacity of over 60,000, making it one of the largest in Scotland. From singing along to their famous anthem "You'll Never Walk Alone" to cheering on their favourite players, your teenager will be immersed in an unforgettable experience.
Alternatively, head to Ibrox Stadium, home to Rangers Football Club. With its rich history and fierce rivalry with Celtic FC, attending a match here promises excitement and intense competition. The sea of blue jerseys and roaring chants from passionate fans create an incredible atmosphere that any football-loving teen would appreciate.
Watching live matches not only allows teenagers to enjoy thrilling sporting events but also provides them with valuable insights into teamwork, dedication, and perseverance. It's a chance for them to learn about different strategies employed by teams on the field while witnessing firsthand the camaraderie shared among supporters.
5. Explore the Necropolis
When it comes to exploring Glasgow's unique attractions, the Necropolis should not be missed. This historic cemetery offers a fascinating glimpse into the city's past and showcases intriguing architecture that will captivate both teenagers and adults alike.
As you wander through the Necropolis, you'll come across stunning monuments and mausoleums that tell stories of Glasgow's prominent figures. From elaborate Gothic structures to simple yet poignant headstones, each tells a tale of the people who once walked these streets.
Aside from its architectural beauty, the Necropolis provides an opportunity for teenagers to delve deeper into history. They can learn about Glasgow's industrial heritage, and notable residents, and even discover some ghostly legends associated with this eerie place.
Don't be deterred by the thought of visiting a cemetery – the atmosphere in the Necropolis is surprisingly peaceful and serene. It serves as more than just a burial ground; it is also a tranquil park where visitors can take leisurely strolls while soaking in panoramic views of Glasgow.
Things to Do in Glasgow at Night
1. Enjoy Live Music
When it comes to live music, Glasgow definitely knows how to steal the spotlight! This city is renowned for its vibrant and diverse music scene that caters to every taste. Whether you're a fan of rock, jazz, folk, or something more alternative, you'll find a plethora of bars and clubs hosting live performances across various genres.
One popular venue that should be on your radar is King Tut's Wah Wah Hut. Known as the place where Oasis was discovered, this iconic music venue has hosted countless up-and-coming bands over the years. Don't miss the chance to catch an intimate gig here and witness the next big thing in music!
If you prefer a larger setting with top-notch sound systems and big-name acts gracing the stage, then check out The SSE Hydro. This state-of-the-art arena attracts internationally acclaimed artists from all over the world, ensuring unforgettable nights filled with electrifying performances.
For those seeking a more laid-back vibe, cosy pubs like Nice 'n' Sleazy or Stereo offer regular live gigs in a relaxed atmosphere. Grab a pint of local craft beer or your favourite cocktail while enjoying some homegrown talent – you never know when you might stumble upon Glasgow's next breakout star.
With so many venues to choose from and an ever-evolving lineup of talented musicians gracing stages across town each night, Glasgow truly shines as one of Scotland's musical powerhouses.
2. Experience Stand-up Comedy
Experience Stand-up Comedy: Attend a comedy club for a night of laughter and entertainment. Glasgow is home to some fantastic comedy clubs that offer hilarious performances by talented comedians. Whether you're in the mood for witty one-liners or storytelling-style humour, there's something for everyone.
One popular comedy club in Glasgow is The Stand, known for its intimate setting and top-notch acts. Grab a drink from the bar as you settle into your seat, ready to be entertained by the best local and international comedians. From observational humour to clever wordplay, their shows will have you laughing until your sides ache.
Another great venue worth checking out is Yesbar Comedy Club. Located in the city centre, this lively spot hosts regular stand-up nights with both established names and up-and-coming talent taking the stage. Get ready to have your funny bone tickled as these comedic geniuses share their unique perspectives on life's quirks.
For those looking for a more alternative experience, The State Bar offers an underground vibe with its open mic nights and experimental sets. You never know what you'll get at this edgy venue – it could be awkwardly hilarious or delightfully bizarre.
Attending a comedy show in Glasgow guarantees an evening filled with laughter and entertainment that will leave you uplifted long after it ends.
3. Visit Ashton Lane
Nestled in the heart of Glasgow's vibrant West End, Ashton Lane is a hidden gem that truly comes alive at night. Known for its charming cobblestone streets and picturesque surroundings, this bustling lane offers a plethora of dining and entertainment options to suit every taste.
As you stroll down Ashton Lane, you'll be captivated by the lively atmosphere that permeates the air. The twinkling fairy lights strung overhead to create an enchanting ambience, perfect for a romantic date night or a fun-filled evening with friends.
Food lovers will rejoice at the diverse range of restaurants available on Ashton Lane. From cosy gastropubs serving up hearty Scottish fare to trendy eateries offering international cuisine, there's something here to satisfy every craving. Indulge in mouthwatering dishes while soaking in the energetic vibe of this vibrant lane.
After dinner, explore the many bars and pubs that line Ashton Lane. Whether you're in search of craft cocktails or local brews, you'll find no shortage of libations to quench your thirst. Sit back and relax as talented musicians fill these venues with melodic tunes, adding an extra layer of magic to your night out.
With its unique blend of history and modernity, visiting Ashton Lane is like stepping into another world. Take some time to wander through the quaint shops that dot the lane or simply soak up its eclectic charm from one of its outdoor seating areas.
4. Take a Nighttime Tour
Glasgow is a city steeped in history and legends, and what better way to uncover its darker side than by joining a nighttime tour? Whether you're into ghost stories or mysterious tales, these tours will take you on an intriguing journey through the city's past.
As darkness falls, the streets of Glasgow come alive with whispered secrets and eerie tales. Joining a ghost tour allows you to step into the shadows and discover the haunted corners of this vibrant city. You'll visit historic sites rumoured to be haunted, listening intently as your guide recounts spine-chilling stories that have been passed down through generations.
If ghosts aren't your thing, don't worry – there are also nighttime walking tours that delve into Glasgow's darker history. These tours shed light on the underbelly of this once-industrial powerhouse, revealing tales of crime, mystery, and intrigue. From infamous murders to secret societies, each step uncovers new layers of the city's captivating past.
What makes these nighttime tours so special is not just the stories themselves but also the atmosphere they create. As you walk through dimly lit streets and hidden alleyways, it's easy to get caught up in the sense of anticipation and curiosity. The night adds an extra layer of mystery to everything around you.
5. Dine at a Late-Night Eatery
When the sun goes down, Glasgow's culinary scene comes alive with a plethora of late-night dining options. Whether you're craving traditional Scottish fare or yearning for a taste of international cuisine, this vibrant city has got you covered.
For those seeking some comfort food after a night out on the town, indulge in some classic fish and chips. Glasgow boasts numerous establishments that serve up this beloved British dish to perfection. You can savour crispy batter-coated fish alongside golden fries at one of the many charming local chippies.
If you prefer to explore flavours from around the world, Glasgow's diverse culinary landscape won't disappoint. From mouthwatering Indian curries to hearty Italian pasta and pizzas, there is something to satisfy every palate. Venture into the city centre or delve into its bustling neighbourhoods to discover hidden gems offering authentic dishes from various cuisines.
And let's not forget about dessert! Late-night sweet cravings can be easily satisfied by visiting one of Glasgow's dessert cafes or ice cream parlours that stay open well into the evening. Treat yourself to decadent cakes, and creamy gelato, or even try Scotland's famous deep-fried Mars bars if you dare.
No matter what your gastronomic preferences may be, Glasgow ensures that hunger pangs are kept at bay long after sunset.
Conclusion
In conclusion, Glasgow is a city that offers a wealth of opportunities for exploration and enjoyment. From its rich history and stunning architecture to its vibrant cultural scene and culinary delights, there is something for everyone in this dynamic Scottish city. Whether you're interested in immersing yourself in art and culture, exploring museums and galleries, or simply indulging in the local cuisine, Glasgow has it all. With its friendly atmosphere, welcoming locals, and diverse range of activities and attractions, Glasgow is a destination worth visiting and experiencing. So, whether you're a history enthusiast, an art lover, a foodie, or someone seeking adventure, Glasgow will not disappoint. Embark on a journey to this vibrant city and discover the many wonders it has to offer.
Related Articles:
Best Things to Do in Manchester
Best Things to Do in York
Best Things to Do in North West London