Welcome to Somerset, a beautiful county in South West England that boasts picturesque countryside, stunning coastline, and charming towns. If you're planning a trip to this delightful region, then finding the perfect place to stay is essential. Luckily for you, we've compiled a list of the top 10 best hotels in Somerset that will cater to your every need. From traditional family-run hotels with indoor heated pools to stylish boutique B&Bs with award-winning restaurants, we've got you covered. So sit back and relax as we guide you through our handpicked selection of the finest accommodations that Somerset has to offer!
Top 10 Hotels in Somerset
1. Beachlands Hotel 
Website:  www.beachlandshotel.com
Beachlands Hotel is a charming family-run hotel that offers a traditional and welcoming atmosphere. The location is perfect for those wanting to explore the beautiful seaside town of Weston-super-Mare, as it's only a short walk from the sandy beach and opposite the golf course.
The rooms at Beachlands are bright and comfortable with en suite bathrooms, free Wi-Fi, and tea and coffee-making facilities, making your stay as convenient as possible. Guests can enjoy a full English breakfast each morning which is included in the room rate along with parking.
For those wanting to relax further during their visit, there's an indoor heated pool and sauna available on-site. The restaurant boasts garden views and serves delicious meals using fresh local produce.
Beachlands Hotel also provides conference, event, and wedding facilities for those looking to host an event or special occasion in Somerset. This hotel offers everything you need for a peaceful getaway by the sea.
Map:
2. The Windmill Inn 
Website: www.the-windmill.co.uk
Nestled in the charming village of West Quantoxhead, The Windmill Inn is a hidden gem that offers guests a perfect retreat from the hustle and bustle of city life. With only 5 miles away from the coast, this inn provides you with an ideal base to explore Somerset's stunning coastline.
The rooms at The Windmill Inn boast modern amenities such as flat-screen TVs and private bathrooms fitted with showers. Guests can also enjoy complimentary toiletries, making it an excellent choice for those who prefer hassle-free travel.
Aside from its cosy accommodations, what sets The Windmill Inn apart is its on-site restaurant that serves relaxed dining and superb breakfasts. This country pub prides itself on using fresh local produce to create hearty meals that are sure to satisfy your cravings.
One thing guests rave about their experience at this inn is the warm welcome they receive from staff members who always go above and beyond to make their stay enjoyable. From check-in to check-out, you'll be treated like a VIP by friendly staff who aim to provide personalized service tailored just for you.
If you're looking for a peaceful getaway where relaxation meets great food and hospitality, then The Windmill Inn should definitely be on your list of places to stay when exploring Somerset.
Map:
3. Mercure Bridgwater Hotel 
Website: www.all.accor.com
The Mercure Bridgwater Hotel is a polished accommodation situated in the town centre, offering easy access to key attractions such as the Blake Museum and Cheddar Gorge's hiking trails and caves. The hotel boasts warmly decorated rooms that feature complimentary Wi-Fi, flat-screen TVs, minifridges, and tea/coffee-making facilities.
For those looking for an upgraded experience, some of the rooms can sleep up to three guests and offer smart TVs along with balconies. Room service is also available for added convenience.
The hotel features a refined steakhouse where guests can enjoy delectable meals paired with their favourite drinks from the cocktail bar. Fitness enthusiasts will appreciate access to the gym while staying at this lovely accommodation.
Breakfast is available for a fee along with parking services. With its central location and top-notch amenities, Mercure Bridgwater Hotel makes an excellent choice for tourists visiting Somerset County or business travellers seeking comfort amidst their work demands.
Map:
4. The Flying Fish Stables
Website: www.theflyingfishsomerset.co.uk
Nestled in the heart of Windmill Hill, The Flying Fish Stables offers a unique countryside experience, complete with delicious home-cooked meals and real ales. This traditional pub is perfect for those looking to escape the hustle and bustle of city life.
One of the standout features of The Flying Fish Stables is their individually designed rooms. Each room has its own character and charm, allowing guests to truly immerse themselves in the quaint village surroundings. And after a peaceful night's sleep, guests can start their day off right with an excellent breakfast.
But it's not just about accommodation at The Flying Fish Stables; dinner here is not to be missed. With locally sourced ingredients cooked to perfection by skilled chefs, every dish on the menu will leave your taste buds satisfied. And what better way to enjoy your meal than with a refreshing pint of real ale?
Whether you're looking for a weekend getaway or simply passing through Taunton, make sure to stop by The Flying Fish Stables for cosy accommodations and delicious dining options that are sure to impress even the most discerning traveller.
Map:
5. Dunster Castle Hotel
Website: www.dunstercastlehotel.co.uk
Nestled in the heart of the medieval village of Dunster, Dunster Castle Hotel offers a delightful experience for visitors looking to explore Somerset. Dunster Castle Hotel is one of the best hotels in South West region. The hotel features cosy and comfortable rooms, each with its own private bathroom complete with a bath or shower.
The rooms are tastefully decorated and designed to give guests a relaxing stay. Guests can also access free WiFi during their stay at the hotel.
In addition to its comfortable accommodations, the hotel serves an excellent breakfast that will leave you feeling energized for your day's adventures. The friendly hosts make every effort to ensure that guests have everything they need throughout their stay.
Dunster Castle Hotel is an excellent choice if you're looking for a charming place to relax and unwind while exploring all that Somerset has to offer.
Map:
6. The Swan Inn
Website: www.butcombe.com
The Swan Inn in Winscombe is a hidden gem that offers cosy and comfortable accommodations to its guests. The pub has an inviting atmosphere, making it the perfect place to unwind after a long day of exploring Somerset. Their restaurant serves delicious meals with a good selection of food options that cater to all tastes.
One of the highlights of staying at The Swan Inn is its breakfast menu which boasts many delicious options. Whether you prefer something sweet or savoury, they've got you covered. All the dishes we tried were scrumptious and well-presented.
The rooms are tastefully decorated with warm lighting that creates a relaxed ambience throughout the space. The bed was incredibly comfortable, allowing us to have restful nights during our stay.
Another great thing about this inn is its attention to detail when it comes to guest services. We had an early flight on our last night and had no time for breakfast, but the staff kindly prepared takeaway breakfast bags for us and left them outside our room door – such thoughtfulness!
If you're looking for a charming place to spend your next holiday in Somerset, then look no further than The Swan Inn in Winscombe!
Map:
7. The Town Hotel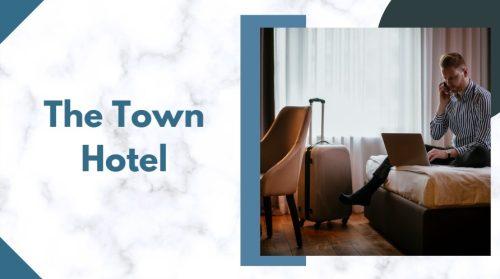 Website: www.thetownhotel.co.uk
The Town Hotel is a charming and cosy boutique hotel located in the heart of Taunton. The rooms are elegantly decorated with modern touches and feature all the necessary amenities for a comfortable stay, including flat-screen TVs and complimentary Wi-Fi.
The hotel's restaurant serves delicious meals made from locally-sourced ingredients, while the bar offers an impressive selection of wines, beers, and cocktails. Guests can also enjoy afternoon tea in the lounge or take advantage of room service.
For those looking to explore Taunton, The Town Hotel is conveniently situated near many local attractions such as Taunton Castle and the Museum of Somerset. Plus, its central location makes it easy to access shops, restaurants and other places of interest.
Whether you're visiting Taunton for business or pleasure, The Town Hotel offers a welcoming atmosphere that will make you feel right at home. Its friendly staff goes above and beyond to ensure every guest has a pleasant stay.
Map:
8. The Foresters
Website: www.theforestersbeckington.co.uk
The Foresters in Frome is a charming hotel that offers a relaxing atmosphere and friendly service. The property features a beautiful garden, which makes it perfect for those who love spending time outdoors. Whether you want to enjoy your breakfast outside or simply relax with a book under the sun, this hotel has got you covered.
The restaurant and bar are also great additions to the hotel experience. You can indulge in delicious meals while enjoying the peaceful ambience of the place. And if you're looking for some entertainment at night, head over to the bar where you'll find an excellent selection of drinks.
One thing that really stands out about The Foresters is how clean everything is. From the rooms to the common areas, every inch of this hotel is spotless. This attention to detail creates an inviting environment that guests truly appreciate.
Another fantastic aspect of The Foresters is its helpful and welcoming staff. Despite arriving early because of a wedding, they were able to accommodate us without any issues and made our stay as seamless as possible.
Free on-street parking right outside eliminates any hassle when it comes time to park your car. Plus, their breakfast was top-notch with plenty of options available for everyone's taste buds!
Map:
9. The Mariner Guest House 
Website: www.themarinerwatchet.co.uk
The Mariner Guest House is a charming and cosy hotel located in the picturesque village of Saint Decumans. The perfect place for those who want to escape from the hustle and bustle of city life, this guest house offers a peaceful retreat.
Upon arriving at The Mariner Guest House, guests are greeted by friendly hosts who go out of their way to make them feel welcome. The rooms are fitted with all the amenities necessary for a comfortable stay, including flat-screen TVs and free WiFi.
The location of this guest house is simply fantastic. Situated in the heart of Somerset, there's plenty to see and do nearby. Whether you're interested in exploring local villages or taking long walks through scenic countryside trails, there's something here for everyone.
One thing that sets The Mariner Guest House apart from other hotels in Somerset is its attention to detail. From the beautifully decorated rooms to the delicious breakfasts served every morning, it's clear that every aspect of this guest house has been carefully thought out.
If you're looking for a relaxing stay in one of Somerset's most beautiful villages, then look no further than The Mariner Guest House – it truly is an exceptional place to stay!
Map:
10. The Old Red Lion 
Website: www.theoldredlion.org.uk
The Old Red Lion in Bruton is a perfect retreat for those seeking a relaxing stay in Somerset. This family-run hotel offers modern and well-maintained accommodations with all the necessary amenities to ensure a comfortable stay.
The rooms are meticulously clean, equipped with great Wi-Fi connectivity and come with free private parking. The friendly staff always goes out of their way to make guests feel welcome.
One of the highlights of staying at The Old Red Lion is the food. Their homemade dishes are incredibly tasty and made from local ingredients. Whether you're grabbing a quick snack or indulging in one of their more substantial meals, you won't be disappointed.
If you fancy a drink, there's no need to venture far as The Old Red Lion also has its own pub where you can sample some locally brewed beers or try something from their extensive wine list.
If you're looking for an affordable yet high-quality place to stay while exploring Somerset, then The Old Red Lion should definitely be on your list.
Map:
Conclusion
Somerset offers a variety of hotels that cater to different preferences and budgets. From traditional family-run hotels like Beachlands Hotel in Weston-super-Mare to modern and polished ones like Mercure Bridgwater Hotel, there's something for everyone. If you prefer something more unique, try The Flying Fish Stables or Dunster Castle Hotel which offer individually designed rooms with character.
For those who enjoy staying at country pubs with top-notch food, The Swan Inn in Winscombe or The Old Red Lion in Bruton are excellent choices. And if you're looking for a cosy bed and breakfast experience with fabulous hosts, check out The Mariner Guest House in Saint Decumans.
No matter where you choose to stay, Somerset has plenty of attractions and activities to keep visitors entertained such as hiking trails at Cheddar Gorge or exploring the medieval village of Dunster. So book your stay today and discover all that this beautiful county has to offer!
Related Article: