Are you a food lover planning a trip to Gloucestershire and wondering where to satisfy your cravings? Look no further! We've compiled the ultimate list of the top 10 best restaurants in Gloucestershire. From fine dining to exotic Thai cuisine, there's something for everyone on this list. So grab your appetite and let's dive into the mouth-watering world of Gloucestershire's culinary scene!
Best Restaurant in Gloucestershire – Top 10 Places to Eat
1. Lumiere
Website: www.lumiererestaurant.co.uk
Lumiere is a restaurant that delivers an exceptional dining experience with its smart contemporary atmosphere and innovative dishes. Located in the heart of the Regency district, this eatery offers British cuisine with modern twists that are sure to tantalize your taste buds.
The interior design of Lumiere strikes a perfect balance between elegance and simplicity. The warm lighting, chic decor, and cosy seating make it an ideal place for romantic dinners or intimate gatherings with friends.
But what really sets Lumiere apart is its menu. The chefs here have mastered the art of taking classic British dishes and adding creative elements to them to give them a unique twist. From venison tartare to roasted rack of lamb served with smoked potato puree, every dish at Lumiere is prepared with precision and care.
Whether you're looking for a fancy date night or simply want to indulge in some inventive cuisine, Lumiere should be at the top of your list when visiting Gloucestershire.
Map:
2. Bangkok Canteen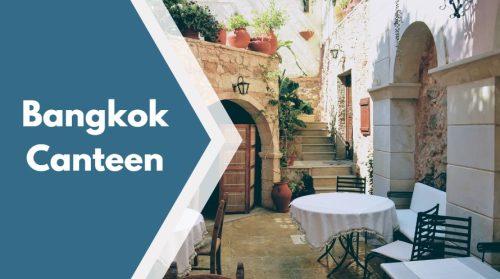 Website: www.bangkokcanteen.co.uk
Located in the heart of Gloucester, Bangkok Canteen offers a unique dining experience with its Thai-inspired cuisine. The menu consists of traditional dishes such as Pad Thai and Tom Yum Soup but also includes lesser-known specialities such as Massaman Curry and Papaya Salad.
The restaurant's ambience is both cosy and inviting with its dimly lit interior that features warm hues of orange and red. The attentive staff members add to the overall welcoming atmosphere and are happy to make recommendations or adjust dishes according to individual dietary needs.
One standout dish offered at Bangkok Canteen is their crispy duck served alongside a tangy tamarind sauce. The perfectly cooked meat combines well with the sweet yet sour flavours of the sauce, creating an explosion of taste sensations in your mouth.
For those who enjoy spice, be sure to try their spicy green papaya salad which packs a punch but still manages to maintain its flavor profile. Bangkok Canteen offers delicious Thai food, great service, and an enjoyable atmosphere for any occasion.
Map:
3. Wilder
Website: www.dinewilder.co.uk
Wilder is a fine dining restaurant that caters to the most discerning palates in Gloucestershire. Chef Matthew Beardshall has created a menu that focuses on locally sourced ingredients and seasonal produce, resulting in dishes that are both innovative and delicious.
The interior of Wilder is sophisticated with understated elegance, creating the perfect ambience for a romantic dinner or celebratory meal. The staff is knowledgeable about the food and wine pairings, enhancing your overall experience
One standout dish at Wilder is the venison loin served with beetroot puree, celeriac remoulade, pickled blackberries and chocolate soil; it's an explosion of flavours on your taste buds. Another must-try dish is their signature dessert – dark chocolate delice with hazelnut praline ice cream
Wilder also offers vegetarian options such as roasted cauliflower steak with spiced quinoa salad and salsa verde. Their tasting menu comprises eight courses which showcase each ingredient perfectly.
Wilder may come at a higher price point compared to other restaurants in Gloucestershire but it's worth every penny for those who enjoy elegant dining experiences accompanied by exceptional cuisine.
Map:
4. 5 North St 
Website: www.5northstreetrestaurant.co.uk
Nestled in the heart of Gloucester, 5 North St is an intimate dining room with exposed beams that exude a rustic yet elegant vibe. The restaurant prides itself on serving acclaimed Anglo-French dishes made from locally sourced produce.
As you enter the restaurant, you'll be greeted by friendly staff who will guide you to your table. The atmosphere is cosy and romantic, perfect for a date night or special occasion
The menu at 5 North St features classic French cuisine with a modern twist. You can enjoy mouth-watering dishes such as duck confit with braised red cabbage and apple puree or roasted cod fillet with chorizo cassoulet.
What sets this restaurant apart is its use of local ingredients. By sourcing their produce locally, 5 North St supports the community while also providing guests with fresh and delicious meals.
If you're looking for an intimate dining experience where quality ingredients take centre stage, then 5 North St should definitely be on your list of Gloucestershire's top restaurants to try out!
Map:
5. Tiger's Eye Restaurant 
Website: www.tigerseyerestaurant.co.uk
Tiger's Eye Restaurant is a unique eatery located in Gloucestershire that has taken the concept of pan-Asian cuisine to another level. The restaurant offers a creative blend of flavours and textures, which are sure to tantalize your taste buds.
One of the most exciting things about Tiger's Eye Restaurant is their use of hot rocks for cooking meat and fish right at your table. This not only adds an element of excitement to dining but also ensures that each dish is freshly cooked to perfection.
Their menu features a variety of dishes from different parts of Asia, including Thailand, Japan, China, and Korea. One must-try dish here is their sushi platter – fresh fish served on beds of rice with soy sauce and wasabi.
The ambience at Tiger's Eye Restaurant complements the food perfectly too. It's sleek yet welcoming with Asian-inspired decor throughout. The staff are friendly and knowledgeable about both the food and drinks menu as they offer some great cocktails that pair well with their dishes.
If you're looking for something different than traditional British fare while in Gloucestershire, then look no further than Tiger's Eye Restaurant – it's definitely worth trying out!
Map:
6. Miller & Carter
Website: www.millerandcarter.co.uk
If you're in the mood for a succulent steak, Miller & Carter is the place to be! The restaurant prides itself on its commitment to quality beef, which they source from carefully selected farms.
Whether it's a sirloin or fillet, every cut of meat is expertly prepared by their skilled butchers before being cooked to perfection on the grill. You can taste the effort and care that goes into producing each dish.
But it's not just about the steak at Miller & Carter; there are plenty of other delicious options on offer too. From juicy burgers to fresh fish dishes, there's something for everyone
The restaurant has a warm and welcoming atmosphere with friendly staff who are always happy to help you choose your perfect meal. And if you're looking for something sweet after your main course, their dessert menu won't disappoint either!
Miller & Carter is definitely one of Gloucestershire's top restaurants when it comes to high-quality steaks and exceptional service.
Map:
7. Greek on the Docks
Website: www.greekonthedocks.co.uk
If you're looking for a taste of Greece in the heart of Gloucestershire, look no further than Greek on the Docks. This classic Greek restaurant boasts a comfortable waterfront setting with stunning views and even outdoor seating for those warm summer days.
But it's not just about the location – Greek on the Docks serves up delicious traditional dishes that are sure to satisfy any craving for Mediterranean flavours. From tzatziki and hummus to moussaka and souvlaki, there is something for everyone here.
The full bar also offers an array of refreshing cocktails and wines to perfectly complement your meal. And don't forget to save room for dessert – their baklava is simply divine!
What sets Greek on the Docks apart from other restaurants in Gloucestershire is its commitment to using fresh, locally sourced ingredients whenever possible. Each dish is crafted with care and attention to detail by their skilled chefs.
So whether you're looking for a romantic dinner date or a fun night out with friends, be sure to add Greek on the Docks to your list of must-try restaurants in Gloucestershire!
Map:
8. Settebello Trattoria 
Website: www.trattoriasettebello.co.uk
Settebello Trattoria is a charming Italian restaurant located in the heart of Gloucestershire. The warm and inviting atmosphere welcomes you as soon as you step inside, with its rustic decor and candlelit tables creating an intimate dining experience.
The menu boasts classic Italian dishes made with fresh ingredients sourced locally. From its homemade pasta to its wood-fired pizzas, Settebello Trattoria offers authentic flavours that will transport your taste buds straight to Italy.
One standout dish is their Spaghetti alle Vongole, which features perfectly cooked spaghetti tossed in a white wine sauce with clams, garlic, parsley and chilli flakes – it's simply delicious! Pair it with one of their many wines from various regions across Italy for a truly authentic dining experience.
The staff at Settebello Trattoria are friendly and knowledgeable about the menu, providing excellent service throughout your meal. Whether you're looking for a romantic dinner or a casual night out with friends or family, this Italian gem is definitely worth checking out.
Map:
9. Dough from Dough
Website: www.doughfromdough.com
Dough from Dough is a must-visit restaurant for pizza lovers in Gloucestershire. This buzzing sit-down pizza parlour boasts an impressive menu of imaginative, handmade pies that are sure to satisfy your cravings.
The interior of the restaurant is decorated with rugby memorabilia, giving it a unique and quirky feel. It's the perfect place to hang out with friends or family while enjoying some delicious food
One of the standout dishes at Dough from Dough is their signature "Dough Balls" – soft and fluffy balls of dough served with garlic butter and rosemary dip. They also offer a variety of toppings for their pizzas, including classics like Margherita and Pepperoni, as well as more unconventional options like BBQ pulled pork and butternut squash.
In addition to their amazing pizzas, they also have a selection of salads on offer for those looking for something lighter. And if you're feeling indulgent, be sure to try one of their decadent desserts like Nutella Calzone or Tiramisu.
Dough from Dough offers an unforgettable dining experience that combines great food with a fun atmosphere. If you're looking for delicious pizza in Gloucestershire, this is definitely one spot worth checking out!
Map:
10. Bill's Gloucester Quays Restaurant 
Website: www.bills-website.co.uk
A modern European restaurant business called Bill's Gloucester Quays provides distinct menus for breakfast, afternoon tea, lunch, and dinner. The menu is diverse and features high-quality ingredients sourced from local producers.
The restaurant boasts of an inviting ambience with comfortable seating arrangements perfect for both small groups and intimate gatherings. Friendly staff are always on hand to ensure you have an enjoyable dining experience.
For breakfast, the menu has classic dishes such as eggs Benedict, avocado toast and full English breakfast – all done with a unique twist in Bill's style. For lunch or dinner, there are several options like pan-fried sea bass served with warm potato salad or slow-cooked beef short rib.
In the afternoon, guests can indulge in delicious cakes and freshly baked scones accompanied by a variety of herbal teas or coffee. It's hard not to enjoy sitting back while soaking up the atmosphere of this charming establishment.\
Bill's Gloucester Quays Restaurant is one place worth visiting if you're looking for great food at any time of day.
Map:
Conclusion
Gloucestershire is a county that offers a wide variety of dining options for food enthusiasts. From contemporary British cuisine to exotic Thai dishes, Gloucestershire has it all. The top 10 restaurants mentioned in this article are just the tip of the iceberg when it comes to the culinary experiences available in this beautiful county.
Whether you're looking for an intimate dining experience with exposed beams or waterfront settings serving classic Greek fare, there's something for everyone here. You can also try some imaginative handmade pies from Dough or enjoy grilled meat and fish at Tiger's Eye Restaurant.
These top 10 restaurants offer exceptional dining experiences that will tantalize your taste buds and leave you wanting more. So why not plan your next food adventure to Gloucestershire and explore these amazing eateries yourself?
Related Articles: