Welcome to Torquay, a stunning seaside town located in the heart of Devon. Known for its breathtaking views and incredible beaches, this charming town also boasts a vibrant culinary scene that caters to all tastes and budgets. Are you ready to explore the best restaurants Torquay has to offer? From Latin American delicacies to classic Italian dishes and fresh seafood with harbour views, we have rounded up the top 12 eateries that will tantalize your taste buds. Join us on this mouth-watering journey through Torquay's finest dining establishments!
Best Restaurants in Torquay – Top 12 Places to Eat
1. Las Iguanas
Website: www.iguanas.co.uk
Las Iguanas is the perfect spot to bring some Latin flavour into your life. The chain restaurant has a vibrant and contemporary atmosphere, serving up flame-grilled dishes with a South American twist. With an extensive menu of shared plates, tapas-style starters, and hearty mains, there's something for everyone here.
One standout dish at Las Iguanas is their feijoada – Brazil's national dish made with black beans and pork. It's slow-cooked for 18 hours and served alongside rice, farofa (toasted cassava flour), orange wedges, and greens.
For those who love spice, don't miss out on the Moqueca de Peixe – a spicy fish stew from Bahia that will make your taste buds dance. The seafood is cooked in coconut milk with tomatoes, peppers, onions and chilli before being served with rice.
Las Iguanas also offers vegetarian options like jackfruit tacos or halloumi skewers marinated in chimichurri sauce. Pair your meal with one of their delicious cocktails featuring fresh fruits, or opt for one of their mocktails if you prefer non-alcoholic beverages.
Las Iguanas serves up a unique dining experience full of bold flavours that are sure to impress any foodie looking for some Latin American flair in Torquay!
Map:
2. Amici
Website: www.amicitorquay.co.uk
If you're searching for a smart Italian restaurant near Torquay Harbour, Amici is the place to go. From their hand-stretched pizza to classic pasta dishes, there's something for everyone at this cosy spot.
Amici is known for its warm and welcoming atmosphere, with friendly staff that are always on hand to provide recommendations and answer any questions you may have. The menu features a range of authentic Italian dishes made from fresh ingredients sourced locally wherever possible.
One of the highlights of Amici is its delicious pizzas. They use only the finest quality ingredients, including premium mozzarella cheese and fresh toppings like mushrooms, peppers and onions. Each pizza is cooked in a wood-fired oven until crispy on the outside and chewy on the inside – it's no wonder they're so popular!
If you're not in the mood for pizza, there are plenty of other options available at Amici as well. Their classic pasta dishes are particularly popular, with favourites like spaghetti carbonara and linguine alle vongole being among some of the most ordered items on their menu.
If you're looking for an authentic Italian dining experience in Torquay, then look no further than Amici. With great food and service along with a cosy atmosphere – what more could one ask for?
Map:
3. The Waddling Duck Bistro
Website: www.thewaddlingduckbistro.co.uk
The Waddling Duck Bistro is one of Torquay's top dining establishments. This English restaurant offers a unique and high-quality dining experience that combines traditional British cuisine with modern twists.
The bistro's menu features a range of classic British dishes such as fish and chips, steak & kidney pie, roast dinners, and more. However, they also offer unique takes on these classics, such as their signature duck dish served with cherry sauce.
The restaurant's decor is cosy and welcoming, featuring rustic details like exposed brick walls and wooden beams. The atmosphere is perfect for romantic dates or intimate night outs with friends.
If you're looking for something different to try at The Waddling Duck Bistro, be sure to check out their cocktail menu. They have a great selection of creative cocktails made with local ingredients that perfectly complement the food.
If you're looking for an authentic English dining experience in Torquay, then look no further than The Waddling Duck Bistro. With its delicious food and charming atmosphere, it's definitely worth checking out!
Map:
4. On The Rocks
Website: www.ontherocks-torquay.co.uk
On The Rocks is a cosy and inviting restaurant located in the heart of Torquay. With its traditional setting, it offers an ideal ambience for those seeking comfort food and cocktails. Their menu features an array of dishes that will make your mouth water.
The restaurant's weekly specials are definitely worth trying out, as they offer something new every week. On The Rocks' chefs use fresh and locally sourced ingredients to create their dishes, ensuring that you get the best quality possible.
Their selection of cocktails is very impressive! From classic drinks like Margaritas to unique creations like Espresso martinis, there's always something new to try. And if you're not sure what to order, their friendly staff are more than happy to recommend something based on your preferences.
On The Rocks has quickly become a favourite among locals and tourists alike due to its warm atmosphere and delicious food & drink offerings. It's perfect for date night or catching up with friends over some comfort food and cocktails after a long day exploring Torquay.
Map:
5. No 7 Fish Bistro
Website: www.no7-fish.com
No 7 Fish Bistro is a seafood lover's paradise located in the heart of Torquay. This high-ceilinged restaurant offers stunning views of the harbour and boasts an impressive daily chalkboard menu with fresh catches from local waters.
The atmosphere at No 7 is relaxed and inviting, perfect for a casual lunch or dinner by the sea. The staff are knowledgeable about their offerings and can help diners select the perfect wine to pair with their meal.
The main focus at No 7 is, of course, their seafood dishes which are cooked to perfection using only the freshest ingredients available. From grilled fish to classic fish and chips, this bistro has it all!
One standout dish on the menu is their signature seafood platter which includes an array of locally sourced shellfish such as crab claws, prawns, and mussels served with lemon wedges and aioli dip.
No 7 Fish Bistro offers a unique dining experience that captures both Torquay's coastal charm and its culinary delights. So if you're looking for delicious seafood in a beautiful setting, then look no further than No 7!
Map:
6. The Elephant
Website: www.elephantrestaurant.co.uk
The Elephant is an elegant and sophisticated restaurant located in the heart of Torquay. The ground-floor brasserie welcomes guests with a warm and inviting atmosphere, while the more formal dining room upstairs offers a more refined experience.
The menu at The Elephant features creative dishes that showcase the best local produce, including fresh seafood caught off the coast of Devon. From succulent scallops to perfectly cooked cod, each dish bursts with flavour and is beautifully presented.
In addition to its impressive food offerings, The Elephant also boasts an extensive wine list that pairs perfectly with every meal. Whether you prefer red or white, sparkling or still, there's something for everyone in their carefully curated selection.
But what really sets The Elephant apart from other restaurants in Torquay is its commitment to sustainability. They source all their ingredients locally whenever possible and use eco-friendly practices throughout the restaurant.
If you're looking for a memorable dining experience that combines delicious food with impeccable service and a commitment to sustainability, look no further than The Elephant!
Map:
7. Old Vienna
Website: www.oldvienna.co.uk
Old Vienna is a fine dining restaurant located in Torquay that boasts an intimate setting with contemporary and sleek looks. The venue features hardwood tables and leather chairs, giving it a sophisticated feel.
The menu at Old Vienna offers an array of dishes that are not only delicious but also beautifully presented. The chefs here have mastered the art of plating, making every dish look like a work of art.
One standout dish on their menu is the Wiener Schnitzel, which is perfectly fried to crispy perfection while remaining tender and juicy inside. They also offer vegetarian options such as the Mushroom Strudel, which is packed full of flavour.
The waitstaff at Old Vienna is friendly and knowledgeable about the menu offerings. They are always happy to make recommendations or answer any questions you may have.
If you're looking for a fine dining experience in Torquay with excellent food presentation and attentive service, then Old Vienna should definitely be on your list of places to visit!
Map:
8. Below Decks
Website: www.belowdecks.co.uk
Located in Beacon Quay, Below Decks is a modern British restaurant that offers an exciting culinary experience. Its unique location on the lower deck of a boat provides an intimate and cosy atmosphere perfect for romantic dates or fun gatherings with friends.
The menu features classic British dishes with a modern twist, using locally sourced ingredients to create bold and flavourful meals. Their seafood options are particularly popular, such as their delicious crab cakes and sea bass fillet.
But it's not just about the food at Below Decks – their cocktail list is equally impressive. Try one of their signature cocktails like the "Wave Breaker" or "Gin & Tea." Or, if you're feeling adventurous, ask the bartender to create something special based on your preferences.
The service at Below Decks is also top-notch. The friendly staff will make sure you have everything you need and are happy with your meal selections.
Below Decks is definitely worth checking out for its unique location, creative menu items and excellent service.
Map:
9. The Orange Tree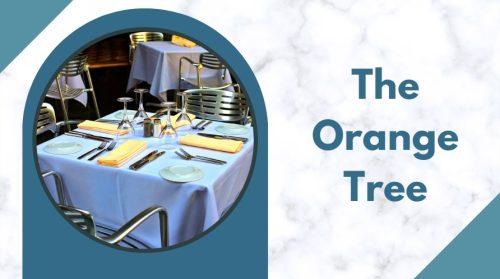 Website: www.orangetreerestaurant.com
The Orange Tree is a hidden gem in the heart of Torquay, offering an ever-changing menu filled with delicious British and European dishes made from seasonal produce.
The restaurant has a charming and rustic atmosphere that immediately puts you at ease, while the friendly staff provides outstanding service throughout your dining experience.
One of the standout features of The Orange Tree is their use of locally sourced ingredients – every dish bursts with fresh flavours that are truly unforgettable. From classic English favourites to innovative twists on European cuisine, there is something for everyone on their menu.
The restaurant also offers a fantastic selection of wines and craft beers to accompany your meal, ensuring that you have the perfect drink pairing for every course.
The Orange Tree provides an exceptional dining experience that shouldn't be missed if you're visiting Torquay. With its commitment to using seasonal produce and providing impeccable service, it's no wonder why this restaurant consistently ranks as one of the best places to eat in town.
Map:
10. Ephesus Restaurant
Website: www.ephesustorquay.co.uk
Ephesus Restaurant is a beautifully decorated restaurant that specializes in Greek and Turkish cuisine. From the moment you step into the stylishly-decorated dining room, you will feel transported to another world.
The menu at Ephesus offers an array of traditional Eastern Mediterranean dishes that are sure to please your taste buds. Whether you're in the mood for a savoury gyro or a hearty plate of moussaka, Ephesus has something for everyone.
One dish that stands out on their menu is the lamb shank – tender and flavorful with just the right amount of seasoning. The mezze platter is also worth trying, offering an assortment of small plates perfect for sharing amongst friends.
While dining at Ephesus, be sure to take in all the intricate details within the decor – from ornate chandeliers to colourful mosaics adorning the walls. It's truly a feast for both your eyes and stomach!
If you're looking for authentic Eastern Mediterranean cuisine served in a stunning setting, look no further than Ephesus Restaurant.
Map:
11. Biancos
Website: www.biancos.co.uk
If you're looking for traditional Italian dishes in a modern, chic setting, then Biancos is the place to visit. The restaurant boasts neutral-toned decor with natural wood tables and comfortable booths that provide a cosy atmosphere.
Biancos offers an extensive menu of classic Italian dishes, such as pizza, pasta and risotto, using only the freshest ingredients. Their chefs pride themselves on creating authentic recipes that are bursting with flavour.
You'll be spoilt for choice at Bianco's as they have plenty of vegetarian options available too! They also offer gluten-free alternatives for those who require them.
The staff at Bianco's are friendly and welcoming, making your dining experience all the more enjoyable. Whether you're celebrating a special occasion or simply enjoying a meal out with friends or family, Biancos caters to everyone's needs.
So why not indulge in some delicious Italian cuisine while soaking up the trendy ambience of this Torquay gem? Head over to Biancos now and treat yourself to an unforgettable culinary experience!
Map:
12. Small World
Website: www.smallworldtapas.com
Small World is a charming eatery located in Torquay, offering traditional Spanish sharing plates in a warm and cosy atmosphere. As soon as you walk into the stone-lined dining room, you'll feel like you've left England behind and stepped into Spain.
The relaxed vibe of Small World makes it ideal for those looking for an intimate dining experience with their friends or family. It's perfect for catching up over delicious food while sharing plates that are packed with flavourful ingredients.
The menu at Small World boasts a range of authentic Spanish dishes, including patatas bravas, croquetas de jamón and gambas al ajillo (garlic prawns). The portions are generous enough to satisfy even the biggest appetites, and don't forget to wash it all down with some sangria!
What sets Small World apart from other restaurants in Torquay is its attention to detail. The staff are friendly and attentive without being intrusive, making your dining experience comfortable from start to finish.
If you're craving some delicious Spanish cuisine served in a relaxed setting, then be sure to visit Small World on your next trip to Torquay!
Map:
Conclusion
Torquay is a foodie's paradise, with its stunning coastal views and diverse culinary scene. From Italian to Latin-American cuisine, seafood to traditional English fare, there are plenty of options for every taste bud.
We've compiled this list of the 12 best restaurants in Torquay to help you narrow down your choices and make the most out of your dining experience in this charming seaside town.
Whether you're looking for a romantic dinner date or a casual lunch with friends, these restaurants offer something unique and delicious that will leave you wanting more.
So next time you're in Torquay, be sure to check out one (or all!) of our top picks for the best places to eat. Your taste buds will thank you!
Related Article:
The best restaurants in Newquay