Introduction
Are you a fan of brunch? Do you live in South West London or plan to visit the area soon? Well, get ready for a mouth-watering experience as we have rounded up the top 18 places to eat brunch in this part of London.  So sit back, relax, and let us take your taste buds on a journey through some of the best brunch spots around.
Best Brunch in South West London – Top 18 Restaurants
Best Brunch in Putney, South West London
1. Coppa Club
Website: www.coppaclub.co.uk
COPPA CLUB is one of the best places to go for brunch in Putney, South West London. They offer a wide variety of dishes that cater to all tastes and preferences on their menu. Whether you're in the mood for classic breakfast staples like eggs and avo toast or something more adventurous like rye and buckwheat pancakes, Coppa Club has got you covered.
One thing that sets this restaurant apart from others in the area is its stylish and contemporary ambience. With plenty of natural light and greenery, it's easy to see why this spot has become so popular among locals looking for a leisurely brunch on weekends.
But what really makes COPPA CLUB stand out is its attention to detail when it comes to presentation. Every dish looks like a work of art, making it almost too pretty to eat! But don't let that stop you – every bite is just as delicious as it looks.
All in all, if you're looking for an Instagram-worthy brunch spot with great food and atmosphere, look no further than COPPA CLUB Between Bridges.
Map:
2. Putney Pantry
Website: www.putneypantry.com
Nestled in the heart of Putney, The Putney Pantry is a charming and cosy spot to enjoy classic brunch dishes. This hidden gem features a tucked-away courtyard – the perfect spot to indulge in fluffy pancake stacks, saucy eggs, and steaming coffee. As you savour your delicious fare, soak up the peaceful ambience of this picturesque location.
What sets The Putney Pantry apart is its proximity to St Mary's Church. After your meal, take some time to explore this historical landmark which has become as popular with tourists as it is with locals looking for a tasty brunch. Admire the stunning architecture and learn about its rich history before continuing on with your day.
The Putney Pantry offers an idyllic setting for a relaxing weekend morning spent indulging in scrumptious food surrounded by history and charm.
Map:
3. East Putney Tavern
Website: www.eastputneytavern.co.uk
The East Putney Tavern is the best brunch destination for those who want to indulge in small plates and hearty meals while people-watching. The front of the bar offers a great view of the bustling streets, making it perfect for those who love to observe their surroundings.
However, if you're looking for peace and quiet, head to the back garden where you can enjoy your food in secret tranquillity. The lush greenery provides an idyllic setting that will make you forget you're still in London.
What's more? This tavern is just a stone's throw away from East Putney Station, which makes it easily accessible even on weekdays when it transforms into a commuter stop-off. So whether you're looking for a relaxing weekend brunch or a quick bite before work, The East Putney Tavern has got you covered.
Their menu boasts delicious small plates such as Buttermilk Fried Chicken Bites and homemade Scotch Eggs alongside hearty dishes like Full English Breakfasts and Grilled Halloumi Burgers. Plus with its diverse drink options ranging from beers to cocktails – this place ticks all boxes!
Map:
4. The Dynamo
Website: www.the-dynamo.co.uk
If you're looking for a brunch spot in Putney that caters to health-conscious foodies and cycling enthusiasts, The Dynamo is the place to be. This cycle-focused eatery has a cosy and laid-back ambience that's perfect for enjoying a leisurely weekend brunch.
Start your day with one of their pastry-accompanied flat whites or choose from their variety of breakfast baps packed with protein-rich fillings like bacon, sausage, egg, and black pudding. For something more substantial, try their Chorizo Hash or Chilli Scrambled Egg – both dishes are packed with flavour and will leave you feeling satisfied without weighing you down.
The Dynamo also offers truffle-doused pizzas if you're in the mood for some carbs later in the day. And for those who prefer something stronger than coffee with their meal, they have cold beers on tap as well.
Whether you're an avid cyclist or just someone who enjoys good food in a relaxed atmosphere, The Dynamo is definitely worth checking out when exploring the best brunch spots in Putney.
Map:
Best Brunch in Kingston, South West London
1. Haché Brasserie Kingston
Website: www.hachebrasseries.com
Haché Riverside Social is a must-visit for brunch lovers in Kingston. Located by the river, this popular spot offers stunning views and an inviting atmosphere that's perfect for soaking up the sunshine on a warm summer day. But be warned: you'll have to battle other thirsty brunchers if you want to snag one of their coveted outdoor spots!
Once you've secured your seat, it's time to indulge in some delicious food and drinks. Haché Riverside Social offers two courses with bottomless prosecco, Aperol spritzes, and bloody marys – making it an ideal spot for boozy brunches with friends.
When it comes to dishes, there are plenty of options to choose from. From Chargrilled Halloumi and Arancini to the mighty Haché Full English, every item on the menu is crafted with care using fresh ingredients.
Haché Riverside Social is a great choice for those looking for a lively riverside brunch experience with delicious food and endless drinks.
Map:
2. Côte Brasserie
Website: www.cote.co.uk
Côte Brasserie is a chic and elegant spot for those who want to indulge in some boozy brunch. The ambience is serene, perfect for a relaxing morning meal. You can start off with their classic brunch dishes or try something light like the Moules Frites which are deliciously tender.
What makes Côte Brasserie stand out from other restaurants in Kingston is its offering of hot drinks or juice plus a glass of Baron de Marck Champagne that comes with every order. It's an excellent way to elevate your dining experience and make it extra special.
The menu at Côte Brasserie features simple yet flavorful French cuisine that will surely satisfy your cravings. From freshly baked croissants to savoury omelettes, they have everything you need for an unforgettable brunch experience.
This restaurant offers an ideal setting for those looking to enjoy quality food, impeccable service, and good champagne. So why not treat yourself to a luxurious boozy brunch at Côte Brasserie?
Map:
3. Cakewalk Patisserie & Coffee House
Cakewalk Patisserie & Coffee House is a must-visit destination for dessert lovers in Kingston. The patisserie chef at the helm has been creating cakes for the Four Seasons Hotel for nearly two decades, so it's safe to say they know what they're doing when it comes to sweet treats.
But don't let the name fool you – Cakewalk also offers fantastic lunch options. Made with simple, organic ingredients and homemade produce, their dishes are perfect for sharing with family and friends.
Whether you're in the mood for a light salad or something heartier like a quiche or sandwich, there's something on the menu to suit all tastes. And of course, be sure to save room for dessert – their cakes are truly exceptional.
The atmosphere inside Cakewalk is cosy and welcoming, making it an ideal spot to relax with a cup of coffee and indulge in some delicious food. Plus, their central location makes it easy to pop in while exploring everything that Kingston has to offer.
If you're looking for a top-notch patisserie experience or simply want somewhere new to enjoy brunch or lunch with loved ones, Cakewalk should definitely be on your list of places to try in Kingston.
Map:
4. Mimosa House
Website: www.mimosahouse.co.uk
Mimosa is an enchanting little café that transports you to a slice of Portugal in the heart of Kingston. Warm and inviting interiors, coupled with walls adorned with homemade produce, make this spot a real gem for brunch enthusiasts seeking something different.
Their small plates of croquettes and traditional pastries are a must-try alternative to typical brunch fare. The flavours and textures will set your taste buds alight, leaving you wanting more.
But Mimosa's charm doesn't stop there – their shelves are stocked with jars filled with sunshine in various forms, from jams to chutneys. Take some home as a keepsake or gift for loved ones.
The staff at Mimosa add an extra layer of warmth to the overall experience, welcoming everyone who walks through their doors like old friends. It's easy to see why locals have fallen in love with this hidden gem!
Map:
5. Fortunella Café
Website: www.fortunella.co.uk
If you're a coffee snob, Fortunella Café is the place for you. It's a haven for lovers of the bean that offers more than just your average cup of joe. The café uses Allpress, a London-based coffee roaster and espresso specialist established in New Zealand to make their delicious cups of coffee.
But it's not just the quality of the coffee that sets Fortunella apart – it's also their selection of cakes and pastries. Pair your flat white or cappuccino with a generous slab of coffee cake to satisfy your sweet tooth while enjoying Kingston's riverside views.
The café has warm interiors that create an inviting atmosphere, perfect for settling down with a good book or catching up on some work. And if you're feeling extra indulgent, why not try one of their delectable hot chocolates?
Fortunella Café is definitely worth checking out if you consider yourself a true coffee connoisseur. From its quality beans to its cosy ambience and tasty treats, this spot won't disappoint any caffeine lover who finds themselves wandering through Kingston upon Thames!
Map:
6. Browns Kingston
Website: www.browns-restaurants.co.uk
Browns Kingston is the perfect place to celebrate any occasion with a brunch that's as delicious as it is bubbly. This chain brasserie may not be an independent outlet, but the charm of Browns' rustic decor and cosy atmosphere will make you feel right at home.
The Smoked Pancetta Buttermilk Pancakes with Maple Syrup is a must-try for anyone who loves sweet and savoury flavours in one dish. The fluffy pancakes are paired perfectly with crispy pancetta and drizzled generously with maple syrup – a breakfast feast fit for royalty.
But what really sets Browns apart from other brunch spots is their unlimited drinks selection. Sip on bottomless prosecco, bloody marys, or bellinis while you enjoy your meal, or upgrade to endless Moët & Chandon Impérial Champagne for an extra special treat.
Whether you're celebrating a birthday or anniversary, or just looking for an excuse to indulge in some bubbles before noon, Browns Kingston has everything you need for the ultimate boozy brunch experience.
Map:
Best Brunch in Wimbledon Village, South West London
1. The Ivy Cafe Wimbledon Village
Website: www.ivycollection.com
If you're looking for a touch of glamour and sophistication with your brunch, The Ivy Café in Wimbledon Village is the place to be. Frequented by celebrities and local socialites alike, this iconic eatery offers a truly decadent brunch experience.
One thing that sets The Ivy apart from other brunch spots is its unique menu offerings. Instead of classic egg dishes, why not try the Truffled Wild Mushrooms with Potato Rosti or Hot Buttermilk Pancakes topped with fresh berries? Trust us – your taste buds will thank you.
But don't fill up too much because you won't want to miss out on dessert! The Chocolate Bombe is one of their most popular sweet treats – it looks as good on Instagram as it tastes in real life.
In addition to top-notch cuisine, The Ivy also boasts an elegant atmosphere complete with plush velvet seating and chic decor. It's no wonder this spot is a favourite among those who value both style and substance in their dining experiences.
Map:
2. Fire Stables
Website: www.firestables.co.uk
The Fire Stables is the perfect spot for those who like to start their day early with a hearty breakfast. This restaurant has established itself as one of the best places to visit in Wimbledon Village to have an exceptional brunch.
Their menu is extensive, offering options ranging from classic eggs on toast to more indulgent choices such as French Toast with Berry Compote and Maple Syrup. Whatever your preference may be, The Fire Stables has got you covered.
If you're feeling adventurous, try their Full English breakfast that consists of sausage, bacon, black pudding, eggs done your way and all the trimmings. It's sure to cure any lingering effects of last night's drinks!
For those who prefer something sweet over savoury, don't miss out on their famous French Toast served alongside a generous berry compote and drizzled with maple syrup – it's pure bliss in every bite.
The Fire Stables is undoubtedly a must-visit spot for anyone looking for good food and a great ambience in South West London's Wimbledon Village.
Map:
3. PAUL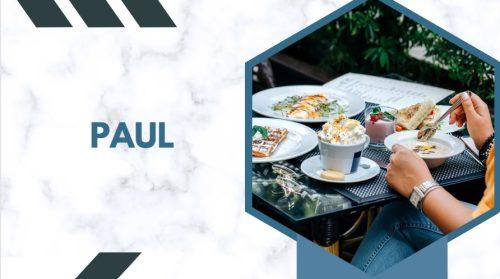 Website: www.paul-uk.com
PAUL is one of the best restaurants in South West London and the perfect place for those who want to grab a quick bite before heading out to explore Wimbledon Common. It offers an array of options that are sure to satisfy any craving. Whether you're in the mood for a hearty sandwich, savoury quiche or one of their famous cakes, PAUL has got you covered.
What sets them apart from other cafes in the area is their rich and indulgent hot chocolate. Made with high-quality cocoa powder and steamed milk, it's the perfect drink to warm you up on a chilly morning.
As you wait for your order at PAUL, be sure to take a look around at their bakery counter. You'll find an assortment of delicious treats including croissants, macarons and éclairs that will surely tempt your taste buds.
One thing is for sure – if you visit PAUL intending only on grabbing a flat white and salami panini, chances are high that you'll leave with something sweeter as well! With so many delectable options on offer here, it's hard not to indulge yourself just a little bit more than planned.
Map:
4. Megan's in the Village Restaurant
Website: www.megans.co.uk
If you're looking for a trendy and Instagram-worthy brunch spot in Wimbledon Village, Megan's is the place to be. This family-owned chain has quickly become a favourite among locals and visitors alike with its unique take on classic dishes.
What sets Megan's apart from other brunch spots in the village is their Turkish twist on traditional breakfast fare. The Shakshoumi Baked Eggs are a must-try dish, bursting with flavorful spices that will transport your taste buds straight to Istanbul.
In addition to their delicious food, Megan's also boasts a dog-friendly atmosphere – perfect for those who can't bear to leave their furry friends at home. So bring along your pup and enjoy some quality time together over brunch.
Of course, no brunch would be complete without a refreshing mimosa or two. Lucky for you, Megan's serves up some of the best mimosas around – the perfect complement to any meal.
If you're looking for an innovative twist on classic breakfast dishes served in a chic atmosphere that welcomes both humans and dogs alike, look no further than Megan's in Wimbledon Village.
Map:
5. GAIL'S Bakery
Website: www.gailsbread.co.uk
Gail's Bakery is the perfect place for those on the go or looking to enjoy a leisurely brunch before heading out to explore Wimbledon Village. The bakery prides itself on serving up freshly baked goods each morning, ensuring that every bite is packed with flavour and satisfaction.
One of the standout dishes at Gail's is their oat milk porridge with raw honey – a hearty and warming option that's perfect for colder days. The creamy texture of the porridge pairs perfectly with the sweetness of the honey, making it a comforting choice for all brunch lovers.
If you're in need of something more substantial, Gail's also offers baked eggs and toasties – both delicious options that are sure to hit the spot. But if you really want to treat yourself, make sure to check out their sweet creations on display at the counter.
From flaky croissants to mouth-watering cakes and pastries, there's no shortage of indulgent treats waiting for you at Gail's Bakery. And don't forget about their signature thick hot chocolate – it's an absolute must-try when visiting this popular brunch spot in South West London.
Map:
Best Brunch in Clapham, South West London
1. Minnow
Website: www.minnowclapham.co.uk
Nestled in the heart of Clapham, Minnow is a popular brunch spot that offers not only delicious food but also an Instagram-worthy experience. With its flower-clad frontage, this restaurant is a feast for the eyes and perfect for those who love to capture beautiful moments on camera.
But it's not just the aesthetics that draw people in; Minnow has an impressive menu that features classic brunch dishes like Full Englishes and Eggs Royale paired with refreshing Mimosas or indulgent Espresso Martinis. Whether you're looking for something sweet or savoury, their diverse selection of dishes will satisfy any craving.
What makes Minnow even more special is its roadside dining experience. Sitting outside on a sunny day, enjoying your meal while overlooking Clapham Common – it doesn't get much better than that! The atmosphere is relaxed yet vibrant, making it an ideal place to catch up with friends or enjoy some quiet time alone.
If you're searching for a unique and satisfying brunch experience in Clapham, look no further than Minnow. Their combination of aesthetically pleasing surroundings and mouth-watering food options make it one of the best spots around!
Map:
2. 'The Terrace' Restaurant by Megan's
Website: www.megans.co.uk
The Terrace by Megan's is a must-visit brunch spot in Clapham, offering a unique blend of Turkish cuisine and elegant outdoor seating. This latest opening from the group is an al fresco sister to the nearby Old Town site, where visitors can enjoy a similar menu under an indoor olive tree.
What sets The Terrace apart from other brunch spots in Clapham is its authentic Turkish dishes that are paired with free-flowing fizz and gargantuan cookies and cake slices. The menu includes classic dishes such as shakshuka and halloumi wraps but also offers more adventurous options like borek – flaky pastries filled with spinach and feta cheese.
The ambience at The Terrace also adds to the overall experience. With its spacious outdoor seating area adorned with twinkling fairy lights and lush green plants, it makes for the perfect backdrop for any Instagram post.
Whether you're looking for a relaxing brunch spot or somewhere to celebrate a special occasion, The Terrace by Megan's has something for everyone. So why not head over there soon?
Map:
3. Brickwood
Website:  www.brickwoodcafes.co.uk
Nestled in the heart of Clapham, Brickwood is a popular brunch spot for Aussies and locals alike. The vibrant and colourful dishes served up here are sure to catch your eye as soon as you step through the door.
One of their most popular dishes is the Sweet Potato & Feta with Poached Egg – a mouth-watering combination of sweet potato chunks, crumbled feta cheese, perfectly poached eggs and zesty citrus dressing that will leave you feeling satisfied all day long.
If sandwiches are more your thing, then don't miss out on one of their chunky toasted options. From classic bacon butties to vegetarian options like smashed avocado with halloumi cheese, there's something for everyone at Brickwood.
And if you're lucky enough to snag a seat outside during those warmer months, make sure to take advantage of their location right next to Clapham Common. With its sprawling green spaces and beautiful pond views, it's the perfect place to relax after indulging in some seriously good grub at Brickwood.
Map:
Conclusion
In conclusion, South West London boasts a fantastic selection of brunch spots catering to all tastes and preferences. From trendy and contemporary cafes to traditional and classic eateries, there is something for everyone. Whether you are in search of a hearty full English breakfast or a light and healthy brunch option, the top 18 brunch spots in South West London are guaranteed to satisfy your appetite. So, make sure to check out some of these amazing brunch spots and treat yourself to a delicious meal that will leave you feeling satisfied and energized for the rest of the day.