Welcome to the heart of Kensington, where creativity meets productivity and collaboration thrives. If you're searching for the best coworking space in this vibrant district of London, look no further! In this blog post, we'll explore some top-notch workspaces that offer a perfect blend of comfort, convenience, and community. Whether you're an entrepreneur, freelancer, or remote worker looking for a productive environment to unleash your potential, these coworking spaces in Kensington are sure to inspire and elevate your professional journey. So let's dive right in and discover the ideal workspace that suits your needs!
Best Coworking Space Kensington – Top 6 Workspace
1. Pavilion Kensington
Website: www.pavilion.club
Located in the heart of Kensington, Pavilion Kensington is a coworking space that exudes elegance and sophistication. As soon as you step foot inside this beautifully designed workspace, you'll be captivated by its stylish interiors and modern furnishings.
Pavilion Kensington offers a range of flexible membership options to cater to your specific needs. Whether you require a dedicated desk or prefer the freedom of hot desking, they have you covered. The spacious work areas are perfect for fostering creativity and productivity, while the comfortable seating ensures that you can work for hours without feeling fatigued.
One of the standout features of Pavilion Kensington is its stunning rooftop terrace. With breathtaking views over London's skyline, this outdoor space provides an ideal spot to take a break or host networking events with fellow professionals.
The community at Pavilion Kensington is vibrant and diverse, comprising individuals from various industries and backgrounds. You'll have ample opportunities to connect with like-minded individuals through their organized events and networking sessions.
In addition to its exceptional facilities and community aspect, Pavilion Kensington also offers various amenities such as high-speed internet, printing services, meeting rooms equipped with state-of-the-art technology, and complimentary refreshments.
Map:
2. Regus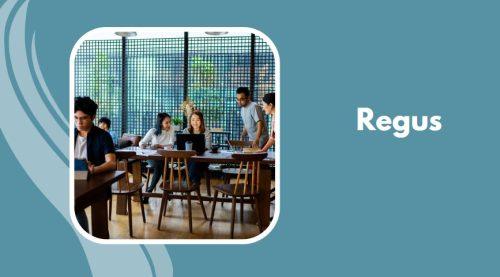 Website: www.regus.com
Regus is one of the most well-known and reputable coworking spaces in Kensington. With its global presence and extensive network, Regus offers a professional and productive workspace for individuals and businesses alike.
One of the key advantages of choosing Regus as your coworking space is the flexibility it provides. Whether you need a private office, a meeting room, or simply a hot desk for a few hours, Regus has options to suit every requirement. This allows you to scale up or down as needed without any long-term commitments.
Another standout feature of Regus is its top-notch amenities. From high-speed internet access to onsite staff support, everything is designed to enhance your working experience. The comfortable furniture and modern decor create an inviting atmosphere that promotes collaboration and creativity.
Additionally, being part of the Regus community means gaining access to networking opportunities with like-minded professionals from various industries. This can lead to valuable connections and potential collaborations that can benefit your business in the long run.
Map:
3. Spaces
Website: www.spacesworks.com
Spaces is a popular coworking space located in Kensington that offers modern and flexible workspaces for professionals. With its sleek design and vibrant atmosphere, Spaces aims to create an inspiring environment where individuals can thrive and collaborate.
One of the key features of Spaces is its variety of workspace options. Whether you prefer a private office, dedicated desk, or hot desking arrangement, Spaces has it all. This flexibility allows you to choose the setup that best suits your needs and working style.
In addition to its stylish interiors, Spaces also provides numerous amenities to enhance your productivity. High-speed internet, printing facilities, meeting rooms, and communal areas are just some of the perks offered by this coworking space. Moreover, their friendly staff ensures that everything runs smoothly so you can focus on what matters most – your work.
Another advantage of choosing Spaces as your coworking space in Kensington is the opportunity for networking and collaboration. Being surrounded by like-minded professionals from various industries opens doors for potential partnerships and knowledge sharing.
With its modern ambience and comprehensive range of services, Spaces stands out as one of the top choices for coworking spaces in Kensington. So if you're looking for a place where creativity thrives and connections flourish, consider checking out what Spaces has to offer!
Map:
4. Second Home Holland Park
Website: www.secondhome.io
Located in the heart of Kensington, Second Home Holland Park is one of the top choices for coworking spaces in the area. With its unique blend of innovative design and a vibrant community, it offers an inspiring environment for freelancers, entrepreneurs, and small businesses.
One of the standout features of Second Home Holland Park is its stunning architectural design. The space is housed in a historic building with soaring ceilings, large windows that flood the rooms with natural light, and lush indoor gardens that create a calming and rejuvenating atmosphere.
The interior design is equally impressive, combining contemporary furniture with vintage pieces to create a stylish yet comfortable working environment. Each workspace is thoughtfully designed to promote productivity while also fostering collaboration among members.
Second Home Holland Park goes beyond just providing desks and chairs. They offer a range of amenities including high-speed internet access, conference rooms equipped with state-of-the-art technology, private phone booths for important calls or meetings,
In addition to the physical infrastructure, Second Home Holland Park also boasts an extensive program of events and workshops designed to inspire creativity and foster networking opportunities. From panel discussions featuring industry experts to skill-building workshops led by professionals from various fields – there's always something happening at Second Home.
Furthermore, being part of this coworking space means joining a diverse community of like-minded individuals who are passionate about their work. The supportive atmosphere encourages collaboration and provides ample opportunities for networking and making valuable connections across different industries.
Map:
5. Huckletree Kensington
Website: www.huckletree.com
Huckletree Kensington is a vibrant and dynamic coworking space located in the heart of Kensington. With its stylish interiors and modern design, this workspace offers an inspiring environment for entrepreneurs, startups, and creative professionals.
One of the standout features of Huckletree Kensington is its strong emphasis on community. The space hosts regular networking events, workshops, and panel discussions that bring together like-minded individuals who are passionate about innovation and collaboration. This creates a unique opportunity to connect with other professionals from various industries and foster meaningful relationships.
In addition to fostering a sense of community, Huckletree Kensington also provides excellent facilities for productivity. From comfortable workstations to meeting rooms equipped with state-of-the-art technology, every aspect has been carefully curated to enhance productivity and creativity.
Another notable feature is the range of amenities offered by Huckletree Kensington. Members have access to high-speed internet, printing services, as well as kitchen facilities stocked with complimentary tea and coffee. There's even an on-site best restaurant where members can grab a delicious snack or enjoy a quick break during their busy day.
Huckletree Kensington stands out as one of the top coworking spaces in the area due to its focus on community building, dedication to providing exceptional facilities for productivity, and commitment to creating an inspiring working environment for professionals from all walks of life. Whether you're just starting out or looking to expand your network, this coworking space offers everything you need to thrive in today's fast-paced business world.
Map:
6. London Office Space
Website: www.londonofficespace.com
London Office Space is a highly sought-after coworking space in Kensington, offering top-notch amenities and a vibrant community for professionals. The space boasts modern and stylish interiors, designed to inspire creativity and productivity. With its prime location in the heart of Kensington, London Office Space provides easy access to transportation links, making it convenient for commuters.
One of the standout features of London Office Space is its range of flexible membership options. Whether you're a freelancer looking for occasional workspace or a growing startup in need of dedicated office space, there's an option that suits your needs. The facilities include spacious workstations equipped with high-speed internet, meeting rooms that can be booked on-demand, as well as comfortable breakout areas where you can relax and network with fellow members.
What sets London Office Space apart from other coworking spaces is its commitment to fostering collaboration and community-building. Regular networking events are organized to facilitate connections among members from different industries. This creates an environment where ideas can flourish and partnerships can be formed.
In addition to the fantastic amenities and sense of community, London Office Space also offers excellent customer service. The friendly staff are always ready to assist with any queries or requests you may have during your time at the workspace.
Map:
Conclusion
In the bustling neighbourhood of Kensington, finding the perfect coworking space can make all the difference in boosting productivity and fostering creativity. After careful research and consideration, we have highlighted some of the best options for coworking spaces in Kensington.
Pavilion Kensington offers a sleek and modern environment with top-notch amenities. The stunning design combined with its convenient location makes it an ideal choice for professionals looking for a prestigious workspace.
Regus is another excellent option that provides flexible membership plans and access to a global network of office spaces. With its extensive range of services and facilities, Regus caters to businesses of all sizes.
Spaces stand out with its vibrant community atmosphere and carefully designed workspaces. From shared desks to private offices, they offer versatile solutions tailored to meet every individual's needs.
Second Home Holland Park combines nature-inspired design elements with innovative technology. This unique space promotes collaboration between like-minded individuals while offering ample opportunities for relaxation and networking.
Huckletree Kensington is known for its creative vibe, attracting entrepreneurs from various industries. With regular events and workshops, this coworking space fosters connections among members while providing a productive working environment.
London Office Space simplifies the search process by offering personalized assistance in finding your dream workspace in Kensington or other areas across London. Their expertise ensures you find exactly what you need without any hassle or stress.
Choosing the best coworking space depends on your specific requirements as well as personal preferences. We recommend visiting each space personally before making a decision to ensure it aligns perfectly with your professional goals.
So whether you are an entrepreneur starting out or an established business looking to expand into Kensington, these top coworking spaces provide exceptional environments where innovation thrives. Boost your productivity, connect with like-minded individuals, and take advantage of outstanding amenities – all within reach at these fantastic workspaces in one of London's most vibrant neighbourhoods: Kensington!
Related Articles:
Best coworking space Farringdon
Best coworking space Greenwich