Looking for the best restaurants in Trowbridge? Look no further! We've rounded up the top 10 places to eat, from Italian and Japanese cuisine to Indian and Thai flavours. Whether you're in the mood for a cosy family-run establishment or a trendy spot with contemporary dishes, these restaurants are sure to satisfy your taste buds. So sit back, relax, and get ready for a culinary journey through Trowbridge's finest dining options!
Best Restaurants in Trowbridge – Top 10 Places to Eat
1. Wagamama
Website: www.wagamama.com
Wagamama is a Japanese restaurant that prides itself on its fresh food and speedy service. You won't find bookings here, as the team is dedicated to getting you seated and slurping up your delicious meal as quickly as possible. From warming ginger to fiery chillies, their menu offers a range of flavours that will tantalize your taste buds.
Their noodles are truly something special – not only do they nourish the body but also the soul, leaving you feeling satisfied and content. And if you're looking for plant-based options, Wagamama has got you covered with their 50% plant-based menu inspired by Asian flavours.
But it's not just about the food at Wagamama – it's about the experience too. The team is expertly trained in providing top-notch service, ensuring that your dining experience is nothing short of exceptional.
So why not give Wagamama a try? Your taste buds (and stomach) will thank you!
Map:
2. Verona Restaurant Italian 
Website: www.veronaitalianristorante.co.uk
If you are looking for a family-run Italian restaurant in Trowbridge that serves quality food, then Verona Restaurant is the place to be. This cosy eatery prides itself on offering only the best dishes made with fresh ingredients and served with a smile.
The menu at Verona Restaurant is extensive, featuring all-time favourites such as pizzas, pasta, risotto, and meat dishes. You can also indulge in some of their signature creations like Spaghetti allo Scoglio or Ravioli al Tartufo which are bound to please even the most discerning palate.
What sets this Italian restaurant apart from others is its dedication to serving authentic Italian cuisine that keeps patrons coming back for more. The chefs ensure that every dish is cooked to perfection using traditional techniques and recipes passed down through generations.
Whether you are celebrating a special occasion or just want to enjoy a delicious meal with friends and family, Verona Restaurant provides an inviting atmosphere perfect for any dining experience. So why not head over there today?
Map:
3. Prezzo Italian Restaurant Trowbridge
Website: www.prezzorestaurants.co.uk
Prezzo Italian Restaurant Trowbridge is a must-visit Italian restaurant located in the heart of the town. With its convenient location right in front of the Odeon cinema and free carpark, it's an easy choice for those looking to refuel after a movie or a busy day shopping.
As soon as you step inside Prezzo, you'll be greeted with warm hospitality and cosy settings that make for an inviting dining experience. The menu boasts an extensive range of gluten-free options, delicious vegan and vegetarian dishes, and lower-calorie options that are sure to satisfy all kinds of dietary requirements.
Whether you're craving authentic Italian pizzas or pasta made from scratch using only the freshest ingredients, Prezzo has got you covered. And if you're feeling thirsty, there's no better way to wash down your meal than with their selection of fine wines.
One thing that sets Prezzo apart from other Italian restaurants is its stylish and contemporary atmosphere. The chic decor creates an elegant ambience that adds to the overall dining experience.
If you're looking for great food served in a welcoming environment by friendly staff members who are passionate about what they do, then look no further than Prezzo Italian Restaurant Trowbridge!
Map:
4. Caffe Italiano 
Website: www.nadia-trim.wixsite.com
Caffe Italiano is a popular restaurant in Trowbridge that offers authentic Italian cuisine made from fresh and high-quality ingredients. This family-friendly eatery has an extensive menu that caters to all tastes, with a wide selection of dishes available throughout the day.
For lunchtime diners, there are delicious paninis, pasta and pizzas on offer. These meals are perfect for those who want a quick bite or something hearty during their lunch break. The pasta dishes come in both vegetarian and meat options, while the pizzas have different toppings to satisfy everyone's cravings.
In the evenings, Caffe Italiano transforms into a cosy spot where customers can enjoy traditional Italian roasts and fish dishes. The roasted meats are cooked to perfection and served with crispy roast potatoes and seasonal vegetables while the fish is always fresh and delicately flavoured.
Whether you're looking for a light meal or something more substantial, Caffe Italiano has got you covered with its diverse range of homemade dishes. From classic favourites like spaghetti carbonara to more sophisticated choices such as linguine alle vongole (linguine with clams), every dish is prepared according to traditional recipes using only the freshest ingredients.
So why not head down to Caffe Italiano today? With its warm atmosphere and great food, it's sure to become your new favourite spot in Trowbridge!
Map:
5. Frankie & Benny's 
Website: www.frankieandbennys.com
Frankie & Benny's is a popular restaurant chain that offers an extensive menu of mouth-watering dishes. From delicious steaks to towering burgers, there's something for everyone. The starters are sticky and the desserts are dreamy – it's no wonder why this place is always busy.
What sets Frankie & Benny's apart from other restaurants is their commitment to doing good things for our planet. They offer gluten-free options, healthy lighter choices, and even have nutritious-but-fun kids' dishes on their menu.
Vegan diners will be delighted with the variety of vegan victories available at Frankie & Benny's. And what better way to unwind after dinner than with a cold beverage? Everyone can find something they like on their drink menu.
The staff at Frankie & Benny's are attentive, friendly and serve every dish with joy. Whether you're visiting for lunch or dinner, you'll leave feeling satisfied and looking forward to coming back again soon.
Map:
6. Valeroso Lounge
Website: www.thelounges.co.uk
Valeroso Lounge is a unique restaurant founded by three friends who have spent years in the restaurant and bar industry. Dave Reid, Alex Reilley, and Jake Bishop decided to create their own establishment after many years of "research" propping up bars in Bristol.
Their motivation for starting Valeroso Lounge was simple: they wanted a place to drink themselves. With this mindset, they created an atmosphere that caters to everyone's needs. Whether you're looking for a quick bite or want to settle down with some drinks, Valeroso Lounge has got you covered.
The interior design is cosy and inviting with comfortable seating areas perfect for catching up with friends or relaxing on your own. The menu features a variety of dishes ranging from classic comfort food to vegan options that will satisfy every palate.
What sets Valeroso Lounge apart from other restaurants is its commitment to using locally sourced products wherever possible. They believe in supporting local farmers and businesses which not only helps the community but also ensures fresh ingredients are used in all their dishes.
In addition to great food and drinks, Valeroso Lounge also hosts events such as live music nights and quiz evenings making it the perfect spot for socializing in Trowbridge.
Map:
7. The Codfather Restaurant
Website: www.codfather-trowbridge.co.uk
The Codfather Restaurant is a Trowbridge institution that has been serving up delicious fish and chips for years. It's located in Church Walk, right next to the town's oldest church, and from the moment you step inside, you're greeted with warm and friendly service.
Whether you're eating in or ordering takeaway, The Codfather offers an extensive menu that will satisfy any seafood lover's cravings. And when dining in the restaurant, their polite and efficient table service ensures that all your needs are attended to promptly.
One of the things that set The Codfather apart is their commitment to good old-fashioned table service. As many loyal customers have noted, it can be hard to find this level of personalized attention elsewhere these days.
But it's not just about great service at The Codfather – they also take pride in using only fresh ingredients and preparing everything on-site. From crispy battered fish to golden fries, every dish is made with care and attention to detail.
So whether you're looking for a quick bite or a leisurely meal out with family or friends, head over to The Codfather Restaurant for some of the best fish and chips around.
Map:
8. Davana Thai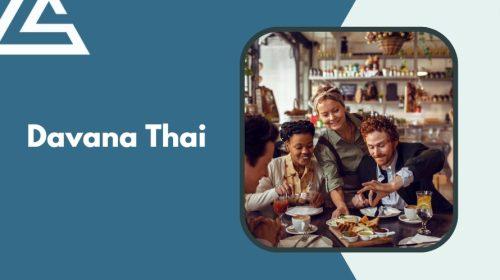 Website: www.davanathaitrowbridge.uk
Davana Thai is the go-to restaurant for anyone craving authentic and freshly prepared Thai cuisine in Trowbridge. Their menu offers a wide variety of dishes that will surely satisfy any taste buds, from stir-fried dishes to curries, fried rice dishes, noodles and desserts.
What's more exciting is that you can now order your favourite dish online and have it delivered right at your doorstep. Davana Thai's website allows you to browse its menu easily and even pay online. So if you're feeling lazy or just want to relax at home while enjoying delicious food, then Davana Thai has got you covered.
Their prices are also very affordable without compromising on quality. You'll be amazed by how much value for money their food provides.
Customer satisfaction is also a top priority at Davana Thai as they encourage feedback from their customers. They take pride in being one of the top fast-food takeaways in Trowbridge by offering great food with excellent customer service.
Whether you're looking for a quick bite or an enjoyable dining experience with friends or family, Davana Thai should definitely be on your list of restaurants to try out in Trowbridge!
Map:
9. Kalahari Kitchen
Website: www.kalaharikitchen.co.uk
Kalahari Kitchen is a unique restaurant in Trowbridge that offers more than just a dining experience. With their focus on Southern African cuisine, Kalahari Kitchen specializes in producing and supplying Biltong, Boerewors, Drywors and much more. Their shop also provides catering services for various events such as barbeques, and indoor or outdoor parties whether it's corporate or private.
What sets Kalahari Kitchen apart from other restaurants is their use of traditional methods combined with marinades, rubs and sauces sourced from the American South to create mouthwatering combinations. All their meats, vegetables and salads are locally sourced from Wiltshire to ensure only the best quality ingredients are used.
For those who want to try something new and exciting when it comes to food choices, Kalahari Kitchen should be at the top of your list. Their unique approach to cooking will definitely leave you wanting more!
Map:
10. The Mogul Tandoori 
Website: www.mogultandoori-trowbridge.co.uk
Looking for some delicious Indian cuisine in Trowbridge? Look no further than the Mogul Tandoori. This restaurant offers an extensive menu of mouth-watering dishes, all made with fresh and high-quality ingredients.
The chefs at Mogul Tandoori are experts at combining traditional cooking methods with contemporary twists to create unique flavours that will satisfy any palate. From mild curries to spicy vindaloos, there's something for everyone on their menu.
Not only is the food exceptional, but customer service is a top priority at this restaurant. The staff go above and beyond to ensure every guest feels welcomed and satisfied with their dining experience.
So if you're craving some authentic Indian cuisine in Trowbridge, head over to the Mogul Tandoori for a meal that is sure to delight your taste buds.
Map:
Conclusion
There you have it, our top 10 picks for the best restaurants in Trowbridge. From Italian to Japanese cuisine, from fast food to fine dining, there is something for everyone's taste buds. Whether you are a local looking for a new place to try or just passing through town and need a satisfying meal, we hope this list has helped you find your next favourite spot. So go ahead and make a reservation or simply stop by one of these fantastic eateries and enjoy delicious food with great ambience!
Related Articles:
Best Restaurants in Bournemouth