Escape the winter chill and indulge in some sun-soaked paradise this February! If you're dreaming of warm destinations to escape to, then look no further. We've rounded up the best 15-holiday places that guarantee sunshine, sandy beaches, and a much-needed break from the cold. From exotic island retreats to vibrant cultural hubs, these destinations will leave you feeling rejuvenated and ready for anything. So pack your bags, grab your sunglasses, and get ready to embark on an unforgettable adventure to these warm havens in February!
Warm Destinations in February
1. Canary Islands, Spain
Nestled off the northwest coast of Africa lies a true paradise – the Canary Islands. This Spanish archipelago boasts warm weather all year round, making it an ideal destination to escape the winter blues. In February, temperatures range from a pleasant 18°C to 22°C, creating the perfect climate for outdoor adventures and relaxation.
The Canary Islands are renowned for their stunning beaches that stretch as far as the eye can see. Whether you prefer golden sands or black volcanic shores, there's a beach here to suit every taste. Picture yourself basking in the sun, listening to waves crashing against the shore – pure bliss.
But it's not just about soaking up rays on pristine beaches; there's so much more to discover on these islands. The landscapes are nothing short of breathtaking with towering volcanoes and rugged cliffs dotting the horizon. Nature lovers will relish exploring lush forests and wandering through enchanting national parks.
Immerse yourself in vibrant Canarian culture as you stroll through charming towns and villages bursting with life. Indulge in delicious local cuisine, sip on refreshing cocktails from the best Bars, and dance to traditional music at lively festivals.
The Canary Islands truly offer something for everyone – whether you're seeking relaxation or adventure. So why wait? Escape to this tropical haven where warm weather awaits your arrival!
2. Caribbean
The Caribbean is a tropical paradise that beckons travellers with its stunning landscapes and idyllic beaches. With thousands of islands and cays to explore, the region offers something for every type of traveller.
One of the highlights of the Caribbean is its crystal-clear waters, which are perfect for snorkelling, diving, or simply taking a refreshing swim. The vibrant marine life and colourful coral reefs make it a haven for underwater enthusiasts.
The white-sand beaches in the Caribbean are postcard-perfect, providing an ideal spot to relax under swaying palm trees or indulge in water sports like kayaking or paddleboarding. Whether you're sunbathing on Barbados' pristine shores or strolling along Antigua's secluded bays, you'll be surrounded by breathtaking beauty.
Beyond the coastline lies lush rainforests teeming with biodiversity. Explore hiking trails that lead you through dense foliage and encounter exotic wildlife such as monkeys, iguanas, and toucans. The natural wonders of the Caribbean offer endless opportunities for adventure seekers.
In February, many Caribbean islands enjoy average temperatures above 25°C (77°F), making it an excellent choice for those seeking warm winter getaways. Popular destinations like Barbados, Antigua, the Bahamas, and Dominican Republic welcome visitors with open arms during this time of year.
Experience island hospitality at its finest as you immerse yourself in vibrant cultures influenced by African heritage mixed with European traditions. Indulge in local cuisine bursting with flavours from fresh seafood dishes to exotic fruits like mangoes and coconuts.
With its unrivalled natural beauty and inviting warmth all year round, the Caribbean remains one of the top choices for holiday-goers worldwide.
3. Maldives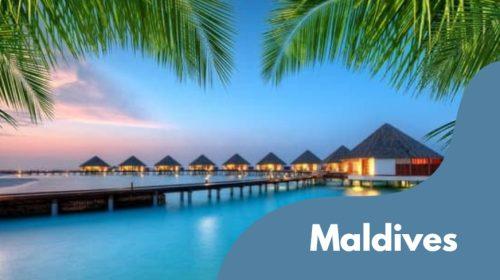 Welcome to the tropical paradise of the Maldives! This stunning island nation in the Indian Ocean is a dream destination for beach lovers and water enthusiasts. With over 1,000 islands to explore, many of which are uninhabited, there's no shortage of secluded spots where you can truly unwind.
One of the highlights of the Maldives is its iconic overwater bungalows. Imagine waking up to panoramic views of crystal-clear turquoise waters right from your bedroom window. These luxurious accommodations offer a unique experience that's hard to find anywhere else in the world.
But it's not just about luxury here; nature takes centre stage too. The Maldives boasts some of the most pristine beaches you'll ever set foot on. Soft white sands and vibrant coral reefs await those who want to snorkel or dive into an underwater wonderland teeming with colourful marine life.
And let's not forget about the weather! In February, temperatures range from a comfortable 27°C to 32°C, making it perfect for basking in the sun by day and enjoying balmy evenings under starry skies.
Whether you're seeking relaxation or adventure, a trip to the Maldives promises an unforgettable experience surrounded by natural beauty and tranquillity. So pack your swimsuit and get ready for an idyllic getaway unlike any other!
4. Thailand
Thailand is a Southeast Asian gem that offers a little something for everyone. Whether you're seeking spiritual enlightenment at ancient temples, unwinding on pristine beaches, or indulging in mouth-watering cuisine that will leave your taste buds dancing with delight, Thailand has it all.
With its tropical climate, February is the perfect time to visit this enchanting country. Average temperatures range from 28°C to 32°C, ensuring warm and sunny days for exploring everything Thailand has to offer.
One of the most popular destinations in Thailand is Phuket. This island paradise boasts stunning beaches with crystal-clear turquoise waters that beckon you to dive right in. But there's more to Phuket than just sunbathing – explore vibrant markets, experience vibrant nightlife or take part in thrilling water sports.
No trip to Thailand would be complete without visiting its bustling capital city of Bangkok. Here you'll find an intoxicating blend of old-world charm and modern-day marvels. From awe-inspiring temples like Wat Arun and Wat Phra Kaew to buzzing street markets and luxurious shopping malls, Bangkok never fails to captivate visitors.
For those seeking a more laid-back atmosphere, Chiang Mai is the place to be. Nestled amidst lush mountains and misty valleys, this charming city offers tranquillity along with unique cultural experiences such as visiting traditional hill tribes or participating in meditation retreats.
5. Vietnam 
Vietnam is a country that truly offers something for everyone. From its stunning mountain ranges to its lush rainforests and pristine beaches, this Southeast Asian gem is a must-visit destination. With average temperatures in February ranging from 25°C to 30°C, it's the perfect place to escape the winter chill.
One of Vietnam's most popular destinations is Hanoi, the capital city. Here, you can explore ancient temples and pagodas, stroll through bustling markets, and sample delicious street food. The city's rich history and vibrant culture will leave you captivated.
Further south lies Ho Chi Minh City, formerly known as Saigon. This bustling metropolis is known for its French colonial architecture, vibrant nightlife scene, and mouthwatering cuisine. Be sure to visit the famous Cu Chi Tunnels or take a boat trip along the Mekong Delta during your stay.
For those seeking relaxation and tranquillity, Hoi An is an idyllic coastal town with charming old-world architecture and beautiful riverside views. Take a leisurely bike ride through rice fields or simply soak up the sun on one of Hoi An's stunning beaches.
No matter where you choose to go in Vietnam, you'll be greeted by friendly locals eager to share their culture with visitors. So pack your bags and get ready for an unforgettable adventure in this diverse and captivating country!
6. Goa, India 
Goa, India – Ah, the laid-back paradise of Goa! This vibrant state in India is renowned for its relaxed atmosphere and stunning beaches. With a tropical climate and average temperatures ranging from 28°C to 32°C in February, it's no wonder why people flock here for some winter sun.
One of the most popular destinations in Goa is Baga Beach. Known for its lively nightlife scene and water sports activities, this stretch of golden sand attracts visitors from all over the world. Whether you're looking to dance the night away or simply soak up the sun during the day, Baga Beach has something for everyone.
Another must-visit spot is Calangute Beach. As one of the largest and the best beaches in Goa, it offers ample space for relaxation and recreation. Grab a beach chair, sip on a refreshing coconut water, and let your worries melt away as you bask in the warm sun.
For those seeking a more bohemian vibe, head to Anjuna Beach. Famous for its weekly flea market where you can find unique handicrafts and souvenirs, Anjuna also boasts picturesque cliffs overlooking turquoise waters – perfect for capturing Instagram-worthy moments.
7. Costa Rica 
Costa Rica – a paradise for nature lovers! This Central American gem is famous for its stunning rainforests, majestic volcanoes, and pristine beaches. With a tropical climate that boasts average temperatures ranging from 25°C to 30°C in February, Costa Rica offers the perfect escape from the winter chill.
One of the must-visit destinations in Costa Rica is Manuel Antonio National Park. It's like stepping into a wildlife documentary with its lush greenery, diverse fauna, and breathtaking coastline. You can spot adorable monkeys swinging through trees or catch a glimpse of vibrant toucans soaring overhead.
For those seeking adventure and natural wonders, Arenal Volcano National Park is not to be missed. The iconic Arenal Volcano dominates the skyline as you explore trails through dense jungle and soak in hot springs surrounded by lush vegetation. And if you're lucky, you might even witness an eruption!
Another popular hotspot is La Fortuna, located near Arenal Volcano. This charming town offers plenty of opportunities for relaxation and exploration alike. Take a dip in thermal baths fed by natural hot springs or embark on adrenaline-pumping activities like ziplining or white-water rafting.
With its abundant biodiversity and awe-inspiring landscapes, Costa Rica truly captivates every traveller who sets foot on its shores. So why wait? Pack your bags and immerse yourself in the beauty of this enchanting country!
8. Mexico 
Mexico, a vibrant country in North America, offers an incredible blend of rich culture and diverse landscapes. With its tropical climate and average temperatures ranging from 25°C to 30°C in February, it serves as the perfect warm destination for travellers seeking sunshine and relaxation.
One of Mexico's most popular destinations is Cancun, known for its pristine white-sand beaches and crystal-clear turquoise waters. Whether you want to bask in the sun or snorkel among colourful coral reefs, Cancun has something for everyone.
Another must-visit spot is Puerto Vallarta, nestled on the Pacific Coast. This charming coastal town boasts picturesque beaches, lush jungles, and a lively art scene. Explore the Malecon boardwalk or take a boat trip to enjoy breathtaking views of Banderas Bay.
If you're looking for a paradise at the southern tip of Baja California Peninsula, Cabo San Lucas is your go-to destination. This resort city offers stunning beaches where you can relax under swaying palm trees or indulge in thrilling water activities like scuba diving and deep-sea fishing.
In addition to these well-known destinations, Mexico also has numerous hidden gems waiting to be discovered. From colonial towns like Guanajuato with its colourful streets to ancient ruins such as Chichen Itza and Tulum showcasing Mayan history – there's always something exciting around every corner.
9. Cape Town, South Africa
Cape Town, South Africa – a city that captivates with its stunning natural beauty and rich history. Situated at the southern tip of Africa, Cape Town boasts iconic landmarks like Table Mountain and Robben Island.
Table Mountain stands tall as a majestic backdrop to the city, offering breathtaking views from its summit. Whether you choose to hike or take the cable car up, this natural wonder is an absolute must-visit. The panoramic vistas of Cape Town and the surrounding coastline will leave you in awe.
Robben Island holds significant historical importance as it was once a political prison during apartheid. Today, it serves as a poignant reminder of South Africa's turbulent past. Take a guided tour to learn about Nelson Mandela's imprisonment and gain insight into the country's journey towards freedom.
With its Mediterranean climate, February in Cape Town brings pleasant temperatures ranging from 17°C to 25°C. It's the perfect time to explore beyond the city centre and discover hidden gems along the coastline or venture out on wine-tasting tours in nearby vineyards.
Enjoy long walks along pristine beaches such as Camps Bay or Clifton, where turquoise waters meet soft white sand. Embrace outdoor activities like surfing or kiteboarding for an adrenaline rush amidst beautiful surroundings.
Cape Town effortlessly blends nature with vibrant urban life, offering world-class cuisine, bustling markets like Greenmarket Square, and trendy neighbourhoods like Woodstock filled with art galleries and hip cafes.
In every corner of this captivating city lies something unique waiting to be discovered – whether it's exploring colourful Bo-Kaap neighbourhood or immersing yourself in local culture at Victoria & Alfred Waterfront.
Cape Town truly has something for everyone – nature enthusiasts will be enchanted by diverse flora and fauna while history buffs can delve into fascinating stories of struggle and triumph. So pack your bags for an unforgettable adventure in one of Africa's most mesmerizing destinations!
10. Morocco
Morocco – a mesmerizing blend of ancient traditions and modern allure. This North African gem draws travellers in with its rich culture and diverse landscape. With a Mediterranean climate, Morocco offers pleasant temperatures in February, making it an ideal warm destination for winter getaways.
One of the most popular destinations in Morocco is Marrakech. Known as the "Red City," Marrakech captivates visitors with its bustling souks, vibrant colours, and enchanting palaces. Lose yourself in the maze-like streets of the medina and discover hidden treasures at every turn.
Another must-visit city is Fez, known for its well-preserved medieval architecture and fascinating history. Wander through the narrow alleyways of the Medina of Fez el-Bali, a UNESCO World Heritage site, and immerse yourself in centuries-old traditions that still thrive today.
For those seeking coastal beauty, Essaouira beckons with its picturesque beaches and charming old town. This laid-back fishing port offers a refreshing escape from bustling cities like Marrakech or Fez.
But Morocco has so much more to offer than just these three destinations! From exploring the stunning landscapes of the Atlas Mountains to experiencing authentic Berber hospitality in remote villages, this country never fails to amaze.
11. Jordan 
Jordan – a land of ancient wonders and breathtaking landscapes. This Middle Eastern country has captivated travellers for centuries with its remarkable historical sites and natural beauty.
One of the most iconic attractions in Jordan is Petra, an ancient city carved into pink-hued rock. As you walk through the narrow Siq, anticipation builds until suddenly, the Treasury comes into view. It's a moment that takes your breath away.
But Jordan offers more than just Petra. Wadi Rum, also known as the Valley of the Moon, is a desert wilderness like no other. Here, towering sandstone cliffs paint a vibrant picture against an endless blue sky. Explore this rugged paradise on camelback or embark on an exhilarating 4×4 safari.
In February, Jordan enjoys mild temperatures ranging from 15°C to 22°C – perfect weather for outdoor adventures. Hike through canyons in Dana Biosphere Reserve or float effortlessly in the salty waters of the Dead Sea.
The warmth extends beyond climate; it permeates throughout Jordanian hospitality and culture. From savouring traditional dishes like mansaf to experiencing Bedouin traditions firsthand, every moment spent here is filled with genuine warmth and friendliness.
Discover all that Jordan has to offer – historic marvels steeped in mystery and landscapes that leave you awestruck at every turn. It's no wonder this country continues to capture hearts and imaginations worldwide.
12. Oman 
Oman, with its stunning landscapes and rich cultural heritage, is a hidden gem in the Middle East. This beautiful country offers a diverse range of experiences for travellers seeking warmth and adventure in February.
One of Oman's main attractions is its breathtaking beaches. Imagine basking in the sun on pristine shores, the gentle waves lapping at your feet as you take in the panoramic views of the Arabian Sea. From popular spots like Muscat to lesser-known beach towns like Salalah, there are plenty of options to choose from.
But Oman isn't just about beaches; it also boasts vast deserts that offer an otherworldly experience. Explore the mesmerizing dunes of Wahiba Sands or venture into the Rub' al Khali desert, known as the Empty Quarter. These landscapes will leave you awe-inspired and provide endless opportunities for activities like camel riding and sandboarding.
For those seeking mountainous adventures, head to Nizwa – a city nestled among towering peaks. Here, you can hike through picturesque trails, visit ancient forts and immerse yourself in Omani history and culture.
The hot climate during February means you'll have perfect weather for outdoor exploration without feeling overwhelmed by scorching temperatures. So pack your bags and prepare yourself for an unforgettable journey through Oman's natural wonders!
Remember to always check travel advisories and follow local guidelines before planning your trip!
13. United Arab Emirates 
The United Arab Emirates (UAE) is a captivating Middle Eastern country that offers a unique blend of modernity and tradition. With its iconic cities, Dubai and Abu Dhabi, the UAE has become synonymous with luxury and opulence.
Dubai, known as the "city of superlatives," boasts impressive skyscrapers, such as the Burj Khalifa – the tallest building in the world. Visitors can explore luxurious malls, indulge in fine dining experiences, or venture into the desert for an exhilarating dune-bashing adventure.
Abu Dhabi, on the other hand, showcases a more cultural side of the UAE. The majestic Sheikh Zayed Grand Mosque stands as a testament to Islamic architecture with its stunning domes and intricate carvings. For those seeking adrenaline-pumping thrills, Ferrari World Abu Dhabi offers exciting roller coasters and racing experiences.
With average temperatures ranging from 25°C to 30°C in February, visitors can enjoy warm days perfect for outdoor activities like visiting beautiful beaches or exploring picturesque desert landscapes. Whether it's camel riding through endless sand dunes or indulging in water sports along pristine shorelines – there is something for everyone in this sun-soaked paradise.
In addition to its modern marvels and natural beauty, Emirati culture shines through in traditional souks where one can haggle for spices or intricately woven textiles. Embrace hospitality at local cafes offering aromatic Arabic coffee and dates while taking part in lively conversations.
The United Arab Emirates truly offers an unforgettable experience that seamlessly blends old-world charm with contemporary allure. It's no wonder why this destination continues to captivate travellers from around the globe year after year!
14. Phuket, Thailand
Phuket, Thailand is a dream destination for beach lovers and adventure seekers alike. With its stunning beaches and crystal-clear waters, it's no wonder why Phuket attracts millions of visitors each year.
One of the main attractions in Phuket is its beautiful beaches. Whether you're looking to relax on the soft white sands or take a dip in the warm turquoise waters, there's a beach for everyone. Patong Beach is one of the most popular and vibrant beaches, known for its lively nightlife and water sports activities. If you prefer something more secluded and serene, head to Kata Noi Beach or Nai Harn Beach.
Aside from its breathtaking natural beauty, Phuket also offers an opportunity to immerse yourself in vibrant Thai culture. Explore the colourful streets of Old Town Phuket with its charming Sino-Portuguese architecture, bustling markets, and authentic local cuisine. Don't miss out on visiting Wat Chalong temple, one of the island's most important Buddhist temples.
For those seeking adventure, there are plenty of activities to choose from in Phuket. Go snorkelling or scuba diving at some of the world-renowned dive sites such as Phi Phi Islands or Similan Islands. Take a thrilling speedboat ride to James Bond Island or go elephant trekking through lush jungles.
15. Seychelles
When it comes to warm destinations in February, Seychelles is a paradise that should not be missed. This stunning archipelago in the Indian Ocean offers pristine white-sand beaches and crystal-clear turquoise waters that are perfect for relaxation and unwinding.
Imagine sinking your toes into the soft sand while listening to the gentle sound of waves crashing on the shore. The beaches in Seychelles are simply breathtaking, with their untouched beauty and tranquillity. Whether you choose Anse Source D'Argent or Beau Vallon Beach, you will be mesmerized by the sheer beauty of these coastal gems.
But Seychelles isn't just about its picture-perfect beaches. It is also home to unique wildlife that can't be found anywhere else on Earth. The islands are known for their diverse marine life, making it a haven for snorkelers and scuba divers alike. Dive into the vibrant underwater world and encounter colourful coral reefs, tropical fish, sea turtles, and even whale sharks if you're lucky.
On land, Seychelles boasts an array of exotic flora and fauna. Take a hike through its lush rainforests and discover rare endemic species like giant tortoises or Coco de Mer palms which bear one of the largest seeds in the plant kingdom.
Seychelles truly offers a mix of relaxation and adventure like no other destination. Soak up the sun on its idyllic beaches or explore its unique wildlife both above and below water – either way, an unforgettable experience awaits when you visit this tropical paradise in February!
Conclusion
In February, when winter still has its icy grip on many parts of the world, escaping to a warm destination is a dream come true. Whether you prefer stunning beaches, vibrant culture, or breathtaking landscapes, there are plenty of options to choose from.
From the sunny Canary Islands in Spain to the crystal-clear waters of the Caribbean islands, there is no shortage of tropical paradises waiting for you. The Maldives offers overwater bungalows and turquoise waters that will leave you speechless. In Thailand and Vietnam, you can immerse yourself in rich cultural experiences while enjoying beautiful beaches and delicious cuisine.
For those looking for an exotic experience closer to home, Goa in India offers laid-back vibes and pristine beaches. Costa Rica's rainforests and volcanoes provide endless opportunities for adventure seekers. Mexico presents a diverse landscape with vibrant cities and tranquil beach towns.
If you're seeking natural beauty combined with history and culture, Cape Town in South Africa should be on your list. Morocco's bustling markets and ancient ruins offer a taste of North African charm. Jordan's iconic Petra and Wadi Rum transport visitors back in time.
For those who crave luxury amidst stunning landscapes, Oman beckons with its beautiful beaches and majestic mountains. And last but not least, the United Arab Emirates entices travellers with its modern cities like Dubai that offer unmatched opulence.
So why stay bundled up during February when these warm destinations await? Take advantage of their balmy temperatures as well as their unique experiences that will create memories lasting long after winter has passed.