If you're a fan of hearty British cuisine, then nothing beats a delicious Sunday roast. And when it comes to South West London, the options are endless! From traditional pubs serving up classic roasts with all the trimmings to trendy dining rooms offering innovative takes on this beloved dish, there's something for everyone in this foodie paradise. So sit back, relax and let us take you on a culinary journey through the top 10 sunday roast in South West London that are sure to leave your taste buds singing with joy!
Best Sunday Roast in South West London – Top 10 Restaurants
1. The Bobbin, Clapham
Website: www.thebobbinclapham.com
If you're looking for a cosy and inviting spot for your Sunday roast, look no further than The Bobbin in Clapham. This human-and-dog-friendly neighbourhood pub is the perfect place to unwind with friends and family over a delicious meal.
While The Bobbin's menu normally features flavours from the Mediterranean, on Sundays they turn their attention to classic British fare. Their roast rump of beef with horseradish and Yorkshire pudding is a must-try dish that will leave you feeling truly satisfied.
Accompanied by perfectly roasted potatoes, creamy mashed potato, carrots, sauteed greens and jus, this roast ticks all the boxes when it comes to flavour and presentation. And best of all? You can enjoy it in the comfortable surroundings of one of Clapham's most welcoming pubs.
So why not gather your loved ones together this weekend and head down to The Bobbin for an unforgettable Sunday roast experience? Trust us – your taste buds will thank you!
Map:
2. The Surprise, Chelsea 
Website: www.thesurprise-chelsea.co.uk
The Surprise in Chelsea is an iconic local restaurant that has been serving delicious meals since 1853. It is perfectly located close to all the trendy spots in Chelsea but tucked away on a peaceful residential street, offering its visitors a serene dining experience.
Apart from its strategic location, The Surprise also boasts an interesting history behind it. The restaurant was named after HMS Surprise, which was a captured French corvette used during the time of Admiral Nelson to sneak up on enemy vessels. This makes for an exciting story to share while enjoying your meal.
On Sundays at The Surprise, you can indulge yourself with their mouthwatering menus. They provide chicken breast with thyme and bread sauce, Somerset leg of lamb in mint sauce, and 38-day aged sirloin of West Country beef, all prepared to perfection by their skilled chefs.
The quality of meat served here is exceptional and will leave you wanting more. Whether you prefer your steak rare or well-done, they have got something for everyone's liking.
If you are looking for a memorable Sunday roast experience in South West London with rich history and unbeatable quality food – look no further than The Surprise!
Map:
3. The Crooked Billet, Wimbledon
Website: www.thecrookedbilletwimbledon.com
The Crooked Billet in Wimbledon is a must-visit for tourists and locals alike. This historic pub has been serving up the best Sunday roasts since 1881, with an array of traditional dishes to satisfy everyone's cravings.
If you're a meat lover, you'll be spoilt for choice with options such as West Country aged rump of beef, beer-brined half-roast chicken, and twice-cooked pork belly. And if you're looking for a delicious vegan option, go for the pithivier made of roast butternut squash, spinach and mushroom – it's sure to impress even the most discerning palates.
But perhaps the highlight of The Crooked Billet's menu is their Ultimate Roast – a feast fit for kings! This all-encompassing dish includes a rump of beef, chicken breast, pork belly, braised ox cheek and ham hock croquette. It's perfect for those who want to try everything without having to make tough decisions on what to order.
With its warm atmosphere and friendly staff, The Crooked Billet offers more than just great food. It provides an authentic British experience that will leave you wanting more. So next time you find yourself in Wimbledon on a Sunday afternoon craving some hearty fare head straight down to The Crooked Billett!
Map:
4. The Abbeville, Clapham
Website: www.theabbeville.co.uk
The Abbeville in Clapham is a charmingly rustic pub that has become a firm favourite among locals. It's the perfect spot to hunker down on a Sunday afternoon and indulge in their delicious roasts, which come in various options.
If you're feeling traditional, go for the beef with Yorkshire pudding – it never disappoints. But if you're looking for something different, why not try the pork belly with apple sauce? It's also gluten-free! Chicken with bread sauce or mushroom and nut roast are other tempting options on offer.
One of the best things about The Abbeville is its cosy nooks by the open fire – perfect for those chilly winter days. And if sports are your thing, they show all the best action so you can enjoy your roast while catching up on your favourite team.
The Abbeville is a must-visit place if you're seeking a comforting Sunday lunch experience coupled with a great atmosphere and variety of choices.
Map:
5. Half Moon, Putney
Website: www.halfmoon.co.uk
Half Moon in Putney is more than just your typical pub – it's also an iconic music venue that has hosted some of the top musicians across genres, including Kate Bush who had her first public show here. Relax on their leather wingbacks and enjoy some banger tunes while indulging in a delicious Sunday roast.
Their menu boasts roasted 21-day aged Angus rump of beef, lemon, garlic and thyme roasted half chicken with pigs in blankets or Dingley Dell rolled pork loin with pork and sage stuffing. All options are sure to satisfy your cravings for a hearty meal.
What sets Half Moon apart from other pubs is its rich history as a beloved Putney establishment. The interior design remains classic yet elegant, making it the perfect place to unwind after a busy week.
If you're looking for great food paired with fantastic music, then Half Moon should definitely be on your list of Sunday roast spots to try out in South West London!
Map:
6. Fat Badger, Richmond
Website: www.thefatbadger-restaurant.com
Fat Badger in Richmond is a charming restaurant that provides an authentic countryside experience in the busy city of London. For those seeking a great Sunday roast, Fat Badger offers their "Sunday on the Farm" special, which begins with small plates accompanied by Bloody Marys or wine of the week.
The meats used for their roasts are sourced from a family farm located in Sussex, ensuring quality and freshness. The options include Aberdeen Angus topside beef, Dorset lamb saddle, chicken, honey-glazed gammon or terrine. Each option comes with generous servings of accompaniments such as Yorkshire pudding, roasted potatoes, carrots and winter greens all topped off with delicious gravy.
The ambience at Fat Badger is also noteworthy – it exudes warmth and cosiness while still being stylishly elegant. The circular bar adds character to the décor whilst providing patrons with an excellent choice of drinks.
This spot is perfect for anyone looking to escape the hustle and bustle of London's city centre without leaving its limits.
Map:
7. One One Four, Teddington
Website: oneonefour.co.uk
If you're looking for a neighbourhood restaurant that offers both traditional and innovative dishes, head to One One Four in Teddington. Despite its small size, this restaurant packs quite a punch with its unique menu offerings.
For meat lovers, try the sirloin of beef sourced from a Surrey farm or the roasted Sutton Hoo chicken. And even vegetarians won't be disappointed with their cauliflower steak with herb crust option.
But it's not just about the food at One One Four – they also offer an impressive selection of drinks. From Dia De Los Mustard to Centre Court Punch, there's something for everyone on their drink list. Plus, don't forget to try their surprise Cocktail of the Day!
If you're looking for a relaxed dining experience coupled with delicious and inventive cuisine options, make sure to add One One Four to your list of top Sunday roast restaurants in southwest London.
Map:
8.

601 Queens Rd, Winmledon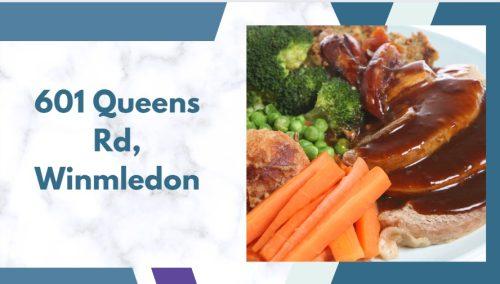 Website: www.601queensrd.co.uk
601 Queens Rd in Wimbledon is a stylish and trendy restaurant that caters to both vegetarians and meat lovers. The circular bar adds a unique touch of elegance to the venue, making it an ideal spot for a Sunday roast with friends or family.
For those who prefer vegetarian options, 601 serves quinoa and spinach falafel with veggie gravy as part of their Sunday roast menu. This dish is not only healthy but also delicious, satisfying the cravings of any vegetarian food lover.
Carnivores will not be disappointed either since 601 offers an array of meats sourced from trusted suppliers. Meat lovers can choose between a 28-day aged topside beef, free-range chicken or belly of Dingley Dell pork depending on their preference.
In addition to these individual dishes, 601 offers an all-in-one option which is perfect for anyone feeling extra hungry. With so many options available at this stylish eatery in Wimbledon, there's no excuse not to indulge in a hearty Sunday roast meal!
Map:
9. Wych Elm, Kingston 
Website: www.thewych.co.uk
Wych Elm in Kingston is a fabulous pub that offers a wide range of delicious dishes, including stone-baked pizzas, burgers and steaks. But what really sets this place apart is its Sunday roast. The slow-roasted strip loin of beef is cooked to perfection and served with rosemary roast potatoes, Yorkshire pudding, seasonal vegetables and homemade gravy.
For those who prefer chicken or pork, the lemon and rosemary free-range chicken crown and the slow-cooked Suffolk pork belly with crackling are also excellent choices. And vegetarians need not miss out on the fun – Wych Elm offers a lentil, quinoa, mushroom, pine nut and pumpkin seed roast that's just as satisfying as its meaty counterparts.
The friendly neighbourhood vibes at Wych Elm make it the perfect spot for a cosy winter outing. The log burners keep you warm during these chilly months while you enjoy your hearty Sunday meal. So gather some friends or family members and head down to Wych Elm for an unforgettable dining experience!
Map:
10. Queen Adelaide, Wandsworth
Website: www.thequeenadelaide.co.uk
Queen Adelaide in Wandsworth takes pride in using only the freshest British produce for their Sunday roast menu. The restaurant is conveniently located near the peaceful Wandsworth Park, making it perfect for a relaxing post-roast stroll.
Their selection of roasts includes buttermilk half chicken with cranberry sauce, West Country rare rump of beef with horseradish cream, and rolled pork belly with apple and tarragon sauce. Vegetarians can enjoy a wild mushroom, spinach, and hazelnut wellington served with all the traditional trimmings like herb-crusted roast potato, savoy cabbage, maple roasted carrots, tenderstem broccoli, diced root veggie along with Yorkshire pudding and gravy.
To cap off your meal on a sweet note they offer sticky toffee pudding or crumble as dessert options.
An emphasis on fresh ingredients and attention to detail in every dish served up at Queen Adelaide makes it one of South West London's top destinations for foodies looking for good quality dining experiences accompanied by excellent service.
Map:
Conclusion
There you have it, folks! The top 10 Sunday roast restaurants in South West London. From traditional pub fare to innovative veggie options, these restaurants offer a wide range of choices for every taste bud. Whether you're a local or just visiting the area, be sure to check out one (or all) of these spots for a delicious and satisfying meal on a lazy Sunday afternoon. Don't forget to bring your appetite and enjoy the warm hospitality that South West London has to offer. Happy Roasting!