Introduction – Balham
Welcome to Balham – a bustling neighborhood in the heart of South London. Whether you're a local or just passing through, there's no shortage of things to do and see in this vibrant area. From beautiful parks and historic landmarks to trendy cafes and restaurants, Balham has it all. In this blog post, we'll be exploring the top 10 best things to do in Balham, so grab a cup of coffee and get ready for some serious inspiration!
Top 10 Best Things to Do in Balham
1. Visit Wandsworth Common
Website: www.wandsworth.gov.uk
Wandsworth Common is a must-visit destination for nature enthusiasts and anyone looking to unwind in the great outdoors. Spread over 130 acres, the park offers something for everyone – from serene meadows to picturesque ponds and woodlands teeming with wildlife.
Whether you want to go on a leisurely walk or jog around the park, Wandsworth Common has got you covered. The stunning scenery of this green space will keep you mesmerized throughout your visit.
For sports lovers, there's a tennis and bowls center where you can get some exercise while enjoying friendly competition with friends or family. And if learning about nature is more your thing, then head over to The Scope – a wildlife education center that offers interactive exhibits and activities for visitors of all ages.
The best part about visiting Wandsworth Common is that it's completely free! You can spend hours exploring everything this beautiful park has to offer without spending a penny.
Wandsworth Common provides an escape from city life where one can relax surrounded by natural beauty.
Map:
2. Go for a Stroll Along the Balham Trail
Take a break from the hustle and bustle of city life by going for a stroll along Balham Trail. This self-guided walk is an excellent way to explore the neighborhood's history and architectural beauty, as it takes you through notable landmarks and hidden gems.
As you wander along this picturesque trail, you'll discover some of Balham's most beautiful buildings, including the Art Deco Bedford Cinema, which dates back to 1935. You'll also come across Tooting Bec Lido, one of London's largest open-air swimming pools that has been in operation since 1906.
The trail is well marked with signposts at every turn so that visitors can follow it easily without any difficulty. Besides historical landmarks, other highlights include charming cafes like Cafe Nero where coffee lovers can take a break while enjoying their favorite drink amidst scenic surroundings.
Whether you are new to Balham or have lived here all your life, taking a stroll down Balham Trail will provide insight into its rich heritage and unique atmosphere. So why not grab your walking shoes today? Ready yourself for an unforgettable trip through this vibrant district!
Map:
3. Indulge in Balham's Culinary Delights
Website: www.heartofbalham.com
The culinary scene in Balham is a food lover's paradise. With countless options for every palate, it's easy to indulge in the diverse food scene of this vibrant neighbourhood.
For those craving traditional British fare, there are plenty of best pubs serving up classic dishes such as fish and chips or bangers and mash. But Balham also offers international cuisines from around the world – Italian, Indian, Thai, Mexican – you name it!
If you're looking for something a little more upscale, try one of Balham's many fine-dining restaurants. These establishments offer exquisite cuisine made with high-quality ingredients that will leave your taste buds dancing with joy.
But if casual dining is more your style, then check out one of the neighbourhood cafes for some delicious brunch options or grab some street food from one of the vendors at the weekly farmers' market.
No matter what kind of foodie you are or what type of cuisine you prefer, indulging in Balham's culinary delights is an experience not to be missed. So come hungry and get ready to explore all that this amazing neighbourhood has to offer. Heart Of Balham is an extension of our home and with just one bite you will feel like you're sitting amongst the magic and mayhem of Marrakech
Map:
4. Visit the Balham Bowls Club
Website: www.balhambowlsclub.com
Step into a bygone era at the Balham Bowls Club, where time seems to stand still. This historic bowling club has an undeniable old-world charm that transports visitors back in time. Whether you're a seasoned bowler or just looking for a unique experience, the Balham Bowls Club is not to be missed.
As soon as you enter the club, you'll notice its quirky decor and vintage feel. From antique lamps to retro signage, every detail adds to the overall ambience of the place. It's easy to lose track of time here as you soak up all the nostalgia.
And let's not forget about the bowls! The sport of lawn bowls dates back centuries and has been enjoyed by people from all walks of life. At Balham Bowls Club, visitors can try their hand at this traditional game while enjoying some friendly competition with friends or family.
The bar and kitchen are also noteworthy features of this venue. Sip on a refreshing drink while taking in your surroundings or indulge in one of their delicious snacks – it's up to you!
Visiting the Balham Bowls Club is more than just playing bowls; it's about immersing yourself in history and experiencing something truly unique.
Map:
5. Unwind at the Exhibit Balham
Website: www.theexhibit.co.uk
The Exhibit Balham is the perfect place to unwind and have a day out with family or friends. This multipurpose venue offers something for everyone, whether you're in the mood for catching a film, having drinks at the bar, or enjoying a delicious meal.
The cinema at The Exhibit Balham is not your average movie theatre. With its comfy sofas and armchairs, it provides an intimate viewing experience that is hard to beat. You can enjoy some of the latest blockbusters or indie films while sipping on your favourite cocktail from their extensive menu.
If you're looking to relax after a long day at work, head over to The Exhibit's bar area. Their cosy atmosphere makes it easy to unwind as you sip on cocktails made by expert bartenders who use only the finest ingredients.
When hunger strikes, make sure to check out The Exhibit's restaurant which serves up mouth-watering dishes that will satisfy any craving. From classic burgers and fries to vegan-friendly options – there's something for every taste bud.
The Exhibit Balham has everything you need for an unforgettable night out – great food, drinks and entertainment all under one roof! Whether you want some alone time or are planning a group outing with friends – this spot won't disappoint!
Map:
6. Relax in One of Balham's Parks
Website: www.balhamparksurgery.co.uk
Balham is a bustling neighborhood that offers plenty of things to do, but sometimes you just need to escape the city and find some peace. Luckily, there are two beautiful parks located within easy reach of Balham: Wandsworth Common and Tooting Bec Common.
Wandsworth Common is a 130-acre park that features meadows, ponds, woodlands, and even a tennis and bowling center. It's the perfect place to relax on a sunny day or take a peaceful stroll surrounded by nature. You might even spot some wildlife at The Scope, the park's wildlife education centre.
Tooting Bec Common is another great option for escaping the hustle and bustle of city life. This large green space features open fields where you can have picnics or play sports like football or frisbee with friends. There's also an outdoor lido where you can go for a refreshing swim in warmer weather.
Both parks offer plenty of opportunities for relaxation and enjoying nature in their own unique ways. So next time you need to recharge your batteries, head over to one of these tranquil oases in Balham!
Map:
7. Explore the Balham Farmers' Market
Website: www.lfm.org.uk
Waking up early on a Saturday morning to visit the Balham Farmers' Market is an experience worth having. As you stroll through the market, you can feel the vibrant energy emanating from passionate vendors and shoppers alike. The air is filled with the fragrant aroma of freshly baked bread, colorful produce, and artisanal cheeses.
The market offers a wide range of locally sourced products that are sure to tantalize your taste buds. From fresh fruits and vegetables to organic meats and handmade chocolates, there's something for everyone at this market. You'll be amazed by the quality of these products as well as their affordable prices.
In addition to food items, there are also stalls selling unique handmade crafts such as jewellery, candles, and pottery. These make for great souvenirs or gifts for loved ones.
Visiting Balham Farmers' Market not only supports local businesses but also promotes sustainable living practices. By choosing to buy locally-grown produce instead of imported goods from large corporations, we can reduce our carbon footprint while enjoying delicious wholesome food.
Whether you're looking for some weekend fun or just need groceries for the week ahead, exploring Balham Farmers' Market is an experience that will leave you feeling fulfilled in every way possible.
Map:
8. Have Brunch at Milk
Website: www.milklondonshop.uk
If you're a brunch lover, then Milk (M1lk) is definitely worth checking out when in Balham. This popular spot has gained a reputation for its delicious food and friendly service.
The menu offers an array of tempting options that are sure to satisfy any craving. Whether you're in the mood for sweet or savoury, there's something for everyone here. Try their fluffy pancakes topped with fresh fruit and syrup, or opt for the classic eggs benedict made to perfection.
For those who want to indulge in something more indulgent, check out their waffles loaded with toppings like bacon and maple syrup. Or if you prefer something on the healthier side, go for their avocado toast – it's both tasty and Instagram-worthy!
But what really sets Milk apart from other brunch spots is its cosy atmosphere and welcoming staff. It's a great place to catch up with friends over coffee or enjoy a leisurely weekend morning by yourself.
If you're looking for a top-notch brunch experience in Balham, make sure to add Milk (M1lk) to your list of must-visit spots!
Map:
9. Visit the Balham Library
Website: www.better.org.uk
Balham Library is a haven for book lovers and those who want to unwind in a peaceful setting. The library boasts an extensive collection of books, magazines, newspapers, and audiobooks that cater to all interests and ages. Whether you're looking for the latest bestseller or a classic novel, you'll find it here.
But Balham Library isn't just about reading; it also offers various events and activities that provide opportunities to engage with the community. From author talks and book clubs to craft workshops and children's storytime sessions, there's always something happening at the library.
The library's relaxed atmosphere makes it an ideal place to meet new people or catch up on some work. There are plenty of comfortable seats throughout the building where you can sit back with your favourite read or get lost in thought while gazing out of the window.
So whether you're a resident of Balham or just passing through, make sure to stop by Balham Library for some quiet time alone or to socialise with like-minded individuals.
Map:
10. Catch a Show at the Banana Cabaret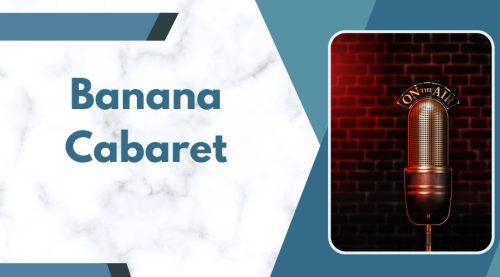 Website: www.bananacabaret.co.uk
Looking for a good laugh in Balham? Look no further than the Banana Cabaret! This cosy comedy club is known for its lively atmosphere and top-notch comedians. Whether you're looking for stand-up, improv, or something in between, there's sure to be a show that fits your sense of humour.
The venue itself is small, but that only adds to the intimate feel of the performances. You'll feel like you're part of an exclusive club as you settle into your seat with a drink in hand and wait for the night's entertainment to begin.
One thing that sets Banana Cabaret apart from other comedy clubs is its commitment to showcasing up-and-coming talent alongside more established performers. You never know who might take the stage next – it could be someone who will soon become a household name!
Of course, if you prefer to play it safe when it comes to comedy acts, there are plenty of big names on the bill as well. And don't forget about themed nights like "New Material Night" or "Women In Comedy," which offer fresh perspectives and unique voices.
All in all, catching a show at Banana Cabaret is definitely one of the best things to do in Balham if you want some laughs and good vibes!
Map:
Conclusion
Balham is a neighbourhood that truly has something for everyone. From natural beauty to delicious food, rich history to vibrant culture, there's no shortage of things to do and see here. Whether you're a local resident or just passing through London, be sure to add Balham to your list of must-visit destinations. With its unique charm and endless possibilities for adventure, this neighbourhood is not one to miss out on!