Canary Wharf, London's bustling financial district, is not just for the business-minded. It offers a plethora of exciting things to do and see beyond the towering skyscrapers. From peaceful rooftop gardens to outdoor performances, there's something for everyone in Canary Wharf. So put on your walking shoes and get ready to explore this vibrant neighbourhood with our top 10 best things to do in Canary Wharf!
Top 10 Best Things to Do in Canary Wharf
1. Visit the Museum of London Docklands
Website: www.museumoflondon.org.uk
The Museum of London Docklands is a must-visit for those who want to delve into the rich history of Canary Wharf. Located in an old warehouse, the museum showcases the transformation of the docks from a bustling port to a thriving financial district.
As you explore the galleries, you'll learn about the lives of sailors, merchants, and dock workers who made their livelihoods on these busy wharfs. The displays cover everything from trade routes and cargo transport to slavery and immigration.
One highlight is Sailortown, a recreation of 19th-century riverside streets complete with sounds and smells that transport visitors back in time. Another fascinating exhibit explores how London's Docklands were heavily impacted by both World War I and II.
Visiting this museum will give you a newfound appreciation for how Canary Wharf has evolved over time. And if you're lucky enough to catch one of their temporary exhibitions or special events during your visit, it's sure to be an even more enriching experience.
Map:
2. Enjoy a Stroll Along the Canary Wharf Pier
One of the best things to do in Canary Wharf is take a stroll along the pier. As you walk, you'll be able to take in stunning views of the River Thames and enjoy the peaceful atmosphere.
If you're feeling adventurous, hop on a riverboat tour or catch a Thames Clipper to explore other parts of London. The river offers an incredible perspective of the city, and there's no better way to see it than from the water.
For those who prefer a more relaxed pace, simply walking along the pier can be just as enjoyable. Take your time and soak up all that this beautiful area has to offer.
Whether you're alone or with friends and family, strolling along Canary Wharf Pier will leave you feeling refreshed and rejuvenated. So why not grab your camera and head out for a leisurely walk today?
Map:
3. Explore the Crossrail Place Roof Garden
Website: www.canarywharf.com
Nestled atop the Crossrail station, the Crossrail Place Roof Garden is a little slice of paradise in the heart of Canary Wharf. Its tranquil atmosphere and lush greenery make it an ideal spot to escape from the hustle and bustle of city life.
This rooftop garden boasts an impressive collection of exotic plants, from ferns to succulents, all thriving in this unique microclimate. The garden also features beautiful water features that add to its peaceful ambience.
What's more, throughout the year, visitors can enjoy various events and exhibitions hosted within the garden. From yoga classes to food festivals or outdoor cinema screenings- there's always something happening at this serene oasis.
Visitors can stroll along winding paths adorned with vibrant flowers while taking in stunning views across the Canary Wharf skyline and beyond. It's no wonder why locals consider this secret gem as one of their favourite places in London!
Map:
4. Enjoy Live Performances at Canary Wharf's Outdoor Spaces
Canary Wharf isn't just about business. The district also knows how to have a good time, especially during the summer months when outdoor spaces like Montgomery Square and Cabot Square come alive with free live performances.
From concerts featuring local musicians to theatre productions that will leave you spellbound, there's always something happening in Canary Wharf's outdoor spaces. You can bring a blanket or chair and settle down for an evening of entertainment under the stars.
Don't forget about film screenings too! During the summer, you can catch some of your favourite movies in open-air venues around Canary Wharf. Whether you're into classic films or modern blockbusters, there's bound to be something that catches your eye.
These events are perfect for families looking for a fun night out without breaking the bank. Kids will love watching their favourite characters on screen or dancing along to live music. And adults can enjoy a glass of wine while taking in the beautiful surroundings.
So next time you're in Canary Wharf during the summer months, be sure to check out Montgomery Square and Cabot Square for some unforgettable free entertainment experiences!
5. Visit the Canary Wharf Art Collection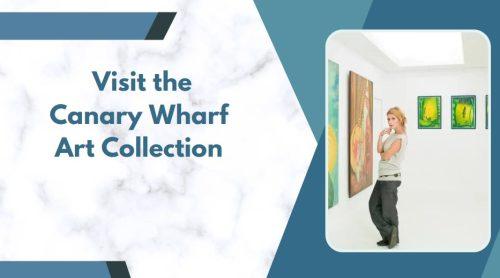 Canary Wharf is not only a financial district but also an art hub. The Canary Wharf Art Collection showcases different forms of public artwork, ranging from sculptures to murals spread throughout the area.
Visitors can explore the collection on their own or take part in guided art tours to learn about each piece's history and meaning. Some of these exhibitions are permanent, while others change regularly, providing visitors with fresh experiences every time they visit.
One of the most notable pieces is "Traffic Light Tree" by Pierre Vivant, which has been standing tall since 1998. It features a set of traffic lights arranged in a tree-like shape and demonstrates how urban design can be both functional and artistic.
If you're interested in contemporary art, then don't miss out on visiting Canary Wharf's galleries. You'll find some emerging artists' works exhibited alongside established ones that add more variety to your experience.
The best thing about the Canary Wharf Art Collection is that it's free for everyone to enjoy! So why not spend an afternoon exploring this unique exhibition space filled with thought-provoking artwork?
Map:
6. Visit the Crossrail Place Roof Gardens
Website: www.canarywharf.com
Perched atop the Crossrail station, the Crossrail Place Roof Gardens offer a unique respite from the hustle and bustle of Canary Wharf. The gardens are divided into two sections – one showcasing plants found in Europe and the other in Asia. Stroll through lush greenery, exotic plants, and even a small waterfall as you take in stunning views of Canary Wharf and beyond.
The garden also hosts events throughout the year, including live music performances and outdoor cinema screenings. And if you're feeling thirsty or hungry after your walk, head to Skylon bar for a refreshing drink or bite to eat with panoramic views of London's skyline.
Whether you're looking for some peace and quiet or an exciting event space, the Crossrail Place Roof Gardens have got it all covered. Soak up some sun while admiring breathtaking cityscapes at this hidden gem at Canary Wharf!
Map:
7. Visit the O2 Arena
Website: www.theo2.co.uk
The O2 Arena in Canary Wharf is a must-visit destination for anyone looking to experience the best entertainment London has to offer. This multi-purpose arena boasts an impressive lineup of events throughout the year, including concerts featuring some of the biggest names in music, sporting events that will leave you on the edge of your seat, and hilarious comedy shows.
For music lovers, catching a concert at The O2 is an unforgettable experience. With its state-of-the-art sound system and stunning stage design, every performance feels like a once-in-a-lifetime event. From pop stars to rock legends and everything in between, there's something for everyone at this iconic venue.
Sports fans won't be disappointed either as The O2 regularly hosts major sporting events such as basketball games and boxing matches. And if you're more into laughs than sports or music, then check out one of the many comedy shows held here throughout the year.
Whether you're visiting alone or with friends and family, The O2 Arena offers an exciting day or night out that you won't forget anytime soon. So grab your tickets now and get ready for an incredible time!
Map:
8. Have a Picnic in Jubilee Park
Jubilee Park is a hidden gem in the bustling district of Canary Wharf. The best park offers an oasis of calm amidst the towering skyscrapers and busy streets, making it an ideal place to relax and unwind.
The lush greenery, well-manicured lawns, and beautiful flowers create a serene atmosphere that's perfect for a picnic with family or friends. You can spread out your blanket under the shade of one of the many trees while indulging in delicious food and drinks.
Kids will love playing in the playground area which has swings, slides, and climbing frames among others. They'll have fun running around on the grassy areas too.
What makes Jubilee Park even more special is its location right next to the water's edge. Enjoy spectacular views across the River Thames as you soak up some sun and spend quality time with your loved ones.
In addition to picnicking and playing games, visitors can also take advantage of various other facilities within Jubilee Park including free Wi-Fi access throughout all public areas between 6 am-11 pm every day!
Map:
9. Go Bowling at the Electric Shuffle
Website: www.electricshuffle.com
Looking for a unique and fun way to spend an evening with friends? Look no further than the Electric Shuffle in Canary Wharf. This isn't your traditional bowling alley – instead, it's a one-of-a-kind experience that combines the classic game of bowling with interactive games.
When you arrive at the Electric Shuffle, you'll be greeted by neon lights and vibrant decor that sets the tone for a night full of excitement. The lanes themselves are equipped with state-of-the-art technology that allows players to track their scores and compete against each other in new and exciting ways.
And if all that competition works up an appetite, there's plenty of delicious food on offer as well. From shareable plates like loaded fries and chicken wings to heartier dishes like burgers and pizzas, there's something for everyone at this lively spot.
If you're looking for a fun-filled night out in Canary Wharf, look no further than the Electric Shuffle. With its unique blend of bowling and interactive games, it offers an experience unlike anything else in town. So grab your friends, lace up those rental shoes, and get ready for a night full of laughter and good times!
Map:
10. Watch a Movie at the Everyman Cinema
Website: www.everymancinema.com
Are you tired of the usual movie theatre experience? Do you want to elevate your movie-watching game? Look no further than the Everyman Cinema in Canary Wharf. This boutique cinema offers a luxurious and comfortable setting for watching all the latest blockbuster hits.
From plush seating to top-notch sound quality, Everyman Cinema has it all. You can sit back, relax, and enjoy the film without worrying about uncomfortable seats or distracting noises from other viewers. And don't forget about their wide selection of snacks and drinks – perfect for satisfying any cravings during your viewing.
But it's not just about the comfort – Everyman Cinema also offers a unique atmosphere that sets it apart from traditional theatres. The stylish decor creates a chic ambience that makes you feel like you're part of an exclusive club. Plus, they often host special events like Q&As with filmmakers or themed screenings.
If you're looking for an unforgettable movie-watching experience in Canary Wharf, look no further than Everyman Cinema.
Map:
Conclusion
Canary Wharf is undoubtedly a must-visit destination in London, offering something for everyone. From exploring the rich history of the docks to enjoying live performances and art exhibitions, there are plenty of things to do and see.
Whether you're looking for a peaceful oasis or an exciting night out with friends, Canary Wharf has got you covered. So why not plan your next adventure in this vibrant district and experience all that it has to offer? With so many fantastic attractions waiting to be explored, you won't regret it!
FAQS
1. Is It Worth Visiting Canary Wharf?
Yes, Canary Wharf is worth visiting. It's a great place to see some of London's most famous landmarks, such as the HSBC Tower and the O2 Arena. There are also a number of museums, shops, and best restaurants in Canary Wharf, making it a great place to spend a day exploring.
2. What is Canary Wharf Best Known for?
Canary Wharf is best known for its collection of tall skyscrapers. The area was once a major dockland, but it was redeveloped in the 1980s and 1990s into a financial district. Today, Canary Wharf is home to a number of banks, financial institutions, and other businesses.
3. Is Canary Wharf a Nice Area to Stay?
Canary Wharf is a nice area to stay, especially if you're interested in business or finance. There are a number of best hotels in the area, as well as a variety of restaurants and shops. The area is also well-connected to public transportation, making it easy to get around London.
4. Is Canary Wharf Expensive to Live?
Yes, Canary Wharf is expensive to live in. The cost of housing, food, and transportation is all higher than in other parts of London. However, there are a number of affordable options available, especially if you're willing to share a flat.
Related Articles: