Are you planning a trip to Wembley and wondering what activities to add to your itinerary? Look no further! We've compiled a list of the top 10 best things to do in Wembley that will make your visit unforgettable. From exploring vibrant neighbourhoods and iconic stadiums, immersing yourself in Hindu spirituality, indulging in unique dining experiences, and much more – there's something for everyone. So grab a cup of tea or coffee, sit back, and let us guide you through the best things to do in this wonderful part of London.
Top 10 Best Things to Do in Wembley
1. Visit Wembley Stadium
Website: www.wembleystadium.com
Wembley Stadium is not just a stadium, it is an iconic landmark. This world-famous venue has hosted countless memorable moments throughout its history, from the historic 1966 World Cup Final to modern-day football matches and concerts.
If you're a sports fan, taking a tour of Wembley should be at the top of your list. You'll get to explore behind-the-scenes areas such as the players' dressing rooms and tunnel before walking out onto the pitch itself. The feeling of standing on such hallowed ground is truly unforgettable.
Of course, if you have the chance to watch a match at Wembley, grab it with both hands! The atmosphere inside this colossal arena is electric – whether you're there supporting England in an international match or cheering on one of London's many football teams.
But did you know that you can even play football on Wembley's famous pitch? That's right – anyone can book a game through one of their official partners and experience what it feels like to score in front of thousands of adoring fans (well, maybe not thousands – but still!).
Whatever way you choose to experience Wembley Stadium, make sure it's part of your trip itinerary – after all; few venues are more synonymous with British sporting greatness than this fantastic stadium.
Map:
2. Explore Little India
Website: www.littleindialondon.com
As you walk through the streets of Little India, your senses will be overloaded with vibrant colours and mouth-watering aromas. The sound of Bollywood music fills the air, adding to the energetic atmosphere of this lively neighbourhood.
One of the best things about exploring Little India is trying out all the delicious Indian food on offer. From spicy curries to sweet desserts, there's something for everyone to enjoy. Be sure to try a piping hot samosa or two – they're a must-have snack in this part of town!
If you're looking for souvenirs or traditional clothing, then Little India won't disappoint either. You'll find plenty of shops selling everything from saris and bangles to spices and incense sticks.
But even if shopping isn't your thing, simply strolling around Little India is an experience in itself. Admire the colourful murals that decorate many buildings or stop by one of the small temples dotted throughout the area.
Exploring Little India is a sensory delight that shouldn't be missed when visiting Wembley. So why not take some time out from your busy schedule and immerse yourself in this vibrant community?
Map:
3. Visit the Sanatan Mandir
The Sanatan Mandir in Wembley is a must-visit destination for anyone interested in Hindu culture and architecture. This magnificent temple is one of the largest in Europe, with its intricate designs and stunning artwork that will leave you mesmerized.
As soon as you enter this holy place, you'll be greeted by an air of serenity, peace, and calmness that will instantly transport you to a world of spirituality. The beautiful sculptures adorning the walls and ceilings are worth admiring as they depict various mythological stories from Hinduism.
Guided tours are available for those who want to learn more about the temple's history and significance, but if you prefer to explore on your own then feel free to do so. It's an opportunity not only to admire the architecture but also to experience Hinduism firsthand.
If you're lucky enough, you might get a chance to witness traditional religious ceremonies being performed at the temple which is quite an intriguing sight for visitors. Visiting Sanatan Mandir can be both an educational and spiritually uplifting journey that should not be missed while exploring Wembley!
Map:
4. Explore Shri Vallabh Nidhi Mandir
Website: www.svnuk.com
Stepping inside the Shri Vallabh Nidhi Mandir temple is like entering a different world, one that exudes peace and spirituality. The intricate architecture of the temple is awe-inspiring, with its detailed carvings and vibrant colours. It's hard not to be mesmerized by the beautiful design.
As you walk through the halls of the temple, you'll notice devotees in prayer or participating in religious ceremonies. The atmosphere is serene and respectful, making it a peaceful retreat from the hustle and bustle of everyday life.
Whether you're familiar with Hinduism or not, visiting this temple can be an enriching experience as it offers insights into another culture's beliefs and practices. You may even have a chance to learn more about Hinduism by speaking with some of the devotees who are happy to share their knowledge.
Exploring Shri Vallabh Nidhi Mandir isn't just about admiring its beauty; it's also an opportunity to immerse yourself in Hindu spirituality and expand your understanding of other cultures' traditions.
Map:
5. Visit the SSE Arena, Wembley
The SSE Arena, Wembley is a hub of activity and excitement. From world-renowned concerts to thrilling sporting events and award shows, this arena has it all. Whether you're a music lover or sports fan, there's always something happening here.
As soon as you step inside the arena, you'll feel the energy and anticipation in the air. The state-of-the-art facilities ensure that every event is executed flawlessly, providing an unforgettable experience for everyone attending.
One of the best things about visiting the SSE Arena is checking out their schedule beforehand so that you can plan your visit accordingly. You might be able to catch your favourite band performing life or witness an epic basketball game between two rival teams.
No matter what time of year it is, there's always something going on at this iconic venue. So why not add it to your list of things to do in Wembley? It's guaranteed to provide entertainment and memories that will last a lifetime.
Map:
6. Take a Walk Through Wembley Park
Walking through Wembley Park is a must-do activity for anyone visiting the area. The park offers visitors a chance to escape the hustle and bustle of the city and relax in nature. With its serene lake, well-maintained playgrounds, and skate park, there's something for everyone here.
One of the best things about Wembley Park is how easily accessible it is. Whether you're staying in one of the nearby best hotels or just passing by on your way to another attraction, taking a walk through this beautiful green space should be at the top of your list.
The best park also has plenty of open space that's perfect for picnics or simply lounging around on a sunny day. It's an ideal place to spend time with friends and family while soaking up some vitamin D.
Whether you're looking to explore London's hidden gems or just need a break from sightseeing, Wembley Park provides visitors with an opportunity to unwind and enjoy some fresh air in peace. So take a stroll along its winding paths, breathe in some fresh air, and let yourself relax amidst nature's bounty.
Map:
7. Visit the Museum of Football
Website: www.nationalfootballmuseum.com
The Museum of Football is the ideal place for football enthusiasts. It tells an intriguing story about the origins and development of football in England till today. The museum is filled with various trophies, exhibits, and interactive displays that showcase significant moments in English football history.
Walking through the galleries takes one down memory lane as you witness some of the most memorable achievements by legends such as Sir Bobby Charlton, Gary Lineker and many more. You can also learn how modern technology has advanced football stadiums over time.
The museum's interactive exhibits provide visitors with a hands-on experience where they can test their skills at penalty shootouts or even take on virtual opponents! This unique facility makes it ideal for families to enjoy together.
Visiting The Museum of Football will leave you awe-struck – there's so much to see and learn about England's favourite sport. If you're planning your next trip to Wembley, make sure this exciting attraction tops your list of things to do!
Map:
8. Have a Picnic in Queen Elizabeth Olympic Park
Website: www.queenelizabetholympicpark.co.uk
A picnic in Queen Elizabeth Olympic Park is one of the best ways to spend a sunny day in Wembley. This beautiful park offers stunning views, lush greenery and plenty of open space for you to relax with your loved ones.
Pack a basket full of your favourite treats and head over to the park for an unforgettable experience. Spread out a blanket, sit down and just enjoy the peaceful atmosphere that surrounds you. The park provides several areas where you can lay down your picnic rug and indulge yourself with some delicious snacks.
After enjoying your meal, take a stroll around the park's many walking trails or rent a bike from one of the rental stations available throughout the area. You can explore every corner of this vast landscape while taking in its natural beauty.
If you're looking for something more active, there are also sports facilities located within the park where visitors can play tennis, basketball or football with friends or family members.
Queen Elizabeth Olympic Park is perfect for anyone seeking outdoor adventures or relaxation amidst nature's splendour. So pack up those sandwiches and drinks because it's time to plan that perfect picnic at this picturesque location!
Map:
9. Visit the National Railway Museum
Website: www.tfl.gov.uk
The National Railway Museum is a must-visit for anyone interested in the history of railways. This museum offers visitors an incredible insight into how rail travel has shaped Britain over the years. From steam engines to modern trains, you can see them all here.
As you enter the museum, you'll be greeted by an impressive collection of locomotives and carriages that have played a significant role in British railway history. You'll also find interactive exhibits that allow you to explore different aspects of railway technology and engineering.
One standout exhibit is "Mallard," the world's fastest steam locomotive, which broke speed records in 1938 by reaching speeds up to 126 mph. It's fascinating to see this piece of transportation history up close and learn about its significance.
But beyond just showcasing machines themselves, the museum tells stories about what it was like to work on or ride these early trains too – step back in time with scenes from old train stations or dining cars during journeys across landscapes far and wide.
Visiting The National Railway Museum is a fun day out where people who love trains can enjoy learning more about their favourite mode of transport!
Map:
10. Experience Boxpark Wembley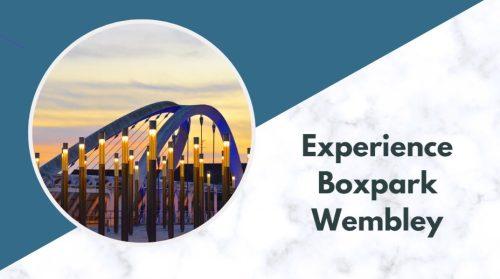 Website: www.boxpark.co.uk
Boxpark Wembley is the perfect place for a unique dining experience. This vibrant food and drink venue offers an eclectic mix of cuisines from around the world, making it a must-visit destination for foodies.
Whether you're in the mood for Asian street food or classic American burgers, Boxpark has got you covered. With over 20 different vendors to choose from, there's something for everyone.
One of the best things about Boxpark is its atmosphere. The venue is always buzzing with energy, thanks to live music performances and other events that take place throughout the year.
And if you're looking to unwind after a long day of exploring Wembley, then why not indulge in one of their delicious cocktails? From fruity daiquiris to classic mojitos, they've got it all.
Boxpark Wembley is definitely worth a visit if you're looking for a fun and tasty dining experience. So why not grab some friends and head down there tonight?
Map:
Conclusion
There you have it! The top 10 best things to do in Wembley. Whether you're a sports fan, history buff, or foodie, there's something for everyone in this vibrant London neighbourhood. From exploring iconic landmarks like the Wembley Stadium and Sanatan Mandir to experiencing unique dining experiences at Boxpark Wembley, these activities will make your visit unforgettable. So pack your bags and head on over to Wembley – adventure awaits!
FAQS
1. What is Wembley London Famous for?
Wembley London is famous for Wembley Stadium, which is the national stadium of England and home to the England national football team. The stadium also hosts major sporting events such as the FA Cup final, the League Cup final, and the Community Shield.
2. What Can You See at Wembley Stadium?
You can see a lot of things at Wembley Stadium, including:
The pitch, where the matches are played
The stands, where the fans sit
The museum, which tells the history of the stadium
The tour, which takes you around the stadium and tells you about its history
The events, which range from football matches to concerts to award shows
3. Is Wembley a Nice Area in London?
Wembley is a nice area in London. It's a mix of residential and commercial areas, with plenty of shops, best restaurants, and bars. There's also a lot of green space, including Wembley Park and Queen Elizabeth Olympic Park.
4. Is Wembley an expensive area?
Wembley is an expensive area, especially when it comes to housing. However, there are a number of affordable options available, especially in the surrounding areas.
Related Articles: