Welcome to Sheffield, a vibrant city in South Yorkshire known for its rich industrial heritage and stunning landscapes. If you're wondering what to do during your visit, we've got you covered! In this blog post, we'll explore some of the best things to do in Sheffield that will surely make your trip unforgettable. From picturesque parks to fascinating museums, and trendy shopping spots to relaxing picnics – there's something for everyone in Sheffield. So let's dive right into it and discover the hidden gems waiting for you in this wonderful city!
Best Things to Do in Sheffield
Things to Do in Sheffield City Center
1. Visit the Millennium Gallery
Immerse yourself in the captivating world of art at the Millennium Gallery. This iconic cultural hub boasts an impressive collection of contemporary and historic works that will leave you inspired and in awe. As you step through its doors, prepare to be greeted by a diverse range of exhibitions and galleries that showcase the rich artistic heritage of Sheffield.
From thought-provoking installations to stunning paintings, there is something for every art enthusiast to appreciate. Marvel at the intricate details captured in each piece and let your imagination run wild as you explore different mediums and styles.
One highlight not to be missed is the Metalwork Collection, which features exquisite silverware crafted by local artisans throughout history. Delicate designs and expert craftsmanship tell stories from centuries past, offering a glimpse into Sheffield's proud industrial heritage.
Additionally, keep an eye out for special temporary exhibits that bring fresh perspectives and innovative art forms to the forefront. These ever-changing displays ensure there is always something new to discover during each visit.
The Millennium Gallery also offers interactive experiences, allowing visitors young and old to engage with art on a deeper level. Take part in workshops or attend talks led by artists themselves, gaining valuable insights into their creative processes while honing your own skills.
With its welcoming atmosphere and eclectic mix of artworks, the Millennium Gallery truly embodies Sheffield's thriving artistic community. Whether you're a seasoned art aficionado or simply looking for some visual inspiration, this gallery promises an enriching experience like no other.
2. Shop at the Devonshire Quarter
If you're a shopaholic looking for unique and one-of-a-kind finds, then the Devonshire Quarter in Sheffield City Center is the place to be! This vibrant shopping district is packed with independent boutiques, vintage shops, and trendy cafes that will cater to all your retail therapy needs.
As you wander through the streets of the Devonshire Quarter, you'll come across a plethora of hidden gems. From stylish clothing boutiques offering cutting-edge fashion trends to quirky vintage shops filled with retro treasures, there's something for everyone's taste and style.
One of the highlights of exploring this area is discovering local designers who showcase their talent through their creations. You can find beautifully handcrafted jewellery pieces, unique home decor items, and even locally made artisanal products that are perfect for gifts or souvenirs.
But it's not just about shopping here – the Devonshire Quarter also boasts a vibrant cafe culture. Take a break from your shopping spree and indulge in some delicious food or sip on a cup of expertly brewed coffee at one of the trendy cafes dotted throughout the area. Whether you're craving a hearty brunch or an afternoon tea experience like no other, this neighbourhood has got you covered.
The atmosphere in the Devonshire Quarter is electric – it buzzes with creativity and innovation. The mix of old-world charm blended seamlessly with contemporary flair creates an ambience that truly sets this shopping district apart from others.
3. Take a Stroll in the Peace Gardens
Nestled in the heart of Sheffield City Center, the Peace Gardens offer a tranquil escape from the hustle and bustle of urban life. As you take a leisurely stroll through this beautifully landscaped park, you'll find yourself immersed in a serene oasis.
The highlight of the Peace Gardens is undoubtedly its stunning fountains. The water dances gracefully amidst vibrant floral displays, creating an enchanting spectacle that captivates visitors of all ages. The soothing sound of flowing water provides a calming backdrop as you unwind and soak up the peaceful atmosphere.
As you continue your walk, be sure to admire the various sculptures scattered throughout the gardens. These artistic creations add an element of intrigue and beauty to the surroundings, inviting contemplation and appreciation for both art and nature.
For those with green thumbs or simply an affinity for plants, the Peace Gardens are a true delight. Immerse yourself in lush greenery as you explore carefully manicured flower beds bursting with colour. Take a moment to breathe in their fragrant scents and marvel at nature's intricate designs.
4. Explore the Winter Garden
Nestled in the heart of Sheffield's city centre, the Winter Garden stands as a tranquil haven amidst the hustle and bustle of urban life. As you step inside, you'll be greeted by a breathtaking sight: rows upon rows of vibrant and exotic plants stretching towards the sky.
The largest urban glasshouse in Europe, this botanical oasis is home to an impressive collection of flora from around the world. From tropical palms to delicate orchids, each plant showcases its own unique beauty and charm. It's truly a feast for the senses – with colours, scents, and textures that transport you to faraway lands.
Whether you're a nature enthusiast or simply seeking solace from your busy day, exploring the Winter Garden is an experience not to be missed. Take leisurely strolls along winding pathways as sunlight filters through overhead canopies of greenery. Find yourself enchanted by cascading water features and hidden nooks that invite quiet contemplation.
The Winter Garden also offers more than just visual delights; it hosts various events throughout the year such as art exhibitions and musical performances. Imagine listening to live music among blooming flowers or attending workshops on gardening techniques – it's an opportunity to learn something new while surrounded by natural splendour.
5. Catch a Show at the Crucible Theatre
Nestled in the heart of Sheffield City Center, the Crucible Theatre stands as a beacon for theatre enthusiasts. With its distinctive thrust stage and intimate setting, this iconic venue offers an unparalleled experience for those seeking world-class productions.
Step into the grand auditorium and be transported to another world as you witness gripping dramas unfold before your eyes. The talented actors bring their characters to life with such intensity that you'll find yourself completely immersed in the story. From Shakespearean classics to contemporary plays, there's always something captivating happening on stage.
But it's not just about drama at the Crucible Theatre. Musical lovers will also find themselves in awe of the exceptional performances that grace this hallowed space. Whether it's a toe-tapping musical or a soul-stirring opera, the theatre never fails to deliver unforgettable moments that linger long after the final curtain call.
What sets the Crucible Theatre apart is not only its outstanding repertoire but also its commitment to nurturing emerging talent. As part of Sheffield Theatres, it provides a platform for up-and-coming artists, ensuring a vibrant and diverse theatrical landscape.
Things to Do in Sheffield for Adults
1. Tour the Kelham Island Museum
Step back in time and immerse yourself in Sheffield's rich industrial heritage with a visit to the Kelham Island Museum. This fascinating museum is home to interactive exhibitions and stunning displays of vintage machinery, giving you an up-close look at the city's manufacturing past.
As you explore the museum, you'll be able to appreciate the hard work and innovation that went into shaping Sheffield as an industrial powerhouse. From old steam engines and massive rolling mills to intricate cutlery-making tools, each exhibit tells a story of craftsmanship and ingenuity.
One of the highlights of your visit will undoubtedly be witnessing live demonstrations by skilled craftsmen who bring traditional trades like blacksmithing and knife-making back to life. You can even try your hand at these ancient skills under their expert guidance!
Kelham Island Museum goes beyond just showcasing historical artefacts; it also offers interactive experiences for visitors. Get hands-on with some of the exhibits, and crank gears, or feel the power of a working steam engine rumble beneath your feet – it's an immersive journey through Sheffield's industrial past like no other.
2. Sample Craft Beer at Breweries
Sheffield is a city that knows its craft beer. With a thriving craft beer scene, there are numerous breweries where you can sample some of the finest brews in town. Whether you're a seasoned beer connoisseur or just looking to expand your palate, Sheffield has something for everyone.
One popular brewery worth checking out is Abbeydale Brewery. Known for their innovative and unique flavours, they offer tastings and tours where you can learn about the brewing process firsthand. From hoppy IPAs to smooth stouts, Abbeydale Brewery has it all.
Another must-visit spot is Sentinel Brewing Co., located in the heart of Sheffield's industrial quarter. They pride themselves on using locally sourced ingredients to create their delicious beers. Take a tour of their facilities and see how these tasty beverages are made.
If you're looking for something a bit different, head over to True North Brew Co., which not only offers fantastic beers but also boasts stylish bars with great atmospheres. Enjoy live music as you sip on one of their carefully crafted brews.
3. Attend Live Music Gigs
If you're a fan of live music, Sheffield is the place to be! With its vibrant music scene, there are plenty of venues where you can catch some amazing gigs. One such venue is The Leadmill, a legendary spot that has hosted numerous renowned artists over the years. From indie bands to up-and-coming artists, The Leadmill offers a diverse range of performances that cater to all musical tastes.
Another popular venue in Sheffield is the Corporation. Known for its energetic atmosphere and eclectic lineup, this alternative club is a must-visit for any music lover. Whether you're into rock, metal, or punk, Corporation always delivers with its lineup of local and international acts.
Attending live gigs not only allows you to experience great music but also provides an opportunity to connect with like-minded individuals who share your passion for live performances. There's something special about being part of a crowd that's collectively enjoying the energy and excitement generated by talented musicians on stage.
4. Explore the Antiques Quarter
Nestled in the heart of Sheffield is the Abbeydale Road Antiques Quarter, a hidden gem waiting to be explored by adults seeking unique treasures and vintage finds. This vibrant neighbourhood boasts a multitude of independent shops, antique dealers, and retro boutiques that offer an eclectic mix of items from days gone by.
As you wander through this charming quarter, you'll discover a treasure trove of antiques just waiting to be uncovered. From intricately carved furniture pieces to delicate porcelain figurines, there's something for every collector's taste. The sheer variety of items available ensures that each visit brings new surprises and delights.
One of the great joys of exploring this area is stumbling upon unexpected gems. You may find yourself captivated by an ancient map or enchanted by a vintage postcard collection. These little discoveries add depth and character to any home decor or personal collection.
In addition to antiques, the Abbeydale Road Antiques Quarter also offers a range of retro clothing stores where fashion enthusiasts can uncover one-of-a-kind garments from past eras. Whether you're searching for flapper dresses from the 1920s or psychedelic prints from the 1960s, these shops have it all.
Beyond shopping opportunities, this quarter also hosts regular events such as antique fairs and flea markets where locals gather to showcase their wares. These lively gatherings provide a fantastic opportunity not only to shop but also to connect with fellow enthusiasts and learn more about different periods in history.
5. Try Indoor Climbing
Looking for a thrilling and exhilarating activity to do in Sheffield? Look no further than indoor climbing! Whether you're an experienced climber or a beginner looking for a new challenge, visiting climbing centres like The Climbing Works is a perfect choice.
Indoor climbing offers a unique combination of physical exercise, problem-solving, and adrenaline-pumping fun. At The Climbing Works, you'll find walls of varying difficulty levels, catering to climbers of all abilities. From easy routes designed for beginners to more challenging climbs that will test even the most seasoned climbers, there's something for everyone.
Not only is indoor climbing great for your fitness and strength-building goals, but it also provides an incredible sense of achievement. Overcoming obstacles and reaching the top of a route can be incredibly rewarding and boost your self-confidence.
The atmosphere at The Climbing Works is always buzzing with energy as fellow climbers cheer each other on and offer encouragement. It's also a fantastic way to meet new people who share your love for this adventurous sport.
Things to Do in Sheffield for Couples
1. Romantic Dinner at Rafters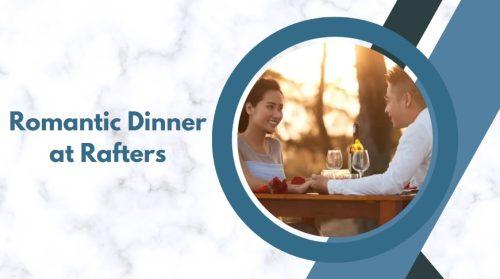 Nestled in the heart of Sheffield, Rafters is a culinary gem that promises to whisk you and your partner away on a gastronomic journey like no other. As one of the few Michelin-starred restaurants in the city, it's renowned for its exquisite cuisine and impeccable service.
Step into this elegant establishment and prepare to be enchanted by the intimate ambience. The dimly lit dining room sets the stage for romance, while soft music fills the air, creating an atmosphere perfect for whispering sweet nothings.
The menu at Rafters is a work of art crafted with passion and precision. From delicate seafood dishes bursting with flavour to mouthwatering cuts of tender meat expertly prepared, each dish is a masterpiece in itself. Indulge in creative combinations of ingredients that will tantalize your taste buds and leave you craving more.
To elevate your experience even further, pair your meal with a carefully selected wine from their extensive list. The knowledgeable staff will guide you through each selection, ensuring that every sip complements your chosen dish perfectly.
A romantic dinner at Rafters isn't just about delectable food; it's about savouring every moment together. Allow yourselves to be pampered as attentive waitstaff cater to your needs without being intrusive, allowing you both to fully immerse yourselves in each other's company.
At Rafters, love truly is on the menu. So make reservations and treat yourselves to an unforgettable evening filled with culinary delights and cherished moments shared between two hearts entwined.
2. Take a Walk in the Botanical Gardens
Nestled in the heart of Sheffield, the Botanical Gardens offer a serene and enchanting escape for couples seeking a romantic getaway. As you enter this oasis of greenery, you are immediately greeted by beautifully landscaped gardens and vibrant flower beds that stretch as far as the eye can see.
Take your partner's hand and meander along winding paths lined with delicate blooms. Breathe in the fragrant scents of roses, lavender, and jasmine as you explore this botanical paradise together. The sound of trickling water from fountains adds to the soothing ambience, creating a tranquil atmosphere perfect for intimate conversations.
Step into one of the elegant glasshouses dotted throughout the gardens – each housing its own unique collection of plants from around the world. Lose yourselves amidst tropical foliage or marvel at rare orchids in full bloom. The sheer variety and beauty within these greenhouses will leave you both spellbound.
For those who crave some quiet moments together, find a secluded bench hidden amongst lush shrubs or beneath towering trees. Sit side by side, surrounded by nature's embrace, and simply enjoy each other's company in peaceful serenity.
As dusk descends upon the gardens, witness how sunlight filters through leaves casting an ethereal glow on everything it touches. The golden hour is truly magical here – capturing precious moments that will be etched forever in your memories.
3. Watch a Sunset at Redmires Reservoir
As the sun begins to dip below the horizon, casting a warm glow across the sky, there's no better place to be than at Redmires Reservoir. Nestled on the outskirts of Sheffield, this hidden gem offers couples a truly magical experience.
Imagine sitting hand in hand with your loved one, watching as vibrant hues of orange and pink paint the sky above you. The stillness of the water reflects these stunning colours, creating an ethereal atmosphere that is simply mesmerizing. It's a moment that will make you feel connected to nature and each other in ways you never thought possible.
Redmires Reservoir provides a tranquil escape from the hustle and bustle of city life. Surrounded by lush greenery and rolling hills, it feels like stepping into another world entirely. Take a leisurely walk along its banks or find a secluded spot to sit together and soak in the beauty around you.
The reservoir also offers ample opportunities for wildlife spotting. Keep your eyes peeled for graceful swans gliding through the water or even catch sight of elusive woodland creatures darting among the trees. It's all part of what makes this place so special – every visit holds something new to discover.
Whether you're looking for romance or just some peaceful moments together, watching a sunset at Redmires Reservoir is an experience not to be missed. So pack a blanket, bring some snacks and let nature work its magic as you enjoy an evening filled with awe-inspiring views and cherished memories with your partner by your side
4. Couples Spa Day
One of the most indulgent and relaxing experiences for couples in Sheffield is a spa day at the luxurious Spa 1877. Nestled in a beautifully restored Victorian Turkish bath, this local gem offers a range of massages and treatments to help you unwind and rejuvenate.
Step into an oasis of tranquillity as you enter the spa's serene atmosphere. The soft lighting, soothing music, and aromatic scents instantly transport you to a state of pure relaxation. Leave all your worries behind as highly skilled therapists pamper you with their expert touch.
Choose from an array of couples' treatments designed to enhance your sense of well-being. From Swedish massages that melt away stress to invigorating facials that leave your skin glowing, each treatment is tailored to meet your specific needs.
Indulge in some quality time together by booking a side-by-side massage or sharing a blissful soak in one of the spa's private baths. As tension melts away from your bodies, feel yourselves growing closer and more connected.
Afterwards, take advantage of the spa's other amenities such as saunas, steam rooms, or hot tubs. Unwind further with herbal teas or refreshments available at their cosy lounge area.
A couples' spa day at Spa 1877 promises not only physical rejuvenation but also emotional intimacy. It allows you both to escape from daily stresses and focus on each other while enjoying the ultimate pampering experience.
So why not treat yourselves? Take some time out from your busy lives and immerse yourselves in total relaxation at Spa 1877 – because every couple deserves some well-deserved TLC!
5. Enjoy a Scenic Ride on the Sheffield Wheel
One of the most romantic and exciting activities for couples in Sheffield is taking a scenic ride on the Sheffield Wheel. This temporary Ferris wheel attraction offers a unique opportunity to get a bird's-eye view of the city.
As you ascend higher and higher, you'll be captivated by stunning panoramic views of Sheffield's skyline. The towering buildings, lush green parks, and winding rivers create a breathtaking backdrop for your romantic experience.
Imagine holding hands with your loved one as you slowly rotate above the cityscape. The gentle breeze brushes against your skin, adding an extra touch of romance to this memorable moment. Take in the sights together as you point out familiar landmarks or discover hidden gems from this new perspective.
The Sheffield Wheel is not only about admiring the view; it also provides an intimate setting for couples to spend quality time together. Enjoy quiet conversations or steal kisses amidst the enchanting atmosphere created by twinkling lights and soft music playing in the background.
Things to Do in Sheffield for Families
1. Visit the Tropical Butterfly House, Wildlife, and Falconry Centre
Nestled in the heart of Sheffield, the Tropical Butterfly House, Wildlife, and Falconry Centre is a must-visit destination for families seeking a memorable day out. This family-friendly attraction offers an enchanting experience where you can encounter a wide variety of animals and birds of prey up close.
Step into the lush tropical gardens and be transported to a world teeming with colourful butterflies fluttering around you. Marvel at their delicate beauty as they gracefully dance from flower to flower. It's truly a magical sight that will captivate both young and old alike.
Butterflies aren't the only creatures you'll find here – there are also meerkats, lemurs, wallabies, otters, reptiles, and more! Get ready to meet these fascinating animals as you explore the various enclosures throughout the centre. Learn about their habitats, behaviours, and conservation efforts underway to protect them.
For those who love raptors and falconry shows, this place has got you covered too! Watch in awe as majestic birds take flight during thrilling flying displays. The experienced falconers will share their knowledge about these magnificent creatures while demonstrating their incredible skills.
But it's not just about animal encounters – there are also fantastic play areas for children to enjoy. Let them burn off some energy on the adventure playgrounds or have fun bouncing on trampolines. Plus, don't miss out on feeding sessions where kids can interact with friendly farmyard animals like goats and pigs.
The Tropical Butterfly House offers an educational yet entertaining experience for families of all ages. Immerse yourselves in nature's wonders as you embark on this wildlife adventure right within Sheffield's reach.
2. Explore Magna Science Adventure Centre
Located in Sheffield, the Magna Science Adventure Centre is a must-visit destination for families looking to engage in hands-on science and discovery activities. With its unique blend of education and entertainment, this centre offers an immersive experience suitable for all ages.
Upon stepping foot inside Magna, you'll be greeted by an array of interactive exhibits that cover a wide range of scientific topics. From exploring the wonders of electricity to delving into the mysteries of space, there's something here to pique everyone's curiosity.
One highlight at Magna is the Big Melt show, where visitors can witness the incredible process of steelmaking up close. It's not only educational but also awe-inspiring to see how raw materials are transformed into everyday objects we use.
For those who enjoy getting hands-on with experiments, there are numerous workshops available throughout the day. From chemistry demonstrations to creating your own mini rockets, these activities provide a fun and engaging way to learn about scientific principles.
But it doesn't stop there! The outdoor adventure playground offers plenty of opportunities for children to burn off some energy while still incorporating scientific themes. They can climb towers inspired by industrial structures or navigate through tunnels reminiscent of underground mines.
3. Go Ice Skating at IceSheffield
One of the most enjoyable activities for families in Sheffield is ice skating at IceSheffield. Whether you're a seasoned skater or a complete beginner, this is an experience that the whole family can enjoy together.
At IceSheffield, you'll find a spacious and well-maintained ice rink that offers public skating sessions throughout the week. The facility also provides skate hire, so you don't need to worry about bringing your own skates. This makes it convenient for families who may not have their own equipment.
As you glide across the smooth ice, laughter fills the air as parents and children embrace this winter pastime. It's a chance to let loose and have fun while getting some exercise at the same time.
Ice skating is not only great for physical activity but also promotes coordination and balance skills in children. It's thrilling to see them gain confidence on the ice as they improve their abilities with each visit.
The friendly staff at IceSheffield are always ready to lend a helping hand if needed, ensuring everyone feels safe on the ice. They provide lessons for beginners or those looking to brush up on their skills, making it accessible for all ages and abilities.
4. Discover Weston Park Museum
Discover Weston Park Museum: Learn about Sheffield's history through interactive exhibits and family-friendly displays.
Step back in time and immerse yourself in the rich history of Sheffield at the Weston Park Museum. This fascinating attraction offers a unique opportunity for families to learn about the city's past through interactive exhibits and engaging displays.
As you enter the museum, you'll be greeted by a wide range of artefacts that tell the story of Sheffield's industrial heritage. From steelmaking to cutlery production, these exhibits provide a glimpse into the city's proud past as an industrial powerhouse.
But it doesn't stop there – Weston Park Museum also offers hands-on activities that allow visitors of all ages to get involved in learning. Kids can try their hand at pottery making or even become archaeologists for the day, uncovering hidden treasures from Sheffield's past.
One highlight not to be missed is "Sheffield Life & Times," an exhibition that explores everyday life in the city throughout different time periods. From Victorian homes to post-war rationing, this display gives visitors a real sense of what life was like for previous generations.
And let's not forget about Little Bear! The museum has its very own mascot that guides children through various areas, making learning fun and interactive for little ones.
5. Day Trip to the Peak District
One of the best things about Sheffield is its proximity to the stunning Peak District National Park. Just a short drive away, this picturesque park offers endless opportunities for families to immerse themselves in nature and create unforgettable memories.
Hiking enthusiasts will be spoiled for choice with the wide range of trails available, catering to all ages and abilities. From gentle walks along riverside paths to challenging hikes up steep hillsides, there's something for everyone here. The breathtaking views from atop Mam Tor or Stanage Edge are well worth the effort!
If you prefer a more relaxed day out, why not pack a picnic and find a peaceful spot to enjoy some quality family time? With vast expanses of green meadows and serene lakes scattered throughout the park, you're sure to find the perfect spot for an al fresco feast.
Nature lovers will also delight in the diverse wildlife that calls the Peak District home. Keep your eyes peeled for majestic birds soaring overhead, playful otters splashing in streams, and even herds of wild deer grazing peacefully in meadows.
Things to Do in Sheffield at Night
1. Enjoy Cocktails at The Great Gatsby
Step into the glitz and glamour of The Great Gatsby, a speakeasy-style bar that will transport you back to the roaring 1920s. Located in Sheffield's city centre, this hidden gem is renowned for its creative cocktails and stylish ambience. As you enter through the inconspicuous entrance, prepare to be amazed by the elegant decor and dimly lit atmosphere.
The bartenders at The Great Gatsby are true mixology maestros, crafting unique and flavorful concoctions that will tantalize your taste buds. From classic favourites like Old Fashioned Martini to their own signature creations, every drink is a work of art. Don't hesitate to ask for recommendations – they love sharing their expertise!
Immerse yourself in the vintage charm as you sip on your expertly crafted cocktail. Take a moment to appreciate the attention to detail – from the antique furnishings to the jazz music playing softly in the background. It's an experience that truly transports you back in time.
The Great Gatsby also offers an extensive selection of spirits, wines, and beers if cocktails aren't your thing. And if hunger strikes while enjoying your drinks, indulge in some delectable bar snacks or small plates from their menu.
2. Dance the Night Away at Leadmill
When the sun sets in Sheffield, the city comes alive with a vibrant nightlife scene. One of the must-visit spots for music lovers is Leadmill, an iconic nightclub that has been rocking Sheffield since 1980.
Step into Leadmill and prepare to dance your heart out to indie, rock, and alternative tunes. The club hosts regular nights dedicated to these genres, attracting both locals and visitors alike. With its energetic atmosphere and top-notch sound system, Leadmill guarantees a night filled with non-stop dancing and unforgettable memories.
The venue itself holds a special place in Sheffield's music history. It has hosted performances by renowned artists such as Arctic Monkeys, Pulp, Oasis, and many more. So you never know who might take the stage next!
Whether you're a fan of classic indie anthems or prefer head-banging to rock classics, Leadmill offers something for everyone. The eclectic mix of live bands and DJ sets ensures there's never a dull moment on the dance floor.
Don't worry if you're not familiar with Sheffield's music scene – treadmill will introduce you to some incredible local talent too! This nightclub has always been supportive of up-and-coming artists from the area.
3. Late-night Dining at Ecclesall Road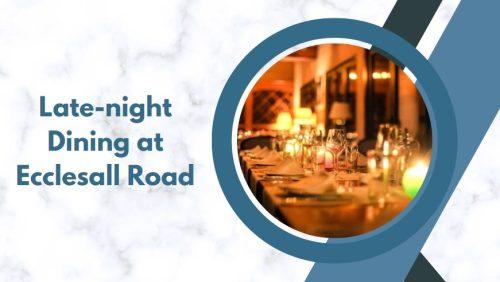 When the sun sets over Sheffield, the vibrant energy of Ecclesall Road comes alive. This bustling street is known for its diverse range of culinary delights, and when it comes to late-night dining, there's no shortage of options to tempt your taste buds.
Whether you're craving a hearty burger, authentic Italian pizza, or some mouthwatering sushi rolls, Ecclesall Road has got you covered. With a plethora of restaurants and eateries staying open past midnight, you can indulge in a delicious meal long after most places have closed their doors.
The atmosphere on Ecclesall Road at night is electric. The twinkling lights lining the street create an enchanting ambience that sets the perfect backdrop for your evening out. As you stroll along the road, you'll be spoiled for choice with the wide range of cuisines available to satisfy any craving.
From trendy gastropubs offering gourmet comfort food to elegant fine-dining establishments serving up exquisite dishes paired with carefully curated wines – every taste bud will find its match here on Ecclesall Road.
4. Comedy Night at The Leadmill Comedy Club
If you're looking for a night filled with laughter and entertainment, look no further than the Comedy Night at The Leadmill Comedy Club. This renowned club is known for attracting top-notch comedians who never fail to leave the audience in stitches.
As you step into The Leadmill, you'll immediately feel the buzzing atmosphere of excitement and anticipation. Grab a drink from the bar and find your seat as the stage lights up with comedic brilliance.
The lineup of comedians is always impressive, showcasing a mix of established acts and up-and-coming talent. From witty one-liners to hilarious stories about everyday life, these performers know how to tickle your funny bone.
With each joke that lands perfectly and every punchline that leaves you gasping for breath, it's easy to see why The Leadmill Comedy Club has become a favourite among locals and visitors alike. And if you're lucky, you might even catch a surprise guest appearance from a well-known comedian!
5. Casino Night at Napoleons Casino & Restaurant
Nestled in the heart of Sheffield, Napoleons Casino & Restaurant is a haven for those seeking an exhilarating and sophisticated night out. Step into this luxurious establishment and prepare to be dazzled by its opulent decor and vibrant atmosphere.
As you enter the casino floor, you'll find yourself surrounded by a wide range of thrilling games that will put your luck to the test. From classic table games like blackjack, roulette, and poker to state-of-the-art slot machines, there's something here for every kind of gambler. Whether you're a seasoned player or just trying your luck for the first time, Napoleons Casino offers an exciting experience for all.
The friendly staff are always on hand to assist you with any queries or help guide you through the various games on offer. With their expertise and warm hospitality, they ensure that everyone feels welcome and comfortable throughout their visit.
After working up an appetite at the tables, head over to the exquisite restaurant area where mouthwatering dishes await. Indulge in a delectable meal prepared by talented chefs using only the finest ingredients. From succulent steaks to fresh seafood delicacies, each dish is crafted with precision and passion.
To complete your evening at Napoleons Casino & Restaurant, why not enjoy a refreshing cocktail or two at their stylish bar? Sip on expertly mixed concoctions while basking in the lively ambience around you.
With its sophisticated setting, exciting casino games, gourmet dining options, and chic bar area, Napoleons Casino & Restaurant truly offers an unforgettable night out in Sheffield.
Conclusion
In conclusion, Sheffield is a city that offers a wide range of activities and attractions for visitors to enjoy. From exploring its rich industrial heritage to indulging in its vibrant arts and culture scene, there is something for everyone in this dynamic city. Whether you're seeking outdoor adventures, shopping opportunities, or delicious culinary experiences, Sheffield has it all. The city's hidden gems and local favourites add an extra layer of charm, making for a memorable and authentic experience. So, pack your bags and get ready to embark on an unforgettable journey filled with incredible sights, unique activities, and cherished memories in Sheffield.
Related Articles:
Best Things to Do in Southampton