Welcome to the charming city of Chester, where history and beauty harmoniously come together. Nestled in the heart of England, this enchanting city offers a plethora of activities and attractions that will captivate your senses. From exploring ancient Roman baths to indulging in traditional afternoon tea at a luxurious hotel, there is something for everyone in Chester. So, pack your bags and get ready to embark on an unforgettable journey filled with culture, adventure, and delightful surprises. Join us as we uncover the top things to do in Chester – let's dive right in!
Best Things to Do in Chester
Things to Do in Chester for Couples
1. Romantic Stroll Along the River Dee
Imagine the gentle breeze caressing your face as you and your partner take a leisurely stroll along the banks of the River Dee. The picturesque views that unfold before you will leave you breathless, with each turn revealing a new enchanting sight. From quaint bridges spanning the river to lush greenery lining its banks, every step is an opportunity to immerse yourselves in the romantic beauty of Chester.
As you walk hand in hand, take a moment to pause and admire the reflections dancing on the water's surface. The tranquillity of the river creates an intimate atmosphere, allowing couples to escape from the hustle and bustle of everyday life and connect on a deeper level.
The charming bridges that grace this scenic route add another layer of romance to your stroll. Cross over these architectural masterpieces together, pausing at each one to capture those perfect couple moments against their stunning backdrop.
Whether it's early morning or sunset, there is something magical about experiencing this tranquil setting with someone special by your side. Let time slow down as you soak in each other's company amidst nature's beauty.
2. Chester Ghost Tours
Chester Ghost Tours: Explore the city's spooky side together on a guided ghost tour, where you can hear tales of Chester's haunted history and mysteries.
Step into the darkness and embrace an eerie adventure as you embark on a Chester Ghost Tour with your loved one. As night falls, the city reveals its hidden secrets, inviting you to delve into its haunted past. With every step you take through dimly lit streets and winding alleyways, anticipation grows, and goosebumps prickle your skin.
Listen intently as your knowledgeable guide recounts chilling stories of restless spirits that are said to still wander the ancient walls of Chester. From tragic love affairs to mysterious disappearances, each tale adds another layer of intrigue to this enchanting city.
Feel your heart race as you explore historic landmarks known for their paranormal activity. The shadows seem alive with whispers from long ago, heightening the spine-tingling atmosphere. Keep close to each other as you navigate cobblestone streets lined with centuries-old buildings that hold untold secrets within their walls.
The air is thick with mystery as you journey deeper into Chester's haunted history. Your imagination runs wild while listening to accounts of ghostly apparitions and unexplained phenomena that have left locals bewildered for generations.
This unique experience allows couples to bond over shared thrills and excitement in a setting like no other. Whether believers or sceptics, these ghost tours provide an unforgettable opportunity for couples seeking a memorable evening filled with suspense and intrigue.
3. Boat Trip on the River Dee
A boat trip on the River Dee is the perfect way for couples to experience the beauty of Chester from a different perspective. Step aboard and let the gentle waves carry you along, as you bask in the tranquillity of your surroundings. As you drift along, hand in hand with your loved one, take in the breathtaking views that unfold before your eyes.
From the water, you'll have a unique vantage point to admire Chester's stunning architecture and picturesque landscapes. Marvel at ancient bridges that span across the river, their intricate designs telling stories of centuries gone by. Admire grand historic buildings that line the riverbanks, showcasing their impressive facades as they reflect on the glistening water.
As you glide along peacefully, allow yourselves to be enveloped by a sense of serenity and calmness. Feel any stresses or worries melt away as you immerse yourself in this romantic journey together. Take this opportunity to connect with each other amidst nature's embrace – share whispers of sweet nothings and create cherished memories that will last a lifetime.
A boat trip on the River Dee offers not only a relaxing escape but also an intimate setting where love can flourish. Let yourselves be swept away by its enchanting allure – an experience that truly embodies romance in every gentle sway of its waters.
4. Chester Cathedral and Gardens
When it comes to finding a romantic and serene spot for couples in Chester, the magnificent Chester Cathedral and its beautiful gardens are hard to beat. This iconic landmark offers not only stunning architecture but also a tranquil atmosphere that is perfect for spending quality time with your loved one.
As you step into the cathedral, you will be awed by its grandeur and intricate details. The soaring ceilings, stained glass windows, and peaceful ambience create an enchanting setting that is sure to leave a lasting impression. Take your time as you explore the various chapels and admire the artwork on display.
After immersing yourselves in the beauty of the cathedral, venture out into its picturesque gardens. Here, you can stroll hand in hand along well-manicured paths lined with vibrant flowers and lush greenery. Find a cosy bench or quiet corner where you can sit together and enjoy each other's company amidst this idyllic oasis.
Once you've soaked up the tranquillity of the cathedral grounds, head over to Chester Rows for some boutique shopping. These historic two-tiered galleries are home to an array of charming shops offering unique gifts, clothing, jewellery, and more. Take delight in browsing through these quaint establishments as you hold hands with your partner.
Indulge in some retail therapy before stopping at one of the many intimate cafes or restaurants nestled within Chester Rows. Treat yourselves to a romantic meal or simply relax with a cup of coffee while taking in the picturesque surroundings.
Chester Cathedral and Gardens combined with exploring Chester Rows offer couples an unforgettable experience filled with romance and charm. Whether it's admiring architectural marvels or indulging in boutique shopping escapades – there's something truly magical about discovering these hidden treasures together.
5. Chester Rows and Boutique Shopping
Chester Rows and Boutique Shopping: Wander hand in hand along the historic Rows, exploring boutique shops and stopping for a romantic meal or coffee at a cosy café.
The charming streets of Chester are lined with unique boutiques and shops, making it the perfect destination for couples who enjoy shopping together. As you wander hand in hand along the historic Rows, you'll find a wonderful array of independent stores offering everything from fashion to homeware. Take your time browsing through the eclectic mix of items on display, discovering hidden gems along the way.
Not only is shopping in Chester an opportunity to find something special for yourselves or loved ones, but it also provides a chance to create lasting memories together. Imagine stepping into quaint little boutiques filled with stunning clothing pieces that catch your eye. Try on different outfits and see each other's faces light up as you model them in front of vintage mirrors.
After indulging in some retail therapy, why not take a break and treat yourselves to a romantic meal or coffee at one of Chester's cosy cafés? Find a quaint spot where you can sit close together, sharing stories over delicious food or sipping hot beverages while enjoying each other's company.
Things to Do in Chester with Toddlers
1. Storyhouse
Storyhouse is a must-visit destination for families with toddlers in Chester. This cultural centre offers a wide range of activities that are sure to keep your little ones entertained and engaged.
One of the highlights of Storyhouse is its library, which boasts an extensive collection of books suitable for children of all ages. From picture books to chapter books, there's something for every young reader to enjoy. You can spend hours browsing through the shelves, finding new stories to share with your toddler.
In addition to its impressive library, Storyhouse also houses a theatre that puts on various shows and performances throughout the year. These productions are often tailored specifically for younger audiences, making them perfect for toddlers. Watching live performances can be a magical experience for children, sparking their imagination and love for the arts.
But it doesn't stop there! Storyhouse goes above and beyond by offering interactive exhibits and storytelling sessions designed specifically with toddlers in mind. These activities allow little ones to engage with stories in exciting ways, fostering their creativity and cognitive development.
2. Miniature Railway at Mouldsworth
Just a short drive away from Chester lies the enchanting Miniature Railway at Mouldsworth. This delightful attraction is sure to capture the imagination of your little ones as they hop aboard a miniature steam train for an unforgettable ride. The excitement in their eyes as they witness the puffing locomotive and feel the gentle sway of the carriages is truly priceless.
The Miniature Railway offers a wonderful opportunity for toddlers to experience the magic of trains in a safe and child-friendly environment. As they chug along on this mini adventure, their faces light up with joy, making memories that will last a lifetime.
The scenic route takes you through picturesque countryside, offering glimpses of lush greenery and charming landscapes. It's not just about the train ride though! At Mouldsworth station, there are often additional activities such as face painting or storytelling sessions to keep your little one engaged and entertained.
3. The Ice Cream Farm
Located in Chester, The Ice Cream Farm is a must-visit destination for families with toddlers. It offers a delightful combination of fun activities, farm animals, and mouthwatering ice cream. This family attraction truly lives up to its name!
At The Ice Cream Farm, children can immerse themselves in the play areas designed to spark their imagination and creativity. From climbing frames and slides to sand pits and adventure trails, there are endless opportunities for little ones to run, jump, and explore.
But that's not all – the farm also features an array of adorable farm animals! Toddlers will have the chance to meet friendly cows, sheep, goats, and even alpacas. It's a wonderful opportunity for kids to learn about different animals while having lots of fun.
And of course, no visit would be complete without indulging in some delicious ice cream! The Ice Cream Farm boasts an impressive selection of flavours that will satisfy even the pickiest taste buds. From classic favourites like chocolate and strawberry to more unique options like bubblegum or salted caramel – there's something for everyone!
4. Grosvenor Park
Grosvenor Park is a must-visit destination for families with toddlers in Chester. This charming park offers a delightful combination of fun and tranquillity, making it the perfect spot to spend quality time with your little ones.
One of the highlights of Grosvenor Park is its fantastic playground. With slides, swings, climbing frames, and more, there are plenty of opportunities for your toddler to burn off some energy while having loads of fun. The playground is designed with safety in mind, so you can relax knowing that your child is playing in a secure environment.
Another exciting feature of Grosvenor Park is the miniature railway. Toddlers will love taking a ride on this adorable train as it chugs through the park, offering scenic views along the way. It's an experience that will surely bring smiles to their faces and create lasting memories.
In addition to the playground and miniature railway, Grosvenor Park boasts lovely gardens where toddlers can run around freely. They can explore nature, play hide-and-seek amongst the trees and flowers or simply enjoy some peaceful moments surrounded by beautiful greenery.
5. Chester Zoo
Nestled in the heart of Chester, there lies a captivating world waiting to be discovered by toddlers and their families – Chester Zoo. This vibrant zoo is not just any ordinary animal park; it is an immersive experience that will leave little ones wide-eyed and full of wonder.
As you step through the gates, prepare to embark on a journey like no other. From towering giraffes gracefully striding across the savannah to mischievous monkeys swinging from branch to branch, every corner unveils a new adventure for your little explorers.
The beauty of Chester Zoo lies not only in its awe-inspiring animals but also in its thoughtful design for young children. With play areas dotted throughout the park, your toddler can burn off some energy whilst still being surrounded by nature's marvels. Slides, climbing frames, and interactive exhibits provide endless entertainment opportunities while fostering a love for wildlife.
One of the highlights for toddlers at Chester Zoo is undoubtedly The Islands exhibit. Here they can get up close with playful lemurs or watch as Sumatran tigers prowl around their enclosure. It offers an educational experience that sparks curiosity and ignites imagination.
And let's not forget about feeding time! Many animal enclosures offer feeding experiences where little ones can help nourish some furry friends under expert supervision – an unforgettable memory that will be cherished for years to come.
Chester Zoo is more than just a place to see animals; it's an opportunity for toddlers to connect with nature on a deeper level and develop empathy towards our planet's incredible creatures.
Things to Do in Chester for Families
1. Roman Tours
Step back in time and embark on a fascinating journey through Chester's rich Roman history. With family-friendly tours that cater to all ages, you can explore the ancient ruins and discover the secrets of this incredible civilization.
Start your adventure by visiting the iconic Roman Amphitheatre, where gladiators once battled for glory. Wander around the well-preserved remains and imagine what life was like during those epic battles. The amphitheatre offers a glimpse into the past that will leave both kids and adults in awe.
Next, head over to the Dewa Roman Experience for an interactive and immersive tour like no other. Get ready to don your own Roman soldier helmet as you step into their shoes and experience life as it was centuries ago. From exploring reconstructed buildings to handling real archaeological artefacts, this hands-on experience is sure to ignite your curiosity about ancient civilizations.
As you delve deeper into Chester's Roman history, knowledgeable guides will bring stories of emperors, soldiers, and everyday citizens vividly to life. They'll share intriguing tales of conquests, myths, and legends that will captivate even the youngest members of your family.
2. Chestnut Centre Play Area
When it comes to family-friendly activities in Chester, the Chestnut Centre Play Area is definitely a must-visit spot. Located in Grosvenor Park, this play area offers something for everyone in the family.
First and foremost, the large playground at Chestnut Centre is sure to keep kids entertained for hours. With swings, slides, climbing frames, and more, there's no shortage of fun things to do. Children can let their imaginations run wild as they explore the various play structures and engage in active outdoor play.
In addition to the playground equipment, Chestnut Centre also provides ample picnic areas where families can enjoy a leisurely lunch or snack amidst nature. The park itself offers plenty of green space for running around and playing games together as a family.
What sets Chestnut Centre apart from other play areas is its serene location within Grosvenor Park. Surrounded by beautiful gardens and trees, it creates a peaceful atmosphere that adds an extra touch of relaxation to your visit.
3. Blue Planet Aquarium
If you're looking for an underwater adventure that the whole family will love, look no further than the Blue Planet Aquarium in Chester! This incredible attraction offers a mesmerizing experience as families can explore the wonders of marine life through stunning underwater tunnels and interactive exhibits.
As you step into the aquarium, you'll be transported to a world beneath the waves. The underwater tunnels provide a unique opportunity to get up close and personal with sharks, rays, and countless species of fish swimming all around you. It's like diving into a living aquarium!
But it doesn't stop there – the Blue Planet Aquarium also offers interactive exhibits that allow kids (and adults!) to learn more about our oceans and their inhabitants. From touch tanks where little ones can feel starfish and crabs to live feeding demonstrations that showcase the fascinating eating habits of different marine creatures, there's something here for everyone.
One highlight not to be missed is the daily dive show where skilled scuba divers interact with some of the larger residents of the aquarium. It's both educational and thrilling as they share insights about these magnificent animals while showcasing their agility underwater.
Whether your family has a deep love for marine life or simply wants an unforgettable day out, visiting this mesmerizing Aquarium is sure to leave lasting memories. So dive right in and immerse yourselves in this captivating undersea world!
4. Chester Science Centre
Located in the heart of Chester, the Chester Science Centre is a must-visit destination for families looking to stimulate young minds and ignite a passion for science. With its hands-on exhibits and educational activities, this centre offers an immersive experience that both children and adults can enjoy.
Step into a world of discovery as you explore the various interactive exhibits on display. From exploring outer space to uncovering the mysteries of chemistry, there is something for everyone at the Chester Science Centre. Children can engage in experiments, test their knowledge, and satisfy their curiosity through engaging displays that bring science to life.
One of the highlights of the centre is its focus on providing age-appropriate activities for kids of all ages. Whether your child is just starting their scientific journey or already has a keen interest in STEM subjects, they will find something exciting and educational here.
The Chester Science Centre also hosts regular workshops and events designed to further enhance learning opportunities. These include hands-on experiments led by knowledgeable staff members who are passionate about inspiring young minds.
5. Family-Friendly Pubs and Restaurants
When it comes to dining out with the family in Chester, you won't be disappointed. The city boasts a range of family-friendly pubs and the best restaurants that cater to both kids and adults alike.
One popular spot is The Brewery Tap, located near the city centre. This traditional pub not only offers a warm and welcoming atmosphere but also has a dedicated children's menu featuring all the favourites like fish and chips, burgers, and pasta dishes. Plus, there's even an outdoor play area where kids can burn off some energy while parents enjoy their meals.
Another great option is The White Horse Inn, situated just outside Chester in the charming village of Great Barrow. This cosy pub prides itself on its family-friendly environment with a separate children's playroom filled with toys and games. And don't worry about finding something for everyone to eat – their extensive menu includes everything from classic pub fare to vegetarian options.
If you're looking for something a little different, why not try Hickory's Smokehouse? This American-style BBQ restaurant offers a unique dining experience with its mouthwatering smoked meats and tasty sides. Kids will love exploring the "Little Hix" menu which features mini versions of their favourite dishes like sliders and mac 'n' cheese.
Things to Do in Chester City Centre
1. City Walls Walk
As you step onto the ancient City Walls of Chester, a sense of history and grandeur washes over you. These well-preserved walls have stood the test of time, offering visitors a unique opportunity to take a leisurely stroll through centuries of stories. As you walk along the elevated path, breathtaking panoramic views unfold before your eyes. From here, you can gaze upon the vibrant city centre below, with its mix of modern architecture and historic landmarks seamlessly intertwined.
The City Walls themselves are steeped in their own fascinating history. Dating back to Roman times, they were originally built as a defensive structure to protect this strategic outpost. Today, they serve as a gateway into Chester's rich past and provide an unparalleled vantage point from which to admire its beauty.
As you make your way along the walls, keep an eye out for key points of interest. Look down upon Eastgate Clock – one of Britain's most iconic timepieces – standing proudly at the entrance to the city centre. Admire the majestic Cathedral spires piercing through the skyline and catch glimpses of charming Tudor-style buildings nestled amongst more contemporary structures.
With each step along this historic pathway, it becomes clear that walking on these walls is not just about taking in picturesque views; it's about immersing yourself in Chester's captivating heritage. The combination of stunning vistas and tangible connections to bygone eras creates an experience like no other.
2. Chester Grosvenor Shopping Centre
Chester Grosvenor Shopping Centre is a shopper's paradise nestled in the heart of Chester city centre. With its elegant architecture and prestigious designer brands, this shopping haven offers an unrivalled retail experience.
As you step inside the shopping centre, you'll be greeted by a plethora of high-end shops showcasing the latest fashion trends. From renowned clothing brands to luxury accessories, there's something to suit every style and taste. Whether you're searching for that perfect statement piece or simply browsing for inspiration, Chester Grosvenor has it all.
But it's not just about fashion here – the shopping centre also boasts a diverse range of homeware stores. Explore beautifully curated interior shops where you can find unique furnishings and decor items to enhance your living space. From chic home accessories to stylish furniture pieces, you'll be spoiled for choice when it comes to transforming your home into a sanctuary of style.
In addition to its impressive selection of shops, Chester Grosvenor Shopping Centre also offers an array of dining options. Take a break from your retail therapy and indulge in some delicious cuisine at one of the many restaurants or cafes dotted throughout the complex. Whether you're craving international flavours or traditional British fare, there's something to tempt every palate.
3. Chester Cathedral and Gardens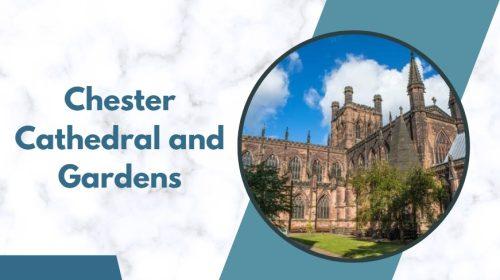 One of the must-see attractions in Chester City Centre is the impressive Chester Cathedral and its serene gardens. This historic landmark offers visitors a peaceful oasis right in the heart of the bustling city.
As you step inside, you'll be greeted by stunning architecture and intricate details that showcase centuries of craftsmanship. The cathedral's towering ceilings and magnificent stained glass windows will leave you in awe.
Take your time to explore the tranquil gardens surrounding the cathedral. With beautifully manicured lawns, vibrant flower beds, and quiet corners to sit and reflect, it's a perfect place to escape from the busy streets outside.
While visiting Chester Cathedral, don't forget to check out some of its notable features such as The Quire with its ornate wooden stalls or The Chapter House with its glorious medieval ceiling. You can also join one of their guided tours for a deeper insight into the history and significance of this iconic site.
4. The Rows
The Rows in Chester City Centre are a hidden gem waiting to be explored. These unique covered walkways date back to medieval times and offer visitors a truly distinctive shopping and dining experience.
As you wander through The Rows, you'll find yourself immersed in history. The architecture is stunning, with black and white timber-framed buildings lining the streets. Each row is filled with an array of independent shops, charming cafes, and delightful restaurants.
Step into one of the many boutique shops that call The Rows home, and you'll discover a treasure trove of unique finds. From stylish clothing boutiques to quirky gift stores, there's something for everyone here. And don't forget to look up – each level offers another layer of retail therapy!
After browsing through the shops, take a break at one of the cosy cafes dotted along The Rows. Sit by the window as you sip on your coffee or enjoy a delicious meal while taking in the picturesque views below.
In the evening, The Rows come alive with twinkling lights illuminating their historic charm. It's the perfect setting for a romantic dinner or drinks with friends at one of the many fantastic restaurants nestled within these centuries-old walkways.
5. Theatre and Arts
Chester is not only steeped in history and stunning architecture, but it also offers a vibrant arts and theatre scene that will ignite your imagination. When visiting the city centre, be sure to carve out some time to immerse yourself in the rich cultural experiences on offer.
For those who appreciate the performing arts, Chester boasts a range of venues showcasing an array of theatrical productions. From classic plays to cutting-edge performances, there's something for everyone. Grab tickets to a show at The Storyhouse Theatre or The Forum Studio Theatre for an evening filled with drama, laughter, and pure entertainment.
If visual arts are more your style, you'll find numerous art galleries scattered throughout Chester's city centre. These galleries feature works by local artists as well as renowned national and international talent. Lose yourself in thought-provoking exhibitions that push boundaries and challenge perceptions.
Art lovers can also take advantage of various workshops and classes offered by these galleries. Unleash your creative side while learning new techniques from skilled artists who are passionate about sharing their knowledge.
Conclusion
In conclusion, Chester offers a plethora of exciting and memorable experiences for visitors and locals alike. From immersing yourself in the rich history and exploring historical sites to enjoying the vibrant food and drink scene, the city has something to offer for everyone. Whether you're seeking outdoor adventures, cultural immersion, family-friendly activities, or simply a relaxing getaway, Chester has it all. By uncovering the hidden gems and local favourites, you can truly make the most of your time in this charming city. So, pack your bags and get ready to embark on an unforgettable journey filled with incredible sights, delicious cuisine, and cherished memories in Chester.
Related Articles:
Best Things to Do in Sheffield
Best Things to Do in Southampton