Looking for exciting things to do in South West London? Look no further! From world-renowned museums and contemporary art galleries to scenic walks along the Thames, South West London has something for everyone. Whether you're a history buff, an art lover, or just looking for a relaxing day out, this vibrant part of the city is sure to offer plenty of options to suit your interests. So grab your walking shoes and join us on a journey through some of the best things to do in South West London!
Best Things to Do South West London – Top 15 Exciting Things
1. Visit the Natural History Museum in South Kensington
Visiting the Natural History Museum in South Kensington is a must-do activity for anyone interested in exploring the wonders of nature. The museum boasts an impressive collection of exhibits that showcase everything from dinosaurs to human evolution and beyond.
As soon as you enter, you'll be greeted by a towering Diplodocus skeleton, which sets the tone for what's to come. Other highlights include the stunning Hintze Hall, where you can admire numerous specimens such as marine animals, plants and minerals.
One of the most popular exhibits at the museum is undoubtedly Dippy – an iconic dinosaur cast that stands at 26 meters long! It offers a remarkable opportunity to learn about prehistoric creatures and their way of life.
Additionally, don't forget to check out "The Vault" exhibit showcasing rare gemstones like diamonds and sapphires. You can also explore other sections dedicated to botany, entomology or even anthropology!
Admission is free but it's worth noting that some special exhibitions may require tickets purchased beforehand. Whether you're visiting with family or friends or just looking for something fun and educational to do solo, this museum has something for everyone!
2. Discover the Victoria and Albert Museum in South Kensington
If you're a lover of art and design, then the Victoria and Albert Museum in South Kensington is an absolute must-visit. This world-renowned museum boasts an impressive collection of sculptures, paintings, textiles, and decorative arts from various periods and cultures.
The museum's vast range of exhibits includes works by famous artists such as Leonardo da Vinci, Michelangelo, and Raphael. You can also explore stunning fashion collections showcasing designs from renowned designers like Alexander McQueen and Vivienne Westwood.
The Victoria and Albert Museum has something for everyone with its wide variety of displays that cater to all interests. Whether you're interested in ancient civilizations or modern-day pop culture icons like David Bowie, there is something here to captivate your imagination.
One highlight of the museum is its extensive jewellery collection which features pieces ranging from ancient Egyptian times to contemporary designs. The intricate details on display are truly breathtaking!
Another feature worth exploring at the Victoria & Albert Museum is their temporary exhibitions which often showcase cutting-edge contemporary art installations that will leave you amazed!
A visit to this iconic institution should be included on any traveller's list when visiting London!
3. Explore the Science Museum in South Kensington
The Science Museum in South Kensington is a fantastic place to learn and explore the wonders of science and technology. With its interactive exhibits, demonstrations, and hands-on activities, visitors of all ages can deepen their knowledge about scientific advancements.
One of the highlights of this museum is the Wonderlab gallery. In this section, you can witness live experiments that showcase some of the most incredible scientific principles at work. You can even take part in these experiments yourself!
Another popular exhibit is Flight Gallery where you get to see actual airplanes hanging overhead! You will also discover how they were built throughout history as well as understand how planes fly through various interactive displays.
If outer space interests you more than aviation then head over to The Exploring Space exhibit which gives insight into human exploration beyond Earth's atmosphere from early astronomers right up until modern-day explorations by SpaceX or NASA!
Visiting this museum inspires curiosity for science and technology amongst people from all walks of life.
4. Visit the Saatchi Gallery in Chelsea
If you're a fan of contemporary art, the Saatchi Gallery in Chelsea should definitely be on your list of things to do in South West London. This gallery is known for showcasing innovative and thought-provoking exhibitions, featuring works from both established and emerging artists.
The exhibits at the Saatchi Gallery are varied, with pieces ranging from paintings and sculptures to photography and installations. The emphasis here is on pushing boundaries and challenging visitors' perspectives on what art can be.
One thing that sets the Saatchi Gallery apart is its commitment to promoting new talent. Many of the artists featured here are relatively unknown outside of their own circles but have been selected for their unique vision or fresh approach to familiar themes.
Of course, there's also plenty to see from more well-known names in the world of contemporary art. The gallery has hosted shows by everyone from Tracey Emin to Damien Hirst over the years.
Whether you're a seasoned art lover or just looking for something interesting to do in South West London, a visit to the Saatchi Gallery is sure to stimulate your mind and spark your creativity.
5. Enjoy a Leisurely Walk in Battersea Park
Nestled on the south bank of the River Thames, Battersea Park is a gem of South-West London that offers peaceful walks and beautiful greenery. This vast park features many walking paths, lakes with swans and ducks, playgrounds for children, and even a small zoo! Whether you want to take a stroll or jog along one of the many trails or simply relax in one of the park's picnic areas, there are plenty of options for all.
If you're an avid birdwatcher or just enjoy observing nature's beauty in general, Battersea Park has got something special for you. The park boasts over 300 species of birds including kingfishers, herons and woodpeckers among others. You can also spot some fascinating wildlife creatures such as hedgehogs and bats.
Not only does this picturesque park offer incredible natural beauty but also cultural landmarks like the Peace Pagoda which stands majestically by the lake. Visitors can marvel at its intricate architecture while enjoying panoramic views across London from its hilltop location.
In addition to being a perfect spot for families with kids who can explore various adventure playgrounds located within it – making sure your little ones will never get bored – Battersea Park is also an ideal place to spend quality time alone or with friends amidst nature's tranquil surroundings.
6. Explore Fulham Palace
Fulham Palace is one of the hidden gems of South West London. The historic residence of the Bishops of London offers a unique glimpse into the past, with beautiful gardens and archaeological discoveries waiting to be explored.
The palace boasts 13 acres of stunning botanical gardens that are free to visit all year round. The walled garden is home to rare plants and trees, while the moat garden features an impressive collection of herbs used for medicinal purposes.
But it's not just about nature at Fulham Palace. Visitors can also delve into history at the on-site museum, which showcases artefacts dating back over 1,000 years. From Roman relics to medieval treasures, there's something here for everyone interested in local history.
One highlight is definitely Bishop Bonner's Cottage – a Tudor-era building that has been restored to its former glory. Here you can see how people lived during this period and gain insight into everyday life through interactive displays and exhibits.
Moreover, if you're lucky enough to visit when events are taking place (pre-Covid), you might get a chance to experience live music concerts or outdoor theatre performances in the stunning setting of Fulham Palace Gardens!
Fulham Palace makes for an enriching day out – whether you're interested in history or simply looking for some green space away from busy city life!
7. Take a Walk Along the Thames Path in South West London
If you're looking for a relaxing and picturesque way to spend an afternoon in South West London, taking a walk along the Thames Path is definitely worth considering. The path stretches for over 25 miles from Putney Bridge all the way to Hampton Court Palace, with plenty of beautiful landmarks and sights to enjoy.
Starting at Putney Bridge, you'll be able to take in views of the river as well as some of London's most iconic bridges including Tower Bridge, London Bridge and Westminster Bridge. As you continue your stroll towards Richmond, you'll pass through charming neighbourhoods such as Barnes and Chiswick.
One highlight of the Thames Path is the abundance of green spaces along the route. From small parks to large open fields like Richmond Park – there are plenty of opportunities for picnicking or simply enjoying nature.
What's more, there are also several historic landmarks dotted along the Thames Path that are worth stopping by. For instance, you can visit Kew Gardens or Hampton Court Palace – both steeped in history and offering stunning architecture.
Walking along this scenic route is not only a great way to get some exercise but also offers an unparalleled opportunity to experience one of London's most famous natural attractions firsthand.
8. Visit the Wimbledon Lawn Tennis Museum
For tennis fans, a visit to the Wimbledon Lawn Tennis Museum is an absolute must. The museum provides an interactive and informative experience that showcases the history of one of the most prestigious tennis tournaments in the world.
The museum offers visitors a chance to see up close some of the championship trophies, including those awarded to legends such as Bjorn Borg and Pete Sampras. You can even hold replicas of these trophies for a photo opportunity.
Exploring this museum gives visitors insight into how Wimbledon has evolved over time – from its early beginnings in 1877 to becoming one of four Grand Slam events on today's professional tour. Interactive exhibits allow you to test your own skills against top players like John McEnroe or see how quickly you can react to new technologies used in training and coaching.
In addition to exploring inside the museum, there are guided tours available that take you around some key areas outside too. These include Centre Court itself where many legendary matches have taken place, along with other historic landmarks throughout the tournament grounds.
Whether you're interested in tennis or not, visiting this museum is sure to be a fascinating experience filled with insightful information about one of London's most iconic sporting events.
9. Visit Kew Gardens
Nestled in the heart of South West London lies a horticultural paradise that will leave you mesmerized – Kew Gardens. This UNESCO World Heritage Site is a haven for nature enthusiasts, boasting an awe-inspiring collection of over 50,000 living plants from across the globe.
As you wander through the enchanting pathways, prepare to be captivated by the sheer beauty and diversity of flora on display. From exotic orchids to towering palm trees, Kew Gardens truly offers something for everyone's botanical fancy.
Make sure not to miss some of the iconic highlights within these lush grounds. Step into the majestic Palm House and feel as though you've been transported to a tropical rainforest. The soaring glass structure houses an impressive array of palm trees from around the world, creating a tranquil oasis amidst bustling city life.
Venture further and discover the Temperate House, home to rare and endangered plant species. Marvel at its grandeur as you explore this Victorian masterpiece – one of the largest surviving Victorian glasshouses in existence.
And no visit would be complete without ascending into the heights of history at the Great Pagoda. Climb its winding staircase and take in panoramic views across Kew Gardens and beyond – it's truly breathtaking!
Kew Gardens is more than just a stunning botanical retreat; it's an immersive experience that allows visitors to connect with nature on a profound level. So come prepared to lose yourself among verdant landscapes, intriguing exhibitions, and serene greenhouses – your senses will thank you!
10. Explore Richmond Park
Nestled in the heart of South West London, Richmond Park is a hidden gem waiting to be explored. As one of Europe's largest urban parks, it offers a tranquil escape from the bustling city streets. With its sprawling green landscapes and diverse wildlife, it's no wonder that this park has captured the hearts of locals and tourists alike.
Step into this natural oasis and you'll find yourself surrounded by majestic deer roaming freely through the grassy fields. It's a sight that never fails to enchant visitors, creating an unforgettable experience for nature lovers. But it doesn't stop there – foxes and badgers can also be spotted if you're lucky enough.
Walking enthusiasts will relish in the park's extensive network of trails that wind their way through woodlands and meadows. Whether you prefer gentle strolls or more challenging hikes, there is a path for everyone to enjoy. Cycling and horse riding are also popular activities here, allowing visitors to explore every corner of this vast park at their own pace.
For those seeking cultural experiences within Richmond Park, don't miss out on visiting the Royal Observatory or Pembroke Lodge. The Royal Observatory provides stunning views over London while offering educational insights into astronomy and timekeeping history. Meanwhile, Pembroke Lodge serves as a charming tea house where you can indulge in delightful refreshments while taking in panoramic views of the best park.
Richmond Park truly embodies the harmony between nature and history, making it an essential destination for anyone looking to immerse themselves in South West London's beauty. So grab your walking shoes or hop on your bike – an adventure awaits amidst this idyllic haven!
11. Visit Hampton Court Palace
Hampton Court Palace, a majestic Tudor palace nestled on the banks of the River Thames, holds within its walls centuries of history and intrigue. Once the home of King Henry VIII, this grandiose palace offers visitors a unique glimpse into the opulent lives of royalty.
Step inside and be transported back in time as you explore the palace's state apartments. Marvel at the intricate tapestries adorning the walls, walk in awe through lavishly furnished rooms, and imagine yourself feasting with kings and queens in the Great Hall.
Venture outside to discover Hampton Court's stunning gardens. Take a leisurely stroll along manicured lawns, breathe in the fragrant scents from vibrant flower beds, or simply find solace among ancient trees that have witnessed centuries unfold.
For those seeking adventure, lose yourself in Hampton Court's famous maze – an elaborate puzzle waiting to be solved. As you navigate your way through twisting pathways bordered by towering hedges, immerse yourself in a game spanning hundreds of years.
Whether you're a history enthusiast or simply looking for an escape from modern-day hustle and bustle, visiting Hampton Court Palace is an experience like no other. Lose yourself in its rich past and uncover stories hidden within its grand facade.
12. Shop at Portobello Road Market
Portobello Road Market is a treasure trove of unique finds and vibrant energy. As one of London's most famous markets, it has something to offer for everyone, whether you're a fan of antiques, vintage clothing, or delicious street food.
Wandering through the market stalls feels like stepping into a time capsule. The eclectic mix of vendors selling everything from antique furniture to retro vinyl records creates an atmosphere that is both nostalgic and exciting. You never know what hidden gem you might stumble upon as you browse through the endless array of trinkets and curiosities.
For fashion enthusiasts, Portobello Road Market is a dream come true. With racks filled with vintage garments from different eras and styles, it's easy to find one-of-a-kind pieces that add character to your wardrobe. Whether you prefer timeless classics or bold statement pieces, there's always something unique waiting to be discovered.
But Portobello Road Market isn't just about shopping; it's also about immersing yourself in the lively atmosphere that fills every corner of this bustling marketplace. The scent of aromatic street food wafts through the air as vendors grill mouthwatering treats right before your eyes. Grabbing a bite to eat while exploring the market adds another layer of sensory delight to your experience.
So whether you're on the hunt for antiques, looking to revamp your wardrobe with vintage flair, or simply want to soak up the buzzing ambiance, make sure to pay a visit to Portobello Road Market during your time in southwest London – because here, adventure awaits at every turn!
13. See a show at the Richmond Theatre
The Richmond Theatre, a stunning Edwardian theatre nestled in the heart of Southwest London, is a cultural gem that never fails to captivate its audience. With its grand architecture and rich history, stepping into this majestic venue feels like entering a bygone era.
This revered establishment plays host to an array of awe-inspiring productions, ranging from gripping plays to enchanting musicals and soul-stirring concerts. Whether you're seeking the latest West End sensation or yearning for a classic production that stands the test of time, the Richmond Theatre promises an unforgettable experience.
As you settle into your plush seat and eagerly await the curtain's rise, anticipation fills the air. The hushed whispers fade away as the lights dim and magic takes center stage. From heartwrenching dramas that tug at your emotions to toe-tapping musical extravaganzas that leave you humming for days on end, each performance delivers moments of sheer delight.
Not only does attending a show at the Richmond Theatre transport you into captivating narratives and melodic wonders, but it also allows you to become part of London's vibrant theater scene. Rub shoulders with fellow culture enthusiasts during intermission or engage in lively discussions about memorable performances long after leaving this illustrious venue.
Don't miss out on experiencing world-class entertainment against an exquisite backdrop at the Richmond Theatre – where timeless tales come alive through exceptional talent and impeccable staging. Immerse yourself in artistry that leaves an indelible mark on your soul as you revel in evenings filled with pure theatrical brilliance
14. Visit the National Trust Ham House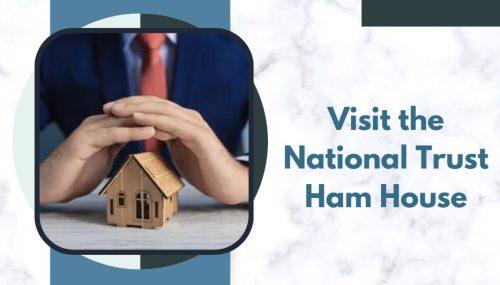 Nestled in the heart of southwest London lies a hidden gem, Ham House. This magnificent 17th-century mansion is not just your average historic home – it's a treasure trove of art and furniture that has captured the attention of visitors from all over the world.
As you step through its grand entrance, prepare to be transported back in time. The state apartments are exquisitely preserved, showcasing the opulence and elegance of yesteryears. From the intricate tapestries to the ornate ceilings, every detail tells a story of wealth and power.
But Ham House is not just about its interior splendor. Step outside into its meticulously manicured gardens and you'll find yourself surrounded by beauty at every turn. The vibrant colors of blooming flowers dance in harmony with perfectly sculpted hedges, creating an idyllic backdrop for leisurely strolls.
And if that's not enough, make sure to visit the orangery – a true oasis within an oasis. Filled with fragrant citrus trees and bathed in natural light, this peaceful sanctuary offers respite from the hustle and bustle of everyday life.
Whether you're an art enthusiast or simply looking for some tranquility amidst nature's glory, a visit to National Trust Ham House is an experience like no other. Immerse yourself in history as you explore its rooms steeped in grandeur or lose yourself amidst nature's wonders within its lush gardens.
15. Enjoy a night out in Brixton
Brixton is the place to be when the sun sets and the stars come out. This vibrant and multicultural area in South West London boasts a nightlife scene that is as diverse as its residents. Whether you're in the mood for a traditional pub experience or want to dance the night away at a trendy club, Brixton has it all.
Start your evening by exploring the local pubs, where you can enjoy a pint of beer while immersing yourself in the lively atmosphere. These establishments often have live music or DJ sets, providing the perfect soundtrack to your night.
For those looking for something more upscale, Brixton offers an array of trendy bars serving craft cocktails and innovative concoctions. Sip on unique creations while mingling with fellow revelers – you never know who you might meet!
But perhaps one of Brixton's biggest draws is its famous Brixton Village market. Here, foodies will find themselves spoilt for choice with an impressive selection of international cuisines from around the world. From mouth-watering street food stalls to charming cafes and the best restaurants, there's something here to satisfy every craving.
As you wander through this bustling market, let your senses guide you towards aromatic dishes wafting through the air and tantalizing sights beckoning from every corner. Indulge in exotic flavors or savor familiar comfort foods – whatever strikes your fancy.
So whether you're seeking a wild night out on town or simply looking to unwind after a long day exploring Southwest London's attractions, make sure that Brixton is on your list. With its vibrant nightlife scene and culinary delights at every turn, this multicultural neighborhood promises an unforgettable experience that will keep drawing you back time and again.
Conclusion
South West London has so much to offer in terms of cultural attractions, beautiful parks and scenic walks. From exploring the natural history exhibits at the Natural History Museum to taking a leisurely stroll along the Thames Path, there is something for everyone in this vibrant part of London.
Whether you're a local resident or just visiting for the day, be sure to make time for some of these top things to do in South West London. With such a rich array of activities available, you'll never be short on entertainment options. So why not start planning your next adventure around this wonderful part of town?
FAQs on Best Things to Do South West London
1. What is South West London famous for?
South West London is famous for its rich history, beautiful parks, and iconic landmarks. Here are some highlights:
Wimbledon: South West London is home to the prestigious Wimbledon Tennis Championships, one of the most renowned tennis tournaments in the world.
Richmond Park: This expansive park is the largest royal park in London and offers stunning landscapes, herds of deer, and picturesque views of the city.
Hampton Court Palace: Located in the borough of Richmond upon Thames, this historic palace was once home to King Henry VIII. It features beautiful gardens, and intricate architecture, and hosts various events and exhibitions.
Kew Gardens: South West London is also home to the Royal Botanic Gardens, Kew, a UNESCO World Heritage Site. It boasts a vast collection of plants, a beautiful glasshouse, and stunning landscapes.
Clapham Common: This popular park is known for its vibrant atmosphere, recreational activities, and lively events.
Chelsea: The affluent neighbourhood of Chelsea is famous for its stylish boutiques, elegant architecture, and the iconic Chelsea Flower Show.
2. Is South West London a nice area?
South West London is generally considered a desirable area to live in, with a combination of beautiful residential areas, excellent transport links, and a wealth of amenities. The region offers a mix of quiet suburbs and vibrant urban centres, providing a good balance for residents.
3. What is on SW London today?
As for what is on in South West London today, it depends on the specific date and time you are referring to. South West London is a diverse and dynamic area, hosting various events, exhibitions, cultural festivals, and sporting activities throughout the year. Checking local event listings or websites dedicated to South West London will provide up-to-date information on what's happening in the area.
4. Is South London worth visiting?
South London, including South West London, is definitely worth visiting. It offers a different vibe compared to other parts of the city, with its own unique charm and attractions. Whether you're interested in exploring historical landmarks, enjoying green spaces, or experiencing vibrant local culture, South West London has much to offer to tourists.
Related Articles
Best Things to Do in East London
Best Things to Do in South London
Best Things to Do in North West London