Welcome to the vibrant and dynamic world of London Bridge, where creativity meets productivity in the form of shared workspaces. If you're on the hunt for the best workspace in this bustling neighbourhood, look no further! In this article, we will explore some top-notch coworking spaces that offer an ideal environment for freelancers, startups, and small businesses alike. From restored historic buildings to modern architectural wonders, these shared offices not only provide a stunning backdrop but also offer an array of amenities and services to fuel your entrepreneurial spirit. So let's dive into our curated list of the best workspaces London Bridge has to offer – get ready to find your perfect place to thrive!
Best Workspace London Bridge
1. The Boutique Company 
Website: www.theboutiqueworkplace.co
Tucked away in the heart of London Bridge lies The Boutique Company, a true gem among coworking spaces. What sets it apart from the rest? Well, for starters, its beautifully restored and refurbished building boasts modern interiors paired with preserved period features. The result is a unique vibe that effortlessly combines old-world charm with contemporary flair.
But don't be fooled by its stunning aesthetics alone – The Boutique Company offers much more than just good looks. With a sprawling 5000 square feet of workspace, including a spacious courtyard area, this place exudes luxury while maintaining an inviting atmosphere conducive to productivity.
One standout feature of The Boutique Company is its tailor-made private offices. Whether you require a cosy corner or something more expansive, they have got you covered. And let's not forget about the amenities – they have all the essentials plus some delightful surprises. Think of 24/7 access to your workspace, well-equipped meeting rooms for those important client presentations, lightning-fast fibre-optic broadband to keep you connected seamlessly, and even office cleaning services so you can focus on what matters most.
And did we mention the fully furnished offices with high ceilings and air conditioning? Talk about working in comfort and style! It's clear that attention to detail is at the forefront of everything they do here.
Located at 8 St Thomas St in London SE1 9RS, finding The Boutique Company couldn't be easier. Simply visit their website at https://theboutiqueworkplace.co/ to request your free one-day pass and experience firsthand what makes this co-working space truly exceptional.
Membership options are designed to suit different needs – opt for a monthly membership starting at £70 or go for greater convenience with their quarterly membership priced at £200. For those committed individuals ready for long-term success, an annual membership is available for just £700.
Address: 8 St. Thomas Street, London, SE1 9RR
Map:
2. Uncommon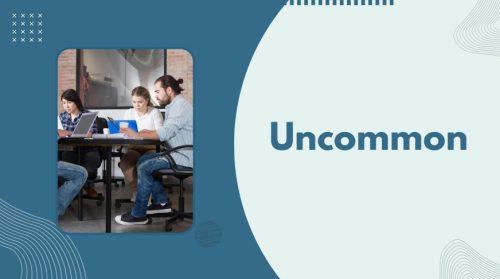 Website: www.uncommon.co.uk
Uncommon – Coworking Space London Bridge is the ideal place for freelancers and startups to thrive. With its range of services, including private offices, hot desks, dedicated desks, and coworking spaces, Uncommon offers a work environment that challenges and supports you in making a difference.
What sets Uncommon apart from other coworking spaces is their commitment to your well-being. Not only do they provide standard amenities like phone booths, meeting rooms, and bike storage, but they also offer a rooftop space that is truly delightful.
But it doesn't stop there – Uncommon goes above and beyond by offering a well-being program. Only a few coworking spaces provide such holistic support for their members.
Located at 1 Long Ln in London SE1 4PG, Uncommon's central location makes it convenient for entrepreneurs looking to grow their startup ventures.
Membership fees vary depending on your needs. Day passes start at £50, while weekend passes are available from £35. If you're seeking more regular access to workspace options like hot desks or dedicated desks, be sure to join the waiting list on their website. Private office prices start from £750. Experience the difference at Uncommon – where creativity meets comfort meets community.
Address: 1 Long Ln, London SE1 4PG
Map:
3. The Neighborhood
Website: www.theneighbourhoodoffice.com
The Neighborhood is a future-oriented coworking space conveniently located just a 5-minute walk from London Bridge. It is dedicated to providing working spaces for freelancers, startups, and small to mid-size businesses. With its collaborative environment and adaptable workspace, The Neighborhood offers the perfect setting for professionals of all kinds.
When it comes to amenities, The Neighborhood doesn't hold back. From boardrooms to conference rooms with AV facilities, they have everything you need for successful meetings and presentations. And let's not forget about the added bonuses like bike storage, phone booths, showers, and a fully-equipped kitchen with catering options.
What sets The Neighborhood apart is its commitment to environmental sustainability. On the second floor of their office building, you'll find The Climate Hub—a resource that helps businesses address environmental issues.
Whether you're looking for a day pass or a week-long rental of their open space desk or want to book a private office for yourself and your team, The Neighborhood has flexible membership options available at affordable prices. Their resident membership starts at £475 + VAT per month while private membership starts at £525 + VAT per month.
With its prime location near London Bridge and impressive range of amenities and services, The Neighborhood offers an ideal coworking space tailored to meet your professional goals.
Address: 40 Bermondsey St, London SE1 3UD, United Kingdom
Map:
4. Landmark
Website: www.landmarkspace.co.uk
Landmark is a well-established coworking space conveniently located just a few minutes walk from London Bridge. What sets Landmark apart is its supportive and professional atmosphere, making it the perfect place for entrepreneurs and freelancers alike to thrive. Whether you're in need of dedicated desks or private floors, Landmark has got all your coworking requirements covered.
Not only does Landmark offer spectacular views, but it also boasts a comfortable work culture that fosters productivity and collaboration. With 20 years of experience under their belt and serving over 14,000 people per day, it's safe to say that they know what they're doing.
When it comes to amenities, Landmark leaves no stone unturned. From bike racks and car parking to fully-equipped kitchens and 24/7 access, they have everything you need for a seamless working experience. Additionally, meeting rooms, breakout spaces, showers, IT support – you name it! They've thought of every detail to ensure your utmost convenience.
With its exceptional experience and work environment, Landmark truly stands out as one of the best coworking spaces in London Bridge. If you're looking for an inspiring workspace with top-notch amenities and a vibrant community of like-minded professionals, look no further than Landmark.
Membership fees at Landmark start at £200 per month for coworking spaces. They also offer virtual office services ranging from £144 to £453 per month. For detailed pricing information on other services they provide beyond what's listed on their website, feel free to contact them directly.
Address: Saint Magnus House, 3 Lower Thames St, London EC3R 6HE, United Kingdom
Map:
5. Fora
Website: www.foraspace.com
Fora Coworking Space London Bridge is truly a member-centric workspace that prioritizes your needs and well-being. With a thoughtful and well-executed network of coworking spaces, Fora offers a range of services including open desks, dedicated desks, and private offices. Whether you're a freelancer looking to unlock your best potential or an entrepreneur aiming to take your business to new heights, Fora provides the perfect environment for growth.
One unique aspect of Fora is its commitment to hospitality. From the fully stocked kitchen to intriguing events, you'll find that this is not just any ordinary coworking space—it's a happening place that goes above and beyond in providing satisfactory amenities. What sets Fora apart from other coworking locations is its focus on overall well-being. They offer mental health talks & workshops as well as in-house personal training and yoga classes—features you won't easily find elsewhere.
Located at 180 Borough High St in London SE1 1LB, Fora provides convenient access for professionals seeking an agile working space in the heart of London Bridge. Membership fees at Fora are reasonable with open desk options starting at £375 per month. If you require access to the entire Fora network, it will cost £450 per month. Private or owned desks are available starting at £600 per month while owned offices start at £800 per month.
When it comes to finding the best-shared office space in London Bridge, look no further than Fora Coworking Space—a member-centric workspace designed with your success and well-being in mind.
Address: 180 Borough High St in London SE1 1LB
Map:
6. Argyll 
Website: www.theargyllclub.com
Located just three minutes away from London Bridge, Argyll Coworking Space offers a prime location for professionals in the area. Their services are tailored to meet the needs of businesses seeking flexible workspace options, including coworking spaces, private offices, and virtual office services. The environment at Argyll is professional and agile, providing an ideal setting for productivity.
One standout feature of Argyll is its commitment to environmental responsibility and promoting sustainable business practices. In addition to their eco-friendly approach, they offer a wide range of top-notch amenities such as shower rooms, wheelchair access, meeting rooms, kitchen facilities, high-speed Wi-Fi connectivity, car parking, and bike storage.
Argyll's architecturally rich location adds to its appeal as one of the most prominent coworking spaces on London Bridge. With office spaces starting at £725 per month and various meeting room options available at different price ranges (ranging from £45 to £180 per hour), there are options to suit different budgets and requirements. Virtual office services start from £100 per month while the subscription for coworking & lounge areas begins at £275 per month.
With its convenient location and exceptional service offerings,
Argyll Coworking Space provides professionals with a premium working environment that fosters productivity and success.
Address: 1 Cornhill, London EC3V 3ND, United Kingdom
Map:
Conclusion
In this article, we have explored some of the best coworking spaces on London Bridge. Each space offers its own unique features and amenities, catering to different needs and preferences. Whether you are a freelancer, startup, or small business owner, there is a shared office space that can provide you with the environment and resources you need to thrive.
From the restored charm of The Boutique Company to the well-being focus of Uncommon, these coworking spaces offer more than just a place to work. They foster collaboration, support personal growth, and create opportunities for networking and connection.
The Neighborhood provides an adaptable workspace at affordable prices while Landmark boasts professional services and stunning views. Fora takes member-centricity to another level with its holistic approach to well-being. Argyll offers premium locations along with environmentally responsible practices.
No matter which coworking space you choose in London Bridge, you can expect top-notch amenities such as meeting rooms, high-speed internet access, kitchen facilities, bike storage, showers, and more. These spaces are designed to enhance productivity while providing comfort and convenience.
So whether you're looking for a temporary desk or a long-term private office solution in the London Bridge area – these shared offices have got it all covered! Explore your options based on your needs and budgetary constraints – from short-term day passes to monthly memberships – there's something for everyone.
In conclusion (without using "in conclusion"), finding the best workspace in London Bridge is not an easy task given the number of options available. However by considering factors such as location convenience, amenities offered, pricing plans etc, one can find their ideal workspace that suits their requirements perfectly. So go ahead, explore these top shared office spaces mentioned above & make an informed decision about where your new workplace will be located!
Relate Articles:
Best Workspace South East London
Best Workspace North West London
Workspaces in South West London