Welcome to Bridgwater, a town in Somerset that has become a popular tourist destination over the years. Whether you're here for business or leisure, finding the right place to stay is crucial to make your trip memorable. With so many options available, it can be overwhelming to choose the best hotel that suits your needs and budget. But worry not! We've got you covered with our list of the top hotels in Bridgwater. From cosy beds and breakfasts to luxurious 4-star accommodations, we've handpicked them all just for you. So sit back, relax, and discover where you should rest your head during your next visit to this charming town.
Best Hotels in Bridgwater – Top 10 
1. Pig & Wheel 
Website: www.pigandwheel.com
The modest hotel Pig & Wheel is located in the centre of Bridgwater and provides visitors with a tranquil escape from the daily commotion.
The property boasts its own garden where visitors can take a stroll or simply relax while enjoying picturesque views.
The rooms at Pig & Wheel are cosy and comfortable, with each one boasting essential amenities such as flat-screen TVs and wardrobes. Some rooms even offer terraces, allowing guests to bask in the beauty of their surroundings right outside their doorstep.
One thing that sets Pig & Wheel apart from other hotels is its restaurant which serves up delicious à la carte options for breakfast alongside classic Full English/Irish dishes and vegetarian choices. Satisfy your cravings and start your day off on the right foot with a hearty meal before exploring everything this lovely town has to offer.
With free Wi-Fi throughout the property, staying connected during your stay won't be an issue. Plus, with Bristol Airport just 41 km away, getting here is hassle-free no matter where you're coming from.
Map:
2. The Town Hotel 
Website: www.thetownhotel.co.uk
The Town Hotel in Bridgwater is a modern and comfortable bed and breakfast that offers stunning city views. The hotel features excellent facilities, including a 24-hour front desk, full-day security, free WiFi throughout the property, and facilities for disabled guests.
All units at The Town Hotel come with a seating area, flat-screen TV with satellite channels, and private bathroom complete with hairdryer, walk-in shower and bath. What's more? All rooms are allergy-free and soundproof to ensure that your stay is as comfortable as possible.
The bed and breakfast also offers sightseeing tours around the property so you can explore Bridgwater's rich history. If you're looking for an enjoyable stay in comfort without breaking the bank when visiting Bridgwater look no further than The Town Hotel!
Map:
3. ibis Bridgwater Hotel
Website: www.all.accor.com
If you're looking for an affordable and convenient place to stay in Bridgwater, then the Ibis Bridgwater Hotel is a great option. This vibrant economy hotel has everything you need to make your stay comfortable and enjoyable.
Located less than 13 miles from Hinkley Point Power Station and just a minute away from Junction 23 of the M5, the Ibis Bridgwater Hotel is perfectly situated for both business and leisure travellers alike. No matter what your reason for visiting Bridgwater is, this hotel provides easy access to all local attractions.
The hotel boasts a range of rooms including double, twin and interconnecting rooms which can cater for different needs. Each room offers comfort at affordable rates that won't break your budget.
In addition to providing comfortable accommodation, they have two small meeting rooms that can be converted into one larger meeting room making it perfect for those on business trips who require conference facilities.
If you're looking for convenience coupled with affordability in terms of accommodation options in the Bridgwater area, the Ibis Bridgewater Hotel should definitely be on your list!
Map:
4. Premier Inn Bridgwater Gateway (M5, J24)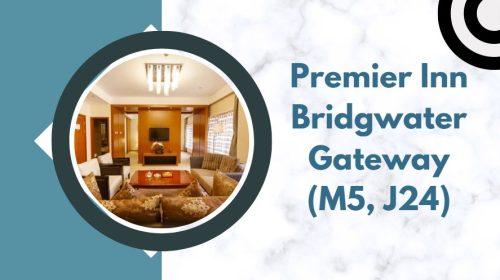 Website: www.premierinn.com
Premier Inn Bridgwater Gateway (M5, J24) is a modern budget hotel that provides a warm and relaxed atmosphere to its guests. It's situated in a rural setting off the M5 motorway, making it easily accessible for both business and leisure travellers. The hotel is conveniently located just 2 miles away from Bridgwater Museum, where visitors can learn about local history exhibits, and 7 miles from Hestercombe House and Gardens.
The rooms at Premier Inn Bridgwater Gateway are tastefully decorated with all the necessary amenities for a comfortable stay. Each room offers limited free Wi-Fi, flat-screen TVs, tea and coffeemaking facilities; some have sitting areas too. Families travelling with children under 15 can enjoy their stay without any extra charges.
In addition to the cosy rooms, Premier Inn Bridgwater Gateway also has other great features such as complimentary parking for guests' convenience. Breakfast is available in their casual restaurant/bar for an additional charge and there's also an airy lobby lounge perfect for relaxing after exploring the local attractions.
Premier Inn Bridgwater Gateway (M5, J24) is an excellent choice for those who want easy access to nearby attractions while staying in comfortable accommodations at affordable prices.
Map:
5. Travelodge Bridgwater M5 
Website: www.travelodge.co.uk
Travelodge Bridgwater M5 is a family-friendly hotel that offers guests comfortable and relaxing rooms equipped with flat-screen TVs, perfect for unwinding after a day of exploring the charming town of Bridgwater. Guests can also stay connected during their stay as the hotel provides free Wi-Fi throughout the property.
For those travelling by car, Travelodge offers complimentary parking on-site. The convenient location puts some of Bridgwater's most popular landmarks within easy reach, including Bridgwater Docks Canalside and Huntstile Organic Farm.
If you're looking for something to eat nearby, there are plenty of Indian restaurants in close proximity to Travelodge Bridgewater M5. Spice Gallery, Spice Club, and Curry Leaf all provide delicious options that are sure to satisfy your taste buds.
If you're seeking an affordable place to stay while exploring everything that this delightful town has to offer, then Travelodge Bridgewater M5 should definitely be at the top of your list!
Map:
6. Mercure Bridgwater Hotel 
Mercure Bridgwater Hotel is one of the top-rated hotels in the area, offering luxurious 4-star accommodations that are perfect for both business and leisure travellers. The hotel boasts a range of amenities including a restaurant and bar, fitness centre, free WiFi throughout the property and air-conditioned rooms with private bathrooms.
Each room comes equipped with a desk, flat-screen TV, wardrobe and kettle while some rooms offer balconies for stunning views over the surrounding countryside. For guests' convenience, there is also room service available around the clock as well as luggage storage at reception.
Start your day off right by enjoying either a buffet or a Full English/Irish breakfast before heading out to explore all that Bridgwater has to offer. The location is ideal being just 40 km from Bristol Airport making it easy to get here no matter what mode of transport you prefer.
Mercure Bridgwater Hotel offers an exceptional level of comfort and style while being conveniently located near many popular attractions in the area.
Map:
7. The Walnut Tree Hotel 
Website: www.walnuttreehotel.com
The Walnut Tree Hotel is a charming and elegant hotel that offers a unique experience to its guests. Housed in an 18th-century coaching inn, the hotel boasts airy rooms decorated in a refined, traditional manner. Each room has en suite bathrooms, flat-screen TVs, free Wi-Fi and tea and coffee-making equipment.
For those looking for something more luxurious, some of the suites offer lavish four-poster beds and mini-fridges. The amenities at The Walnut Tree Hotel include a lounge bar and a British restaurant that serves delicious food made from fresh local produce.
One of the standout features of this hotel is its six meeting rooms which are perfect for business or personal events. Guests can also enjoy free off-street parking during their stay.
Located just three miles from Bridgwater's town centre, The Walnut Tree Hotel provides easy access to all the area's attractions while remaining peaceful enough for guests to relax away from city life.
Map:
8. The Old Vicarage Hotel 
Website: www.theoldvicaragebridgwater.com
The Old Vicarage Hotel is a charming and historic hotel located in the heart of Bridgwater. With parts of the building dating back to the 14th century, this property offers guests a unique experience filled with character and charm.
In 2019, extensive renovations were made to the oldest parts of the hotel, including nine bedrooms. Despite these updates, The Old Vicarage has maintained its vintage appeal and traditional architecture that truly sets it apart from other hotels in Bridgwater.
They have the best bar and restaurant at The Old Vicarage serving up delicious lunch, evening meals, and breakfast options that cater to all dietary requirements including vegan and gluten-free dishes. Guests can enjoy their meals while taking in the serene garden view or soaking up some sun on the patio area.
Additionally, The Old Vicarage's location just off Junction 24 of M5 makes it easy for guests to explore nearby attractions such as Cheddar Gorge, Quantock Hills, Glastonbury Abbey & Torr', Wells Cathedral & Bishops Palace', Wookey Hole Caves and Bristol City Centre.
The Old Vicarage Hotel offers an authentic stay filled with history and tradition while also providing modern amenities that ensure guests have a comfortable stay.
Map:
9. The Tudor Hotel
Website: www.the-tudor.co.uk
The Tudor Hotel is a charming hotel located in Bridgwater that offers guests a comfortable and convenient stay. The hotel features a bar, shared lounge, room service and free WiFi throughout the property.
Each room at The Tudor Hotel comes with all essential amenities such as a wardrobe, flat-screen TV, private bathroom and bed linen and towels. Guests can enjoy their daily breakfast which includes buffet, à la carte and Full English/Irish options.
One of the highlights of this hotel is its restaurant serving British, Greek and Mediterranean cuisine. Vegetarian, vegan and dairy-free options are also available upon request for those with dietary restrictions.
In terms of location, The Tudor Hotel is conveniently situated near Bristol Airport which makes it an ideal choice for travellers who need quick access to transportation. If you're looking for comfortable accommodations with easy access to nearby attractions then be sure to check out The Tudor Hotel in Bridgwater!
Map:
10. Apple Tree Hotel 
Website: www.appletreehotel.co.uk
Apple Tree Hotel is the perfect place to stay for those who want a relaxing break in Bridgwater. The hotel offers free Wi-Fi and ample parking on-site, making it convenient for guests travelling with their own vehicles. Located just a 10-minute drive from Bridgwater and close to junction 23/24 of the M5, this hotel is easily accessible.
The modest hotel Pig & Wheel is located in the centre of Bridgwater and provides visitors with a tranquil escape from the daily commotion.
Traditional English and continental cuisine is available on the à la carte menu at the Conservatory Restaurant at the Apple Tree Hotel. Guests can indulge in fresh local produce while enjoying stunning views of the surrounding countryside.
Rooms at Apple Tree Hotel are elegant and traditionally furnished, providing a comfortable environment for guests to relax in after exploring Bridgwater. Each room comes complete with a flat-screen TV and DVD player, as well as tea and coffee-making facilities. With en suite bathrooms that include free toiletries, guests will feel right at home during their stay.
Whether you're visiting Bridgwater for business or pleasure, Apple Tree Hotel has everything you need to ensure your stay is enjoyable. From its convenient location to its luxurious amenities, this hotel provides an experience like no other.
Map:
Conclusion
Bridgwater offers a wide range of hotel options for all types of travellers. Whether you are on a business trip or exploring the town's historical landmarks, there is something for everyone. From budget-friendly accommodations to luxurious retreats, each hotel promises comfortable rooms with modern amenities and friendly staff.
The Pig & Wheel offers an intimate garden setting with excellent food and drink options while The Town Hotel caters to those seeking disability access and city views. ibis Bridgwater Hotel boasts easy accessibility from major highways while Premier Inn Bridgwater Gateway is ideal for families looking for a relaxed atmosphere.
For those who prefer staying in restored heritage buildings, The Old Vicarage Hotel and The Walnut Tree Hotel offer an old-world charm that transports guests back in time.
No matter which hotel you choose, you can be assured of exceptional service standards and attention to detail. So book your stay at one of these top hotels in Bridgwater today and experience the best that this charming town has to offer!
Related Articles: