Looking for the best pubs in Totnes? Look no further! We've combed through the town's watering holes to bring you the top 10 places to grab a drink and soak up some atmosphere. From traditional ale houses to trendy bars, we've got something for everyone on this list. So whether you're looking for a cosy spot for a pint or want to dance the night away, read on to discover Totnes' finest pubs.
Best Pubs in Totnes – Top 10
1. The Lord Nelson 
The Lord Nelson is a must-visit for sports fans in Totnes. With plenty of HD screens dotted around the pub, you can catch all the latest games and matches while enjoying your favourite drinks. Whether you're into football, rugby or something altogether different, Lord Nelson has got you covered.
But it's not just about the sports at this popular local haunt. The friendly atmosphere and welcoming staff make it a great spot to relax with friends over a pint or two. And if you happen to be out and about with your furry friend in tow, don't worry – pets are more than welcome here!
So next time you're looking for a place to hang out after work or catch up on the weekend's sporting action, head down to Lord Nelson. It's no wonder locals rate it as one of Totnes' best pubs!
Map:
2. Totnes Brewing Company 
Totnes Brewing Company is a unique and vibrant cafe/bar that has become a hotspot for beer enthusiasts and music lovers alike. The giant sash window, gold-leafed ceiling, and light blue walls make for an aesthetic that's both contemporary and traditional.
One of the standout features of this establishment is the weekly gigs they host – making it an excellent place to enjoy live music while indulging in your favourite drink. And speaking of drinks, their on-site brewed ales are definitely worth trying out!
But if you're not much into beer, don't worry! Totnes Brewing Company also offers a range of other beverages to cater to different tastes. What's more – they have a garden where patrons can relax with friends over drinks or even catch up on some work while enjoying the fresh air.
And let's not forget about the food – their menu boasts delicious grub that will satisfy any craving you may have.
Totnes Brewing Company is definitely worth checking out if you find yourself in Totnes. With its great atmosphere, fantastic beer selection, and regular live gigs – it truly stands out as one of the best pubs in town.
Map:
3. The Albert Inn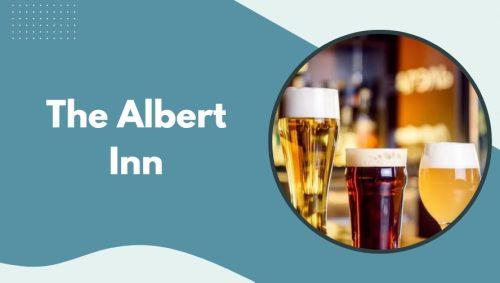 Website: www.albertinntotnes.com
The Albert Inn is a gem of a traditional pub located in the Bridgetown area of Totnes. This pub boasts an extensive range of drinks, including on-site brewed ales that are sure to tantalize your taste buds.
Apart from the delicious drinks, The Albert Inn also offers some of the best homemade pies and curries in town. Whether you're looking for a quick snack or a hearty meal, this pub has got you covered.
If you're planning a small gathering with friends or family, their lovely private lounge is available for bookings. It can comfortably seat up to 16 people for dinner and can accommodate various events such as anniversaries, weddings, birthday parties, christenings, and more.
On sunny days, visitors can enjoy the sheltered beer garden which offers ample space for another 60-odd people. You can bask in the warm sunshine while sipping on your favourite drink or indulging in some tasty food.
Live music enthusiasts will love The Albert Inn's regular themed nights featuring local talent from Totnes and beyond. For those who love performing themselves – don't miss out on their open mic night!
The Albert Inn offers something special for everyone- whether it's great food and drinks or live entertainment- making it one of the top pubs in Totnes!
Map:
4. The Bull Inn
Website: www.bullinntotnes.co.uk
The Bull Inn is a hidden gem nestled at the top of Totnes high street, overlooking Rotherfold Square. With its contemporary and stylish decor, it's quickly become one of the most sought-after pubs in Totnes. But what sets The Bull Inn apart from other pubs in town? It's their commitment to being organic and ethical.
From their food to their renovations, everything has been done with sustainability in mind. They work closely with some of the best organic food producers in the UK to bring you delicious meals that are not only good for your taste buds but also for the planet.
And if you're looking for a place to stay while exploring South Hams, look no further than The Bull Inn. Their nine beautiful rooms have been designed with comfort and style in mind, ensuring that your stay will be an unforgettable experience.
But don't just take our word for it – come see for yourself why The Bull Inn is quickly becoming one of Totnes' favourite spots!
Map:
5. Waterside Bistro
Website: www.watersidebistro.com
The Waterside Bistro is a hidden gem in Totnes, offering not only delicious food but also stunning views of the river. Whether you're looking for fresh local seafood or a juicy homemade burger, this bistro has got you covered. The menu is diverse and caters to all dietary needs with vegetarian options available.
One of the best features of this establishment is its sheltered riverside terrace which offers unparalleled views while you enjoy your meal. And if that's not enough, the friendly staff will make sure that your dining experience at the Waterside Bistro is top-notch.
If you want to stay up-to-date on all their latest updates and special events, be sure to check out their website or social media pages. Whether it's for a romantic date night or a fun family outing, this charming bistro should definitely be on your list of places to visit in Totnes.
Map:
6. The Dartmouth Inn
Website: www.dartmouthinntotnes.co.uk
The Dartmouth Inn is a traditional British pub where you can enjoy delicious meals and drinks in a cosy atmosphere. The menu boasts carved meats, homemade pies, and cask ales that will surely satisfy your cravings. You can also try their selection of local beers and ciders that are perfect for an authentic experience.
One of the best things about The Dartmouth Inn is its outdoor picnic tables which allow you to enjoy the lovely weather while savouring your food and drinks. This feature adds more charm to the overall ambience of the pub.
The staff at The Dartmouth Inn are friendly and accommodating, ensuring that every customer has an enjoyable time during their visit. Whether you're dining alone or with a group of friends, you'll feel welcome here.
If you're looking for great value for money without sacrificing quality, then The Dartmouth Inn is definitely worth checking out. You won't be disappointed by the generous portions they offer along with reasonable prices.
The Dartmouth Inn is one of Totnes' hidden gems – offering mouth-watering dishes paired with excellent service in an inviting environment.
Map:
7. King William IV
Website: www.kingwilliamtotnes.co.uk
Looking for a family-friendly pub in the heart of Totnes town centre? King William IV has got you covered! As a family-run pub, we pride ourselves on offering something for everyone. Our menu features brunch, lunch, and evening options, as well as daily roasts and steaks which are our speciality.
But don't worry if you have dietary restrictions- we also offer vegetarian, vegan and gluten-free options to cater to all needs. Our kitchen staff uses only the freshest ingredients sourced from local suppliers to ensure that every dish is delicious.
And why not make a night of it with one of our cosy rooms available to rent above the pub? Wake up refreshed after a good night's sleep and enjoy another meal downstairs before setting off into Totnes or beyond.
For those looking for an authentic British pub experience with top-quality food in an inviting environment – look no further than King William IV.
Map:
8. Bay Horse Totnes 
Website: www.bayhorsetotnes.com
Bay Horse Totnes is a local pub that prides itself on being visitor-friendly while still maintaining its traditional roots. The atmosphere is lively and welcoming, making it the perfect spot to chat with friends over great cider or exceptional real ale.
But Bay Horse isn't just your average drinking establishment. They offer plenty of activities for their patrons, including live music, book clubs, poetry groups, and even crafting events like "Purl and a Pint." It's clear that they value community involvement and strive to create an inclusive space for everyone.
One of the highlights of Bay Horse is undoubtedly their all-weather garden. This spacious area offers ample seating in both sun and shade – ideal for spending time with family or furry companions (dogs are welcome as long as they're on leads).
At Bay Horse Totnes, they also take pride in supporting local businesses by offering an increasingly diverse selection of ciders, lagers & spirits sourced from nearby producers. Their inclusion in the CAMRA Good Beer Guide speaks volumes about their dedication to quality beverages.
If you're looking for accommodations in the area, look no further than Bay Horse Totnes! They have two charming double en-suite B&B rooms available as well as a studio apartment complete with a king-size bed and kitchen dining space.
Bay Horse Totnes has something for everyone – whether you're stopping by for drinks after work or looking to spend some leisurely time outdoors with loved ones.
Map:
9. The Barrel House Ballroom
Website: www.barrelhousetotnes.co.uk
The Barrel House Ballroom is more than just a pub – it's a live music venue and recording studio all in one. With its partnership with Sorting Room Studios and financial support from the Arts Council England, this unique establishment has been able to keep its doors open despite the challenges faced by many pubs today.
Inside The Barrel House Ballroom, you'll find an intimate space that's perfect for experiencing live music up close. The sound quality is top-notch thanks to the venue's collaboration with Sorting Room Studios, making for an unforgettable listening experience.
But that's not all – The Barrel House Ballroom also serves as a recording studio where local musicians can come to record their latest tracks. It's a great opportunity for aspiring artists who are looking to take their music to the next level.
The Barrel House Ballroom is proof that pubs can be so much more than just places to grab a drink. By combining live music with state-of-the-art recording facilities, this unique establishment is paving the way for new and exciting ways of experiencing music in Totnes.
Map:
10. Bay Horse Inn
The Bay Horse Inn is a charming traditional pub that offers an authentic experience to locals and visitors alike. Located at the top of town, it's just a short stroll away from Totnes' historic centre, making it the perfect spot for a drink after exploring the town's sights.
One of its standout features is its big garden – an alluring space that provides ample room for customers to enjoy their drinks in the sunshine while admiring views of the surrounding area. It's no wonder why many people refer to it as 'the little pub with a big garden'.
Aside from its excellent selection of real ales, lagers, wine and regional ciders, one of The Bay Horse Inn's unique offerings is the fact that customers are welcome to bring their own food from nearby takeaways. This creates a relaxed atmosphere where everyone can enjoy their favourite drinks along with delicious meals from various local restaurants.
The pub also hosts regular music nights featuring jazz, folk sessions, open-mic and songwriter performances which add depth to its vibrant character. Whether you're looking for relaxed conversations or engaging entertainment, there's always something going on at The Bay Horse Inn.
In conclusion (just kidding!), if you're looking for an authentic local pub experience in Totnes then look no further than The Bay Horse Inn!
Map:
Conclusion
And there you have it, the top 10 best pubs in Totnes! Each one offers a unique experience, from traditional British pub food to live music and even riverside views. Whether you're visiting for a night out or looking for your new local spot, these pubs are definitely worth checking out. So grab some friends (and maybe even your furry companions) and enjoy a pint (or two) at one of these fantastic establishments. Cheers!
Related Articles: