Welcome to the glamorous neighbourhood of Belgravia, where elegance and sophistication meet at every corner. Nestled in the heart of London, this exclusive enclave offers a plethora of activities for locals and tourists alike. Whether you're a culture enthusiast, a shopaholic, or simply looking to soak up the charm of this historic district, Belgravia has something for everyone. In this blog post, we'll take you on a journey through the top 10 best things to do in Belgravia, ensuring that your visit is nothing short of extraordinary. So grab your walking shoes and let's dive into an adventure like no other!
Top 10 Best Things to Do in Belgravia – Charming Destination
1. Visit Cadogan Hall
Website: www.cadoganhall.com
Nestled in the heart of Belgravia, Cadogan Hall stands as a testament to the vibrant arts scene in this posh neighborhood. This beautiful concert hall is a haven for music lovers, hosting an array of performances that span across genres and captivate audiences from near and far.
Step inside the grand foyer adorned with stunning chandeliers and exquisite decor, and be prepared to embark on a musical journey like no other. Classical music aficionados will relish in the symphony orchestra performances that grace its stage, filling the hall with harmonious melodies that transport you to another world.
But don't be fooled into thinking this venue is limited to classical tunes alone. Cadogan Hall embraces diversity by also showcasing jazz ensembles that effortlessly blend soulful rhythms with improvisation, creating an atmosphere brimming with energy and excitement.
And let's not forget about comedy! Laughter echoes through these hallowed halls as some of the finest comedians take center stage, delivering punchlines that leave you gasping for breath between fits of giggles.
No matter your taste or preference, Cadogan Hall has something for everyone. So why not immerse yourself in a mesmerizing performance? Indulge your senses and experience the magic firsthand at this enchanting concert hall where music truly comes alive.
Map:
2. Go shopping on Sloane Street
When it comes to shopping in Belgravia, Sloane Street is a must-visit destination. This renowned shopping street exudes elegance and sophistication, as it is home to some of the most exclusive stores in all of London. As you stroll along this fashionable street, you'll be captivated by the high-end boutiques that line its sidewalks.
Sloane Street is synonymous with luxury. Here, you can find iconic fashion brands like Chanel, Gucci, Prada, and so much more. Whether you're on the hunt for designer clothing, accessories, or exquisite jewellery pieces, this street has it all.
The allure of Sloane Street extends beyond just its prestigious shops. The architecture itself is a sight to behold – grand facades and beautifully designed storefronts create an ambience that perfectly complements the luxurious atmosphere.
If shopping isn't your thing or you simply want a break from browsing through opulent displays, there are also charming cafés and best restaurants dotted throughout Sloane Street where you can relax and indulge in delicious treats or sip on a cup of coffee.
Visiting Sloane Street is not only about splurging on high-end goods but also about immersing yourself in an experience that embodies refinement and exclusivity. So take your time exploring this famous shopping street and let yourself be enchanted by the world of luxury that awaits at every turn.
Map:
3. Explore Belgrave Square
Belgrave Square, oh what a delight it is to explore this elegant square nestled in the heart of Belgravia! As you stroll through its manicured gardens and admire the stunning townhouses that surround it, you can't help but feel a sense of tranquility wash over you. This place truly embodies timeless beauty and sophistication.
The architecture alone is worth marveling at. The grand Georgian townhouses that line the square exude an air of elegance and opulence. Each one seems to have its own unique story to tell, with their immaculate facades adorned with intricate details and charming balconies. It's like stepping into a different era altogether.
But Belgrave Square isn't just about pretty buildings; it's also a hub for both locals and tourist attractions alike. You'll often find people lounging on benches, enjoying picnics on the lush lawns, or simply taking in the serene atmosphere. It's a perfect spot for relaxation or even some quiet reflection.
And if you're lucky enough to visit during springtime when cherry blossoms bloom, prepare yourself for an ethereal experience. The delicate pink flowers create such a dreamy ambiance that it feels like walking through a fairytale.
Whether you're looking to appreciate stunning architecture, enjoy some peace and quiet amidst bustling London, or simply soak up the charm of this exquisite neighborhood, exploring Belgrave Square should definitely be on your list of things to do in Belgravia.
Map:
4. Have afternoon tea at The Wolseley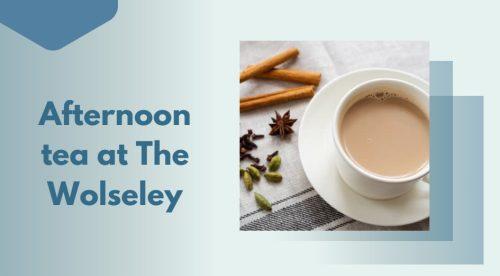 Website: www.thewolseley.com
Indulge in the timeless tradition of afternoon tea at The Wolseley, an iconic restaurant in Belgravia. Step into this elegant establishment and be transported to a world of luxury and refinement. The Wolseley is renowned for its impeccable service and exquisite selection of teas, making it the perfect place to treat yourself or enjoy a special occasion.
As you settle into your plush seat, take in the opulent surroundings adorned with marble columns, sparkling chandeliers, and intricate detailing. A friendly waiter will guide you through their extensive tea menu, featuring rare blends from around the world. From delicate floral notes to robust flavors, there is something for every palate.
Savor each sip as you sample an array of delectable pastries, finger sandwiches filled with gourmet ingredients, and freshly baked scones served with clotted cream and homemade preserves. Every bite is a symphony of flavors that will delight your taste buds.
Immerse yourself in conversation or simply relish in the quiet serenity as you bask in the ambiance of this historic venue. Afternoon tea at The Wolseley is not just a meal; it's an experience that embodies elegance and sophistication.
Whether you're seeking respite from a busy day or looking to create lasting memories with loved ones, indulging in afternoon tea at The Wolseley is truly a must-do when visiting Belgravia.
Map:
5. Visit the Royal Court Theatre
Website: www.royalcourttheatre.com
The Royal Court Theatre in Belgravia is a must-visit for any theater enthusiast. With its rich history and reputation for showcasing groundbreaking productions, it truly lives up to its world-renowned status.
Stepping into the theater, you are immediately greeted by an atmosphere of creativity and innovation. The Royal Court has been at the forefront of contemporary playwriting since its inception in 1956, and continues to push boundaries with thought-provoking works that tackle social and political issues head-on.
From new plays by emerging playwrights to experimental performances that challenge traditional conventions, the Royal Court offers a diverse range of productions that cater to all tastes. Whether you're a fan of intense dramas or light-hearted musicals, there's bound to be something on offer that will captivate your imagination.
One thing that sets the Royal Court apart is its commitment to nurturing young talent. Many successful actors and playwrights have had their start at this iconic institution, which provides a platform for up-and-coming artists to showcase their work.
Attending a performance at the Royal Court is not just about being entertained; it's about experiencing theater as an art form that can provoke thought, spark conversations, and inspire change. So if you find yourself in Belgravia, make sure to catch a show at this legendary venue – you won't be disappointed!
Map:
6. Take a walk through Green Park
Website: www.royalparks.org.uk
One of the best things to do in Belgravia is to take a leisurely walk through Green Park. This serene and peaceful oasis provides the perfect escape from the hustle and bustle of city life. As you enter the park, you'll be greeted by lush greenery, beautiful flowers, and wide open spaces.
The best park offers a tranquil atmosphere that allows you to unwind and recharge. You can stroll along the pathways or find a cozy spot on one of the benches to sit back and relax. It's an ideal place for picnics, reading a book, or simply enjoying some quiet time alone.
Green Park also boasts stunning views of iconic landmarks such as Buckingham Palace and Wellington Arch. Don't forget your camera because there are plenty of photo opportunities here!
If you're feeling active, you can join locals jogging or practicing yoga in designated areas within the park. There are also tennis courts available for those who want to get some exercise while enjoying nature.
No matter what time of year you visit Green Park, there's always something beautiful to see. From colorful spring blooms to vibrant autumn foliage, each season brings its own charm to this urban retreat.
So if you're looking for a little respite from city life during your visit to Belgravia, don't miss out on taking a walk through Green Park. It's truly a hidden gem that offers tranquility amidst London's bustling streets!
Map:
7. Go to the Saatchi Gallery
Website: www.saatchigallery.com
If you're a fan of contemporary art, then a visit to the Saatchi Gallery is an absolute must when in Belgravia. This modern art gallery showcases an impressive collection of cutting-edge artwork that will leave you inspired and intrigued.
The Saatchi Gallery is known for its thought-provoking exhibitions and displays. From painting to sculpture to photography, there is something here to suit every artistic taste. The gallery regularly hosts solo shows by emerging artists as well as curated collections that explore various themes and concepts.
One of the things I love about the Saatchi Gallery is its commitment to showcasing new talent. It's not uncommon to discover artists who are just starting out or who may not yet have gained international recognition. This gives visitors a unique opportunity to see fresh perspectives and embrace the future of contemporary art.
In addition to its captivating exhibitions, the Saatchi Gallery also offers educational programs and events. Whether you're interested in attending artist talks, workshops, or panel discussions, there are plenty of opportunities here to engage with the art community and learn more about current trends in contemporary art.
So if you find yourself craving some artistic inspiration during your time in Belgravia, make sure to pay a visit to the Saatchi Gallery. You never know what hidden gems you might uncover within its walls!
Map:
8. Visit the Chelsea Physic Garden
Website: www.chelseaphysicgarden.co.uk
Tucked away in the heart of Belgravia lies a hidden gem that is sure to captivate any nature enthusiast – the Chelsea Physic Garden. Steeped in history, this enchanting garden offers a tranquil oasis amidst the hustle and bustle of city life.
As you wander through its winding paths, you'll discover an extraordinary array of plants and flowers from all corners of the globe. From medicinal herbs to exotic specimens, each corner reveals a new botanical wonder waiting to be explored.
The Chelsea Physic Garden is not only a feast for the eyes but also an educational experience. As one of the oldest botanic gardens in London, it has played host to countless scientific experiments and research projects over the years. The garden's knowledgeable staff are always on hand to answer questions and share fascinating insights into its rich heritage.
For those seeking respite from their busy lives, there are few places more calming than this idyllic retreat. Whether you choose to relax on one of the many benches scattered throughout or find solace in contemplation among nature's beauty, it's hard not to feel rejuvenated by your visit.
So take some time out from your explorations of Belgravia and immerse yourself in the serenity of Chelsea Physic Garden. Discover rare plant species, breathe in refreshing scents, and let nature work its magic on your soul.
Map:
9. Visit the Apsley House
Website; www.wellingtoncollection.co.uk
Step into history at the Apsley House, a magnificent mansion that offers a glimpse into the life and legacy of the Duke of Wellington. As you wander through the grand rooms and corridors, you'll be immersed in an atmosphere of opulence and elegance.
Marvel at the collection of art and artifacts that adorn every corner of this historic house turned museum. From exquisite paintings to intricate sculptures, each piece tells its own story and provides insight into the past.
Take your time exploring each room, from the impressive entrance hall to the stunning drawing rooms. The attention to detail is truly remarkable, with beautifully preserved furnishings and decor that transport you back in time.
One highlight not to be missed is Wellington's infamous Waterloo Gallery. This vast space showcases monumental paintings depicting scenes from his most famous victory over Napoleon Bonaparte. It's a sight that will leave you in awe of both artistic skill and historical significance.
As you make your way through Apsley House, don't forget to pause for a moment in its tranquil gardens. Take a leisurely stroll among well-manicured lawns and vibrant flower beds, allowing yourself time to reflect on all that you've seen inside.
Whether you're an art enthusiast or simply curious about history, visiting Apsley House is an experience like no other. Immerse yourself in the world of one of Britain's greatest military heroes while surrounded by beauty and culture – it's an opportunity not to be missed!
Map:
10. Go for a walk along Elizabeth Street
Walking along Elizabeth Street in Belgravia is like stepping back in time. The street is lined with stunning Georgian townhouses, each one more beautiful than the last. As you stroll down the cobblestone path, you can't help but be captivated by the grandeur and elegance of these architectural gems.
The facades of the townhouses are adorned with intricate detailing and colorful front doors that add a touch of charm to the street. Many of them have quaint little gardens filled with blooming flowers and lush greenery, creating a picturesque scene straight out of a postcard.
But it's not just the aesthetics that make Elizabeth Street special. This bustling thoroughfare is also home to a variety of unique shops, boutiques, cafes, and restaurants. Whether you're looking for high-end fashion or quirky independent stores, there's something here for everyone.
As you wander further along Elizabeth Street, you'll come across quaint little nooks and crannies tucked away between the buildings. These hidden spots offer peaceful retreats from the hustle and bustle of city life where you can sit back, relax, and watch as life goes by.
So if you find yourself in Belgravia, don't miss the opportunity to take a leisurely stroll along Elizabeth Street. It's an experience that will transport you to another era while immersing you in all that this vibrant neighborhood has to offer.
Map:
Conclusion
Belgravia is a neighborhood that offers a wealth of experiences and activities for both locals and visitors. From its stunning architecture to its world-class shopping and cultural offerings, there is something for everyone to enjoy.
Whether you're exploring the beautiful townhouses surrounding Belgrave Square or indulging in a luxurious afternoon tea at The Wolseley, there are plenty of ways to soak up the elegant atmosphere of this exclusive area. For art enthusiasts, a visit to the Saatchi Gallery will provide an opportunity to admire contemporary works from around the world.
History buffs will appreciate visiting Apsley House, once home to the Duke of Wellington, where they can delve into fascinating artifacts and artworks. And for those seeking relaxation amidst nature, Green Park provides a tranquil oasis in the heart of bustling London.
No trip to Belgravia would be complete without taking a leisurely stroll along Elizabeth Street with its picturesque Georgian townhouses. This charming street captures the essence of old-world charm combined with modern sophistication.
Whether you're interested in culture, shopping, history or simply enjoying some peaceful moments in nature, Belgravia has it all. So go ahead and plan your visit today – you won't be disappointed!
Related Articles:
Best Things to Do South West London
Best Things to Do in South London