Located on the south coast of Cornwall, Falmouth is a charming town that offers visitors a wide range of exciting activities and attractions. Whether you're an art lover, history buff, or beachgoer, there's something for everyone in this vibrant coastal destination. In this blog post, we've put together a list of the top 10 best things to do in Falmouth.
Join us as we explore must-visit sights such as historic castles and gardens bursting with exotic flora. Get ready to unwind by golden beaches and soak up the lively atmosphere in bars and restaurants while enjoying stunning views across one of England's most beautiful stretches of coastline.
Top 10 Best Things to Do in Falmouth
1. Visit the National Maritime Museum Cornwall
Website: www.nmmc.co.uk
The National Maritime Museum Cornwall is a must-visit for anyone interested in seafaring and maritime history. Located in the heart of Falmouth, this fascinating museum offers an extensive collection of exhibits that showcase Cornwall's rich coastal heritage.
Step inside this free museum, and you'll be transported back in time to when Falmouth was a bustling port town. Among the highlights are displays on fishing boats, sailing ships, and steam vessels that once plied these waters.
You can also learn about some of Falmouth's most famous explorers through interactive exhibits showcasing their voyages around the world. The museum even has a 100-foot lookout tower where visitors can take panoramic views across the harbour.
Don't miss out on visiting one of the most popular attractions at the National Maritime Museum Cornwall: The Tidal Zone exhibit. This immersive experience takes you to sea level to explore marine life found off Cornwall's coast.
Whether you're a seasoned sailor or just fascinated by oceanic history, there's plenty to discover at this fantastic museum. So why not add it to your list of things to do during your visit?
Map:
2. Take a Boat Trip to St. Mawes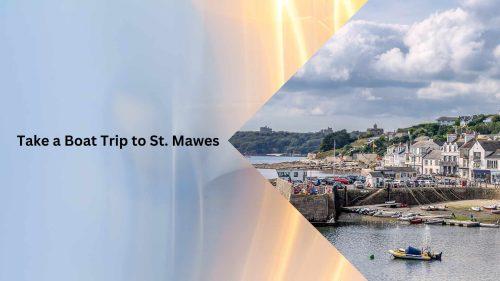 There's no better way to enjoy the scenic beauty of Falmouth than by taking a boat trip to St. Mawes. The charming village is located on the other side of Fal River, and it offers beautiful views that are worth experiencing.
Hop on a ferry or boat tour and sail across the river while admiring stunning landscapes along the way. Once you reach St. Mawes, explore its quaint streets filled with local shops, cafes and pubs that offer an authentic Cornish experience.
Don't forget to visit St. Mawes Castle while you're there – this historic fortification was built by Henry VIII in 1542 as part of his coastal defences against France and Spain. It's now open for visitors who want to learn more about Cornwall's rich history.
If you're looking for some relaxation time, take a stroll along the picturesque shoreline where you can appreciate breathtaking views from every angle.
Taking a boat trip to St.Mawes is one of the best things to do in Falmouth – not only it offers scenic beauty but also allows exploring Cornwall's historical landmarks in an exciting way!
Map:
3. Explore Pendennis Castle
Website: www.english-heritage.org.uk
Pendennis Castle is a must-visit attraction in Falmouth, Cornwall. This historic castle dates back to the 16th century and played a crucial role in defending the coast from foreign invaders.
As you explore its fortifications, you will be transported back in time and gain insight into what life would have been like for soldiers stationed there. The castle's strategic location provided spectacular views of the surrounding areas and was instrumental in detecting any potential threats.
From the top of Pendennis Castle, visitors can enjoy panoramic views of Falmouth, including the harbor and out towards St Mawes Castle on the opposite side of the river. It's an excellent spot to take photos or simply admire the stunning scenery.
Don't forget to visit Pendennis Castle's interactive displays showcasing how people lived during that era. You can also learn about some notable historical figures associated with this impressive structure.
Exploring Pendennis Castle offers an exciting journey through history while providing breathtaking views of Falmouth. Ensure it makes it onto your list when visiting Falmouth!
Map: 
4. Walk Along Gyllyngvase Beach
Gyllyngvase Beach is one of the top attractions in Falmouth, and it's easy to see why. The long stretch of golden sand is perfect for a leisurely stroll or a day spent relaxing in the sun. But there's more than just sunbathing on offer here – you can also indulge in some best beach activities.
The clear waters make Gyllyngvase Beach ideal for swimming, paddleboarding, or even surfing if the conditions are right. There are also plenty of rock pools to explore, making it an excellent spot for children to discover marine life.
As you walk along the beach, take in the stunning views of Pendennis Castle and St Anthony Head. You may even spot some boats sailing by on their way out to sea.
For those who want some refreshments or snacks while at Gyllyngvase Beach, there are plenty of cafes and restaurants nearby offering delicious food and drinks with ocean views.
Gyllyngvase Beach is a must-visit destination when exploring Falmouth. Whether you choose to relax on the sand or partake in some water sports activities, this beautiful beach has something for everyone.
Map:
5. Visit the Falmouth Art Gallery
Website: www.falmouthartgallery.com
The Falmouth Art Gallery is a must-visit for art enthusiasts. The gallery boasts an extensive collection of artwork, from British paintings to ceramics and sculptures. You'll also find works by local Cornish artists, which add a unique touch to the gallery's offerings.
One of the highlights of the Falmouth Art Gallery is its diverse range of exhibitions that change frequently. These temporary exhibits allow visitors to experience different styles and themes in modern art.
The gallery's permanent collection includes works by famous British artists such as Sir Frank Brangwyn RA and Lucien Pissarro. There are also pieces from lesser-known but equally talented painters like Samuel John Lamorna Birch.
What makes this gallery stand out is its dedication to showcasing emerging local talent. It often features exhibitions dedicated exclusively to up-and-coming artists, giving them a platform to showcase their work and gain recognition.
In addition, the Falmouth Art Gallery offers workshops and educational programs for people of all ages interested in learning more about art or honing their skills. Whether you're an experienced artist or just starting out, there is something for everyone at this cultural hub in Falmouth.
Map:
6. Explore Trebah Garden

Website: www.trebahgarden.co.uk
Trebah Garden is a natural haven that will leave you in awe. The garden spans 26 acres and boasts an impressive collection of exotic plants, trees, and flowers from around the world. You'll be amazed by the vibrant colors and diverse range of flora on display.
As you wander through Trebah Garden's hidden pathways, you'll feel like you're exploring a secret paradise. It's easy to get lost among the towering palm trees, trickling streams, and luscious ferns.
One highlight not to miss is Trebah's stunning coastal views. From certain vantage points within the garden, visitors can see out across the glistening waters of Falmouth Bay – it's truly breathtaking.
The garden has something for everyone – whether you're interested in horticulture or simply want to soak up some peace and tranquillity. There are plenty of benches dotted throughout where visitors can take a break and enjoy their surroundings.
Trebah Garden is an unforgettable experience that should not be missed if visiting Falmouth.
Map:
7. Discover the Falmouth Packet Quays
If you're looking for a charming spot to take in the sights of Falmouth, don't miss out on the Falmouth Packet Quays. Located along the picturesque harbour, this area is perfect for strolling and taking in beautiful views.
As you walk along the quays, you'll see sailboats bobbing in the water and fishermen unloading their catch from nearby boats. The lively atmosphere of waterfront cafes and restaurants will keep your senses engaged as you explore.
Stop by one of the many cafes or restaurants to grab a bite to eat or enjoy a drink while admiring stunning views of boats sailing by. You can also browse through local shops selling handmade crafts and souvenirs.
In addition to being a great place for relaxation, there's plenty to do at Falmouth Packet Quays. Take part in water sports activities such as kayaking or paddleboarding for an exciting adventure on the water.
At nightfall, watch as twinkling lights illuminate boats moored alongside harborside bars with live music performances that will keep your energy high until late hours.
Visiting Falmouth Packet Quays is an excellent way to experience everything that makes Falmouth unique – its rich maritime heritage, vibrant culture and scenic beauty all come together here!
Map:
8. Take a Trip to the Helford River

The Helford River is a hidden gem in Falmouth that you don't want to miss. This idyllic river provides stunning views and tranquil surroundings, making it perfect for a day trip.
If you're looking for some exercise, there are many scenic walks along the riverbank that offer breathtaking views of the surrounding countryside. You'll be able to take in the fresh air and immerse yourself in nature as you walk through this beautiful area.
For those who prefer water activities, consider hiring a kayak or boat and exploring the river from a different perspective. Paddle your way through the calm waters of Helford River while enjoying stunning sights such as ancient woodlands, creeks, coastal villages and secluded coves.
And if relaxation is what you seek on your trip to Helford River, simply sit back by its banks with a picnic basket filled with local delicacies or enjoy some freshly caught seafood at one of the nearby harborside restaurants.
With its unspoiled natural beauty and serene atmosphere, taking a trip to Helford River should definitely be on your list when visiting Falmouth – an unforgettable experience awaits!
Map:
9. Visit the Princess Pavilion and Gyllyngdune Gardens
Website: www.princesspavilion.co.uk
The Princess Pavilion and Gyllyngdune Gardens offer a tranquil escape from the hustle and bustle of Falmouth. The pavilion is an elegant building that hosts live events, ranging from music to theatre performances. It's also a popular venue for weddings and private functions.
Surrounding the pavilion are the stunning Gyllyngdune Gardens, which date back to 1920. The gardens boast beautifully manicured lawns, vibrant flower displays, and various seating areas where you can relax and take in the peaceful surroundings.
As you stroll through the gardens, you'll come across hidden pathways that lead to enchanting spots like waterfalls and ponds. Children will love exploring the play area filled with swings, slides, climbing frames, and even a zip line!
One of Gyllyngdune Garden's most impressive features is its breathtaking views over Falmouth Bay. Take some time to sit on one of the park benches dotted around or bring your picnic blanket along for an al-fresco lunch with panoramic views.
Visiting Princess Pavilion & Gyllyngdune Gardens is perfect for those seeking relaxation amidst nature's beauty while enjoying occasional entertainment options available at their pavilion venue.
Map:
10. Experience Falmouth's Vibrant Nightlife

Website: www.chainlockerfalmouth.co.uk
As the sun sets over Falmouth, the town comes alive with a vibrant nightlife scene. Whether you're looking for a relaxed drink or a night of dancing, there's something for everyone in this lively coastal town.
Head to one of the many bars and pubs like Chain Locker dotted throughout Falmouth and enjoy a pint of local ale or cider. Many establishments feature live music, from traditional Celtic tunes to modern indie bands.
If dancing is more your style, check out one of Falmouth's nightclubs or late-night venues. From DJs spinning electronic beats to themed parties and events, there's always something happening after dark.
In addition to drinks and dancing, Falmouth also offers an array of dining options for those seeking a culinary adventure. Choose from gourmet seafood restaurants overlooking the harbour or cozy cafes serving up comfort food classics.
Whatever your preference may be, experiencing Falmouth's lively nightlife should definitely be on your list of top things to do in this charming Cornish town.
Map:
Conclusion
To wrap it up, Falmouth is a perfect destination for those looking to explore Cornwall's coastal beauty and rich heritage. From discovering the maritime history at the National Maritime Museum Cornwall, taking in panoramic views from Pendennis Castle, exploring sub-tropical gardens like Trebah Garden, and enjoying some beach fun along Gyllyngvase Beach – there is something for everyone here.
Besides its natural beauty and cultural richness, Falmouth also offers visitors an array of dining options, nightlife activities, and live events throughout the year. So whether you're seeking relaxation or adventure during your trip to Cornwall – Falmouth has got you covered!
Don't miss out on these top 10 best things to do in Falmouth when planning your next visit to this charming Cornish town. With so much on offer here – we promise that you won't be disappointed!
Related Articles:
Best Places to Visit in Cornwall
Best Places to Stay in Cornwall