Welcome to South Kensington, a vibrant and culturally rich neighbourhood in London that offers an array of exciting experiences. From world-renowned museums to stunning Victorian streets, there is something for everyone to enjoy here. Whether you're a history buff, art enthusiast, or simply someone who appreciates the beauty of this iconic area, South Kensington has plenty of activities to keep you entertained. In this blog post, we'll explore the 10 best things to do in South Kensington that are sure to make your visit unforgettable. So grab your walking shoes and get ready for an adventure through one of London's most captivating neighbourhoods!
10 Best Things to Do in South Kensington
1. Visit the Victoria and Albert Museum
Website: www.vam.ac.uk
Step into a world of artistic wonder at the Victoria and Albert Museum, a treasure trove of creativity and culture. As one of the largest museums in the world, it boasts an extensive collection that spans centuries and continents. From ancient Egyptian artefacts to avant-garde contemporary fashion, there's something here to captivate every visitor.
Immerse yourself in the history of art and design as you wander through its grand halls. Marvel at intricate sculptures, delicate porcelain, and exquisite tapestries that showcase human ingenuity throughout time. The museum's diverse exhibits offer a fascinating glimpse into different cultures from around the globe.
But visiting the Victoria and Albert Museum is not just an educational experience—it's also incredibly enjoyable. Lose yourself in its labyrinthine corridors as you stumble upon unexpected treasures at every turn. Let your curiosity guide you as you explore galleries filled with masterpieces that will leave you awe-inspired.
Whether you're an art aficionado or simply someone who appreciates beauty in all its forms, this museum promises something for everyone. Soak up inspiration from renowned artists or discover hidden gems by emerging talents—there are endless discoveries waiting to be made within these hallowed walls.
The Victoria and Albert Museum is more than just a place for passive observation; it invites active engagement with its interactive displays and immersive installations. Touchable objects allow visitors to truly connect with history while hands-on workshops provide opportunities for creative expression.
Intriguing exhibitions constantly rotate through this vast space, ensuring there's always something new to see on each visit. And if all those cultural delights work up an appetite, fear not—the museum also offers several dining options where you can refuel before continuing your exploration.
So whether you're seeking knowledge or simply want to indulge your senses in a feast of visual delights, don't miss out on visiting the iconic Victoria and Albert Museum during your time in South Kensington—it's sure to leave an indelible mark on your cultural journey.
Map:
2. See a Performance at the Royal Albert Hall
Website: www.royalalberthall.com
The Royal Albert Hall is a cultural icon that needs no introduction. It stands as a testament to the power of music and performance, captivating audiences for over 150 years. This magnificent concert hall has played host to some of the most legendary musicians in history, from classical virtuosos to contemporary rock stars.
Stepping into the grandeur of the Royal Albert Hall is like entering another world. The breathtaking architecture and ornate detailing create an atmosphere unlike any other venue. As you take your seat, anticipation fills the air, knowing that you're about to witness something truly extraordinary.
The range of performances at the Royal Albert Hall is unparalleled. From symphony orchestras filling every corner with their majestic sound, to electrifying rock concerts that make your heart race, there's something for everyone's musical taste. No matter what genre or artist you prefer, experiencing live music in this iconic space will leave an indelible mark on your soul.
Attending a show at the Royal Albert Hall is not just about listening to incredible music; it's also about immersing yourself in an unforgettable experience. The energy pulsating through the audience as they cheer and applaud creates a sense of unity and shared passion for music.
If you ever have the opportunity to secure tickets to a performance at the Royal Albert Hall, seize it without hesitation. Allow yourself to be swept away by the magic happening on stage and become part of its illustrious history.
Map:
3. Wander Around the Beautiful Victorian Streets
South Kensington is a treasure trove of stunning Victorian streets that transport you back in time. As you wander through these picturesque streets, you'll be captivated by the charm and elegance of the beautiful townhouses and shops that line the sidewalks.
The architecture alone is worth taking a leisurely stroll to appreciate. The ornate facades and intricate details showcase the craftsmanship and attention to detail prevalent during the Victorian era. Each street seems to have its own unique personality, with colourful doors, grand windows, and wrought iron railings adding character at every turn.
But it's not just about admiring the buildings; it's about immersing yourself in an atmosphere that exudes history and sophistication. South Kensington's Victorian streets create an ambience like no other – there's a sense of refinement mixed with a hint of mystery as you imagine what life was like during this bygone era.
As you meander through these enchanting streets, take your time to explore the charming boutiques and quaint cafes dotted along your path. Whether it's browsing for antiques or enjoying a delightful cup of tea, there are plenty of opportunities to indulge in some retail therapy or simply relax amidst this architectural wonderland.
So next time you find yourself in South Kensington, don't miss out on experiencing its beautiful Victorian streets. Get lost in their allure as you soak up their history and marvel at their timeless beauty.
Map:
4. Visit Kensington Palace
Website: www.hrp.org.uk
Kensington Palace, a regal residence that once echoed with the footsteps of Queen Victoria and Prince Albert, now stands as a cherished tourist attraction in South Kensington. Stepping through its grand doors is like entering a portal to another era, where history comes alive through the opulent State Rooms and intimate apartments that were once inhabited by royalty.
As you wander through the enchanting halls of Kensington Palace, it's easy to imagine the lavish gatherings held within these walls. The State Rooms are adorned with exquisite tapestries, paintings, and furniture that reflect the grandeur of Victorian England. Each room tells a story of its own, offering glimpses into the lives of those who once lived here.
The apartments where Queen Victoria resided hold a special allure for visitors seeking an intimate glimpse into her personal life. From her childhood bedroom to her private study, these spaces offer insights into her passions and pursuits. It's truly awe-inspiring to walk in the footsteps of one of Britain's most iconic monarchs.
In addition to touring the magnificent interiors, exploring Kensington Palace grounds is a treat in itself. The palace gardens provide an oasis amidst bustling city life—a place where you can escape from it all and find solace among blooming flowers and manicured lawns.
Visiting Kensington Palace is not just about delving into history; it's also about experiencing a unique connection with royalty and gaining appreciation for their legacy. So take your time exploring this captivating landmark—you never know what fascinating stories might be unveiled as you immerse yourself in its rich heritage.
Map:
5. Visit the Natural History Museum
Website: www.nhm.ac.uk
The Natural History Museum in South Kensington is a must-visit tourist attraction for anyone with an interest in the wonders of the natural world. With its vast collection of over 80 million specimens, ranging from dinosaurs to minerals to plants, this museum offers something truly awe-inspiring for visitors of all ages.
As you step inside the grand entrance hall, you'll immediately be greeted by the towering skeleton of a diplodocus. This impressive display sets the tone for what lies ahead – a journey through time and space as you explore the exhibits that showcase the diversity and beauty of our planet's past and present.
From marvelling at life-size replicas of prehistoric creatures to delving into interactive displays that teach us about evolution and ecology, there's no shortage of captivating experiences to be had here. You can even witness scientists at work in their labs, conducting research on some of these incredible specimens.
Whether you have just a few hours or an entire day to spare, a visit to the Natural History Museum promises to leave you amazed and inspired by the wonders that exist within our natural world. So grab your camera, prepare to be astounded, and immerse yourself in this treasure trove of knowledge and discovery.
Map:
6. Go Ice Skating at the Natural History Museum
Website: www.nhm.ac.uk
When the winter months roll around, there's a magical transformation that takes place at the Natural History Museum. The courtyard becomes an enchanting ice rink, inviting visitors to lace up their skates and glide across the frozen surface. It's not just a fun activity for friends and family; it also offers a romantic setting for couples looking to share a special moment.
As you step onto the ice, you'll feel a sense of exhilaration mixed with anticipation. The crisp air fills your lungs as you take in the stunning surroundings of one of London's most iconic landmarks. Whether you're an experienced skater or simply testing out your balance on the blades, this is an experience that will create lasting memories.
The twinkling lights overhead cast a warm glow as you effortlessly glide hand-in-hand with your loved one or race each other playfully across the rink. Laughter fills the air as children twirl and spin, their joy contagious to everyone around them.
Even if skating isn't quite your thing, watching others gracefully navigate their way on ice can be equally entertaining. Find yourself a cosy spot along the edge of the rink and enjoy being captivated by both skilled skaters and beginners finding their footing.
The Natural History Museum provides more than just educational exhibits; it offers experiences that bring people together in unexpected ways. So whether you're seeking adventure, quality time with loved ones, or simply want to witness pure joy in motion, don't miss out on this unique opportunity to go ice skating at one of London's most treasured institutions.
Map:
7. Go Souvenir Shopping at Harrods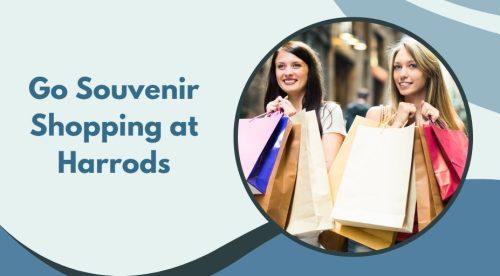 Website: www.harrods.com
When it comes to souvenir shopping in South Kensington, one place that should definitely be on your list is Harrods. This iconic department store is known worldwide for its luxurious offerings and opulent displays.
Whether you're a fan of high-end fashion, exquisite jewellery, or gourmet delicacies, Harrods has something for everyone. From designer clothing and accessories to fine wines and chocolates, the store boasts an impressive range of products from renowned brands.
But even if you're not looking to splurge on luxury goods, a visit to Harrods is still well worth it. The store itself is like a grand palace filled with stunning architecture and elaborate decorations. As you walk through the different departments, you'll be amazed by the attention to detail and the sheer beauty of the displays.
From the moment you step inside Harrods, you'll feel as though you've entered a world of elegance and sophistication. The atmosphere exudes glamour and decadence, making your shopping experience all the more enjoyable.
So whether you have some money to burn or simply want to indulge in some window shopping, make sure to stop by Harrods during your visit to South Kensington. It's an experience like no other – one that will leave lasting memories of this vibrant part of London.
Map:
8. Stroll Around Hyde Park
Website: www.royalparks.org.uk
Hyde Park, one of London's largest parks, offers a multitude of activities for visitors to enjoy. The expansive green space is perfect for leisurely strolls, providing a welcome escape from the hustle and bustle of the city. As you wander through the best park, you'll find yourself surrounded by beautiful scenery and serene landscapes.
If you're in the mood for some relaxation or al fresco dining, Hyde Park is an ideal spot for a picnic. Spread out your blanket on the grassy fields and soak up the sunshine while enjoying a delicious meal with friends or family.
For those seeking more adventurous experiences, why not rent a boat on the Serpentine? Glide across its tranquil waters as you take in stunning views of Hyde Park's iconic landmarks. It's an enchanting way to spend an afternoon and create lasting memories.
As you explore further into Hyde Park, be sure to visit some of its notable attractions. The Serpentine Gallery showcases contemporary artworks from around the world and provides thought-provoking exhibitions that will captivate art enthusiasts.
Nearby stands the Diana, Princess of Wales Memorial Fountain—a tribute to Princess Diana's life and legacy. This serene water feature invites contemplation as it meanders gracefully through landscaped gardens.
Don't miss Speaker's Corner—an emblematic symbol of free speech where anyone can stand up and express their thoughts openly. Engage in lively debates or simply listen to others share their perspectives—it truly embodies freedom of expression at its finest.
Hyde Park offers something for everyone—whether you seek tranquillity amidst nature or wish to immerse yourself in cultural experiences—and promises an unforgettable day out in South Kensington's vibrant heart.
Map:
9. Explore the Science Museum
Website: www.sciencemuseum.org.uk
The Science Museum in South Kensington is a haven for science enthusiasts of all ages. With its wide range of exhibits, it offers a fascinating insight into the world of science and technology.
From space exploration to medicine to engineering, the museum covers a diverse array of subjects. You can learn about the wonders of the universe, explore advancements in medical research, or marvel at the ingenuity behind engineering feats.
One of the highlights for children is the interactive exhibits that allow kids to engage with scientific concepts through hands-on activities. They can conduct their own experiments, play with interactive displays, and even experience what it's like to be an astronaut or a scientist.
But don't think this museum is just for kids! Adults will also find plenty to capture their interest. The Science Museum provides thought-provoking insights into cutting-edge research and historical breakthroughs that have shaped our understanding of the world around us.
Whether you're a science buff or simply curious about how things work, visiting the Science Museum in South Kensington is sure to be an enriching and inspiring experience. So grab your family or friends and embark on a journey through time and discovery at this must-see attraction!
Map:
10. Eat at the Churchill Arms
Website: www.churchillarmskensington.co.uk
If you're looking for a unique and charming dining experience in South Kensington, look no further than the Churchill Arms. This best pub has been serving patrons since 1750, making it one of the oldest establishments in London. But what really sets the Churchill Arms apart is its stunning flower displays.
As soon as you approach the pub, you'll be greeted by an explosion of vibrant colours and beautiful blooms. The exterior is adorned with hanging baskets filled with flowers, creating a picturesque sight that's perfect for Instagram-worthy photos. It's no wonder why the pub has earned the nickname "the most flowery pub in London."
Inside, you'll find a cosy and traditional atmosphere that harkens back to another era. The walls are lined with Winston Churchill memorabilia, paying homage to its famous namesake who was rumored to have frequented this very establishment.
But it's not just the ambience that draws people in – the food at the Churchill Arms is equally impressive. They serve up classic British dishes like fish and chips, shepherd's pie, and bangers and mash. And of course, there's a wide selection of beers on tap to accompany your meal.
The popularity of this charming pub extends beyond locals; celebrities are also known to frequent this hidden gem. So keep your eyes peeled while enjoying your meal – you never know who might be sitting at the next table!
Whether you're a history buff or simply appreciate good food surrounded by beautiful flowers, a visit to the Churchill Arms should definitely be on your South Kensington itinerary.
Map:
FAQs
What is South Kensington known for?
South Kensington is known for its cultural attractions, including the Natural History Museum, the Science Museum, the Victoria and Albert Museum, and the Royal Albert Hall. It's also a great place to go shopping, with Harrods department store and a number of other high-end shops located in the area.
Is South Kensington a good area in London?
Yes, South Kensington is a great area in London. It's centrally located, with easy access to all the major transportation hubs. It's also a very safe and family-friendly area.
How do you spend a day in Kensington?
Here's a possible itinerary for a day in South Kensington:
Start your day with a visit to the Natural History Museum. You could easily spend a full day exploring the museum, but even if you only have a few hours, you're sure to be amazed by what you see.
After the Natural History Museum, head over to the Science Museum. Here you can learn about everything from space exploration to medicine to engineering. Kids will love the interactive exhibits, and adults will appreciate the fascinating insights into the world of science.
In the afternoon, take a stroll around Hyde Park. One of London's largest parks, it's a great place to go for a walk, have a picnic, or rent a boat on the Serpentine. The park is also home to a number of attractions, including the Serpentine Gallery, the Diana, Princess of Wales Memorial Fountain, and Speaker's Corner, where anyone can stand up and speak their mind.
In the evening, catch a show at the Royal Albert Hall. One of the most famous concert halls in the world, it has hosted performances by some of the biggest names in music, from classical musicians to rock stars. If you're lucky enough to get tickets to a show, you're in for a truly unforgettable experience.
Is South Kensington expensive to live in?
Yes, South Kensington is a very expensive area to live in. The average property price in South Kensington is over £1 million. However, there are a few more affordable options available, especially if you're willing to rent.
Related Articles:
Best Deep Tissue Massage in South Kensington
Best Things to Do South West London