Welcome to Streatham, a vibrant and bustling neighborhood located in the heart of South London. Known for its rich history, stunning green spaces, and lively cultural scene, there is no shortage of things to see and do here. Whether you're a local resident looking for new adventures or a curious traveller seeking hidden gems, we've got you covered with our list of the top best things to do in Streatham. So grab your walking shoes and let's dive into this exciting urban playground that has something for everyone!
Top Best Things to Do in Streatham
1. Streatham Common
Website: www.streathamcommon.org
Nestled amidst the hustle and bustle of Streatham lies a true oasis of tranquillity – Streatham Common. This sprawling park offers an escape from the city's frenetic pace, inviting visitors to immerse themselves in nature's embrace.
As you step foot onto its lush green grounds, your senses are immediately greeted by the sweet scent of blooming flowers and the gentle rustling of leaves in the breeze. Take a leisurely stroll along winding paths, surrounded by tall trees that provide shade on hot summer days.
One of Streatham Common's main attractions is its boating lake, where you can rent a paddleboat or rowboat and glide across its calm waters. It's an idyllic spot for couples seeking a romantic date or families looking for some quality bonding time.
For those travelling with little ones, fear not! The playground at Streatham Common will keep children entertained for hours on end. With swings soaring high into the sky, climbing frames challenging their agility, and slides offering thrilling descents, it's impossible to resist joining in on the fun!
Sports enthusiasts will also find solace here as they discover the well-equipped sports centre within Streatham Common. Whether it's tennis matches that get your adrenaline pumping or football games that ignite your competitive spirit, there are plenty of opportunities to engage in friendly competition with friends or even join local leagues.
Streatham Common truly epitomizes outdoor bliss – a place where you can recharge amidst nature's beauty and revel in simple pleasures like basking under open skies or enjoying a picnic on soft grassy banks. So next time you're yearning for some fresh air and natural serenity in Streatham, make sure to add this enchanting park to your itinerary!
Map:
2. Streatham Ice and Leisure
Website: www.active.lambeth.gov.uk
Looking for a place to have some fun or get in a good workout? Look no further than the Streatham Ice and Leisure Centre! This fantastic facility offers an Olympic-size ice rink, a bowling alley, and a fitness centre all under one roof.
Whether you're an experienced skater or just starting out, hitting the ice at Streatham Ice and Leisure Centre is always a blast. Glide across the smooth surface with friends or take lessons to improve your skills. It is not only great exercise but also loads more fun!
If skating isn't your thing, head over to the bowling alley for some friendly competition. Grab a ball, lace up those stylish shoes (yes, they provide them), and aim for that perfect strike. Whether you're playing against friends or joining a league, it's guaranteed to be an enjoyable time.
For those looking to break a sweat and get fit, the fitness centre at Streatham Ice and Leisure Centre has everything you need. From state-of-the-art equipment to group exercise classes led by qualified instructors, there are plenty of options to help you reach your health goals.
So whether you're in the mood for some icy adventures on the rink or want to challenge your friends on the bowling lanes, Streatham Ice and Leisure Centre is definitely worth checking out. Don't miss out on this incredible venue where fitness meets fun!
Map:
3. Tooting Bec Lido
Website: www.placesleisure.org
Looking for a way to beat the heat in Streatham? Look no further than Tooting Bec Lido, a hidden gem tucked away in the heart of this vibrant neighborhood. This large outdoor swimming pool offers a refreshing oasis on those scorching summer days.
Dive into the crystal-clear waters and feel your worries melt away as you glide through the cool embrace of the pool. Whether you're an avid swimmer or just looking for some leisurely fun, Tooting Bec Lido has something for everyone.
After your swim, take a break at the cafe and grab a refreshing drink or indulge in a tasty snack. The sunbathing area is perfect for lounging around, soaking up rays, and working on that golden tan. Soak in the warm sunshine while enjoying breathtaking views of the surrounding greenery.
Tooting Bec Lido provides not only relief from high temperatures but also an opportunity to relax and unwind amidst nature's beauty. With its serene atmosphere and picturesque setting, it's no wonder why locals flock here during summertime.
So grab your swimsuit and towel, gather your friends or family day out, and head over to Tooting Bec Lido for an unforgettable day of aquatic bliss. It's time to make lasting memories while cooling off under clear blue skies!
Map:
4. Visit Streatham High Road
Streatham High Road is a vibrant and bustling street that offers an array of shops, restaurants, and bars to explore. Whether you're in the mood for some retail therapy or simply want to soak up the lively atmosphere, this is the place to be.
With its wide range of shops, Streatham High Road caters to all tastes and budgets. From well-known high-street brands to charming independent boutiques, there's something here for everyone. You can spend hours browsing through clothing stores, homeware shops, bookstores, and more.
When it comes to food and drink options, Streatham High Road does not disappoint. Whether you're craving international cuisine or traditional British fare, you'll find plenty of the best restaurants offering a diverse range of dishes. And if you're looking for a cosy pub or trendy cocktail bar to unwind with friends after a long day of exploring, there are several options available.
One of the best things about Streatham High Road is its vibrant atmosphere. As you stroll along the street, you'll encounter a mix of locals going about their daily routines and visitors enjoying everything this area has to offer. It's an excellent spot for people-watching – grab a coffee from one of the many cafes dotted along the road and find yourself a comfortable seat where you can observe the world go by.
So whether you're in search of unique finds while shopping or simply want to immerse yourself in the local culture by watching passersby on Streatham High Road – this bustling street has it all!
Map:
5. Visit Hideaway
Website: www.hideawaylive.co.uk
Nestled in the heart of Streatham is a hidden gem that has been captivating music lovers for decades. The Hideaway, a jazz club steeped in history, holds the key to an unforgettable night out. With its doors first opening in the 1950s, this iconic venue continues to be at the forefront of London's vibrant music scene.
Step inside and prepare to be transported into a world where smooth melodies fill the air and talent takes centre stage. From up-and-coming artists to well-known performers, The Hideaway showcases an eclectic range of musical styles that will leave you mesmerized.
As you settle into your seat surrounded by like-minded enthusiasts, anticipation builds for what promises to be a truly exceptional experience. Allow yourself to get lost in the soulful rhythms and intricate improvisations as each musician pours their heart and soul into every note.
The intimate setting creates an ambience that enhances your connection with both the music and fellow attendees. Whether you're tapping your foot along with infectious beats or swaying gently to dulcet tones, The Hideaway provides an immersive atmosphere unlike any other.
With its rich history and commitment to preserving jazz traditions while embracing contemporary sounds, it's no wonder why this iconic establishment remains a favourite among locals and visitors alike. So if you're looking for a night filled with extraordinary talent and unforgettable moments, make sure to put The Hideaway on your list of must-visit destinations when exploring Streatham.
Experience live music at its finest – visit The Hideaway today!
Map:
6. Visit Streatham Space Project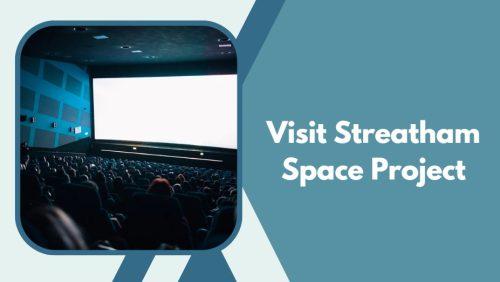 Website: www.streathamspaceproject.co.uk
If you're a fan of live theatre, then visiting the Streatham Space project is an absolute must. This community theatre has been entertaining audiences for years with its diverse range of productions. From classic plays to contemporary works, there's always something happening on stage.
One of the great things about the Streatham Space project is that it offers an affordable alternative to the pricey West End tickets. You can enjoy a high-quality show for just a fraction of the cost, making it accessible to everyone in the community.
The talented actors and actresses who grace the stage at Streatham Space Project bring their characters to life with passion and skill. Whether you're in the mood for drama, comedy, or even musicals, you'll find something that suits your taste.
Attending a performance at this charming theatre not only supports local talent but also provides a unique and intimate experience. The close proximity between the audience and performers creates an immersive atmosphere that enhances your enjoyment of the show.
So why not plan a visit to the Streatham Space project? Immerse yourself in theatrical magic and be transported into different worlds through captivating storytelling. Experience the joy and excitement that live performances bring as you become part of this thriving artistic community in Streatham.
Map:
7. Visit Streatham Museum
Website: www.vangoghhouse.co.uk
If you're looking to dive into the rich history of Streatham, a visit to Van Gogh House is an absolute must visit museum in Streatham. This local history museum takes you on a journey through time, telling the fascinating story of Streatham from its humble beginnings as a Saxon village to its transformation into the vibrant and diverse suburb it is today.
As you wander through the exhibits, you'll be transported back in time, discovering how this small village evolved over centuries. Learn about its agricultural roots and see artefacts that showcase daily life in medieval times. Dive into the Victorian era and explore how Streatham became a popular destination for London's elite with grand mansions and beautiful gardens.
But it doesn't stop there! The museum also delves into more recent history, shedding light on significant events that have shaped Streatham's identity. From World War II to post-war regeneration projects, each chapter adds another layer to this captivating narrative.
One of the highlights of visiting this best museum is seeing how community spirit has played such an important role throughout Streatham's development. From local heroes who fought for social justice to grassroots initiatives that continue to shape its future – these stories are all part of what makes Streatham so special.
Whether you're a history enthusiast or simply curious about your surroundings, a trip to the Streatham Museum will leave you with newfound knowledge and appreciation for this incredible neighborhood. So take some time out of your day to immerse yourself in nostalgia and explore all that this hidden gem has to offer.
Map:
8. Visit Streatham Bowls Club
Website: www.strethambowlsclub.co.uk
The Streatham Bowls Club is a hidden gem nestled in the heart of Streatham. Established way back in 1887, this historic bowling club has been providing endless hours of fun and friendly competition for over a century. Whether you're a seasoned pro or new to the game, the club welcomes players of all skill levels.
Stepping onto the immaculately maintained greens, you'll instantly feel a sense of tranquillity and camaraderie. The soothing greenery surrounds you as you take your position on the rink, ready to roll that first bowl towards victory. It's not just about winning though; it's about enjoying yourself and spending quality time with friends.
With its long-standing tradition and welcoming atmosphere, Streatham Bowls Club offers more than just a place to play bowls – it's a community hub where friendships are formed and memories are made. There's nothing quite like sharing laughs and friendly banter with fellow bowlers while enjoying some healthy competition.
And if you're new to the sport, don't worry! The experienced members at Streatham Bowls Club are always happy to offer guidance and share their knowledge. They'll have you honing your technique in no time.
So why not grab your friends or family members, head down to Streatham Bowls Club, and experience this timeless game for yourself? It's an activity that combines skill with relaxation – perfect for unwinding after a busy week or simply enjoying some leisurely fun on a sunny day.
Map:
9. Visit Streatham Park
Streatham Park truly encompasses the essence of Streatham, offering a perfect blend of nature, recreation, and leisure. This best park provides something for everyone, whether you're seeking relaxation or adventure.
Immerse yourself in the tranquil surroundings as you stroll through the park's well-maintained paths. The playground offers a fun-filled haven for children to explore and unleash their boundless energy. The boating lake adds an element of charm and serenity where you can rent a paddleboat or simply admire its glistening waters.
After working up an appetite from all the activities, head over to the cosy cafe nestled within Streatham Park. Grab a refreshing beverage or indulge in some delicious treats while taking in your idyllic surroundings.
Whether you choose to unwind on a bench with a good book, enjoy a picnic with loved ones, or engage in outdoor sports like football or frisbee with friends – Streatham Park has it all.
As one of Streatham's hidden gems, this vibrant green space allows locals and visitors alike to escape from the hustle and bustle of city life without having to venture too far from home. So next time you find yourself yearning for some fresh air and peaceful moments amidst nature's beauty – make sure to pay Streatham Park a visit!
With its diverse range of attractions including playgrounds, boating lakes, and cafes – there is no denying that Streatham Park stands out as one of the top destinations for anyone looking to relax and enjoy the great outdoors in this lively London suburb.
Map:
Related Articles:
Best Things to Do in Carshalton